Our next release, planned for December 13th, is centered around the theme of giving you more control so you can stay on top of your Pursuits, your data, and your Assignments.
Here's what's new:
1. Edit Pursuits created from an external tool
If you have an integration between QorusDocs and an external tool, like your CRM, that allows you to create Pursuits from that tool – you'll be pleased to know that you can now edit some of the information associated with these Pursuits after they have been created.
More specifically, you can edit the Team Members who have access to the Pursuit. And you can also edit the Smart Fields that exist only in QorusDocs and not in the external system, and that you have filled in manually or perhaps left blank upon Pursuit creation from the external tool.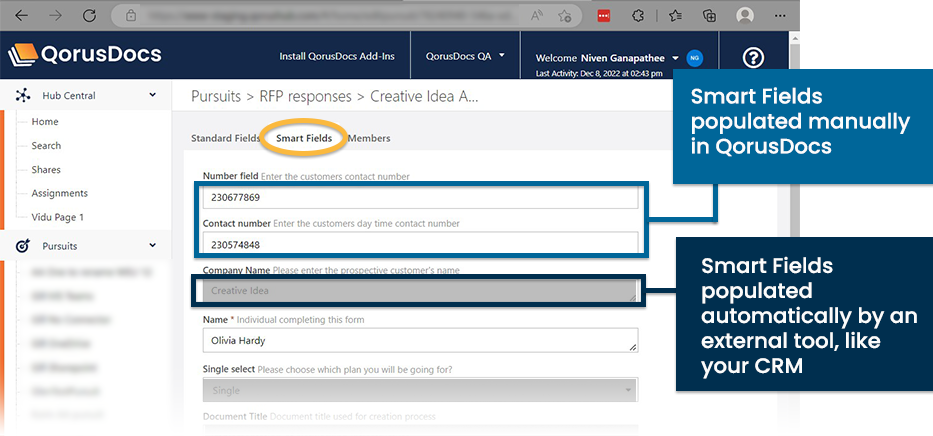 The Smart Fields that were populated from the external tool will however remain greyed out and will not be editable, so as not to cause any out of sync data issues with the external system.
This new feature is especially useful for situations where you don't have all the information yet but want to create a Pursuit and fill in this information later. It gives you the flexibility and power to report on that information so you can segment your win rates along custom dimensions, like 'Contract Type', or 'Services Purchased', or any other custom Smart Field, so you can see what's working well and where you might want to improve.
2. More Pursuit management functionality now available in your QorusDocs Add-Ins for Word, PowerPoint, and Excel.
Up until now, the only way to close and delete Pursuits or to get a link to a Pursuit, was to go to your QorusDocs Hub using your web browser.
Now, you can do all this directly in Office, without leaving the document you are working on, using the QorusDocs Add-ins.
Here's how you can access the enhanced settings in your Pursuits tabs:
Current Pursuit
In the Pursuit pane, clicking on the cog or gear icon next to the Pursuit name will bring up the manage Pursuit menu: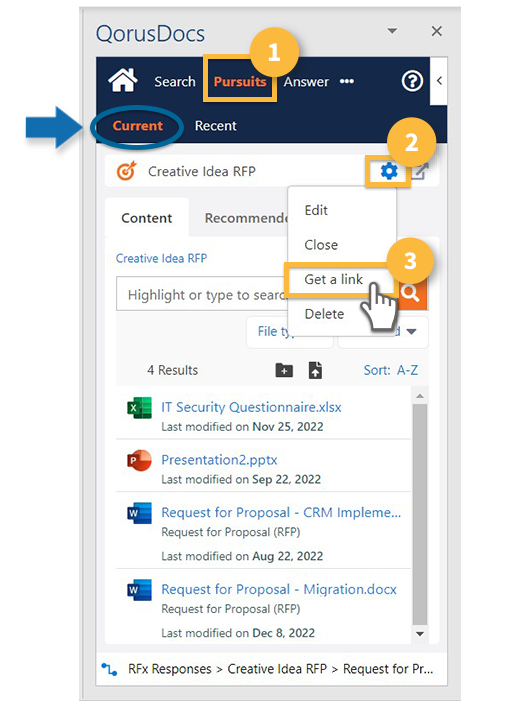 Recent Pursuits
Alternatively, if you go to your Recent Pursuits in the Pursuit pane, you can manage any one of your 10 most recent Pursuits by clicking on the cog icon: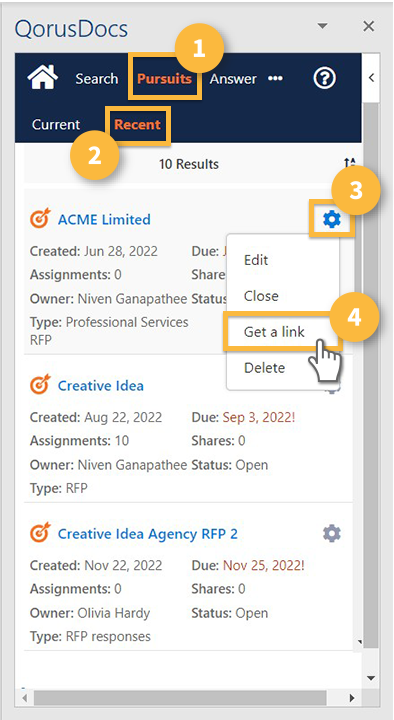 3. Better 'Assignment' view performance in your QorusDocs Hub
We have also enhanced the performance and usability when viewing Assignments in your QorusDocs Hub, by limiting Assignment views to display Assignments that have been created within the past year by default.
QorusDocs Admins can configure the maximum age of the assignments to display, from 6 months to 2 years.
To do this, in the left nav, Admins can navigate to 'Hub Management' (under 'Settings'), then select the 'Settings' tab.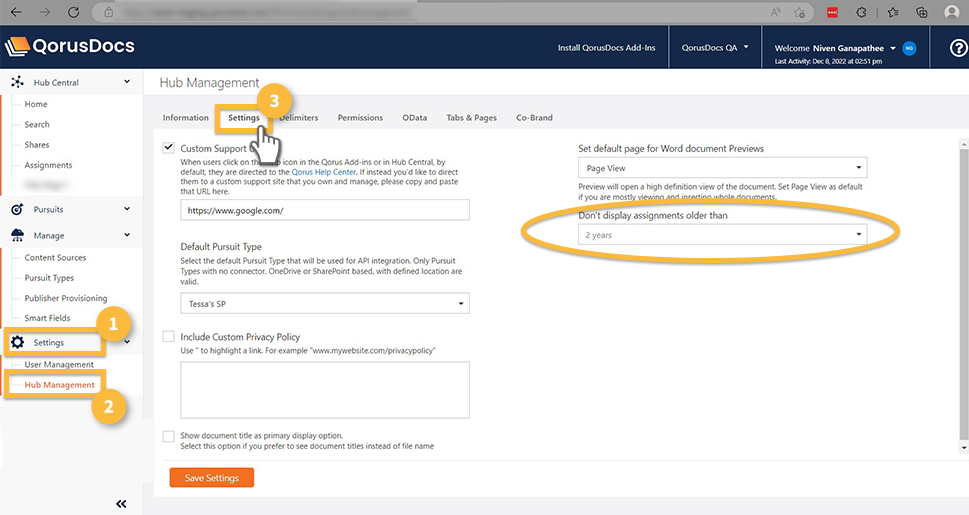 Then, in the 'Don't display assignments older than' menu, select the maximum age of Assignments to show: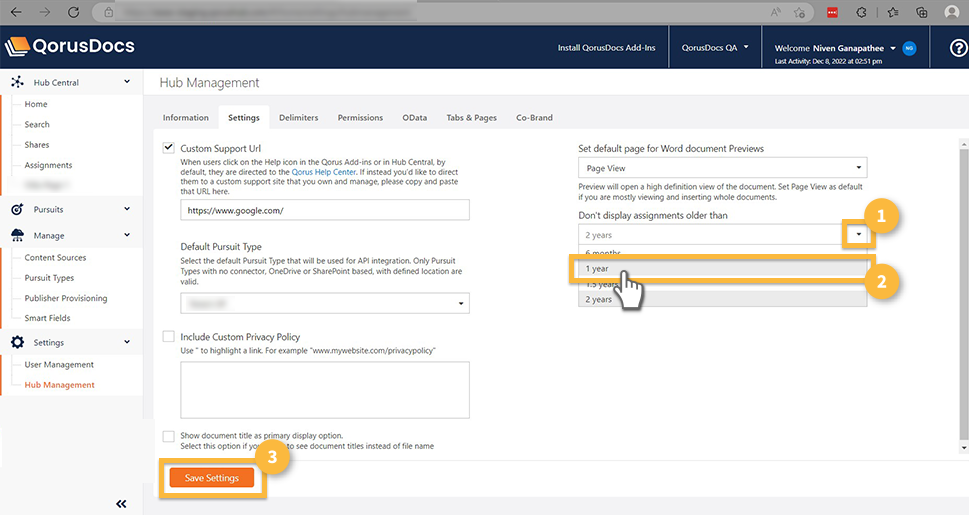 The changes will be instantly applied to your QorusDocs Hub, including in the 'Assignments' view that displays both document-level and Pursuit-level Assignments across all of your QorusDocs: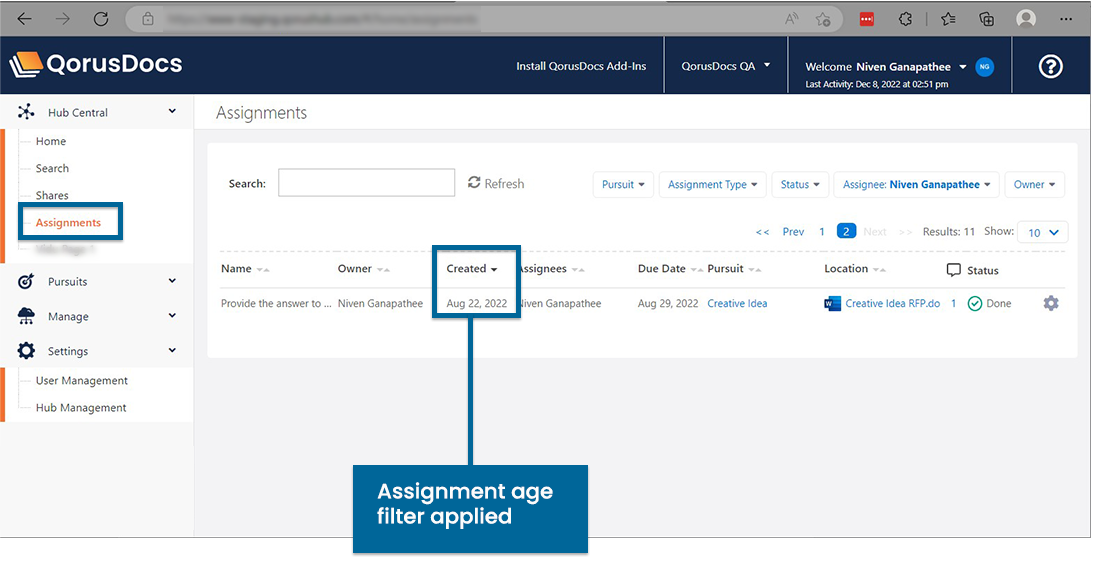 It will also apply to the Assignments tab in your Pursuit workspace: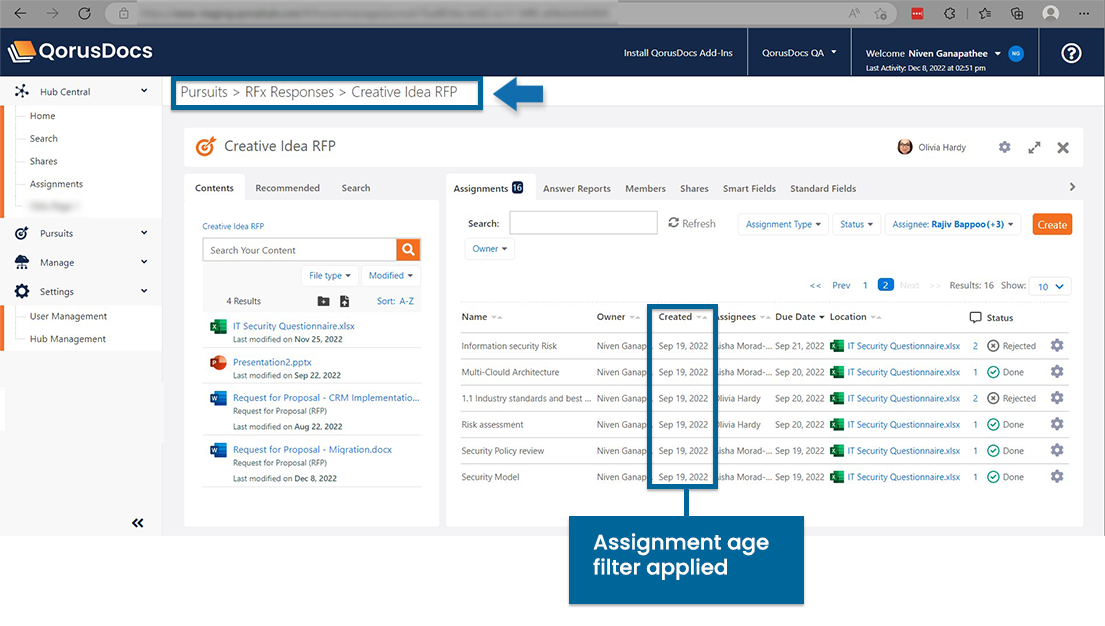 Please note that this does not actually delete any Assignments, it just excludes them from the view so the page can load a lot faster. All the historical data associated with your older Assignments can still be retrieved from Power BI or the analytics platform to which you've connected your QorusDocs Odata feed.
4. Odata feed now includes data for the last three years
As you probably know, QorusDocs records and makes available a large amount of data around a host of activities and events that occur within your QorusDocs for custom reporting in tools like Power BI.
Previously, this data went back one year only. With this new release, you'll be able to drill into your data, as far back as three years into the past – so you can really see how things have changed and explore your track record along a variety of metrics over the years.
5. Auto-Load the Add-In
With this release, we're introducing a new feature that makes it possible for us to automatically load your QorusDocs Add-in in your favorite Office Apps when you open a document – without you having to first locate the Add-in in your 'Home' ribbon and click to launch it.
For Pursuit related documents
When you create a Pursuit in the QorusDocs Add-in and choose to copy the document you currently have open to your QorusDocs Pursuits, QorusDocs will bring up a new window prompting you to open the version of the document that was copied to the Pursuit workspace.
Now, with this release, when you click on 'Open document', QorusDocs will not only open the document, we'll also automatically launch the Add-in and take you straight to the Current Pursuits pane: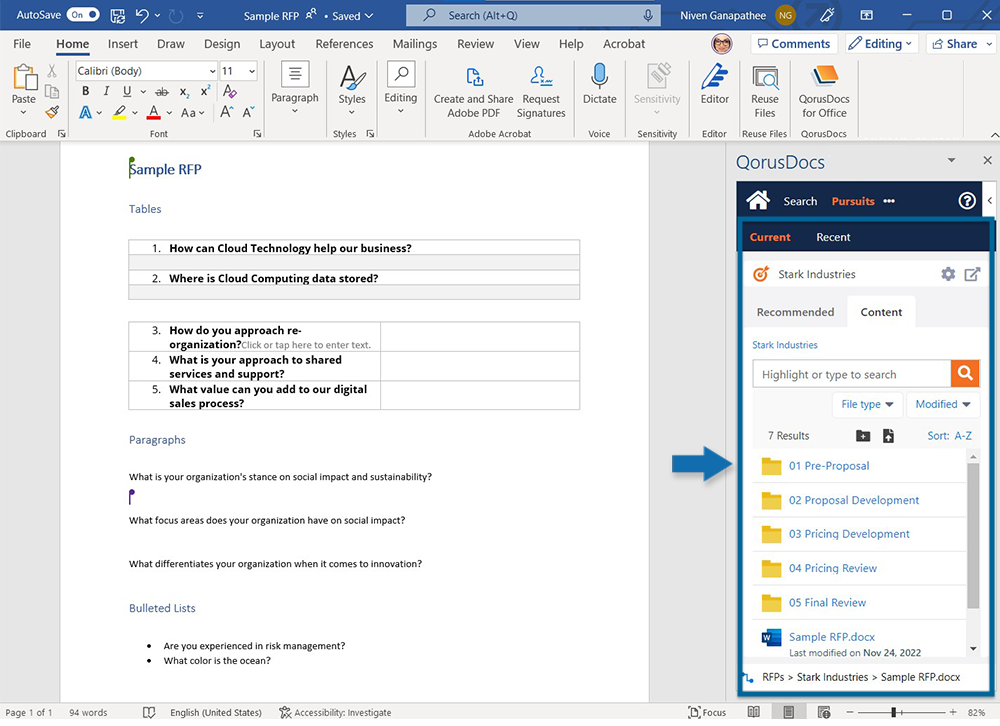 You should also know that this works when you access a document linked to a Pursuit from the QorusDocs Hub: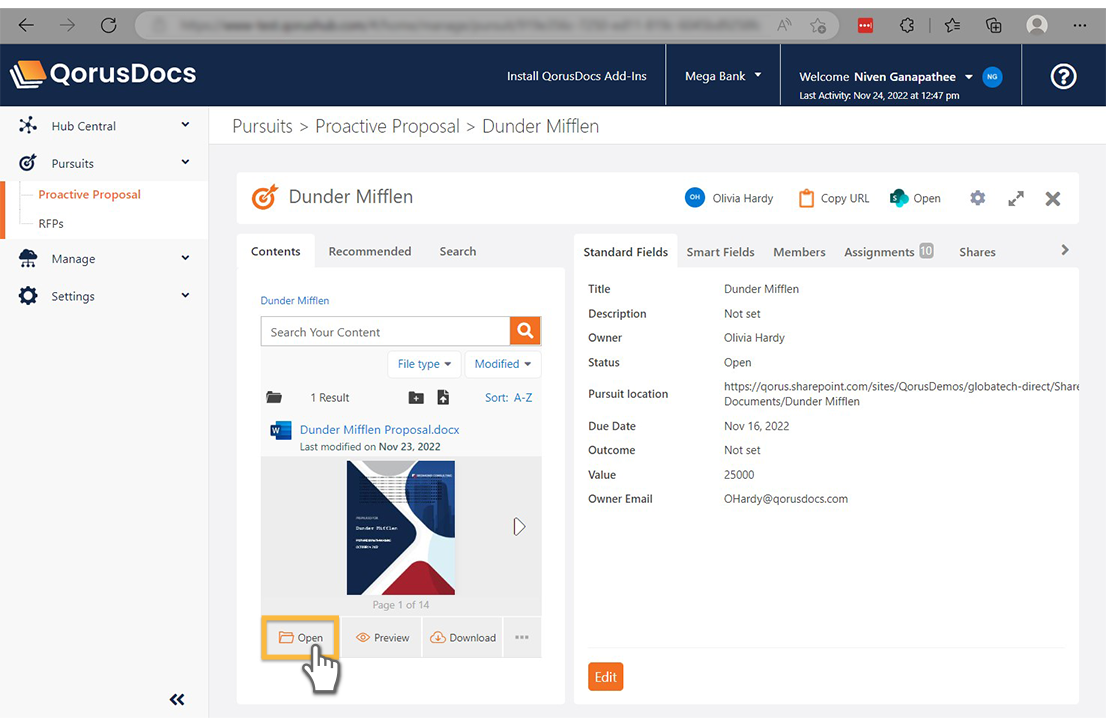 QorusDocs will automatically launch your Add-in and navigate you directly to the current tab within the Pursuits pane: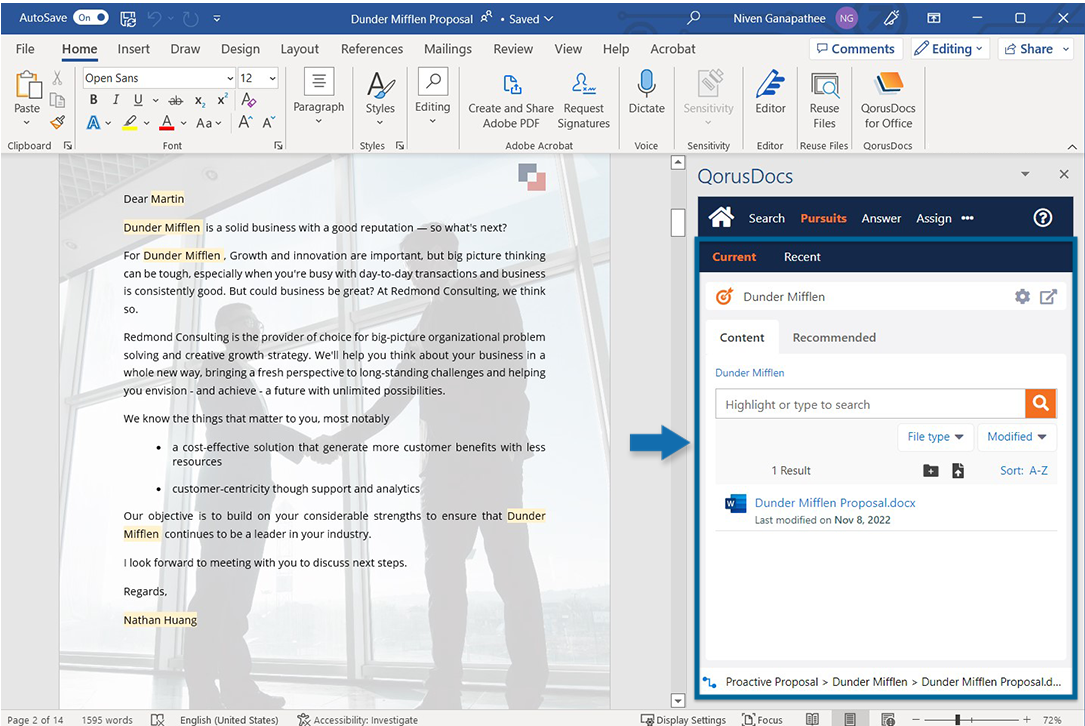 For documents created from Templates
As a Template Designer you can now choose what happens when users open documents created from your template(s), within the 'Settings' menu of the 'Design' pane for Word and PowerPoint: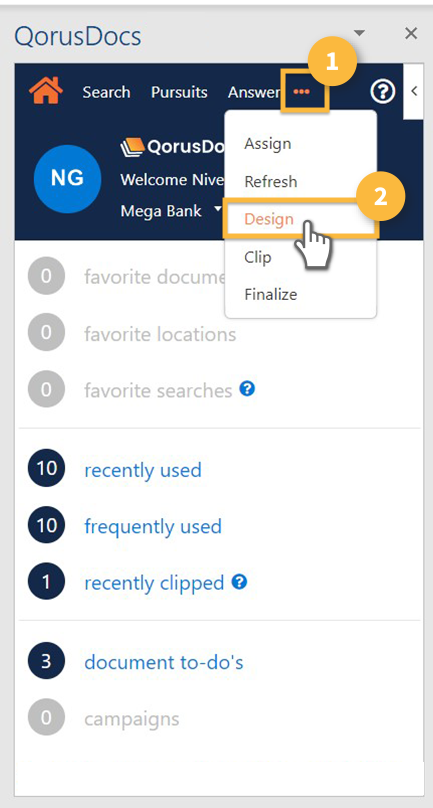 In the Design pane of your Add-in, you will be able to choose from the following options:
Never: Don't Auto-load the Add-in

Only Once: Auto-load the Add-in the first time

Always (Default): Auto-load the Add-in every time

Auto-install the Add-in (Optional): Install the Add-in if it is not already installed.
| | |
| --- | --- |
| | Please Note: If your organization has blocked a user's access to the Office store, the add-in will not auto-install. |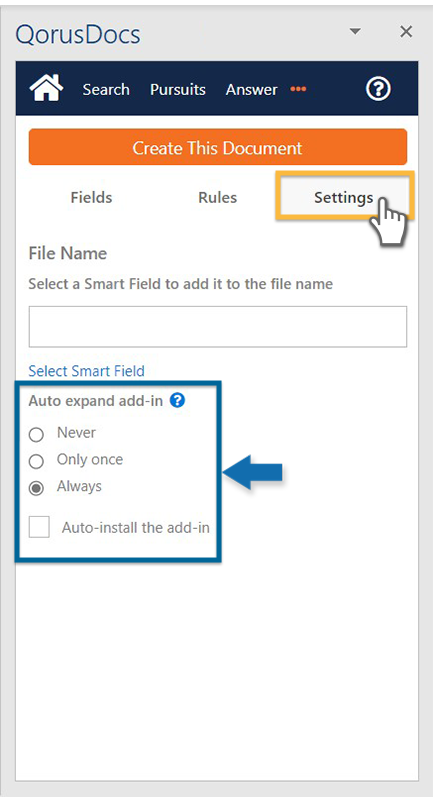 Note that on both new & existing templates, the auto-expand option (auto-load or auto-install and auto-load) is by default set to 'Always'.
After this release, when you're editing an existing template, you'll be informed by QorusDocs that we've set the option to 'auto-load the Add-in' to 'Always', but that you can change that if you'd prefer by going to the 'Settings' tab in the 'Design' pane.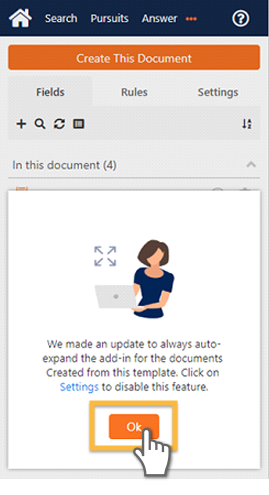 For end-users who are using your template to create new Word documents or PowerPoint presentations, where they land when 'auto-load' is turned on depends on whether the template is used with a Pursuit, or outside of a Pursuit.
When the template is used with a Pursuit:

The QorusDocs Add-in will auto-load and take the user straight to the Current Pursuit's pane. Here's what the end-user experience is like:
Step 1: While in a Pursuit, find a template you want to use and click on 'Create'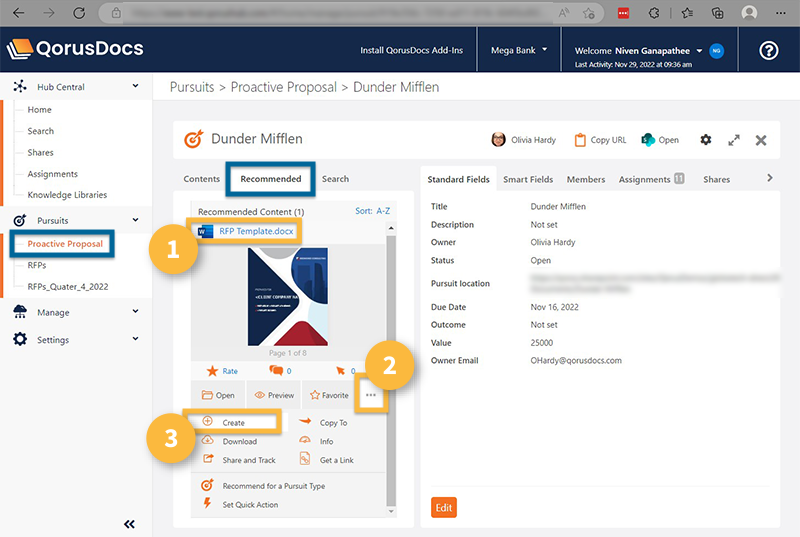 Step 2: The new document is automatically associated with the Pursuit. When you're done filling in the Smart Fields form click 'Continue'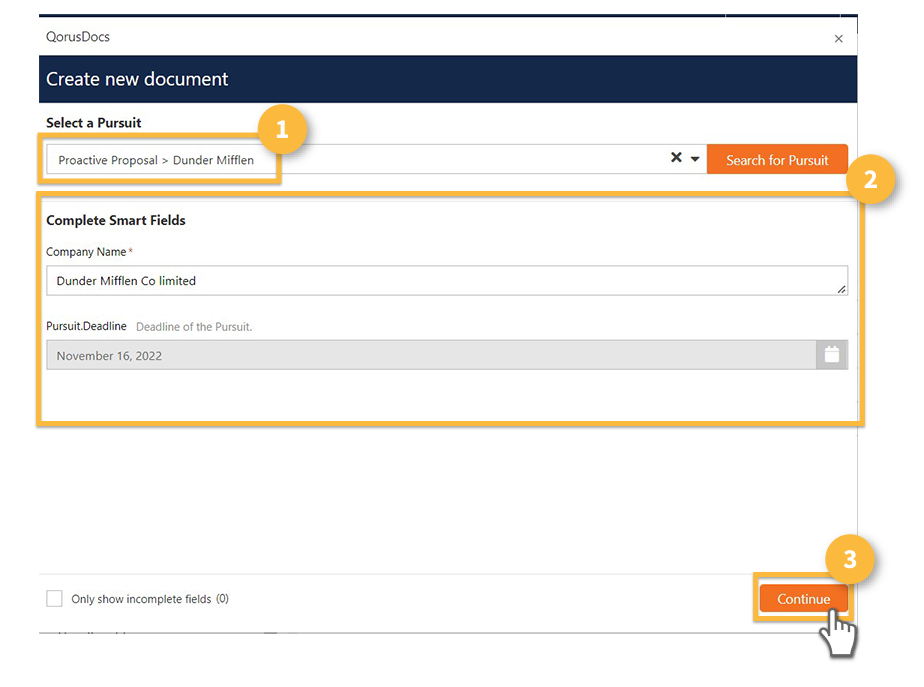 Step 3: Click on 'Open'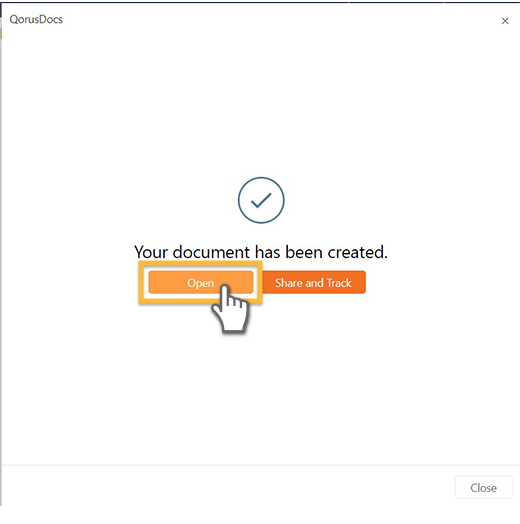 Step 4: QorusDocs will automatically launch the Add-in and take you to the Current Pursuit
When the template is used outside of a Pursuit:

the QorusDocs Add-in will auto-load and take the user straight to their 'Home' pane. Here's a walkthrough the user experience:
Step 1 : Search for a template and click on 'Create' to use it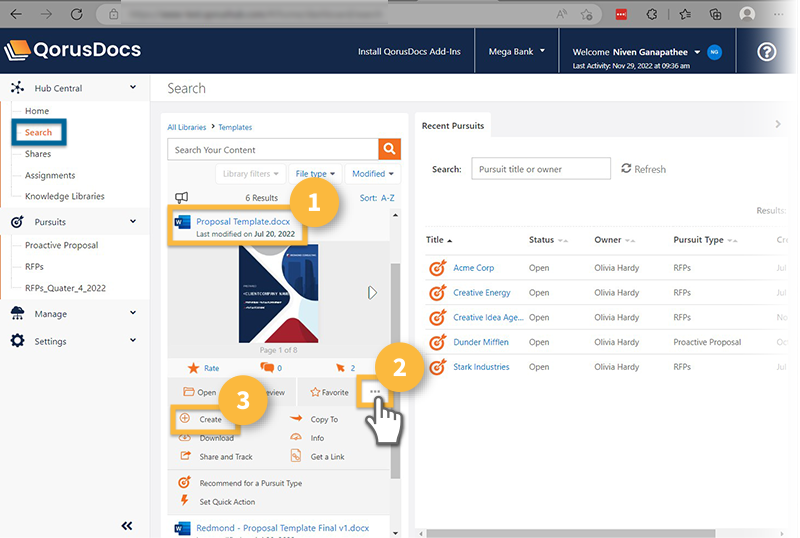 Step 2: There's no Pursuit associated by default. Complete the Smart Fields form.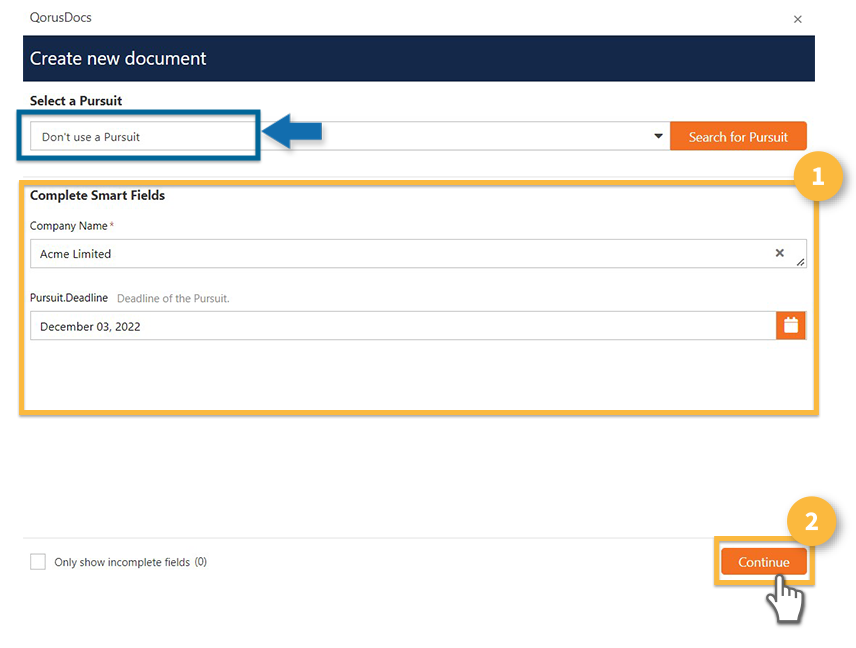 Step 3: Click on 'Download'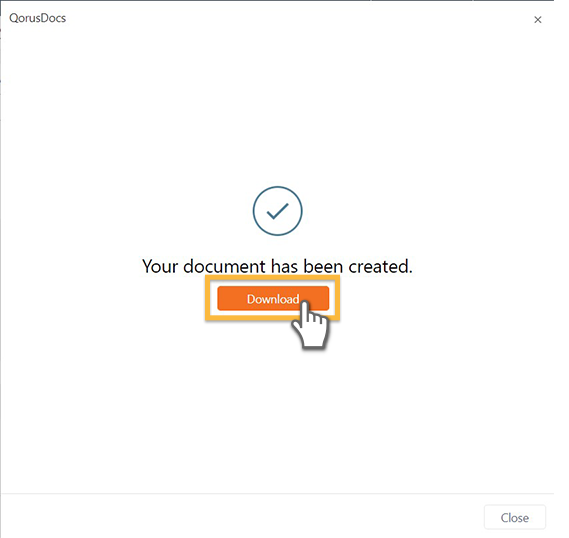 Step 4: QorusDocs automatically launches the Add-in and lands you on the Home page.