Hot off the heels of our brand-new Pursuit Assignments release earlier this month, we're excited to announce our next round of Pursuit improvements coming soon to your QorusDocs.
This new release is planned to land on November 23rd, when you will be able to, for the very first time, create new Pursuits without leaving your Office apps, as well as browse your most recent Pursuits.
Here's what's new:
1. Where to find the new Pursuit functionality in the QorusDocs Add-ins
Up until now, the only way to create a new Pursuit and to browse your recent Pursuits was to go to your QorusDocs Hub using your web browser.
With this release, you can now do that directly from within Microsoft Office with the QorusDocs Add-ins for Word, PowerPoint, and Excel.
When you click on 'Pursuits' in the top nav in your QorusDocs Add-ins, you will see two new tabs: one for the Current Pursuit and one for your Recent Pursuits.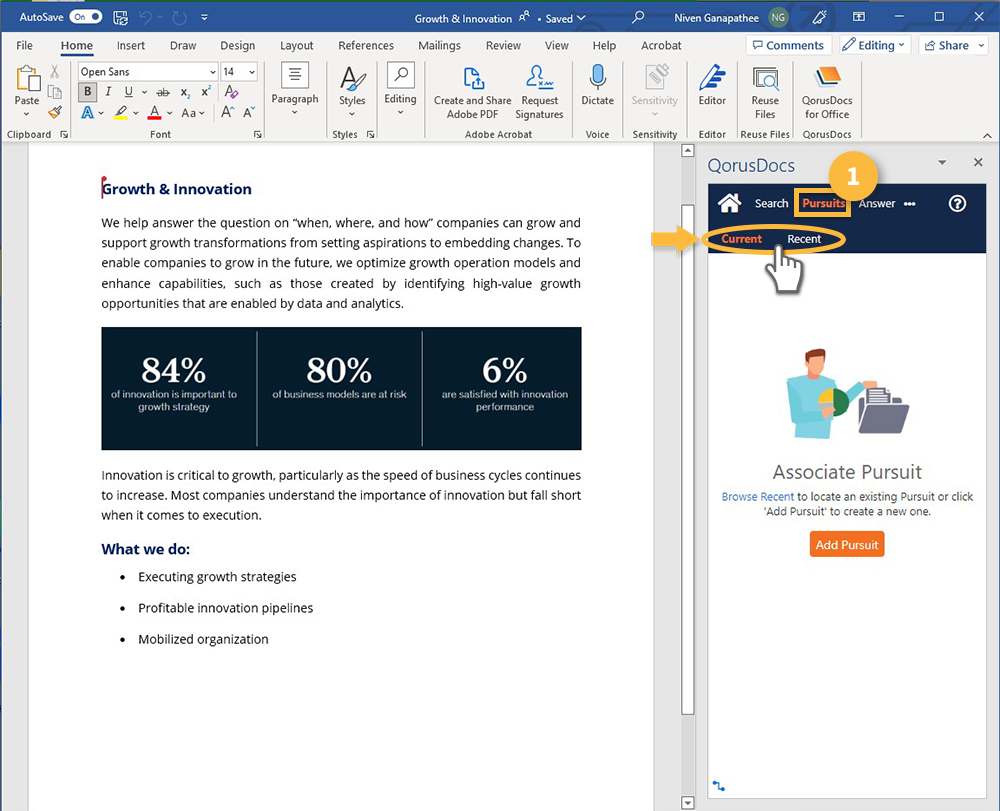 2. How to add a Pursuit
When you receive a new RFP from a client, the first thing you probably do is open it in the Microsoft Office to get your first view of the client's instructions and requirements.
Previously, you would then have had to head over to the QorusDocs Hub to set up a new Pursuit and upload the RFP document you currently have open to your Pursuit workspace.
With this new release, you can now do so directly from within Microsoft Office from your QorusDocs Add-In.
If you're not there already, navigate to the 'Current' tab within the Pursuits pane. Then, click on the 'Add Pursuit' button: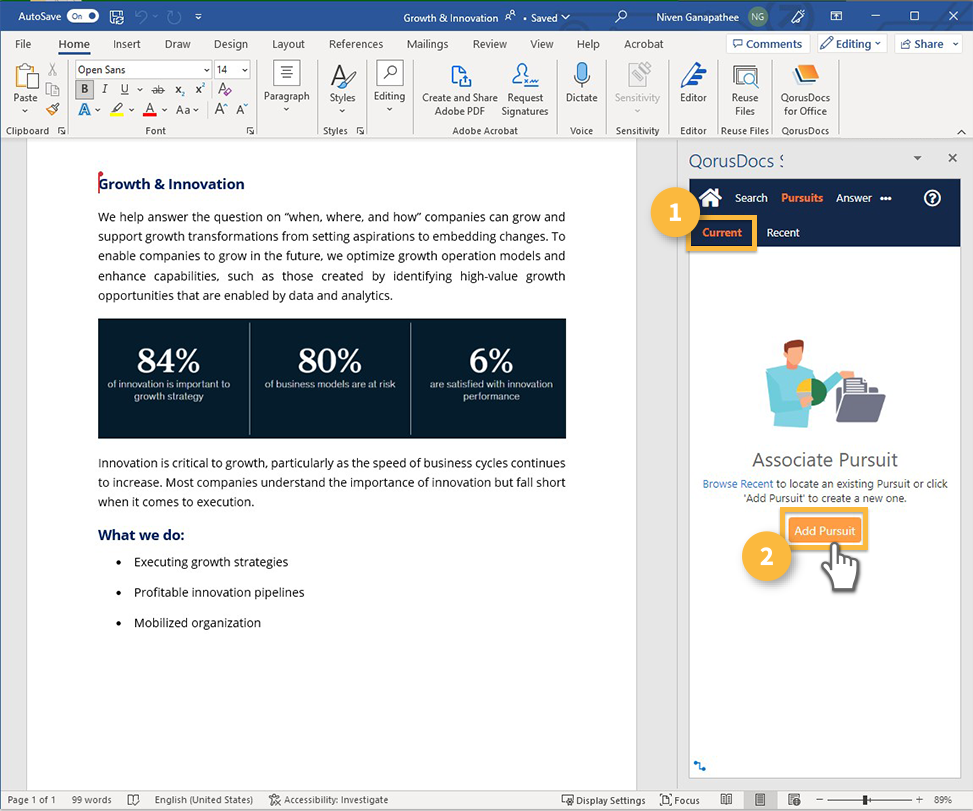 Please note that you'll only see the 'Add Pursuit' button here if you are able to add Pursuits on the web in Hub Central. If you don't have the ability to add Pursuits in your browser, you won't be able to add Pursuits here either.

Here are a few scenarios where this could happen:

There are no Pursuit Types configured in your QorusDocs
You do not have the necessary rights to add Pursuits, because you are not listed as one of the 'Permitted Users' on the Pursuit Types
The Pursuit Types on your QorusDocs Hub Central have been disabled and/or hidden.
The following screen will pop-up next, prompting you to choose a Pursuit Type from the drop-down menu: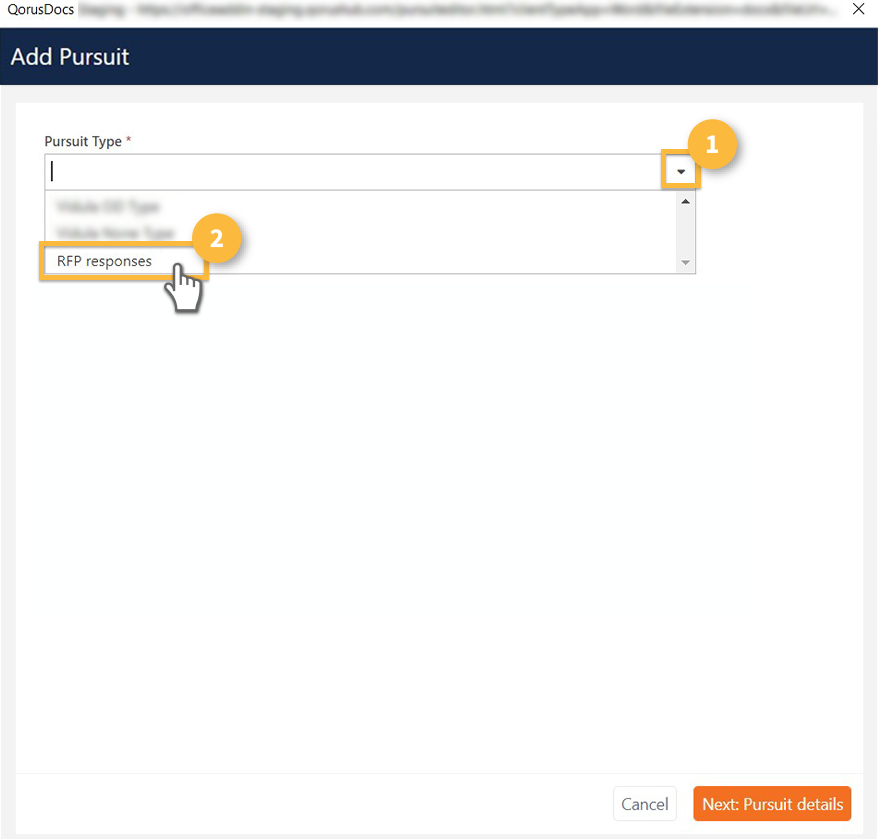 Next, specify whether you'd like to copy the document you currently have open to the new Pursuit you're creating. This is very similar to doing a 'Save As' in Microsoft Office as it creates a duplicate of the document. QorusDocs will automatically save the copy to the correct location for the new Pursuit so you will be able to access it through your Pursuit workspace and collaborate with coworkers.
For now, when you're ready, click on "Next: Pursuit details":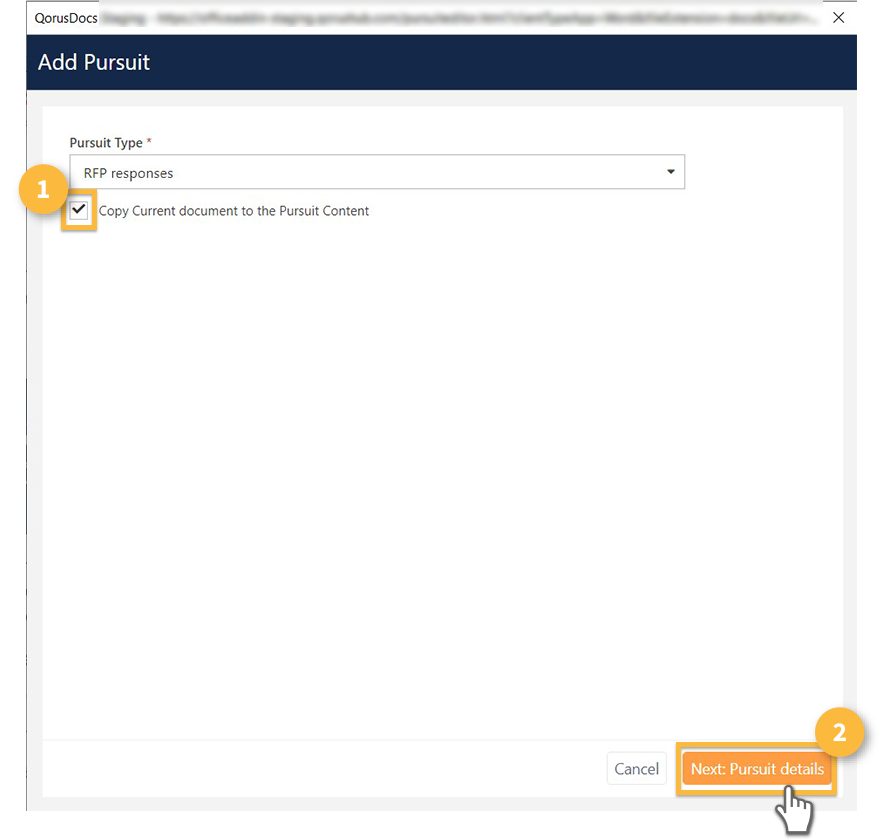 Another window will pop-up, where you will be required to complete the new Pursuit creation form and set the Standard Fields, then proceed to set the Smart Fields and finally specify the Pursuit Members, in exactly the same way as you would if you were creating a new Pursuit in your QorusDocs Hub.
And that's it - you've created a new Pursuit right from your QorusDocs Add-In!
If you've chosen to "Copy the Current document to the Pursuit Content", then QorusDocs will prompt you to open the version of the document you have just copied to the newly created Pursuit, to ensure that you are working in the correct document version: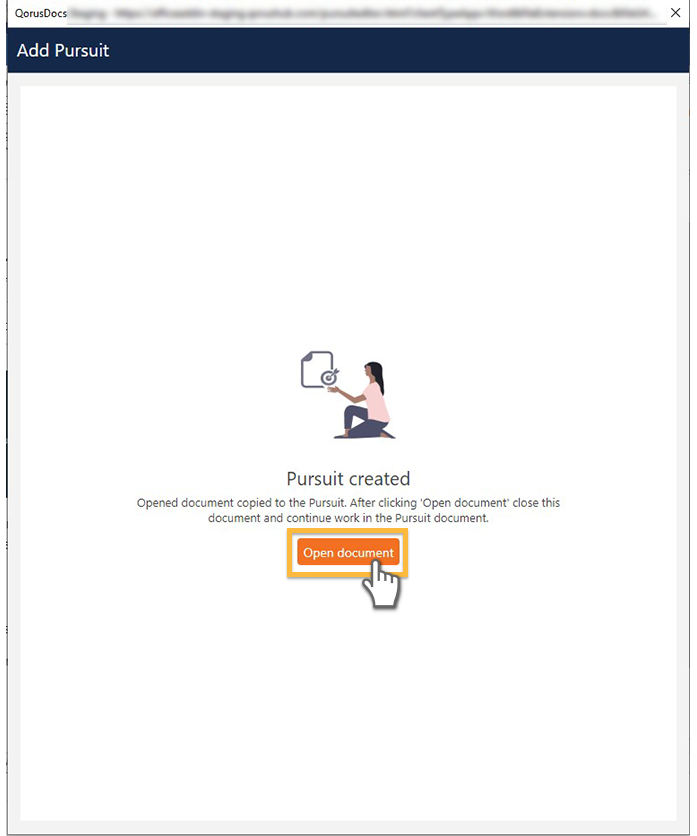 With the copied document open, go ahead and close the original document.
Then, open your QorusDocs Add-in and click on Pursuits in the top nav, you will now see the name of the Pursuit you just created under the "Current" tab: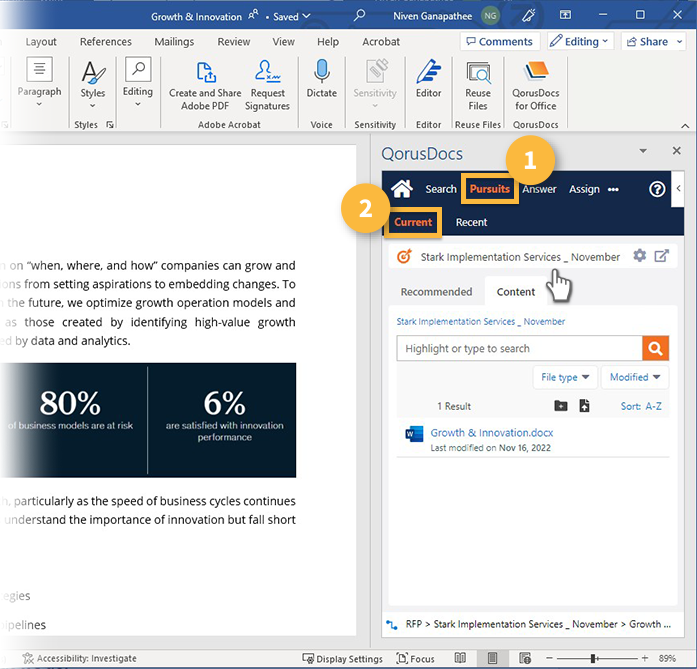 If you'd like to make a change to any of the Pursuit Standard Fields, Smart Fields, or Members, you can do that right here in your Add-in, by clicking on the cog or gear icon next to the Pursuit name and then on "Edit":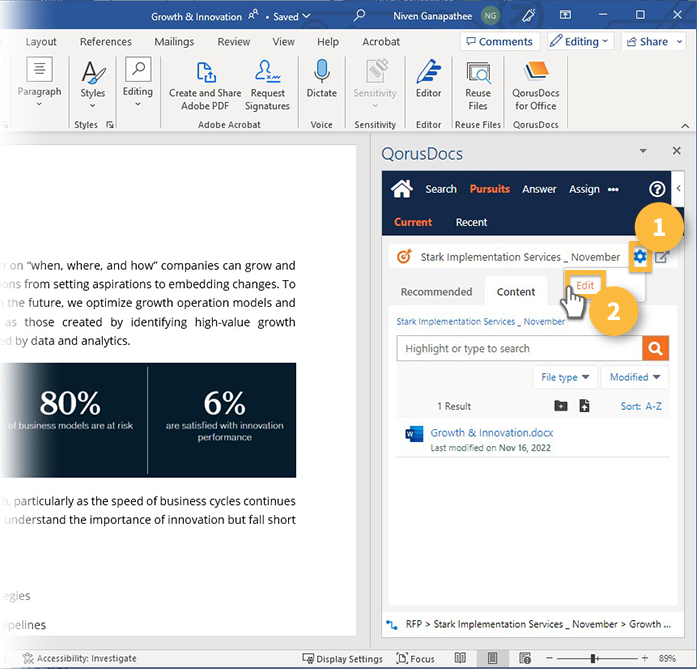 In the pop-up window, click on the tab that contains the information you want to edit and then click "Save":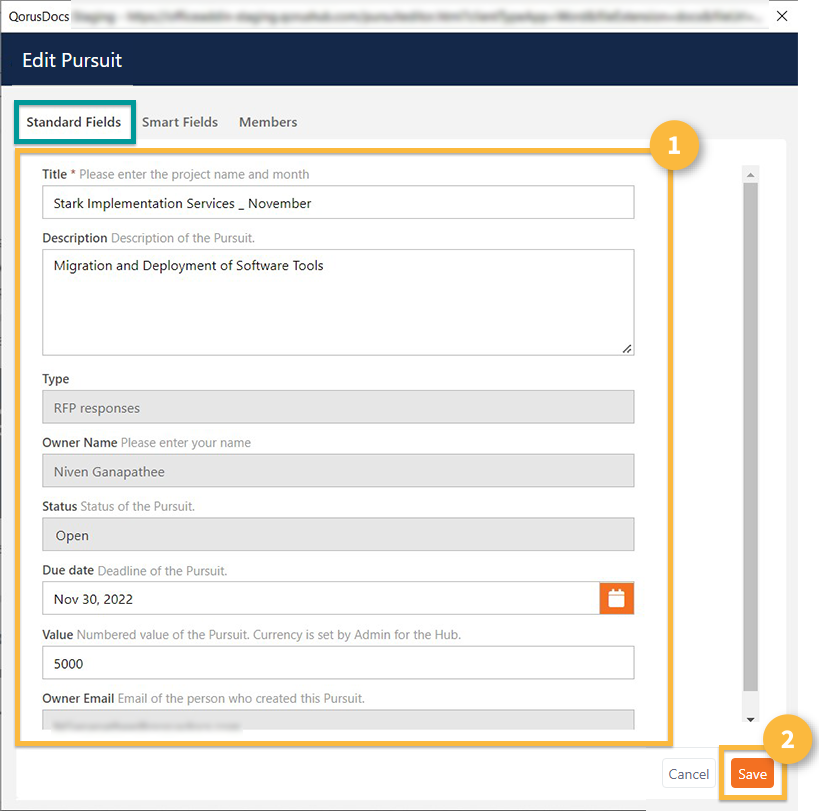 3. How to access your 10 most recent Pursuits from the Add-In
You can now conveniently access your 10 most recent Pursuits and their documents by going to the "Recent" tab under Pursuits: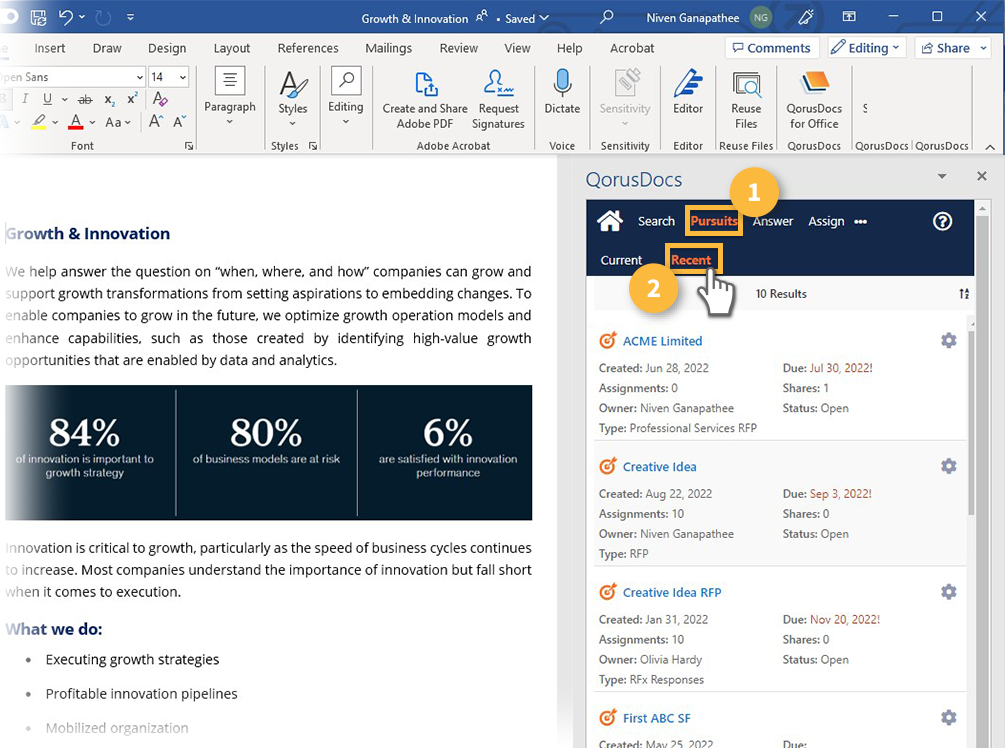 For each Pursuit, you can see:
the Pursuit name
the date it was created
the total number of Assignments
the name of the person who created it (the 'owner')
the Pursuit Type
the date it is due (if applicable)
the number of Shares
the Pursuit status ('Open' or 'Closed')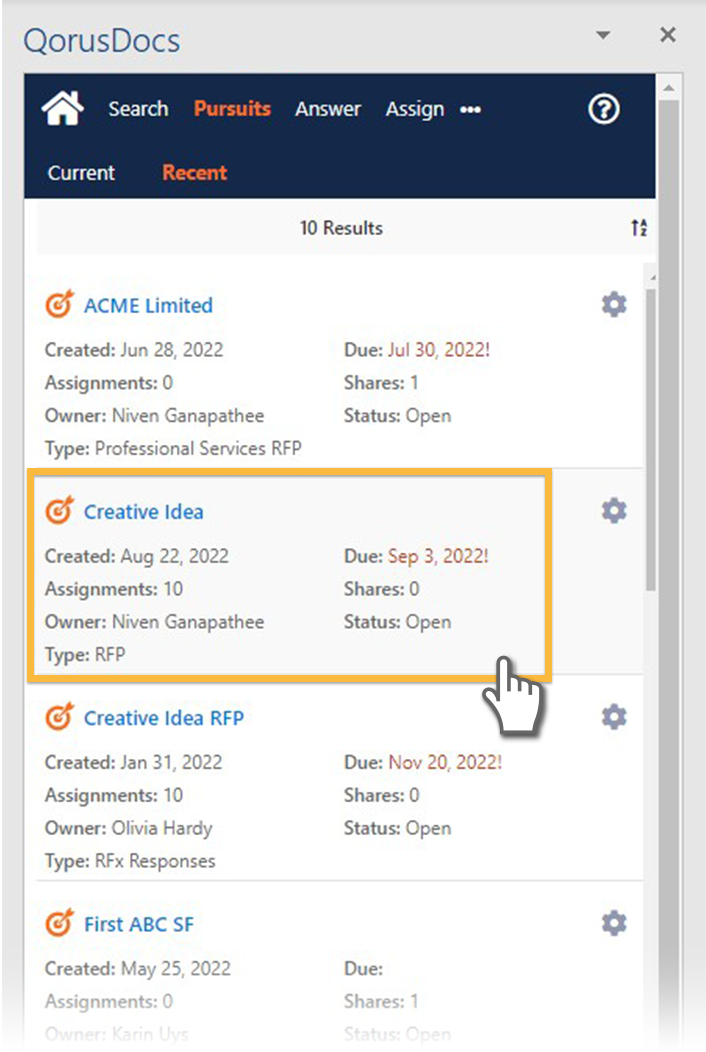 There's also a cog or gear icon that let's you update the Pursuit information (Standard Fields, Smart Fields, and Members):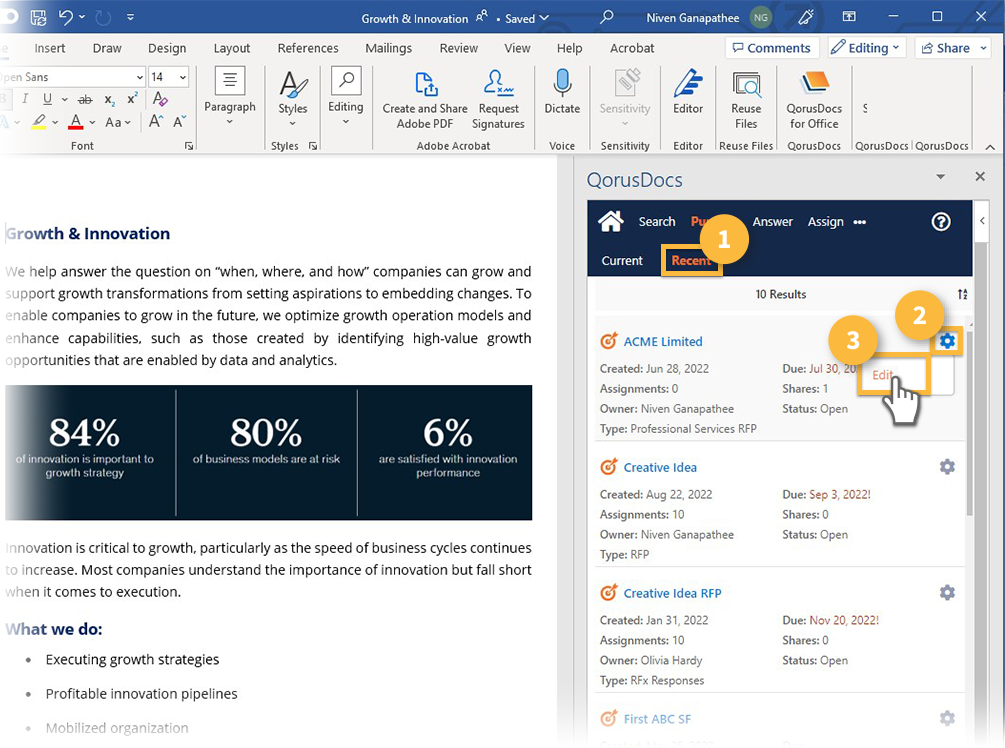 To open the Pursuit in the Add-in, click on the Pursuit tile: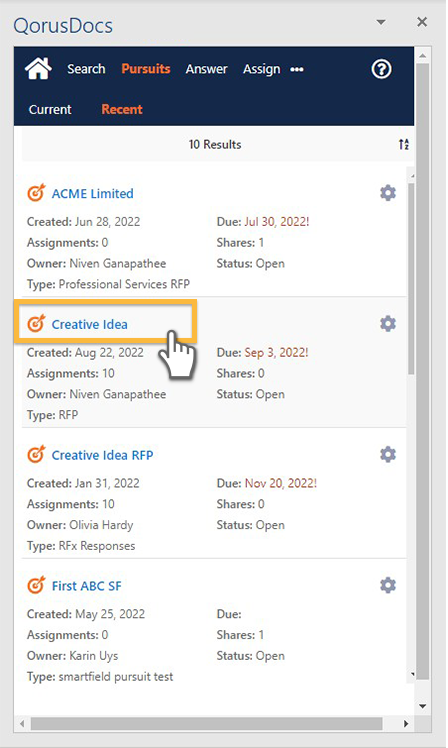 From here, you can access your selected Pursuit's recommended content and all the Pursuit's documents: