This applies to:

Available with the following QorusDocs Editions:

Enterprise

Premium

Essential

Free
In QorusDocs, Pursuits are a collection of documents, team members, assignments, and information related to a proposal, RFP response, or sales opportunity. You can think of a Pursuit as a project.
Tracking success rates across Pursuits helps organizations identify which documents and approaches work well, as well as understand which ones could be doing better, so you can keep on improving and win more deals.
This article will walk you through how to add new Pursuits to your Hub.
Here, you will learn how to:
What you need to know before you can create a Pursuit:
you must be logged into your QorusDocs Hub, in your browser
there must be at least one Pursuit Type already configured. See how to create a Pursuit Type here.
the Pursuit options (including the Smart Fields) you see in our screenshots below will probably be quite different to the ones you see in your hub. That's because Pursuits are designed to be highly configurable so you can adapt them for each type of opportunity your firm or company pursues and for the way you work.
1. Create a pursuit
In your QorusDocs Hub, in the left nav, click on Pursuits, then select the type of Pursuit you would like to create, and click the Add button in the top right corner.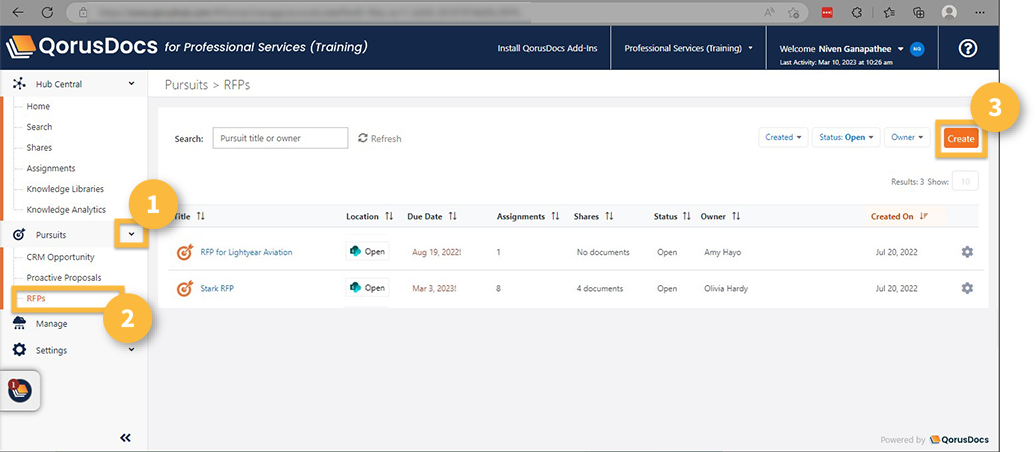 2. Set the Standard Fields
Standard Fields are system fields that vary based on the Pursuit Type you select. Some of these fields are mandatory and must be completed before you can move on to the next step.
Follow the instructions and complete the form, then click 'Next' to proceed to the next screen: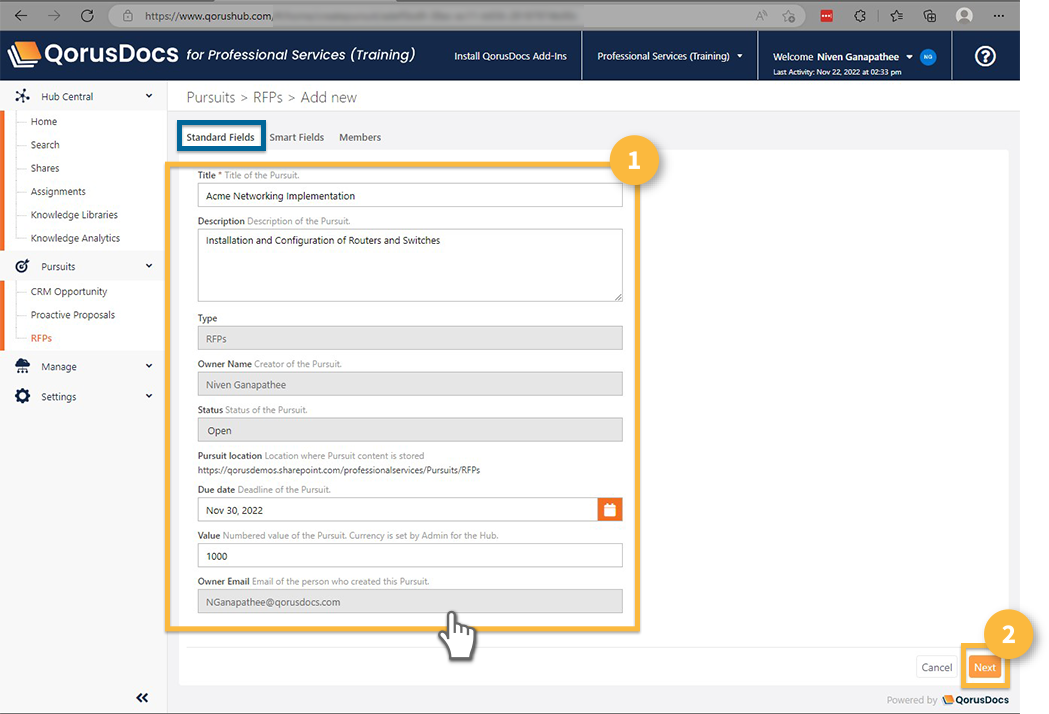 3. Set the Smart Fields
Smart Fields are used to collect custom information required to automate your templates and/or report on your Pursuits. They are unique to your organization and can be different for different types of Pursuits.
Follow the instructions provided by your QorusDocs Amin user to complete the form and then click on Next.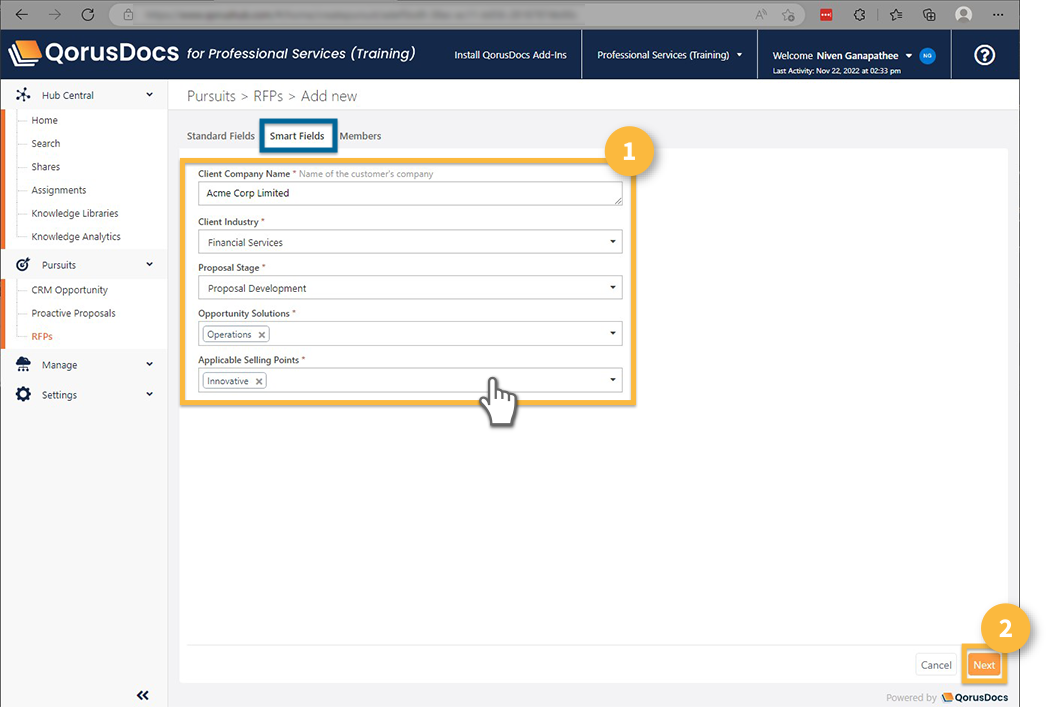 4. Set the Members
The people or user groups you select in the 'Members' tab will be able to access this Pursuit's workspace.
You can either make the Pursuit visible and accessible to everyone in your organization with a paid QorusDocs license (not Guest users) by selecting 'All Qorus Users', or you can restrict it to specific people and groups that you select after clicking on 'Custom':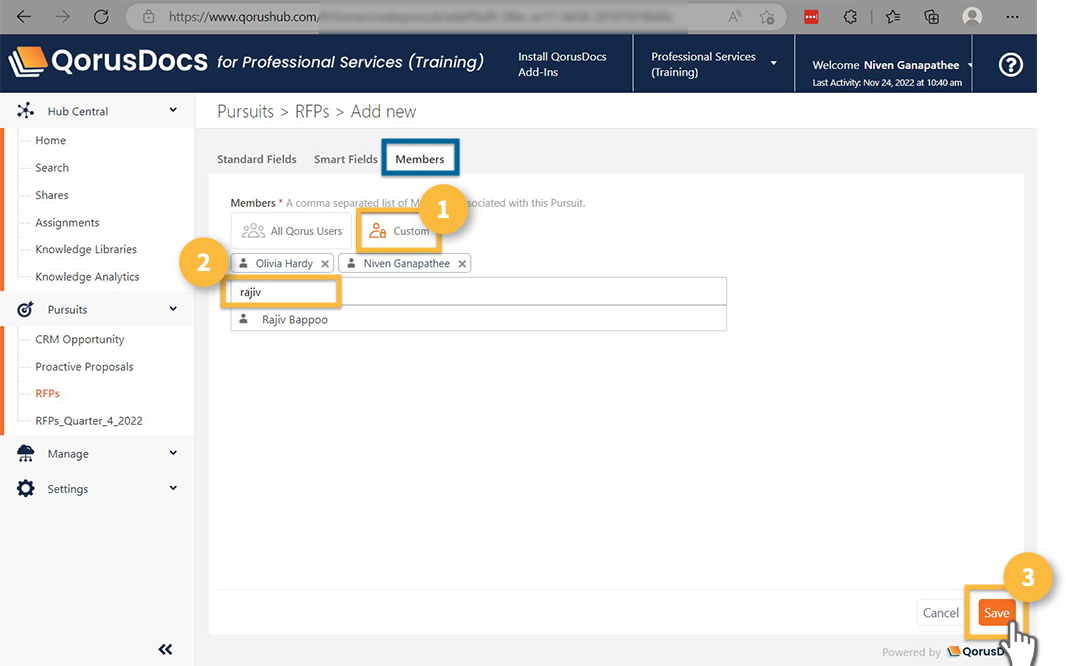 And that's it! When you're ready to create your Pursuit, click 'Save'. Alternatively, if you'd like to go back and make a change to the Standard Fields or Smart Fields before saving, you can do so by clicking on the relevant tab name at the top.
When you're done, you'll see your newPursuit in Hub Central: