In our newest release, planned for March 8th, you can look forward to the following new features and improvements:
1. Default Values for your Enterprise Managed Smart Fields
If you're an Admin user or belong to the Template Designer Role, you can now configure Default Values for your Smart Fields and ensure accuracy, speed, and compliance your end-user community working with Smart Content.
With Enterprise Managed Smart Fields, Smart Fields are pre-populated with the same Default Value each and every time. This feature also supports a wide variety of Smart Field types, including:
Text
Number
Single Select
Multi Select
Date / Time
Yes / No
This is different from the 'Remember Values' Smart Field functionality, which will remember the last 10 values entered either by you or by every user on your QorusDocs hub, depending on how the Smart Field is configured.
Here's how it works.
Let's say your firm has multiple office locations, and it is the firm's policy to contract with clients out of your US Office unless agreed otherwise. You could set the relevant Smart Field to take on the US Office as the Default Value by checking the 'Default' box: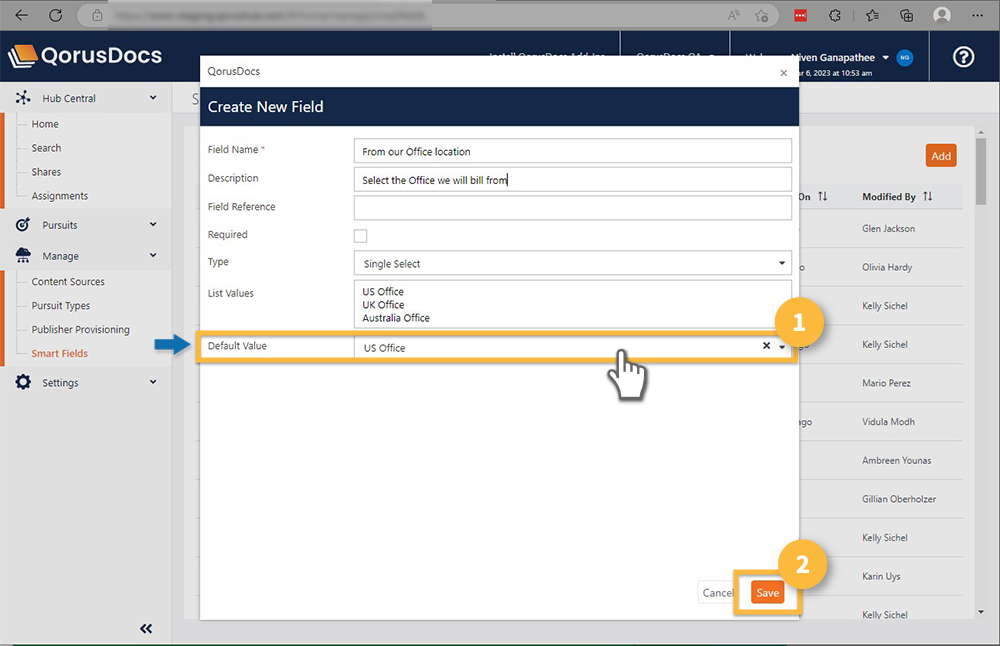 When users create new Pursuits, this Smart Field will be auto-populated with that Default Value.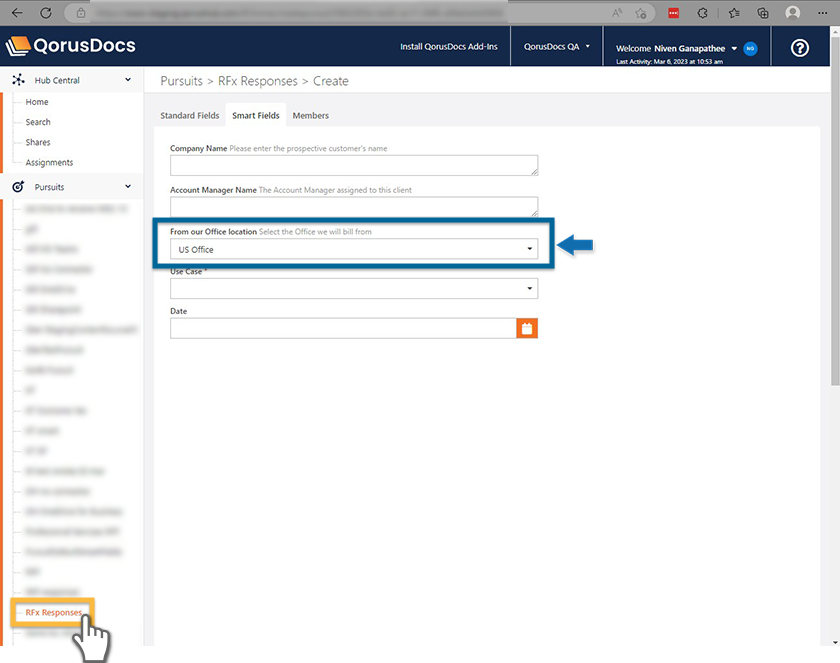 There's no guesswork and the right supporting documentation for contracting with the US Office can then automagically appear in the Pursuit's Recommended Content.
2. Renaming Pursuits in QorusDocs renames Pursuit Folders
Previously, renaming a Pursuit was not fully supported because doing so would break links with external systems and potentially cause havoc.
With this new release, Bid Teams can now rename their Pursuits in QorusDocs and have the updated name automatically trickle through to the corresponding folder in SharePoint Online, channel in Microsoft Teams, or folder in OneDrive for Business.
Please be aware, however, that doing so has an impact on the URL of the Pursuit location and that any links you might have shared will no longer work after the rename. This also has an impact on the links that are included in the Assignment Email notifications. Links in previous emails will no longer work, but links in new notifications after the rename will work, and so will browsing to the Pursuit, Pursuit location, or Assignments.
You can tell if a notification predates the Pursuit rename as you'll see the old Pursuit name in the Assignment notification: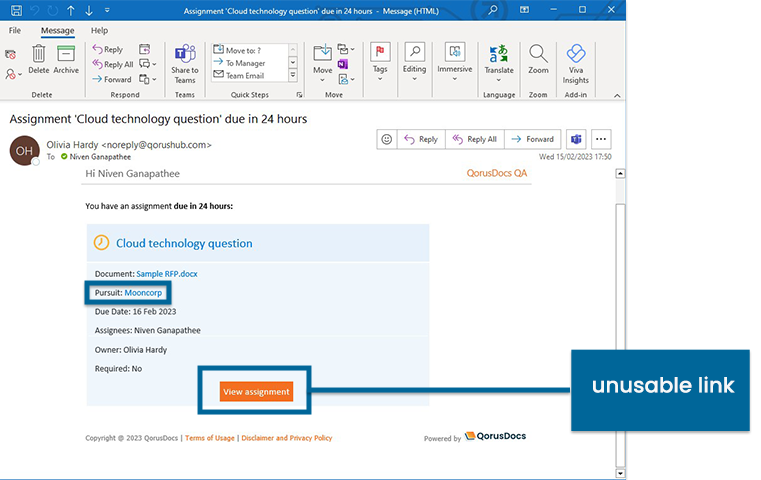 To change the name of a Pursuit, simply click on the cog icon and select the "edit" button:
Then, enter the new name for the Pursuit and click the "Save" Button: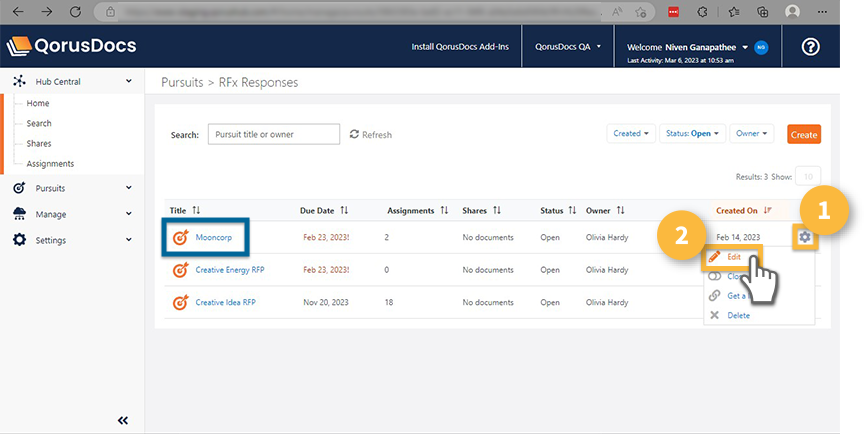 Next, QorusDocs will display a warning message about the impact on existing Assignment links: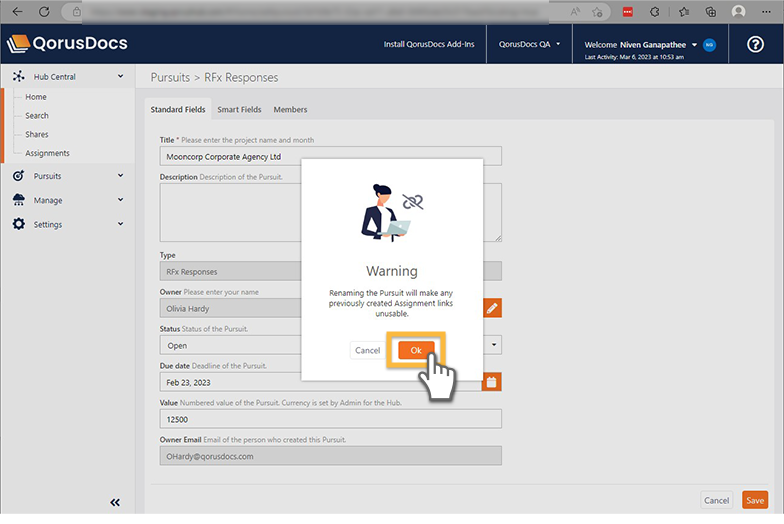 If you'd like to proceed, click 'Ok'. Upon successful completion of the rename process, the Pursuit will be updated with its new name: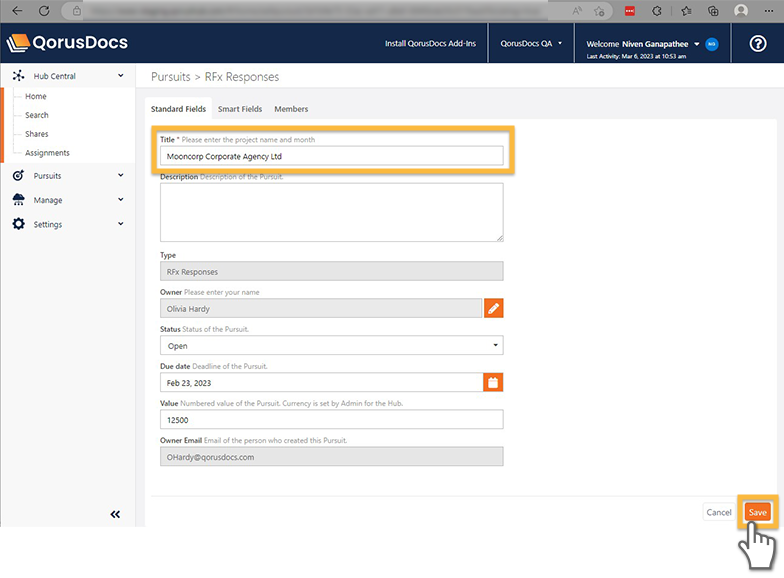 3. UI and UX Improvements:
a. New look for all Grid views
We've improved the performance and UI for all Grids across QorusDocs. Grids now load faster and are roomier and easier for users to read and understand quickly. The top navigation menu now features an updated design for the sorting order icon with improved contrast for better visibility.
Auto Answer Content Change Management Grid
The selection checkboxes are now larger and more visible in blue, and as a result, easier to use to complete actions. We've also improved the overall clarity and readability of the Grids with differentiated font sizes and widths: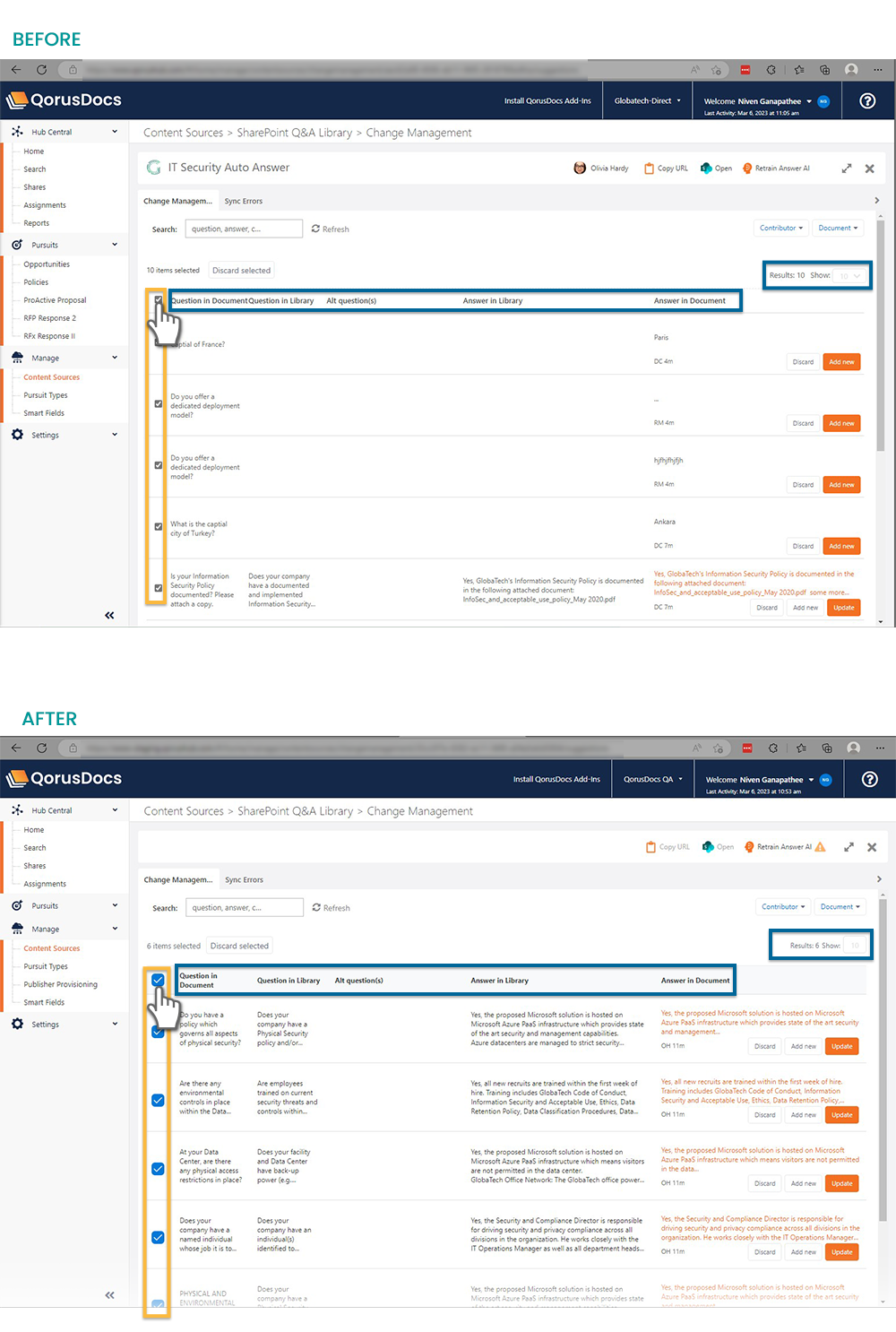 The Other Grid views
The rest of the Grid views across QorusDocs also received a similar makeover, ensuring a consistent and improved experience to the Grids for Assignments, Pursuits, Content Sources, Pursuit Types, Smart Fields, and User Management
For example, here are the changes visible on the All Assignments Grid: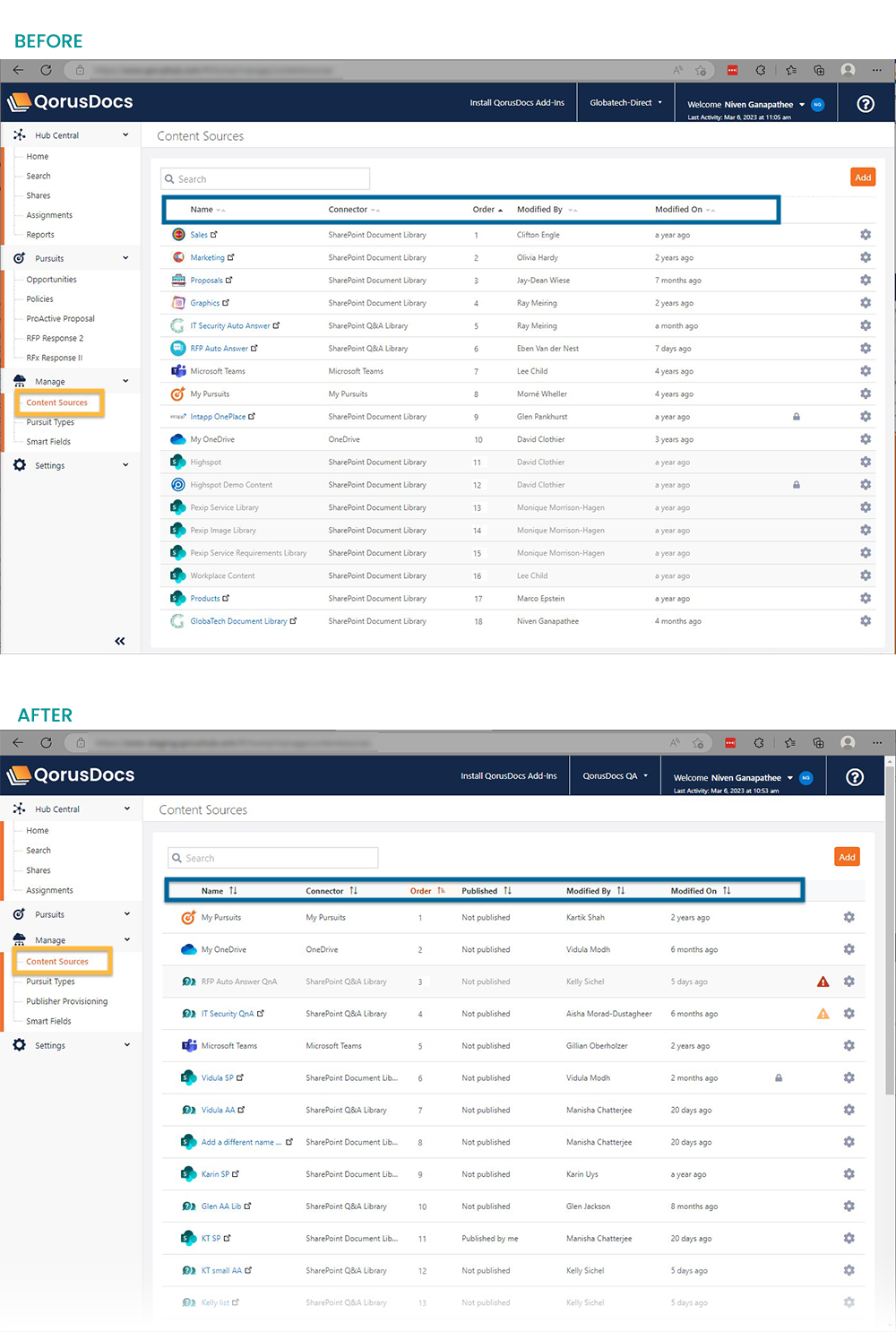 b. Removed file extension from Auto Answer and List search results
The ".list.txt" extension has been removed from search results for content stored in Auto Answer Content Sources and using the SharePoint List connector. This results in a cleaner and less cluttered list of results, making it easier to read and navigate the content.

c. New tooltips for Content Source connectors
To make it easier for Admins configuring content sources, we've added tooltips to appear when you hover your mouse over each of the different connectors, so you can more easily tell what each one is for.