Our latest release is here! While we've focused mostly on under the hood stuff for this one, with many bug fixes and some significant performance improvements, we are pleased to announce another usability enhancement for Pursuits that will speed up your workflow.
Here are the highlights:
1. Smart Fields now remembered when creating new Pursuits
2. Performance Improvements and Bug Fixes
1.Smart Fields now remembered when creating new Pursuits
To save you time in creating new Pursuits, Smart Fields that have the 'Remember Values' option checked, now remember information you or your team have used in previous Pursuits and documents.
Here's where the 'Remember values' option is found in the Smart Field edit screen: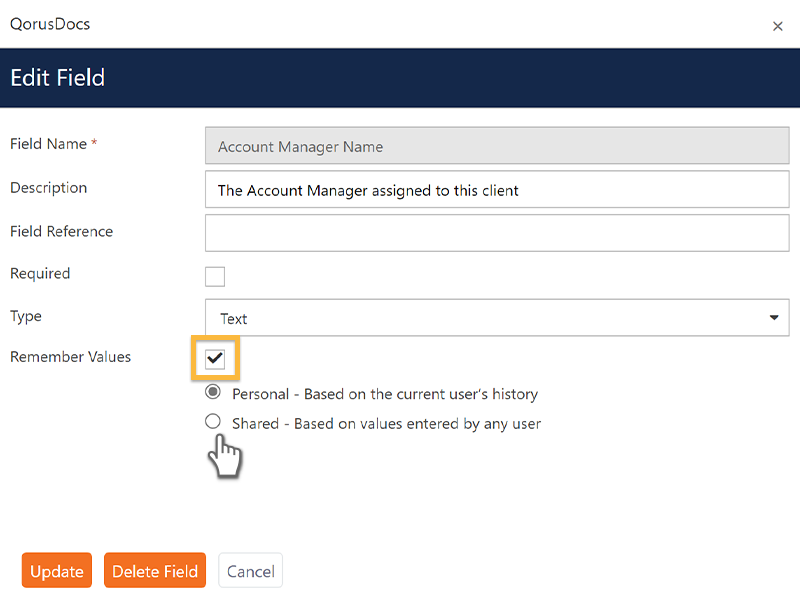 Using the example above, when 'Remember Values' is checked and you create a new Pursuit that references this 'Account Manager Name' Smart Field, QorusDocs will dynamically generate a drop-down list that contains the names of the last 10 account managers entered into that Smart Field.
Clicking inside the Smart Field brings the drop-down list into view, allowing you to select a name from the list and saving you the time and trouble of having to enter this information manually.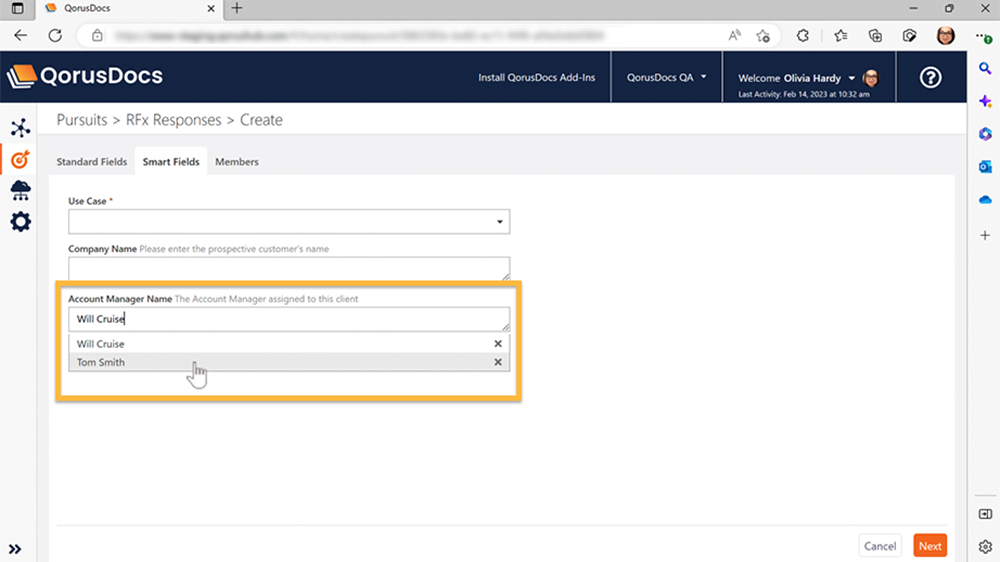 2.
Bug fixes and performance improvements
We've also introduced some significant under the hood improvements that will noticeably reduce load times for document previews, dynamically generated Smart Field forms when creating new documents, and your QorusDocs Hub in your web browser.
Plus, we've fixed some pesky bugs that we know have been causing headaches, including the following:
Document details not updating for users after updates in connected SharePoint libraries.
Add-in loops when guest users access from assignment email.
Unclear document preview in Edge.
Insert as refreshable not working on Q&A lists.