As you probably know, Assignments and Pursuits have been the focus of a lot of love over the last few months – and this upcoming release, planned for February 1st, is no different.
We've heard your feedback and are pleased to be bringing you a bunch of mostly small improvements that all add up to improved usability and overall user experience, along with a few bug fixes.
Here's what's new:
1. Assignment Improvements
You can look forward to better drop-down menus in the Assignments screen in your QorusDocs Hub for the Pursuit, Assignee, and Owner filters. Clicking on a filter now brings up a shorter window with a scroll bar, and the options are now sorted alphabetically: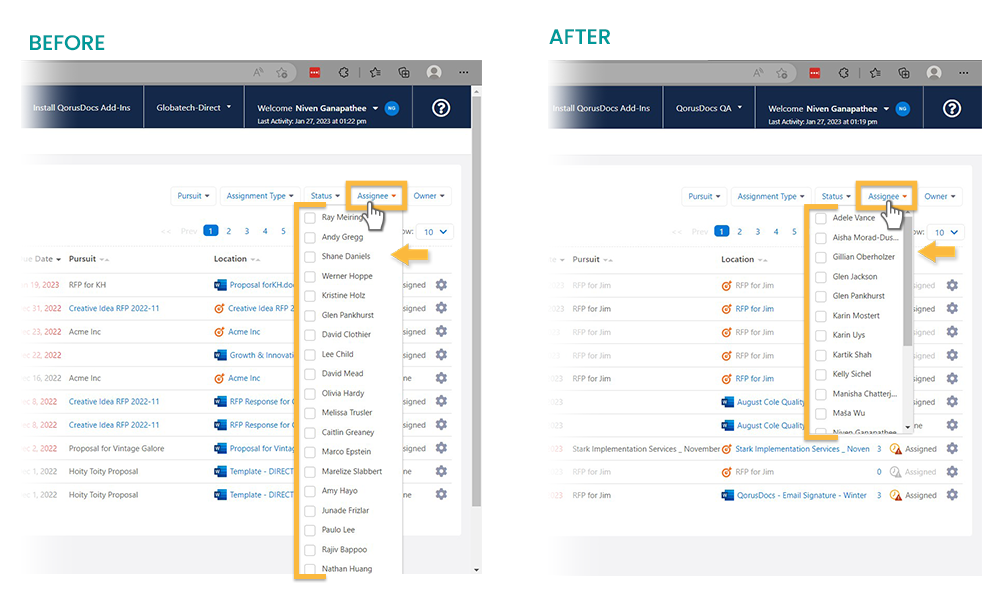 Better Helper text in the 'Create Assignment' screen: Where we used to have 'Write name' we now have 'Enter name' for the new Assignment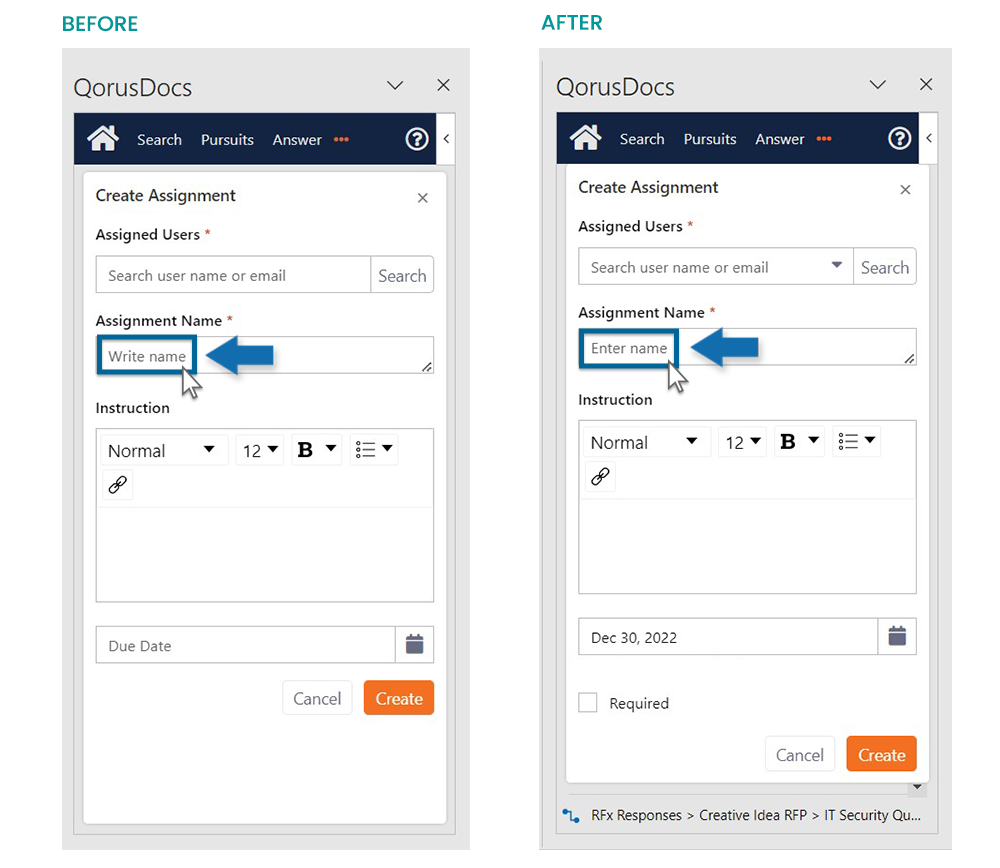 We've renamed "document to-do's" in the 'Home' screen of the QorusDocs Add-ins to "assignments":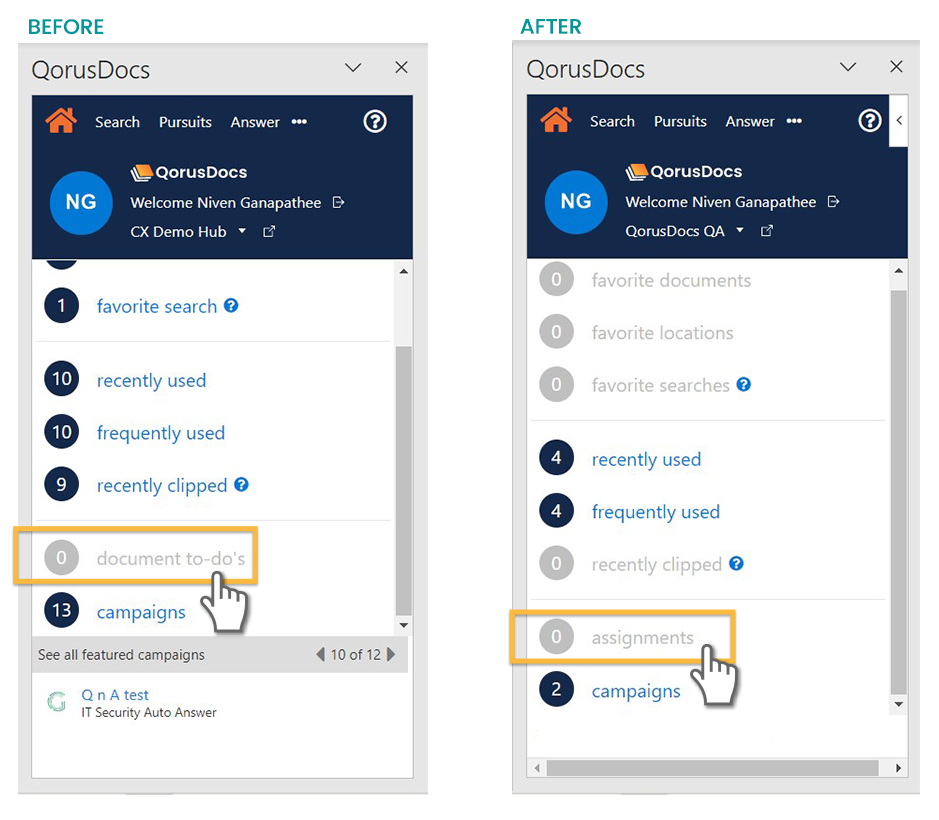 We've improved the calendar picker for Assignment due dates, with more intuitive controls and better positioning so it displays within the available space in the QorusDocs Add-ins: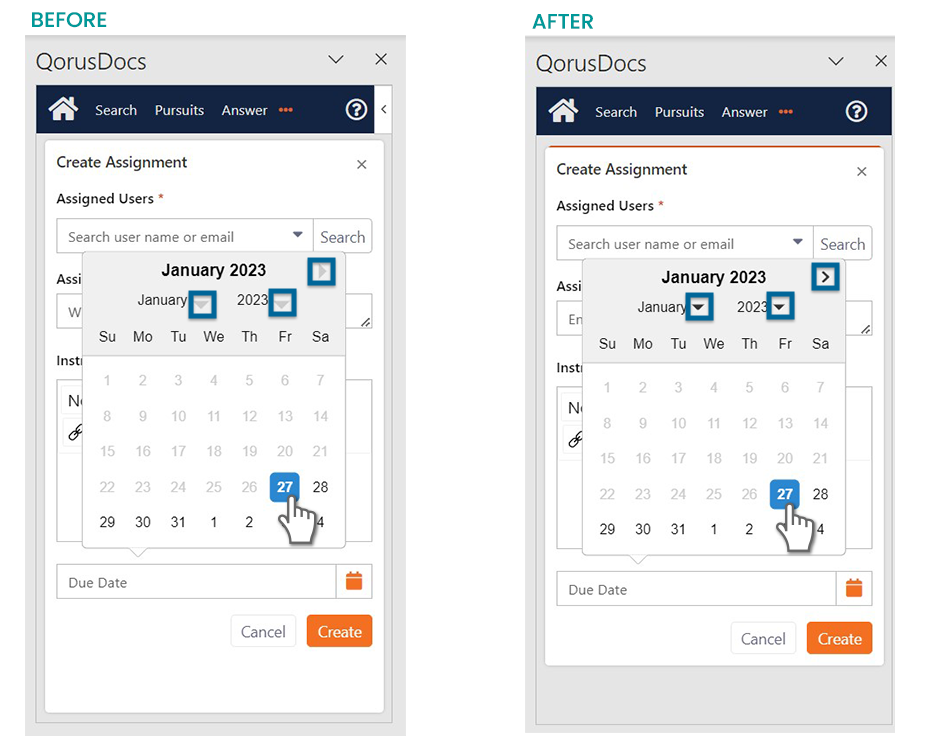 When you create an Assignment for someone who does not have a QorusDocs license, we will now alert you to that fact so that you're aware that this person will be added as a Guest with limited functionality: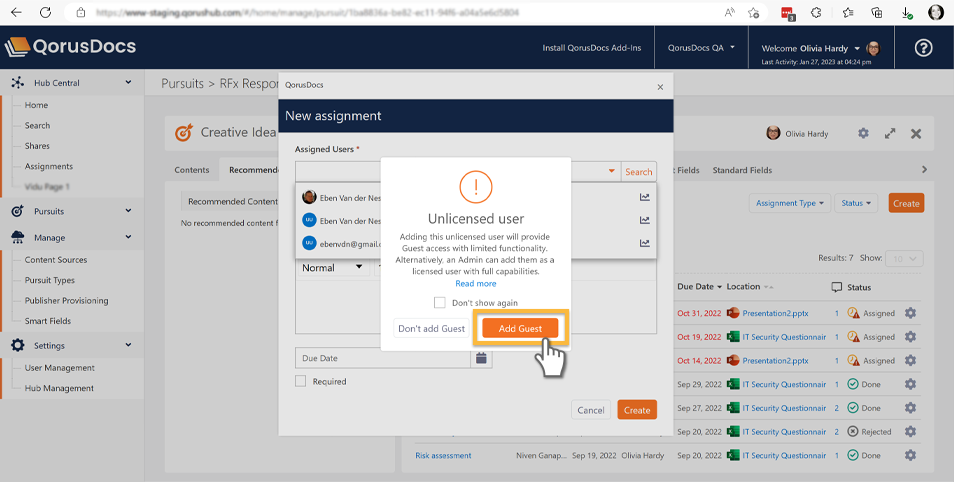 When you remove a coworker from a Pursuit's list of team Members when they still have one or more outstanding assignments within that Pursuit, you'll now get an alert informing you that while this person will lose access to the Pursuit, they will still be able to action their Assignment(s) in the Assignments screen in the QorusDocs Hub.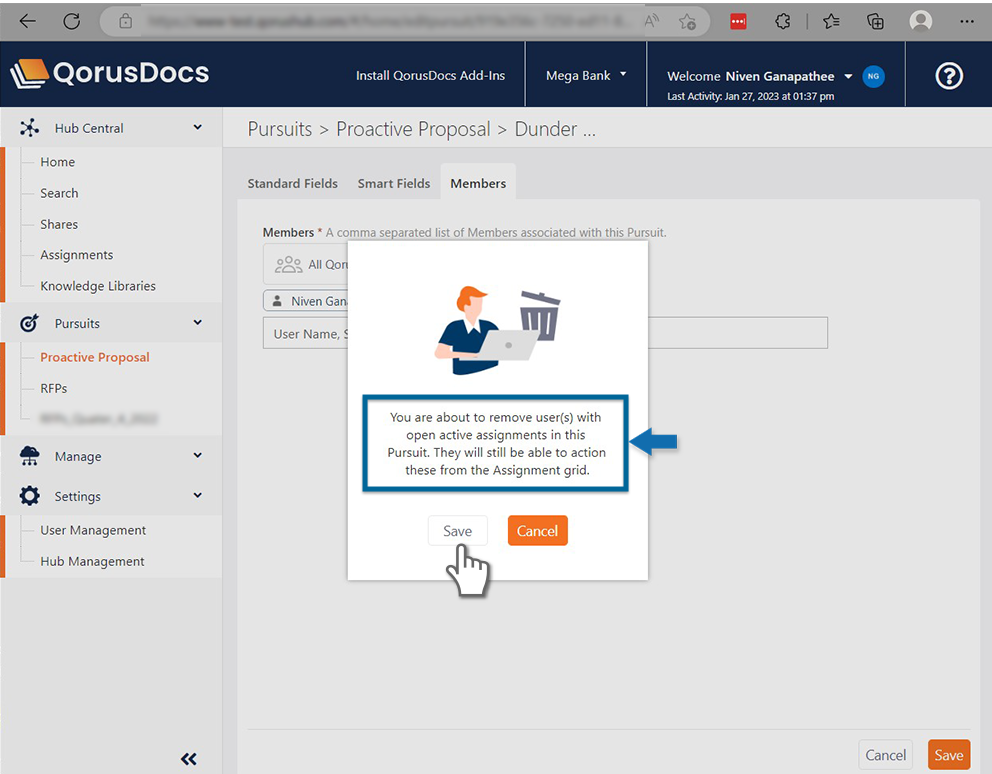 2. Pursuit Improvements
We've updated the button text for new Pursuits in your QorusDocs Hub to make it more intuitive. Where before we had 'Add', we now have 'Create', since that is a more accurate term to describe what you're doing.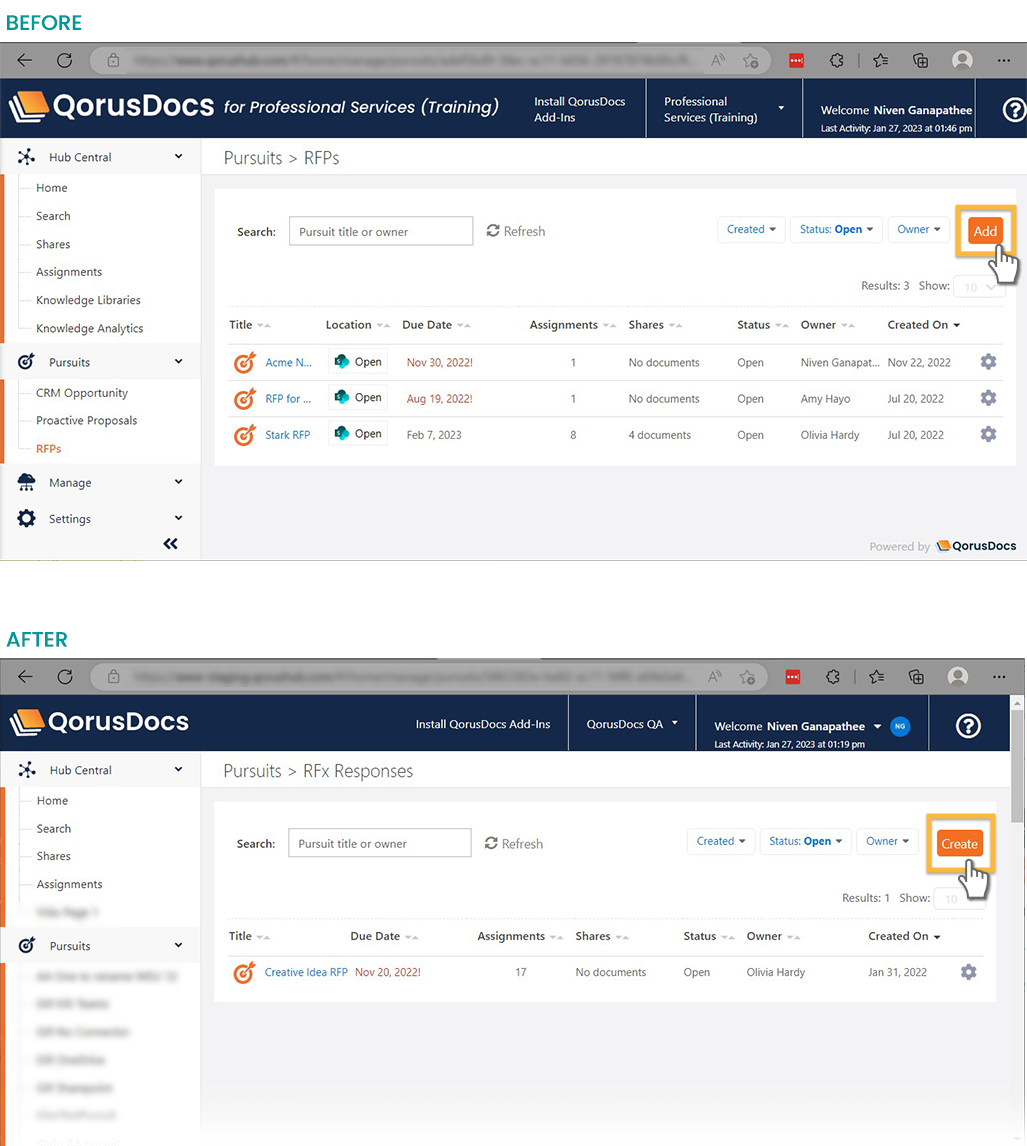 When you copy an open document to a Pursuit, we'll pre-populate the 'File name' field on the form. You can still edit it if you'd like.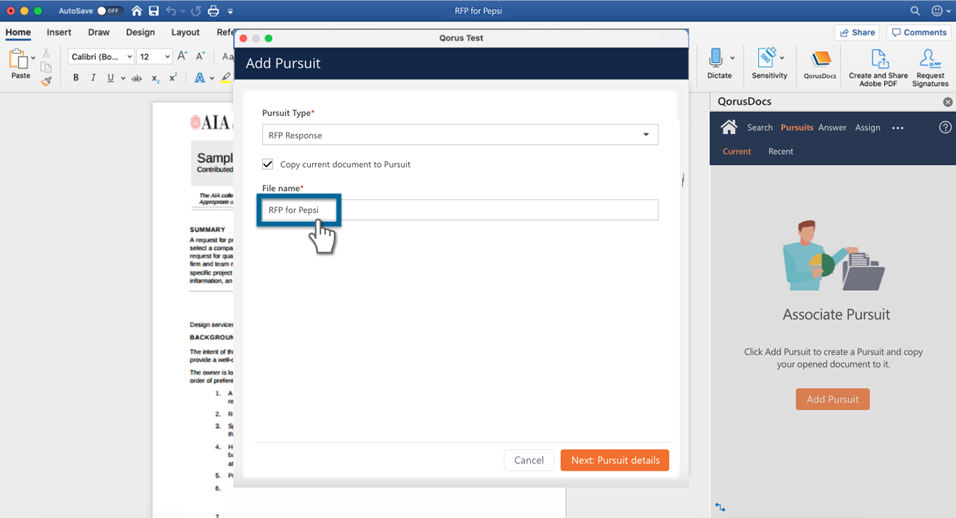 For Pursuit Types that have the setting 'Hide Pursuit Type' checked, these will now also be hidden in the QorusDocs Add-ins in addition to the QorusDocs Hub in the browser.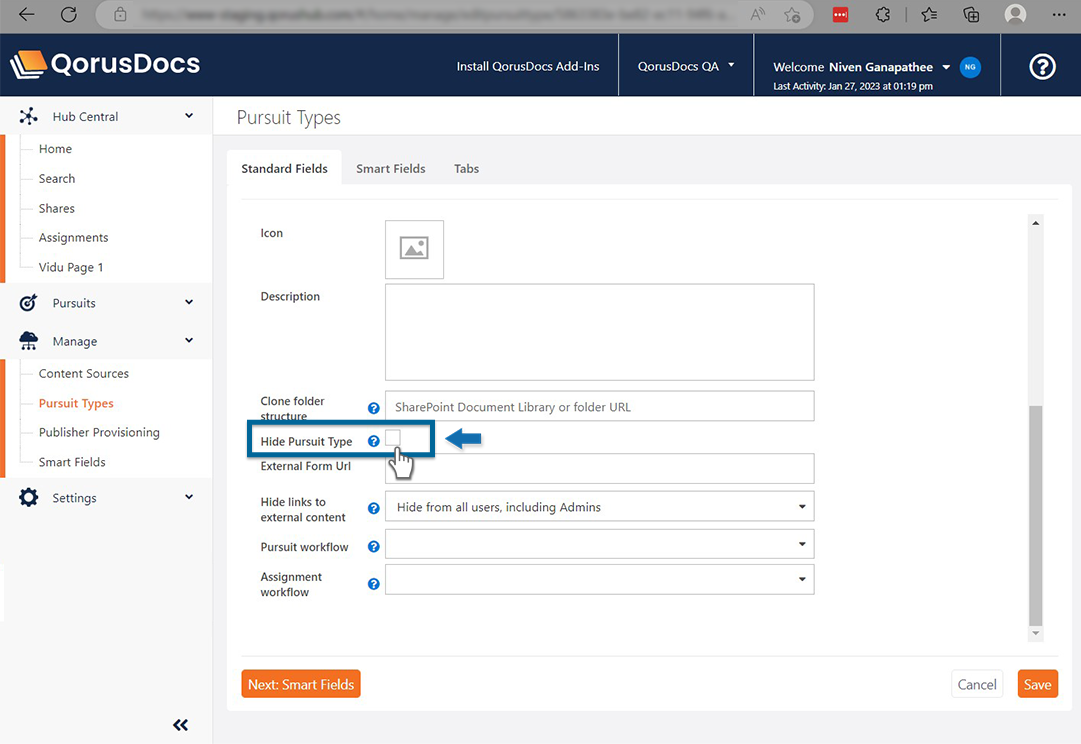 | | |
| --- | --- |
| | Please note however that users will still be able to access Pursuits where that setting is turned on by using a direct link to go there, or from external tools like your CRM. |
3. Several bug fixes
We've fixed…:
an issue with the Assignee filter for Guest users
an incorrect warning message related to static Smart Fields in documents and templates
a UI issue where some items in a list would appear to overlap when tabbing through them
a display issue where Guest user Assignments were not being displayed properly
an issue with Auto Answer, where hyphens in answers used to cause a problem