As part of our next release, planned for October 12th, you can look forward to usability and UI improvements in the following areas:
1. Tailoring the 'Helper text' that appears in Smart Field forms for Standard Smart Fields
Previously, it was only possible to provide custom helper text in Smart Field forms for custom Smart Fields.
Now, you can also provide custom helper text for Standard Smart Fields that come built-in with QorusDocs Pursuits. This allows you to better guide your user community on what kind of information they should provide for each of these Standard Smart Fields.
To do this, you'll need to belong to either the 'Designer' or 'Admin' user role, and in your QorusDocs Hub, navigate to 'Manage'>'Smart Fields'. You can search for 'Pursuit' as we did in the screenshot below to bring up all the Pursuit Standard Smart Fields: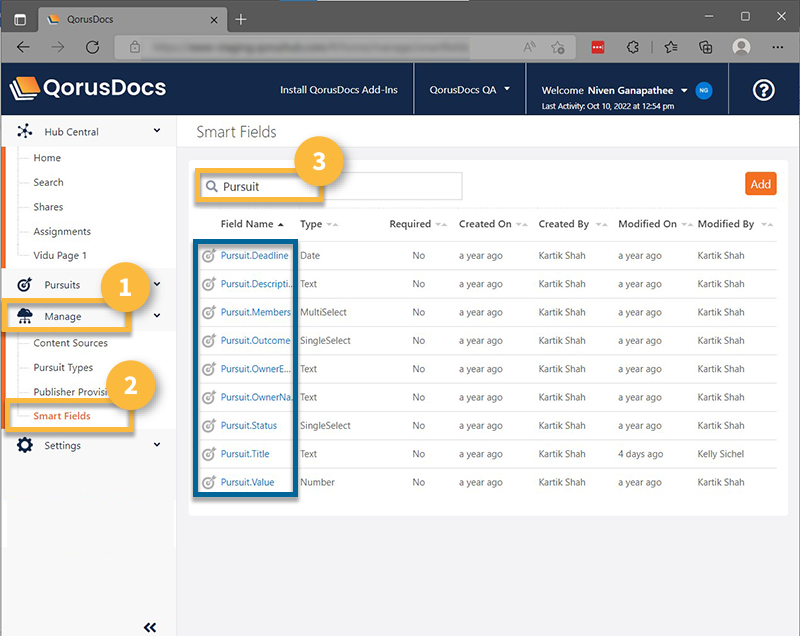 Click on the name of a Smart Field to bring up the 'Edit Field' screen, and you'll see a default description, a bit like this: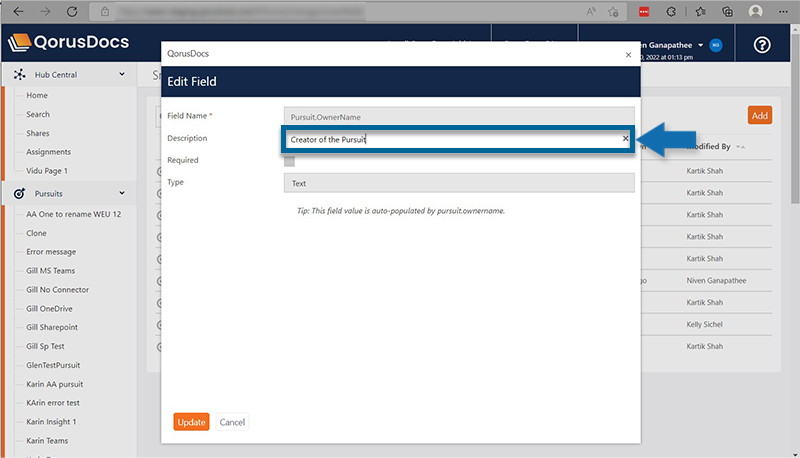 You can modify the description text and click on 'Update' to save your changes: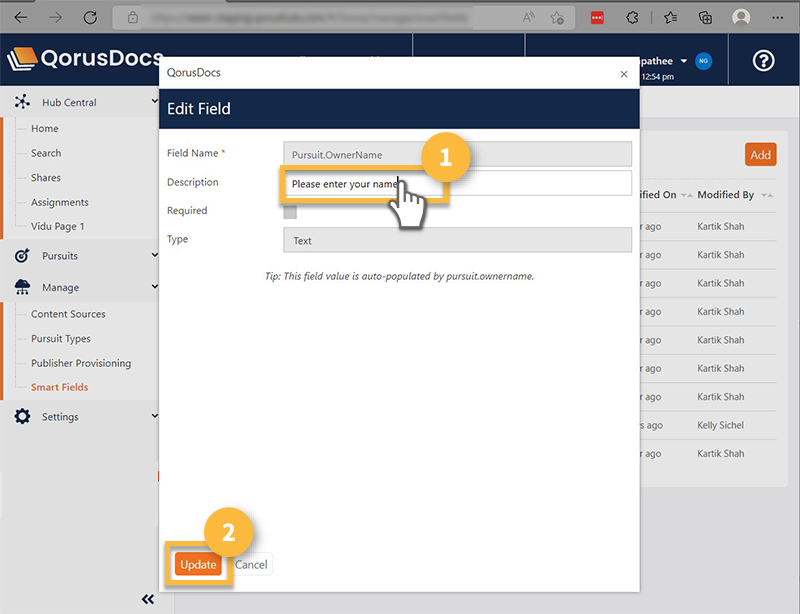 The next time you create a new document from a template that includes this Smart Field, you'll see your new description displayed as guiding helper text: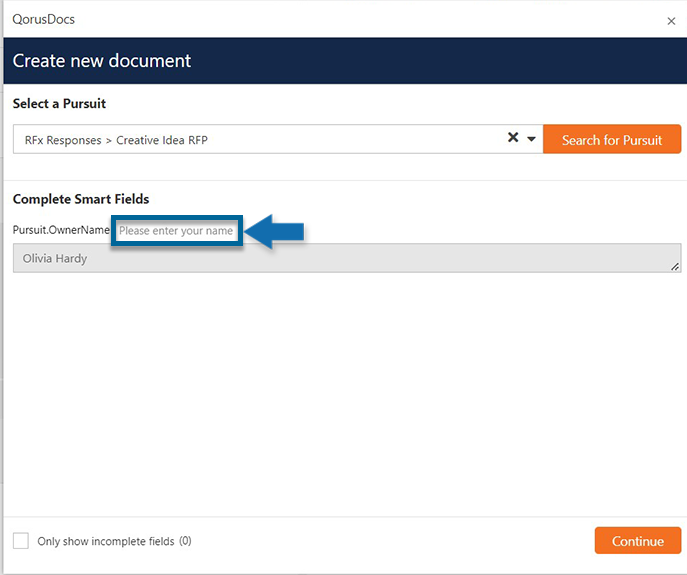 You'll also see your custom helper text whenever you create a new Pursuit or edit an existing Pursuit: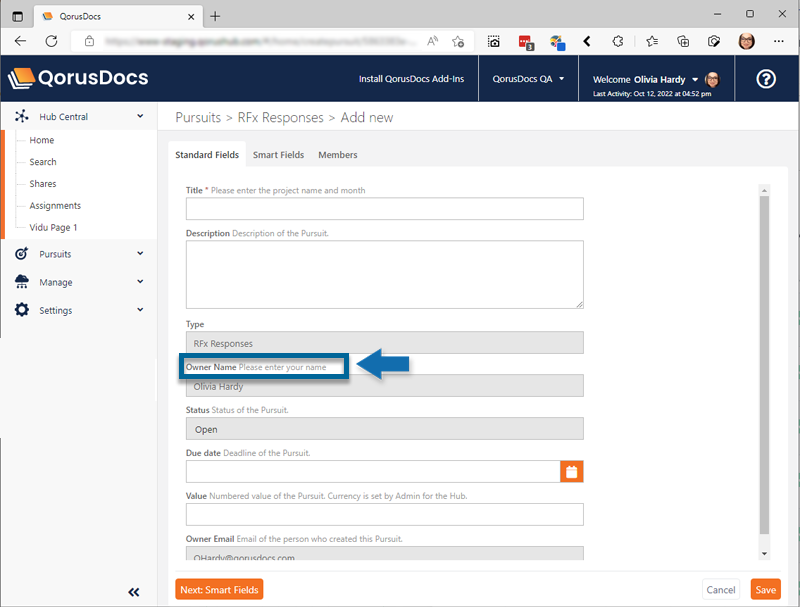 2. Hide Pursuit locations for everyone, including Admin users
With this release, you now have more control over the Pursuit user experience.
Previously, you could choose to hide direct access to the underlying content repository housing all your Pursuit related documents from non-admin users only or not hide it at all. Now, you can choose to hide it for admin users also.
Since this is a setting at the Manage > Pursuit Type level, you'll need to belong to the 'Admin' user role to do this.
In any of your existing Pursuit Types, or if you're creating any new Pursuit Types, click on 'Show Advanced Options':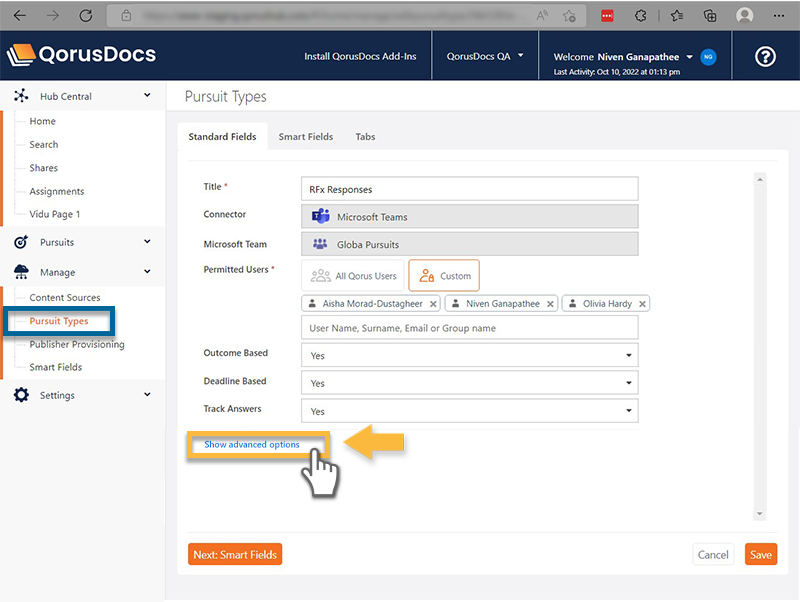 Next, you can set your preferences in the 'Hide links to external content' field and that's where you'll find the new 'Hide from all users, including Admins' option: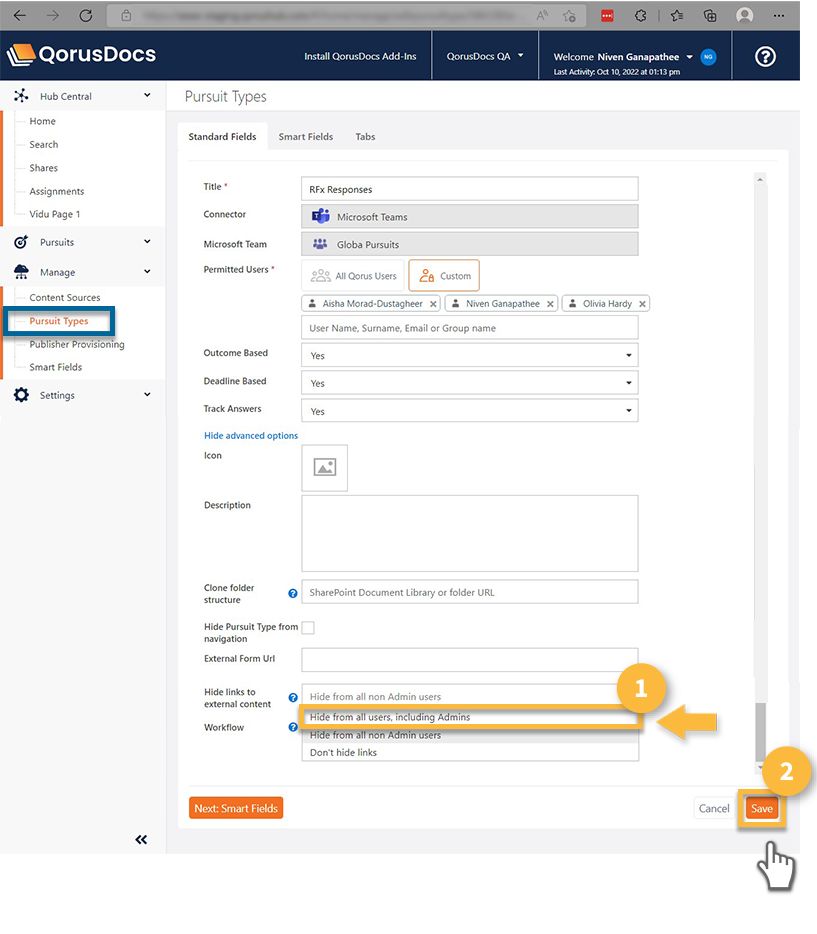 Now when users, including Admins, go to the Pursuit listing screen for Pursuits that belong to that Pursuit Type, you'll see that there'll no longer be any buttons taking you to an external system (like Teams, or SharePoint Online, or OneDrive for Business):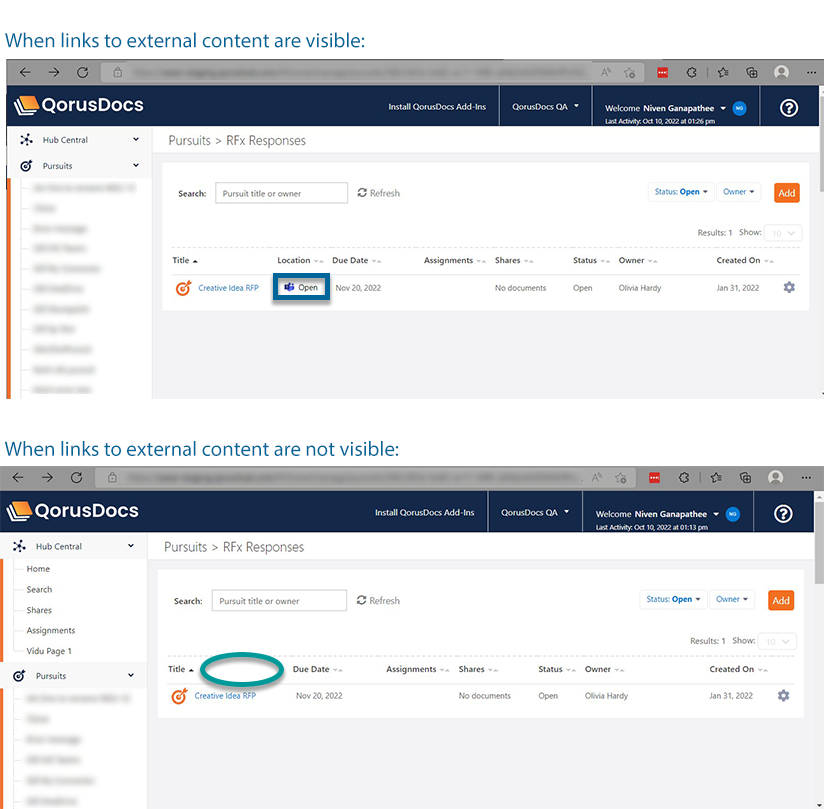 Clicking into a Pursuit, you'll see there's no button to directly access an external system either: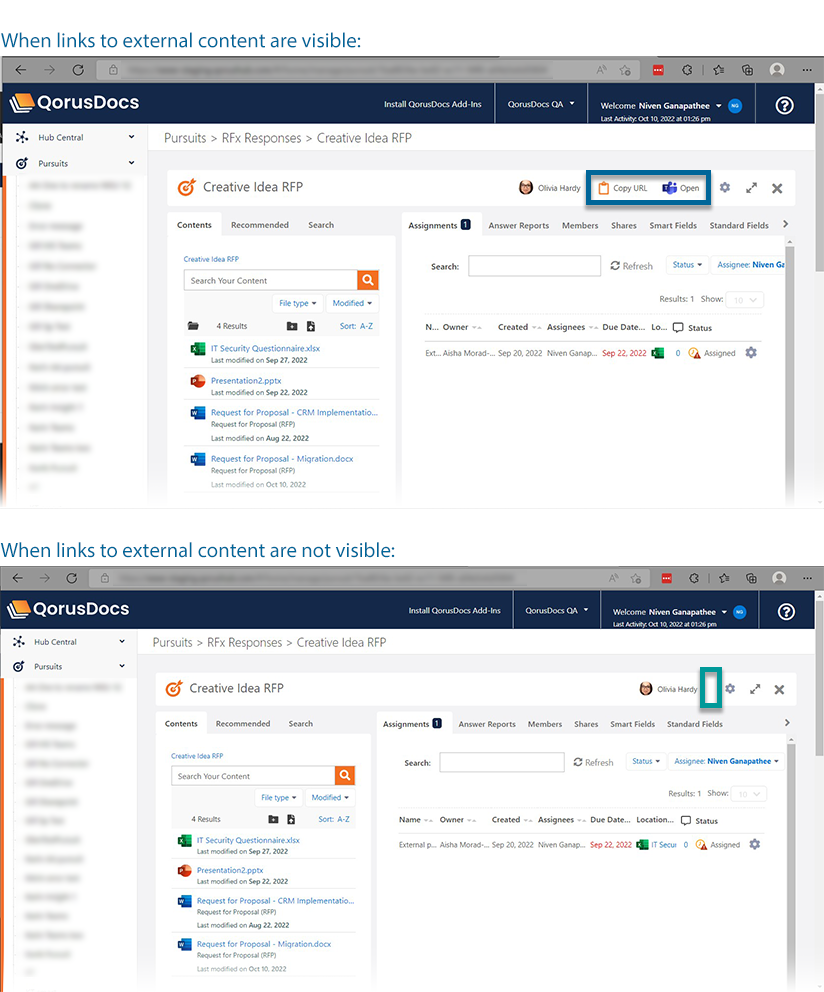 3. Updated Pursuit search filter UI
We recently released some major improvements to the Content Search user experience and now in this release, we've trickled through these improvements to the Pursuit Search user experience.
When you create new documents from templates, use the Cart to assemble presentations, or use 'Copy to' to add a piece of collateral to a Pursuit, you can search for and choose a Pursuit so that the new document, presentation, or content gets added to your collaborative Pursuit workspace.
In the example below, we chose to copy a slide deck to a Pursuit: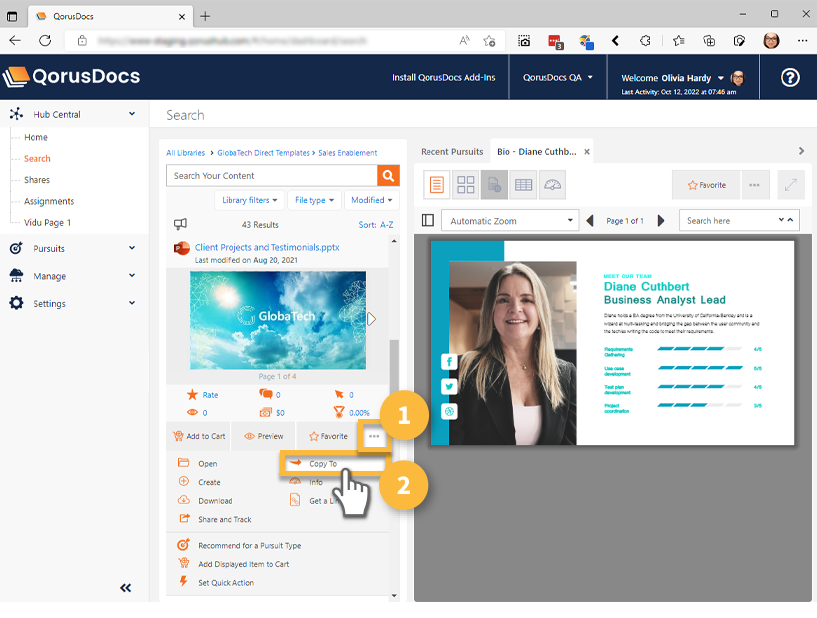 After clicking on 'Copy to', we can choose to copy it to a Pursuit: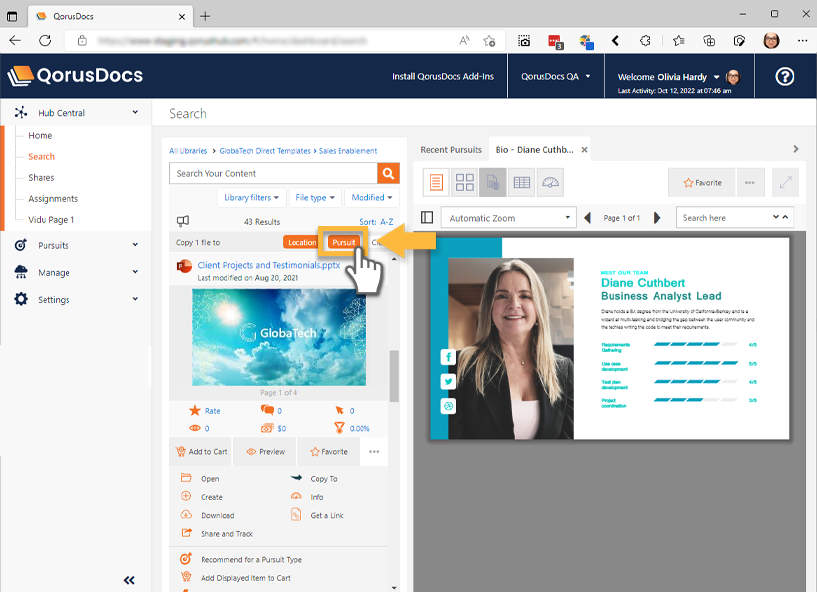 Then, click on 'Search for Pursuit' to initiate the search: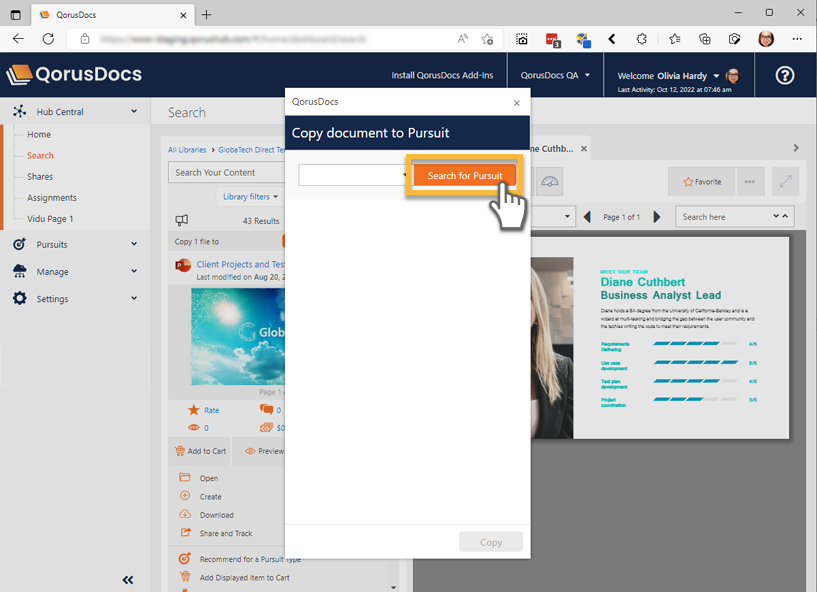 You will see the Pursuit Search filter experience is now the same as the Content Search filter experience: