Hot off the heels of our latest major assignment update release earlier this month, the second round of assignment improvements is planned to land in your QorusDocs on 24th September, along with a few other user experience improvements.
Here's what's new:
1. Updated Assignment Email Notifications
Better collaboration email notifications
We're pleased to announce some big improvements to our assignment email notifications, many of which are based on your feedback.
Where previously we had three types of email notifications, we now have five:
New assignment email

, triggered every time a new assignment is created.

Daily digest email

, scheduled daily update about all current active assignments.

Close to due date,

scheduled daily reminder notification sent to assignees who have incomplete assignments due within the next 24 hours

Status update,

triggered whenever there's a change in the status change ('Assigned', 'Done', or 'Rejected')

New comment

, triggered whenever someone comments on an assignment
| | |
| --- | --- |
| | NOTE: If your user community would prefer not to receive one or more of these, please let us know. Your Customer Success Account Manager can turn each of these notifications on or off selectively. |
The contents of the email
We've completely re-designed assignment email notifications to make them clearer and provide those who have been assigned work to do, with more complete information about what's actually required of them.
Notifications now include:
The assignment status and name

The name of and a link to the document

The name of and a link to the Pursuit

'Assignee(s)': The name(s) of the assignment recipient(s)

'Owner': The name of the person who created the assignment

The last comment left on the assignment (if there were any)
Below is an example of an assignment status change email notification sent to the assignment owner, where a user completed an assignment: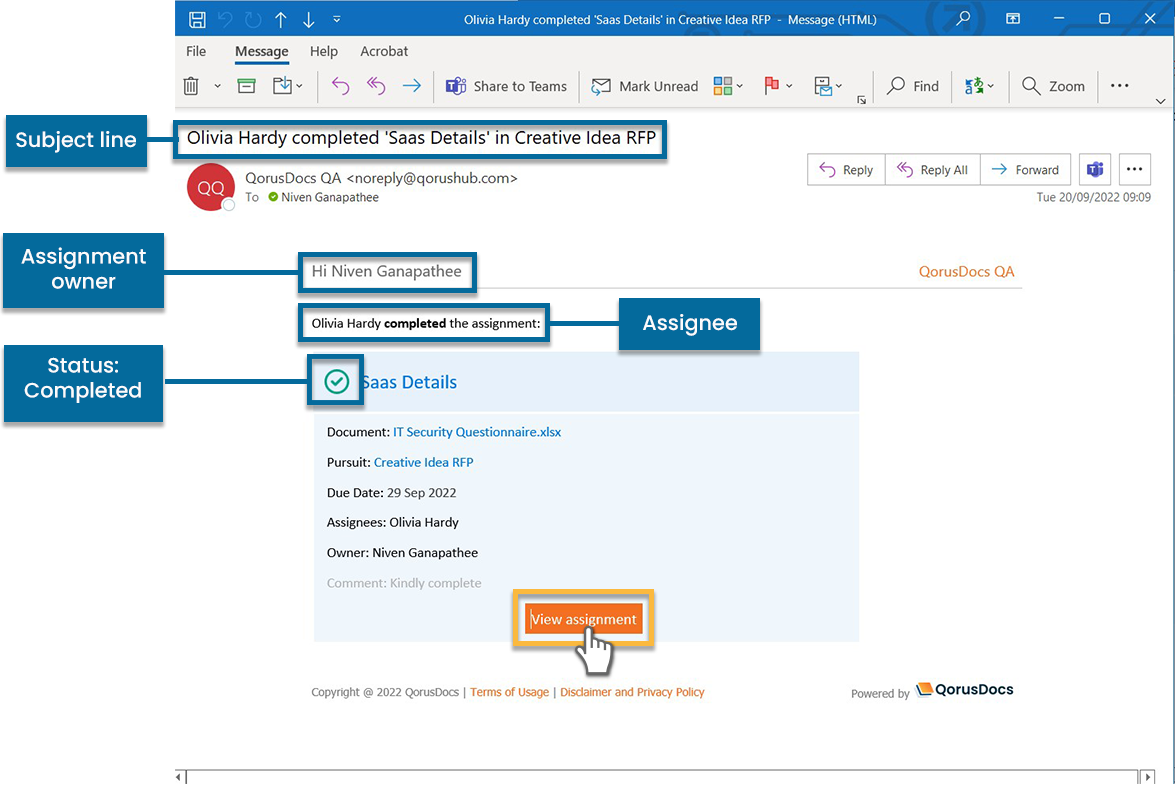 If the user rejected the assignment instead, this is the email they would get: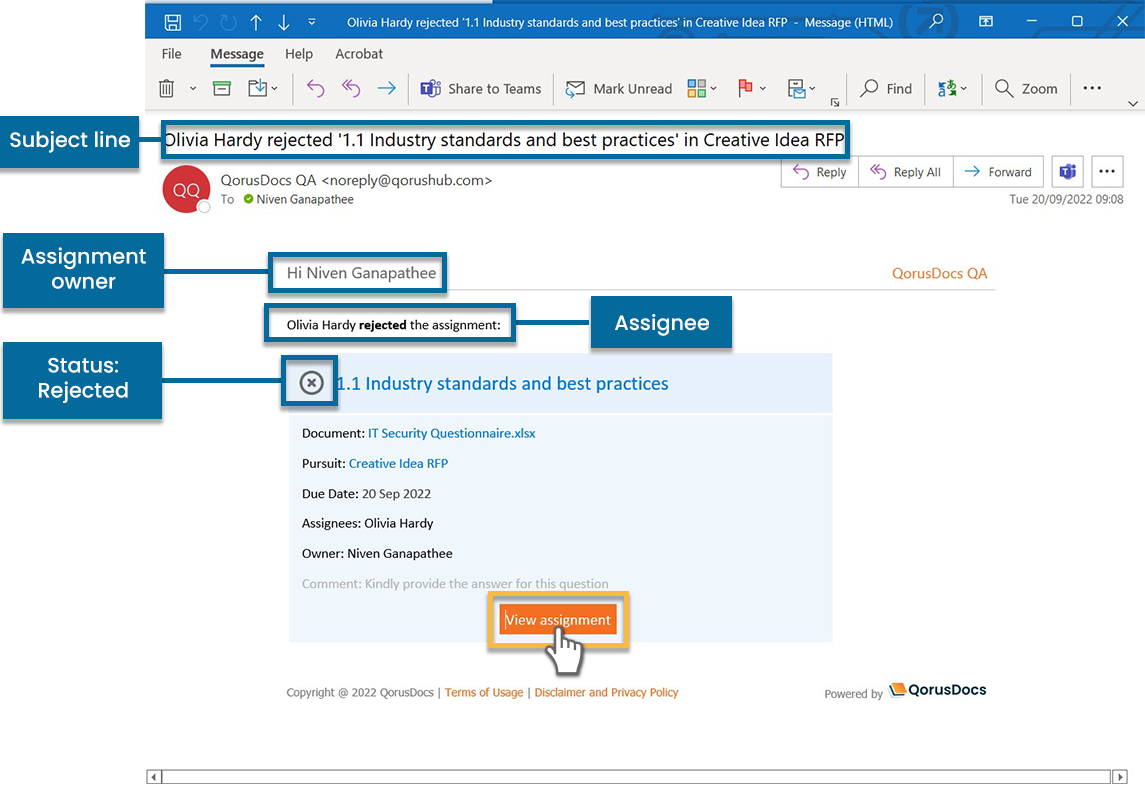 Both assignees and assignment owners can expect to receive a similar email whenever there's a change in the someone comments on an assignment, or they receive a new assignment: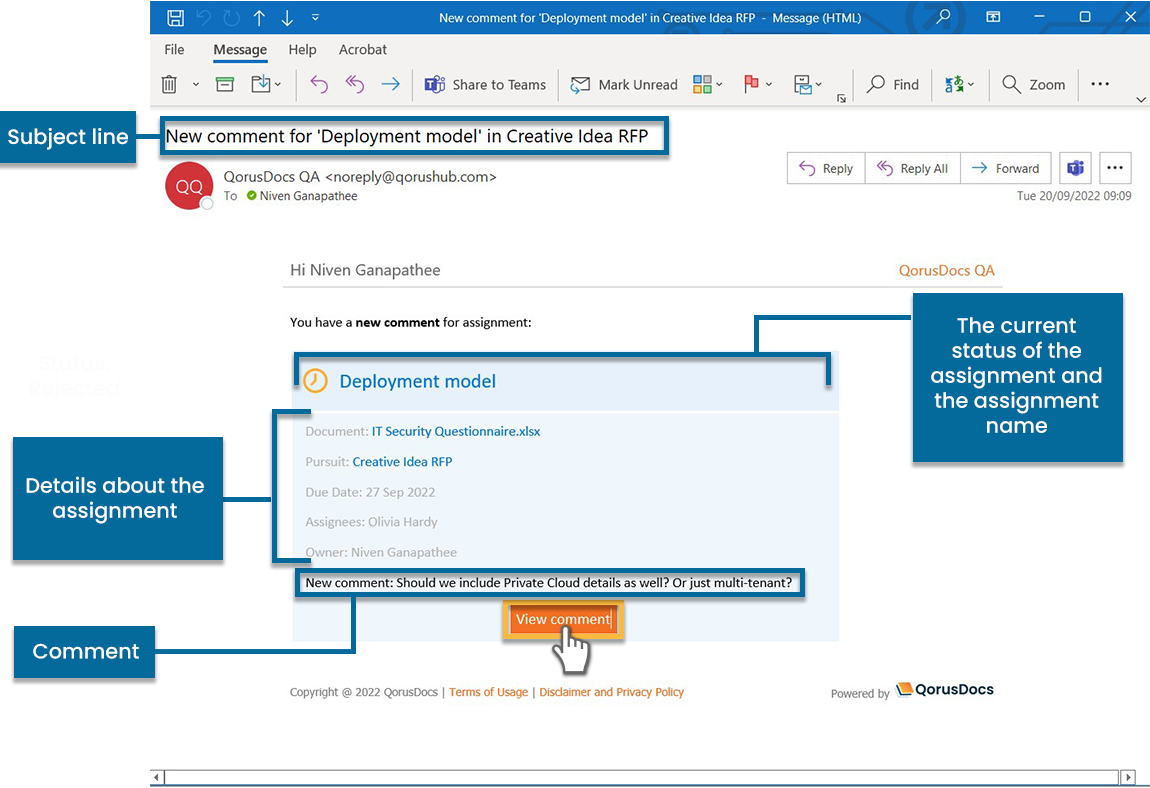 Whenever you encounter this new assignment email layout, you can action it by clicking on the orange 'view assignment' button.
You could also click on the document link to open the document and get straight to work.
The frequency of the new assignment emails
By default, assignees will receive new assignment email notifications immediately, as soon as a new assignment has been assigned to them.
If that feels like too much and you'd prefer to have one email that contains a list of assignments, rather than one email for each assignment, we can now group them for you. You can choose to have all new assignment notifications grouped by:
hour: we send one email that contains all your new assignments once every hour

day: we send one email that contains all your new assignments once a day
Just let us know what works best for you by logging a ticket with our friendly support team, and we'll make the change.
Please note however, that if we change this setting, it will change for every person on your QorusDocs hub (including for Guest users), so once again, it's probably a good idea to get consensus first within your team or organization to decide how often everyone prefers to be notified.
Below is an example of the new assignment email notification, when it is set to go out once a day and that groups all the new assignments in one email: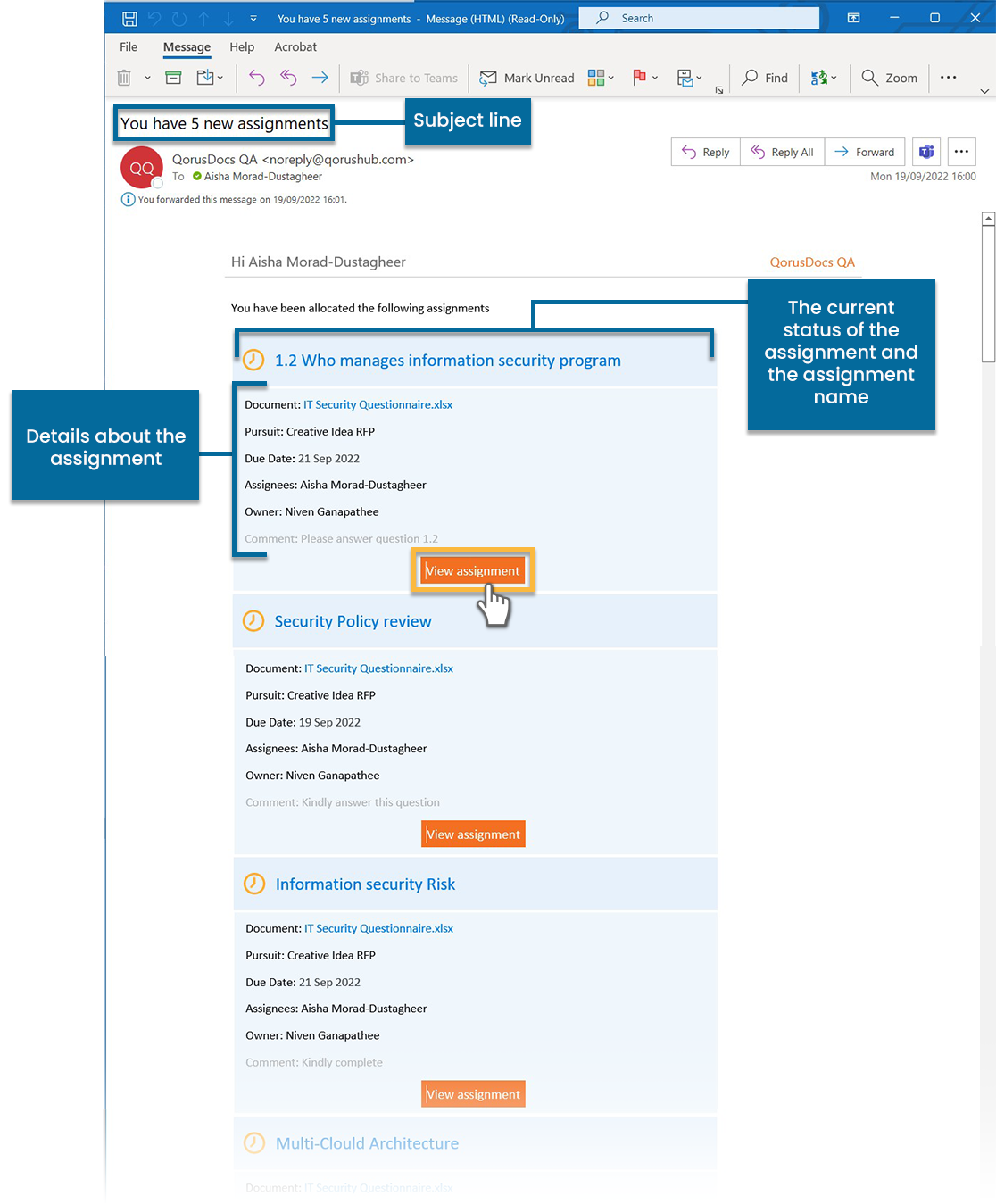 Updated reminder notifications (close to due date)
Since our last release, you no longer need to manually set reminder notifications. Assignees will automatically be reminded of any outstanding assignments 24 hours before they become due.
With this release, we've grouped reminder notifications into one email only. QorusDocs will now send each assignee just one notification for all assignments that are due within the next 24 hours:
The re-designed daily digest email
We've updated the daily digest email that QorusDocs sends out every day to assignees, to now remind them of all the assignments that are currently assigned to them, and that have not yet been marked as 'Done' or 'Rejected'.
To make it easier to see what's most urgent, we've grouped all the overdue assignments at the top of the email, followed by a 'next up' group immediately below that.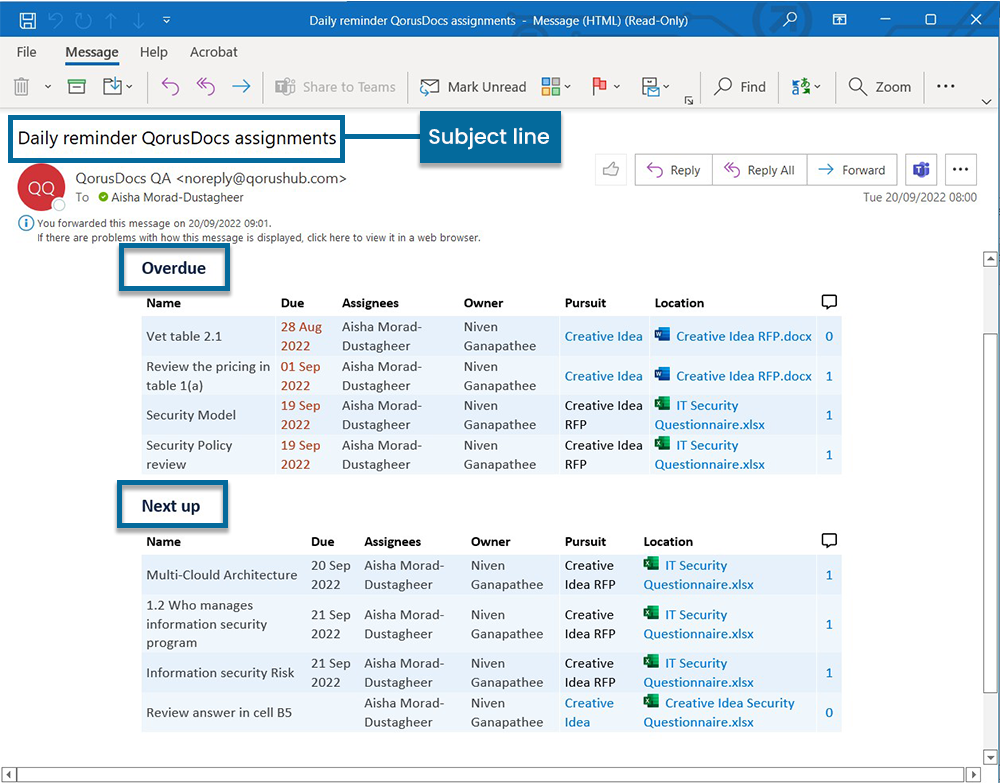 Clicking on the assignment name or on the document location will take you straight to the document where the assignment can be found.
You can also see at a glance how many comments there are in total for each assignment on the far right on each assignment listed.
2. Configurable Pursuit Tabs
QorusDocs users belonging to the Admin user role can now configure, for each Pursuit Type, the order in which tabs appear in your Pursuit workspace in your QorusDocs Hub that you access in your web browser.
This is especially useful for those who'd like to have users land on the most frequently used content tab and/or project tab when they click into a Pursuit. Here, we've re-ordered the Project tabs for our RFP Pursuits, so the first thing users see is a list of assignments that have been assigned them.
In the Pursuit Type create or edit screen, go to the 'Tabs' settings, then use the handles (the six dots) to drag tabs up or down to re-order them: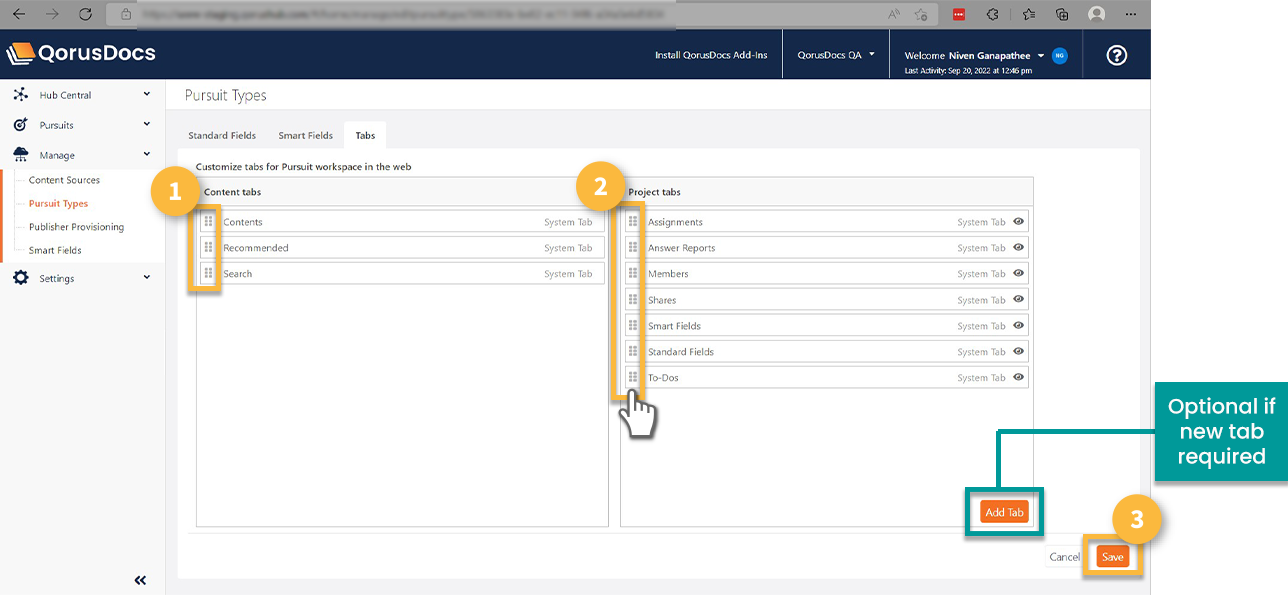 Then in your existing Pursuits, as well as all new Pursuits, created based on that Pursuit Type, will update accordingly: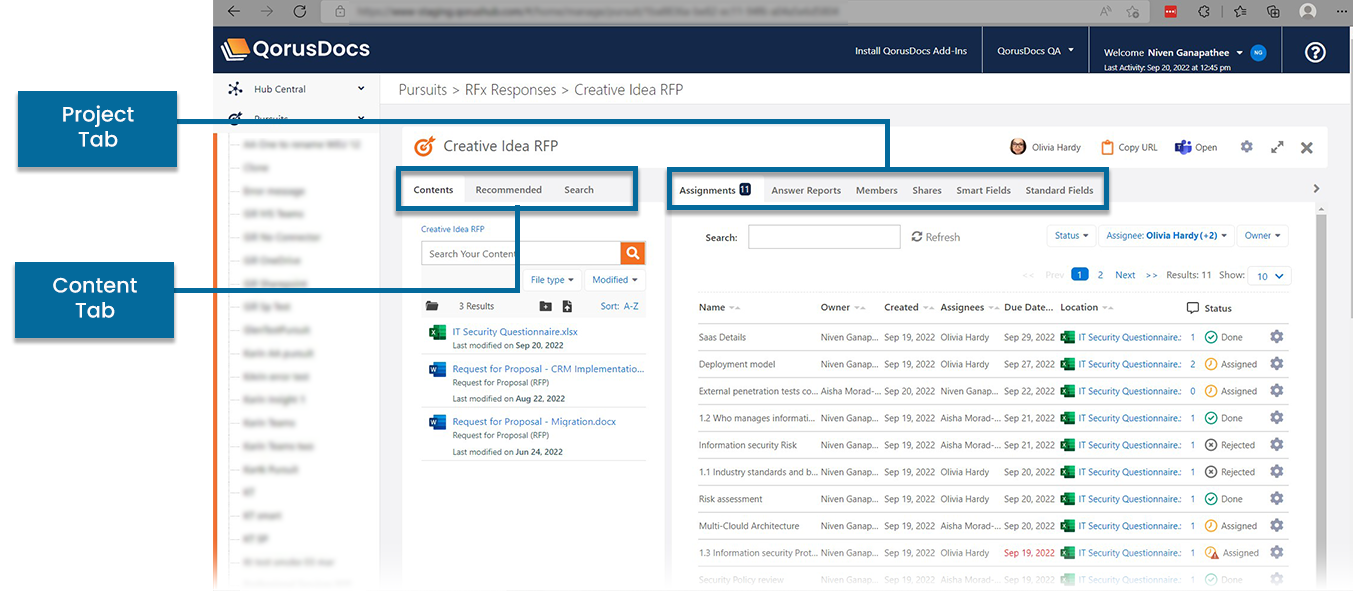 3. Easier and quicker access to Help and the Academy
Now when you click on the help icon (the question mark in a circle) in the top right of your QorusDocs hub, you can quickly and easily go to the Help Center for self-help step by step articles, the Academy for on-demand roles-based learning, and to log support requests.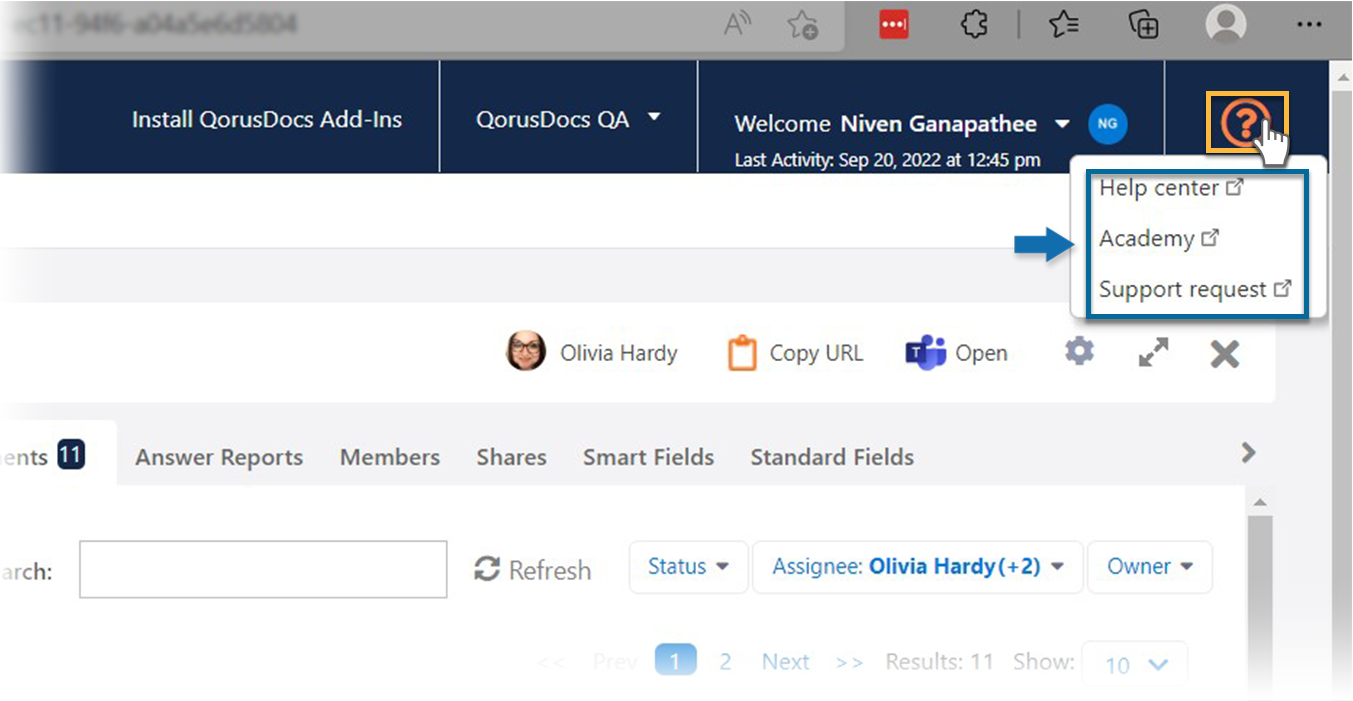 Plus, you no longer have to log in to the QorusDocs Academy – you'll automatically be signed in.