In our upcoming release, planned for July 5th, 2022, we're excited to bring you a bunch of user experience improvements around Search, Collaboration, and Smart templates.
Here's what's included:
Faster document creation from smart templates in Salesforce
We've completely overhauled the 'Create' experience in Salesforce.com.
Before, when you clicked on 'Create' to create a new personalized document or presentation from a smart template, QorusDocs would take you to a login page, where you'd need to login if you weren't already, and then you'd need to wait for the Preview screen to load up, and only then would you get the Smart Fields form, a bit like this: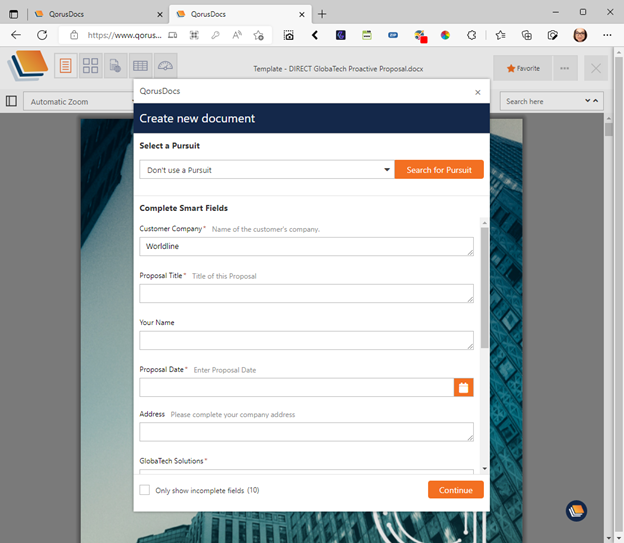 With this release, QorusDocs will now open a new tab in your web browser with nothing but the Smart Fields form, which is much much faster: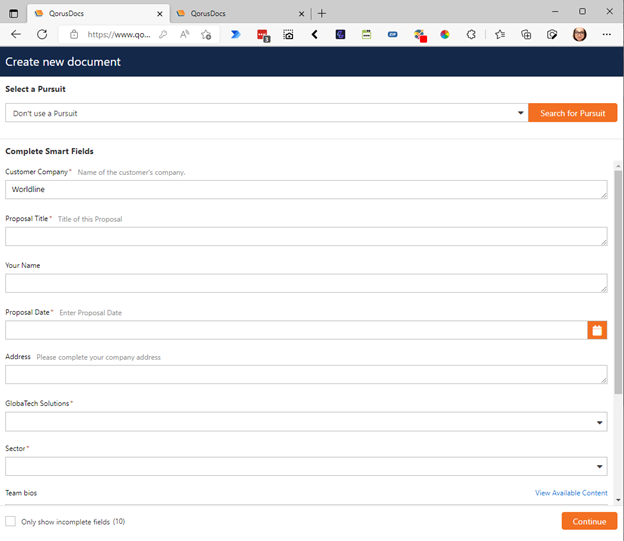 Multiple lines of text now supported in text Smart Field
QorusDocs Text Smart Fields now support entering more than one line of text. It's more intuitive, faster, and a lot simpler.
This means that instead of having to create multiple Smart Fields to capture each and every line of a street address, you can now simply have one Smart Field called 'Address', as illustrated in the screenshot below (simply hit the 'enter' key on your keyboard at the end of each line):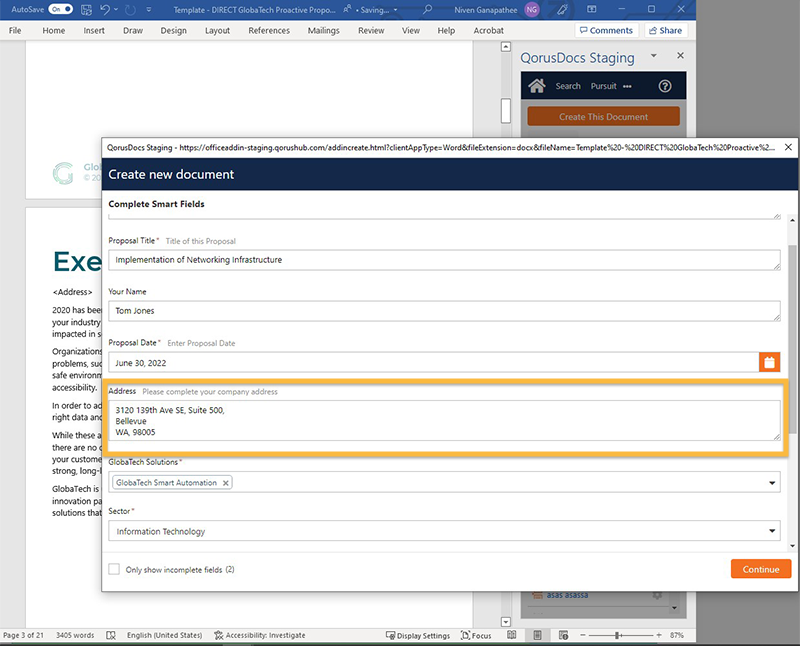 In the resulting document, you'll see the Smart Field merge in the information you entered, while keeping all your line breaks intact: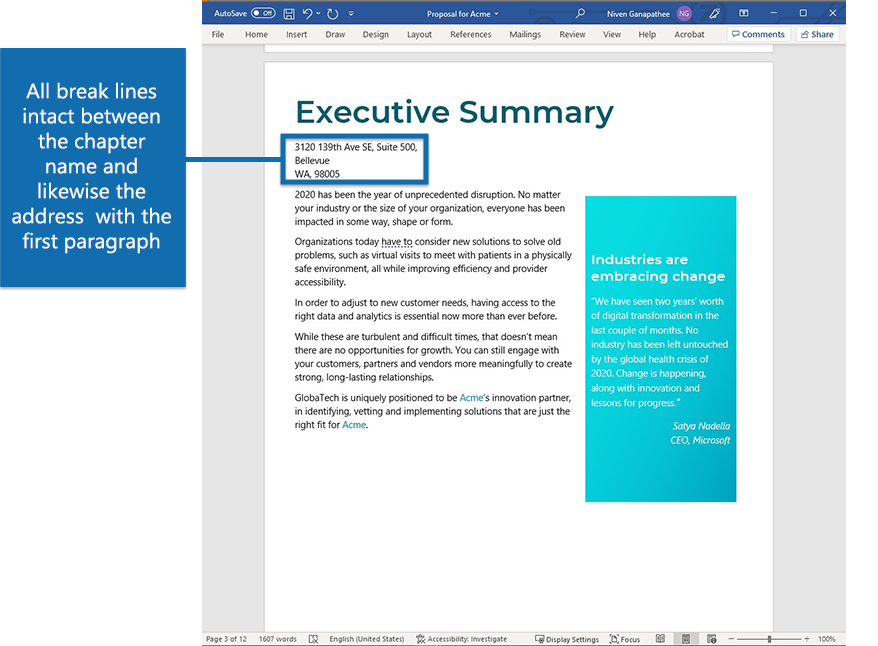 Delete assignments from QorusDocs Online (Hub Central)
Up until now, the only way to delete assignments was to first open the document, spreadsheet, or presentation where the assignment was created, and then in the QorusDocs Add-in, go to the 'Assign' pane, locate the assignment, and then delete it.
With this release, you can now delete assignments directly from Hub Central. This is especially useful for situations where the document was perhaps moved or deleted, and you're unable to delete the assignment in the document itself.
Plus, any user belonging to the QorusDocs Admin user role now has the ability to delete assignments from Hub Central – and not just the person who created the assignment.
To delete an assignment from Hub Central, first locate the assignment in the 'Assignments' list, and then click on the gear or cog icon: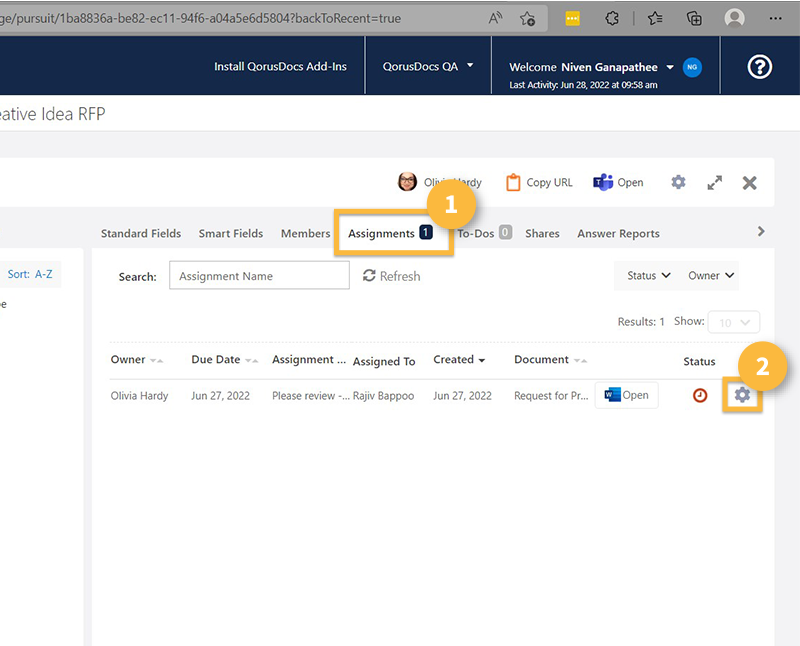 Then click on 'Delete'.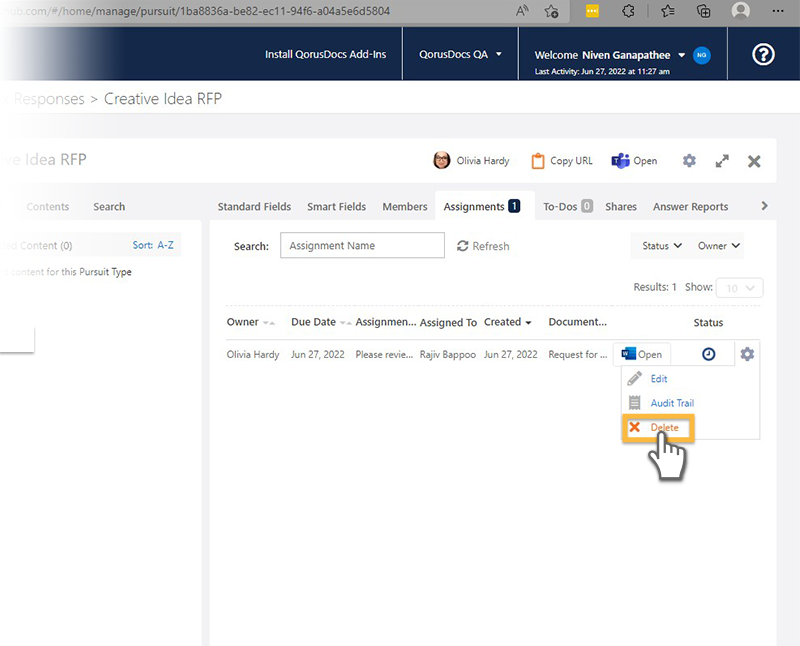 FAQ: What happens to documents that contain assignments that have been deleted in QorusDocs Online?
For assignments created before the release, those assignments will no longer show in the QorusDocs Add-in 'Assign' pane. There will however still be content controls (grey box) in the document where that assignment used to be. To remove these and get the document ready for distribution, go to 'Finalize' in the top nav, and then click on the 'Finalize' button.
For assignments created after the release, these will automatically be completely deleted from the document the next time the document is opened. There won't be any content controls around the deleted assignments in your doc, and they won't show up in the 'Assign' pane.
Search improvements
We've introduced a bunch of User Experience improvements in this release to make the search better and easier to use.
'Sources' is now called 'All Libraries'
The first thing you'll probably notice are the UI changes: we've renamed 'Sources' to a more intuitive 'All libraries' in the breadcrumb above the search box, and your connected content sources are now blue instead of black, to better indicate that the content source names are in fact clickable and can be browsed.
No need to press the CTRL key to select multiple content sources
The next thing you'll probably notice, is that the 'tip' to press down the CTRL or CMD key on your keyboard to select multiple content sources to search at the same time is now gone. That's because you can simply click the checkbox to select a content source, and click it again to undo that selection.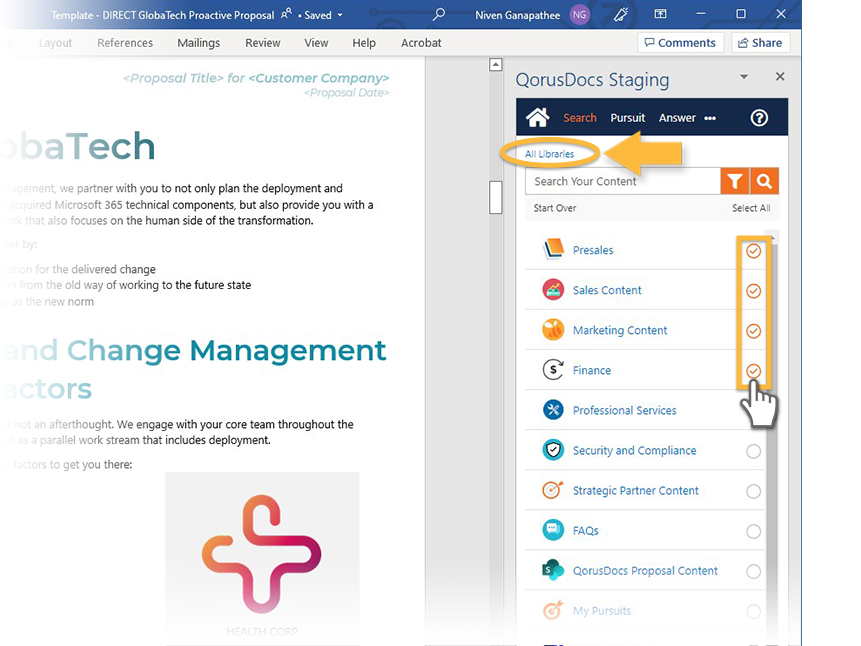 Not having rights to view search results in one content source no longer stops you from seeing results in other content sources that you

do

have rights to
We've also changed the user experience around searching locations you don't have access to.
Previously, if you had selected multiple content sources to search at the same time and you didn't have access to just one of those content sources, you'd get a pop-up informing you that you don't have the necessary access and the whole search would simply stop.
We've changed this now, so that you can still see and use the search results from the content sources you do have permissions to access: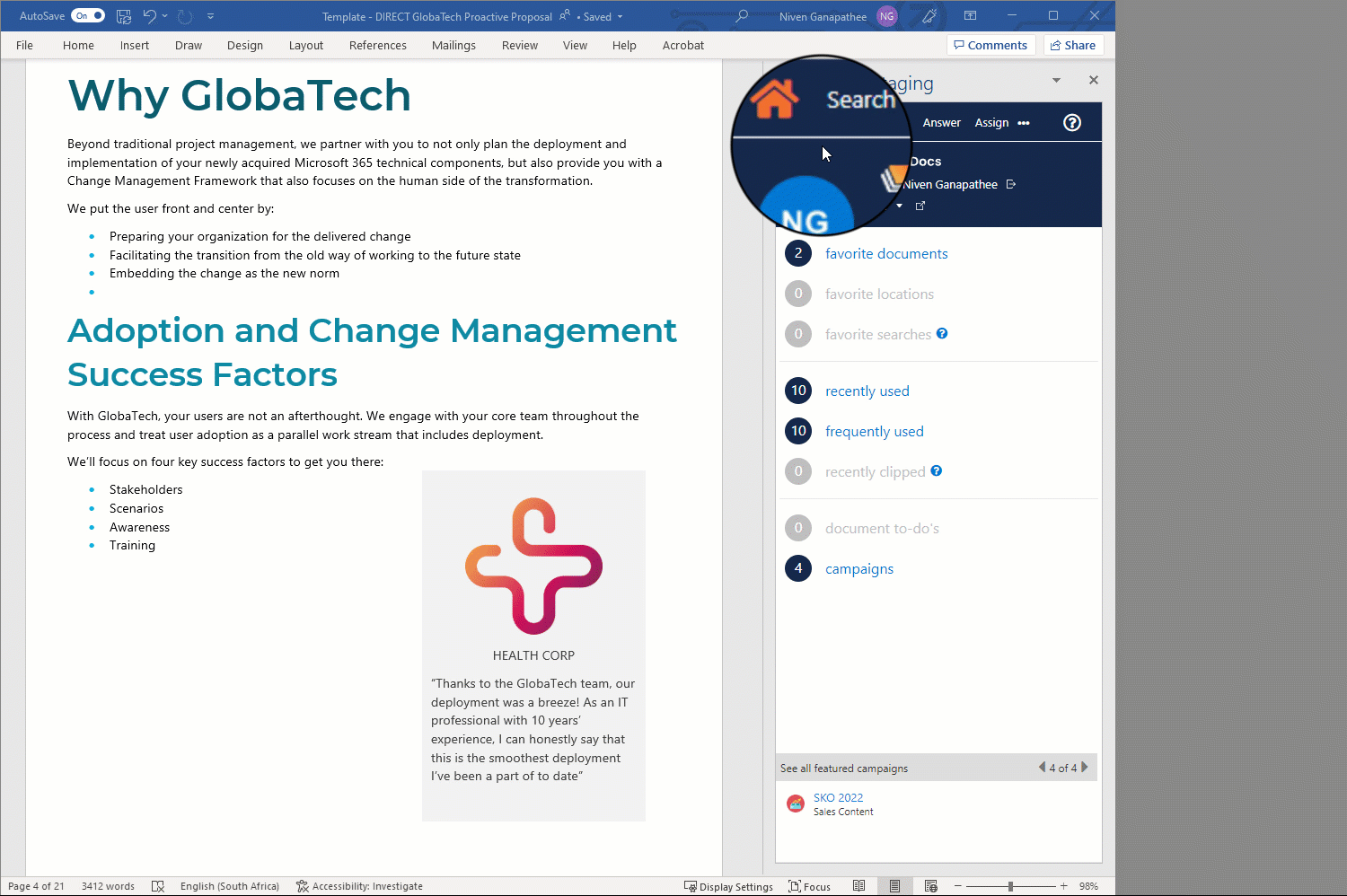 Fresh Search pages, without having to 'Start Over'
And then finally, last but certainly not least in the Search improvements, we've heard your feedback and overhauled the way QorusDocs remembers your last search.
If you're searching multiple content sources at once, click on a source to view results, and then go back to the search pane: QorusDocs will remember and persist the search results – exactly as it does currently.

If you navigate away from the Search to another area of QorusDocs (for example, Pursuits), the Search will reset without you having to first click on 'Start Over'.

Between browser sessions and as you switch from one QorusDocs Add-in to another, you'll always be presented with a fresh Search page, ready for you to start a new Search.
Reload a page by clicking on the top nav menu
Now, when you click on any item in the top nav, QorusDocs will reload the page. For example, if you click on 'Answer', this will load up the Answer page again in your QorusDocs Add-in:

Content Source Settings
We've aligned the 'Sort' options with the 'Display Values' settings for each Content Source. To access your Content Source's settings, you'll need to belong to the QorusDocs Admin and Designer role, and then click on the gear or cog icon and then on 'settings' :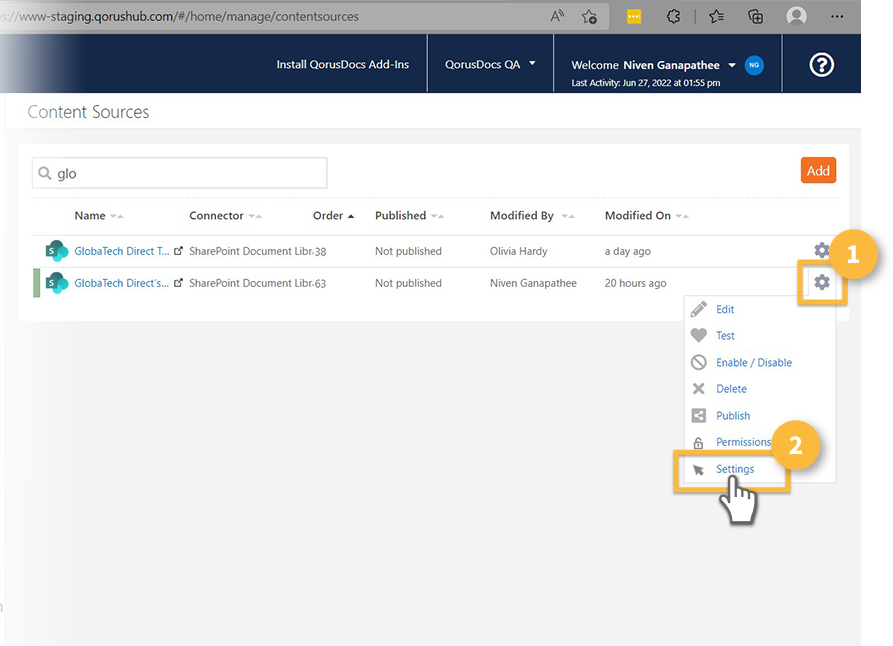 Then, next, click on 'Content Values' to enable this feature on your content source: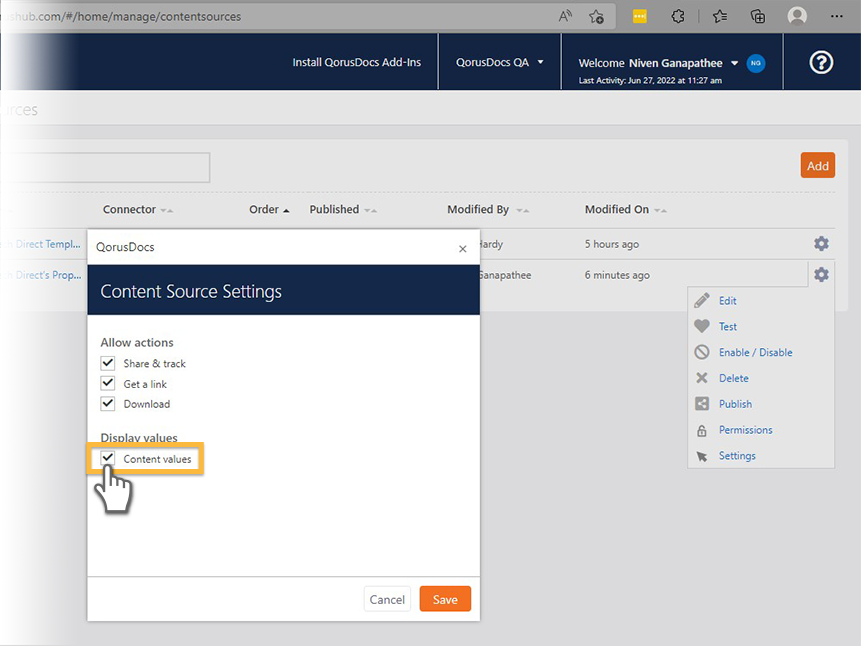 If the 'content values' box is checked, then the search results will have an extra line at the bottom of the thumbnail preview (as in the screenshot below), and in the 'Sort' options, there will be the option to sort content by best, value, and win rate: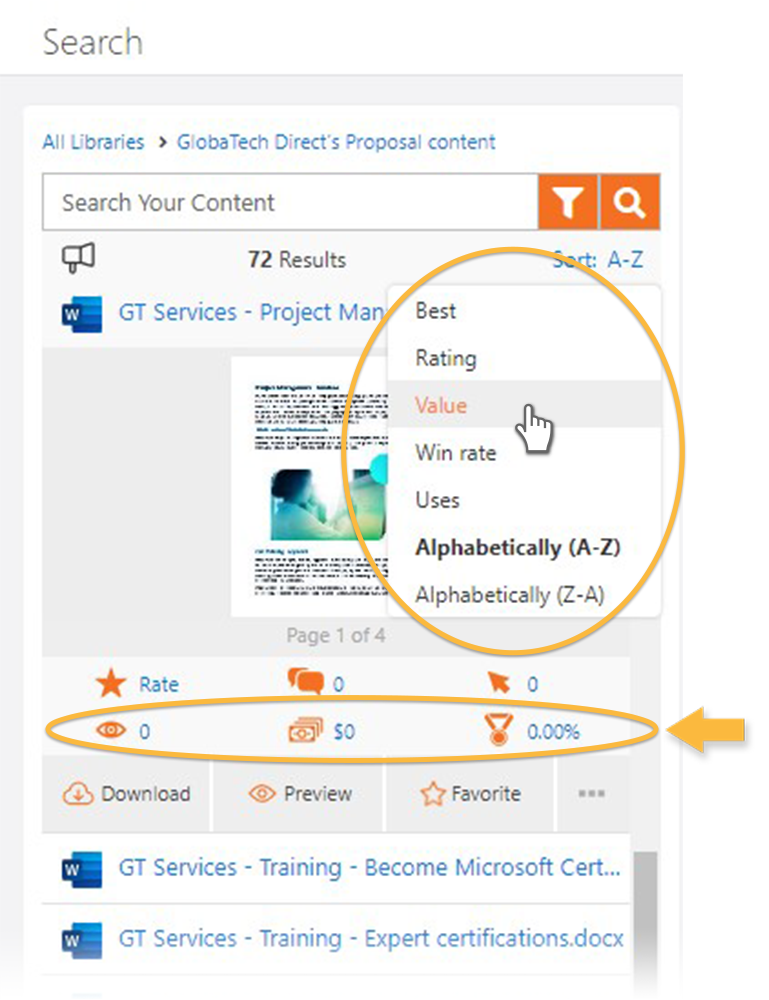 If the 'Content Values' box is not checked, then you'll still be able to sort search results, although you'll have a few less options to choose from.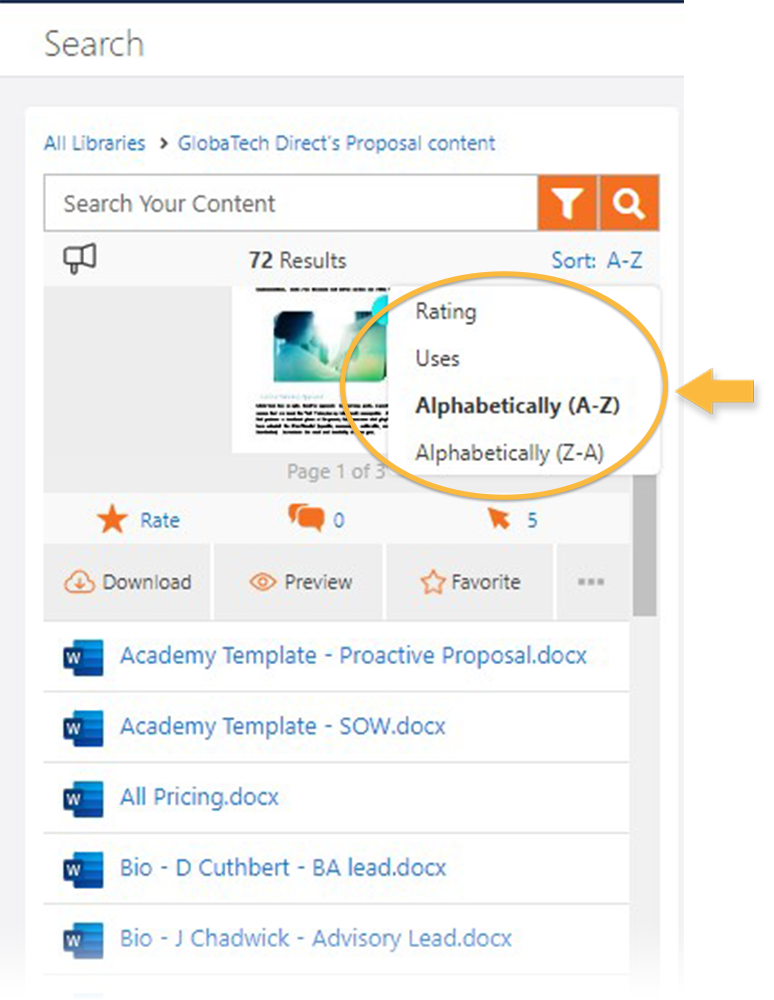 The Catalogue has been deprecated
We have discontinued the 'catalogue' feature, where you could add content from participating publishers to your QorusDocs instance.
Since adoption was relatively low, we decided to rather focus our efforts elsewhere, on things you've asked us for, like bringing you all the usability enhancements we've included as part of this release :)