Today's release is jam-packed with new features and improvements that are all about making collaboration around complex Word documents better, faster, and easier using your Qorus Content Hub.
Please note that you'll need to be subscribed to the Qorus Premium plan in order to access the collaboration features listed below. Click here to view the Qorus plans available and pricing.
Here's what's new:
3. Manage assignments in Hub Central
4. Better visibility into where things are and what has changed
5. Improved and re-designed UI
6. The ability to hide collaboration insights on a per user basis
1. Proxy Users
Designate proxies in Hub Central
In Hub Central, in your Profile Settings, you now have the option to designate one or more proxy users who can act on assignments on your behalf. You can designate proxies for a limited time period or indefinitely: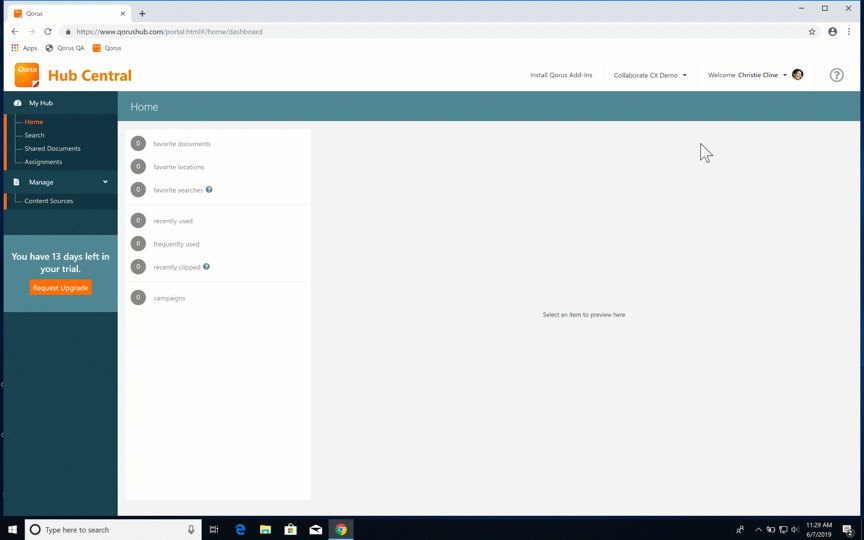 See whether a proxy is active on a user profile while creating assignments
When creating assignments and selecting assignment recipients, you will see a small blue icon to the left of the assignment recipients name if this person has proxies active: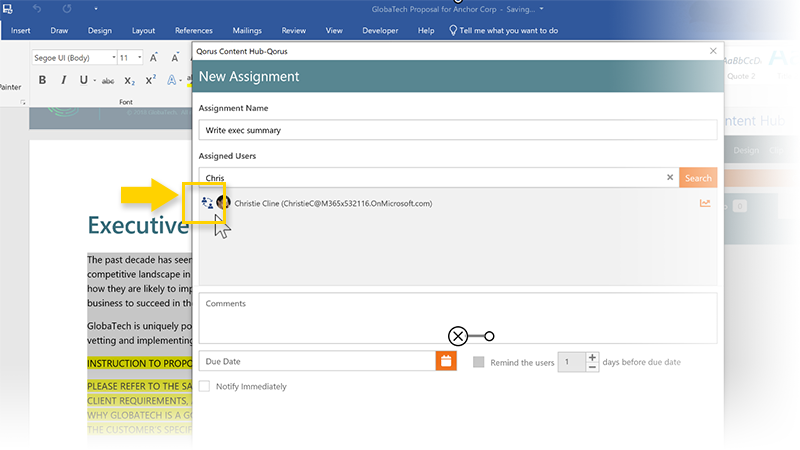 Action assignments on behalf of others if you are their proxy
If you're acting as a proxy for a coworker, their assignments will show up in your to-do list in Hub Central. You'll also be able to see them if you open the document that contains the assignments and go to your document to-do list.
Since it is possible to designate more than one proxy (and for the sake of everyone's sanity!), we've added an 'Accept' feature that allows you to indicate your acceptance of the assignment.
This way your coworkers, and potential fellow proxies, have a way of knowing that you are taking responsibility for the assignment.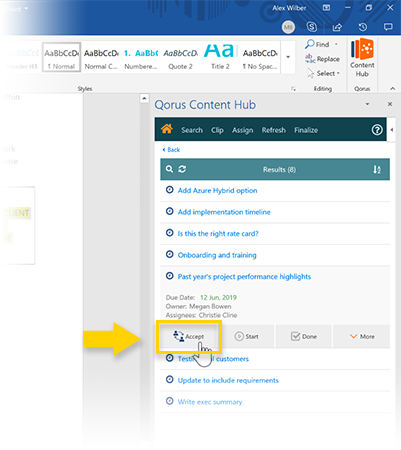 2. Email notifications
Trigger reminder notifications
When creating or editing assignments, you can now specify whether you'd like the assignment recipients to be reminded of an approaching date - and if yes, you can specify the timing of the reminder email: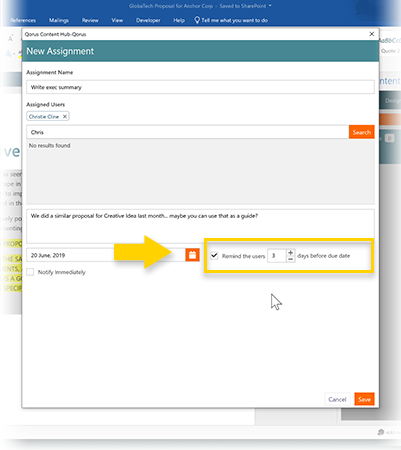 Receive email notifications for coworkers for whom you are acting as a proxy
If you are acting as a coworkers proxy, you will receive all their assignment email notifications.
In the example below, Alex and Irvin are proxies for Christie, and they both receive email notifications about assignments allocated to Christie: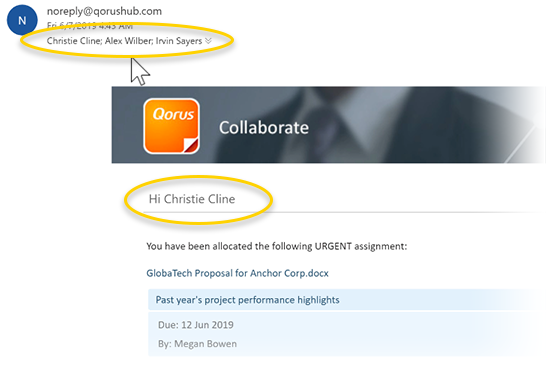 3. Manage assignments in Hub Central
Previously, it was only possible to manage assignments in the Qorus Add-in for Word, and only while you had the document that contains the assignments open on your desktop. That's no longer the case though, and you can do so much in Hub Central now when it comes to assignments.
Update the status of assignments
You can now change the status of an assignment directly from within Hub Central, by clicking on the status indicator icon: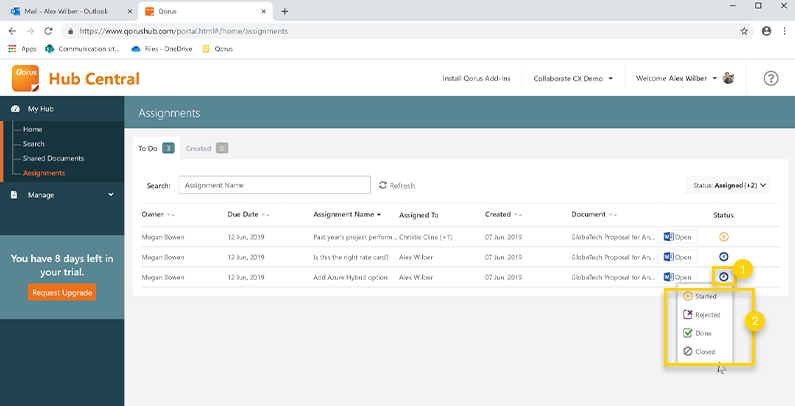 Edit the assignment name, due date, recipients and notification options
If you have created assignments (in other words, you're the assignment owner), you're now able to edit assignments within Hub Central.
To access the edit assignment screen, go to your 'Created' tab, and then click on the gear icon next to the assignment you'd like to edit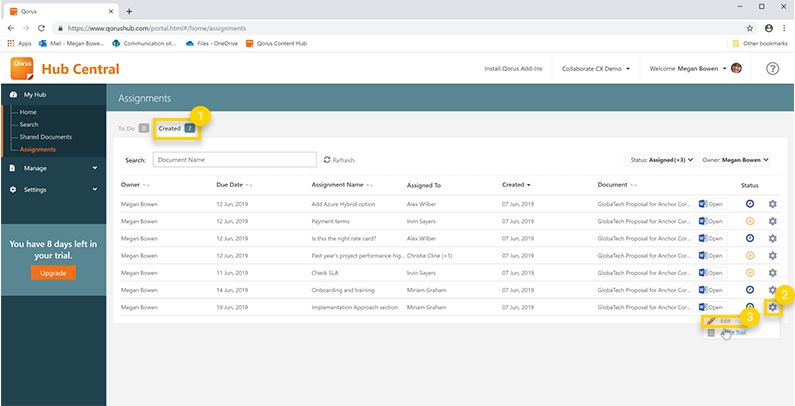 This brings up the 'edit assignment' screen, where you can edit it just as you would in the Qorus Add-in for Word: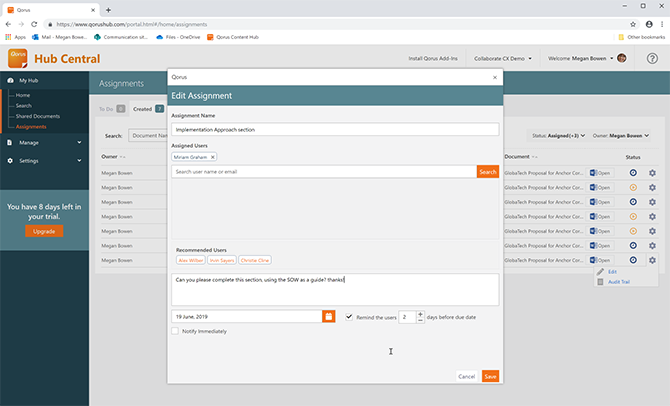 Search your assignments and/or filter them by assignment status
In Hub Central, we've made it easier to find assignments by introducing a search feature along with filters that you can use to filter by assignment status:
Qorus Admins can manage all assignments
Users belonging to the Qorus Admin user role can now see all the assignments that have been created, across all of Qorus, and for all users in Hub Central.
This is especially useful in cases where someone is unexpectedly away from the office, and you need a backup person who can close the assignments before you finalize the document and get it ready for your customer (you can read more about finalizing here).
Qorus Admins can also see who the assignment owner is for each assignment here: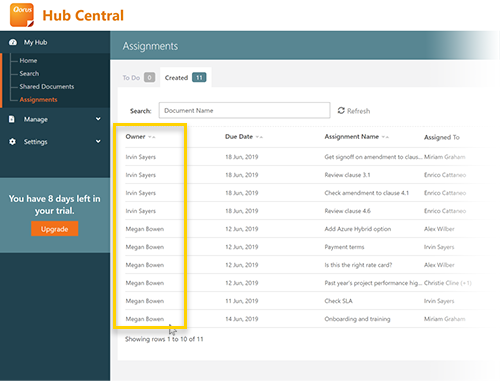 Please note that this does not mean that Qorus Admins can actually access the documents that contain the assignments they see in Hub Central. The only way a Qorus Admin would be able to access any of the documents listed in the 'Created' tab is if their Office 365 permissions give them the necessary access rights (for example, the Qorus Admin has access to the SharePoint Online library where the document is saved), or the owner of the document has explicitly shared that document with them (using the 'share' options in Word, OneDrive for Business, SharePoint Online, or Microsoft Teams).
4. Better visibility into where things are and what has changed
New 'Started' assignment status
Previously there was no way to indicate that you were working on an assignment.
The only options you had were to either complete it and mark it as 'done' - or decline the assignment by clicking on 'reject'. Feedback from our customers indicated that this was especially problematic for those with a large number of assignments and tight deadlines to manage. After all, you really don't want to find out on the day an important assignment is due that the work has not even begun yet!
We've remedied this in this release, by introducing a new 'Started' assignment status.
Now when you receive an assignment and begin working on it, you can click on 'Start' to indicate that you've begun working on it: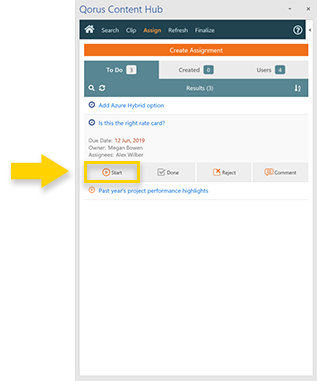 Once you've added your contribution to the document and are satisfied that you've completed the work, you can then mark the assignment as done: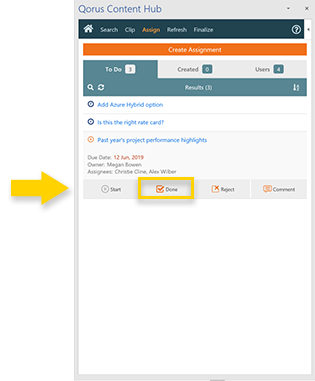 New 'Audit trail'
You can now view a full audit trail for assignments that are visible in your 'Created' assignment list, from both Hub Central and the Qorus Add-in for Word.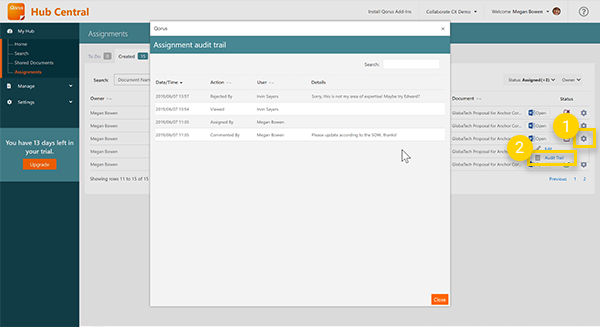 Improved flow for getting documents ready for distribution
Previously, we had one 'close assignment' button that did two things; it closed off the assignment so that it would be removed from people's to-do lists and so that we could include that assignment in the collaboration insights. Then it would remove the grey content controls in the document so you can distribute it.
We heard from you that you'd like better control over this, and so we have split this as follows:
Closing assignments now change the status of the assignment only. Even after closing an assignment, you can now still view and click on it in the Qorus Add-in for Word, and you'll be taken to the right spot in the doc. You can't edit it once it's been closed though (same as before). You can close assignments in Hub Central, by updating their status to 'closed', as well as in the Qorus Add-in for Word.
Finalizing your document now gets your document ready for distribution. It removes all the grey content control boxes around assignments that have been closed. You can finalize documents using the Qorus Add-in for Word only, and while you have the document open. You can't finalize a document from Hub Central.
Here's where you can find the 'close' button to close all the assignments you've created: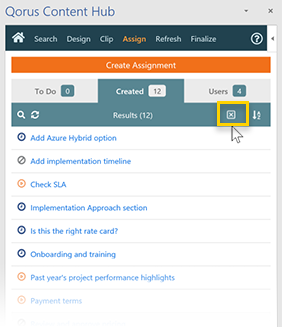 And here's where you can close one assignment at a time: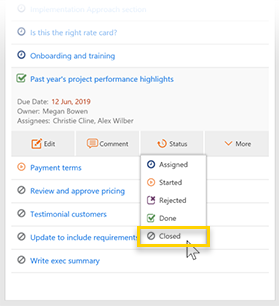 Then, to finalize all closed assignments, click on 'Finalize' on the top nav, and then on 'Finalize':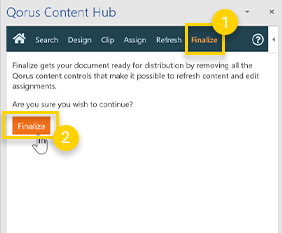 5. Improved and re-designed UI
More space when creating and editing assignments
You can now create and edit assignments in a pop-up window, rather than in the more narrowly confined space of the Qorus Add-in for Word. You can see a few examples of the 'new assignment' and 'edit assignment' screens above.
Redesigned screen for user collaboration insights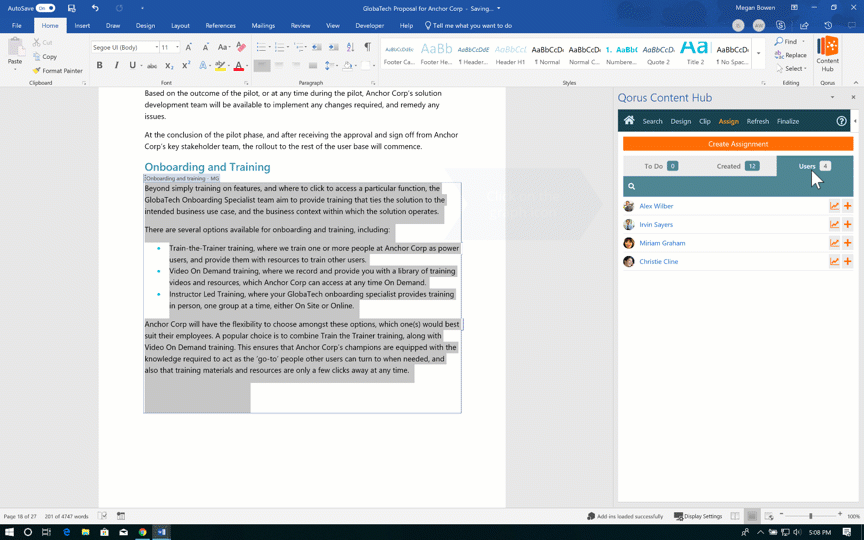 6. The ability to hide collaboration insights on a per user basis
Qorus Admins can now control who is able to see collaboration insights within the organization. This setting can be found in Hub Central, in user management here: