Our latest release is here! We've heard your feedback and are pleased to be bringing you a bunch of mostly small improvements that all add up to improved usability and overall user experience.
Here are the highlights:
1. Updating the Primary Action in document Previews
There's so much you can do with your re-usable content with QorusDocs: Insert it into other documents you're working on, download a copy, open the live version to edit it, use it as a template to create other documents, and more.
The 'primary action' is the first content action you see in the QorusDocs UI. It has its own button and is quickly and easily accessible, as opposed to being two clicks away under the 'more' menu.
With this release, we've improved upon the choice of primary action in document Preview, so that we're always making the most useful content action available to you based on the context and the way you actually work with the content.
Previews with the QorusDocs Add-ins
In the QorusDocs Add-ins, we've made the following changes to the content actions in the Preview window:
For the following file type Previews …
… the Primary action is now:

Word docs
Image files
PowerPoint slides
HTML files

Insert All

Excel spreadsheets
PDFs
Zip files
URLs
Email messages
Other file types

Open
The actions you find under the 'more' menu is now sorted based on how often those actions are used. The more popular the action, the higher up their position in the menu.The only exception to this is for Word document and image Previews when you're working in Word only. Here, we've added 'Insert All as Refreshable' as the secondary action you'll find at the top of the 'more' drop-down menu (the three dots).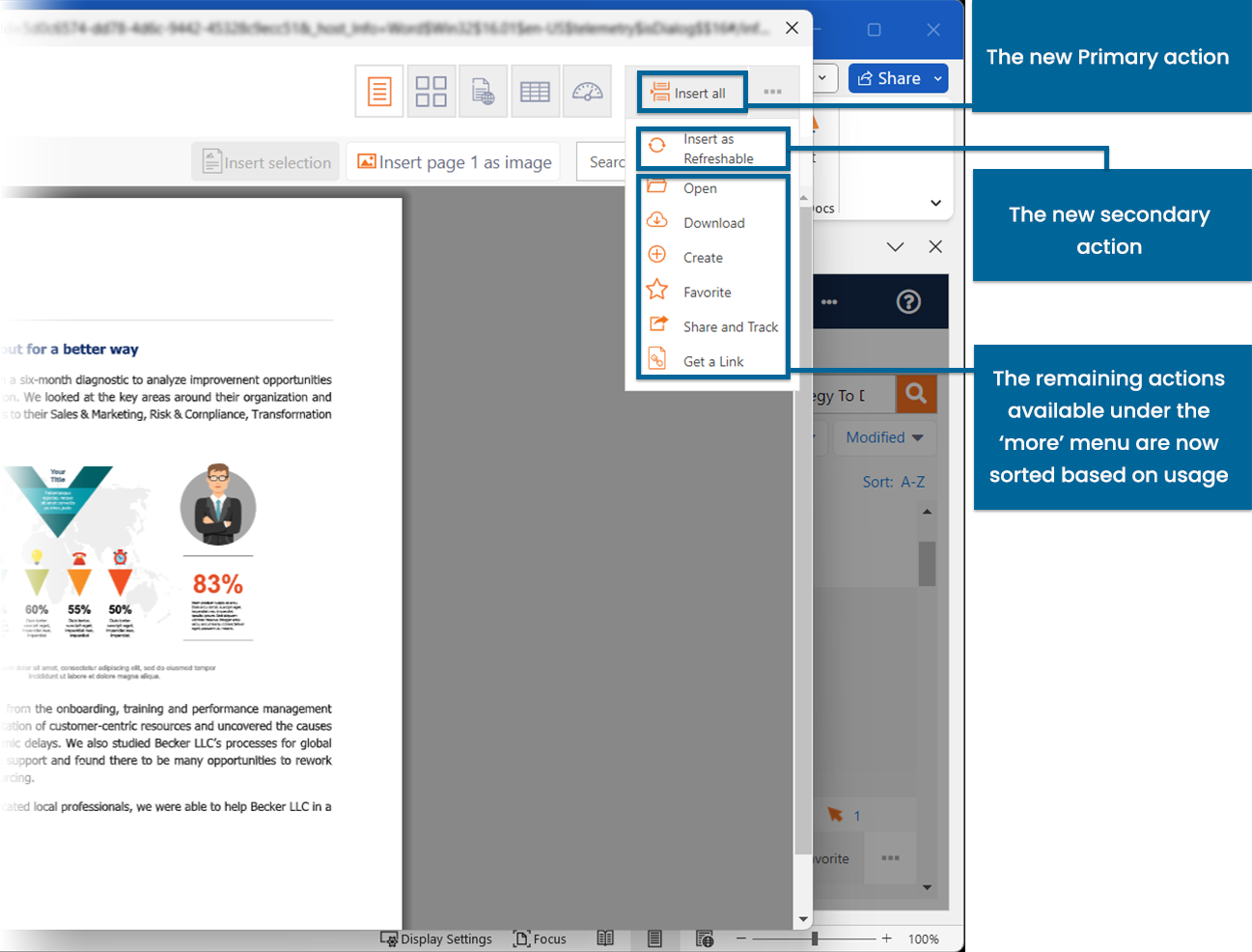 Previews in QorusDocs Online (Hub Central) When you're working on the web, you'll notice that the new primary action for all file types is now 'Open', while the rest of the actions under the 'more' menu is now also sorted based on usage.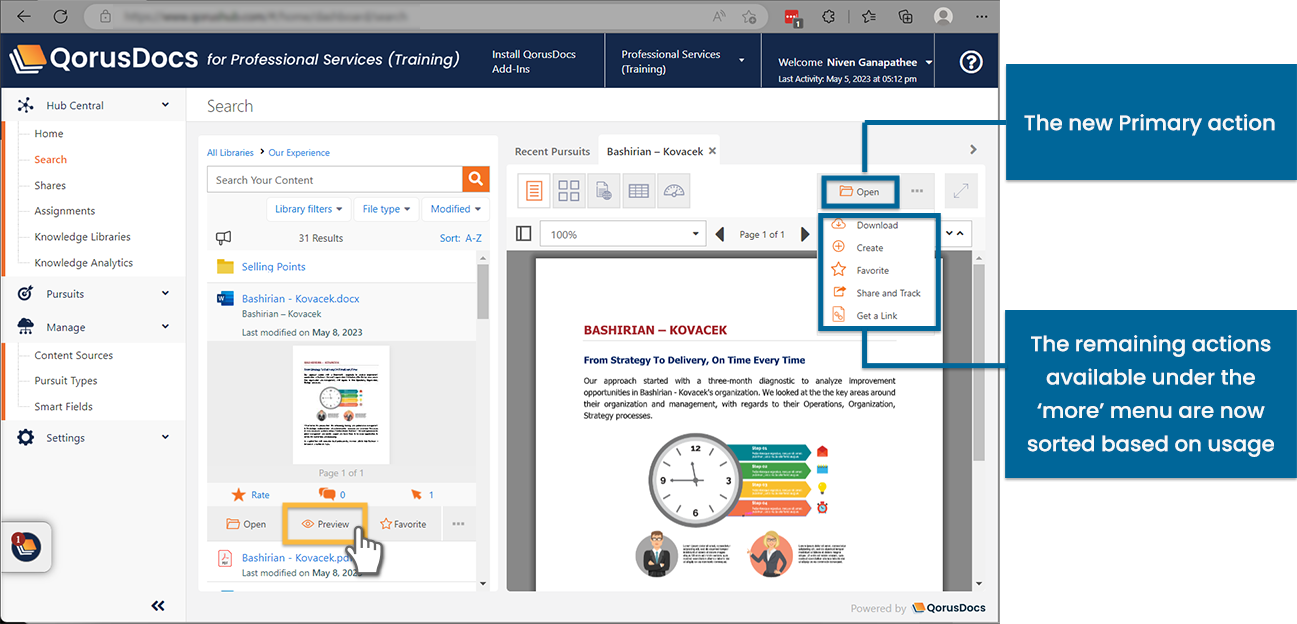 Back to the top
2.Clip UI Enhancements
We're making the QorusDocs Clip UI more user friendly, with:
Better messaging to guide you towards the right action.
Clearly indicated mandatory fields
Checks for other files with the same name in the save location.
Improved button text and placement in the UI
Validation on Clip names for unsupported characters: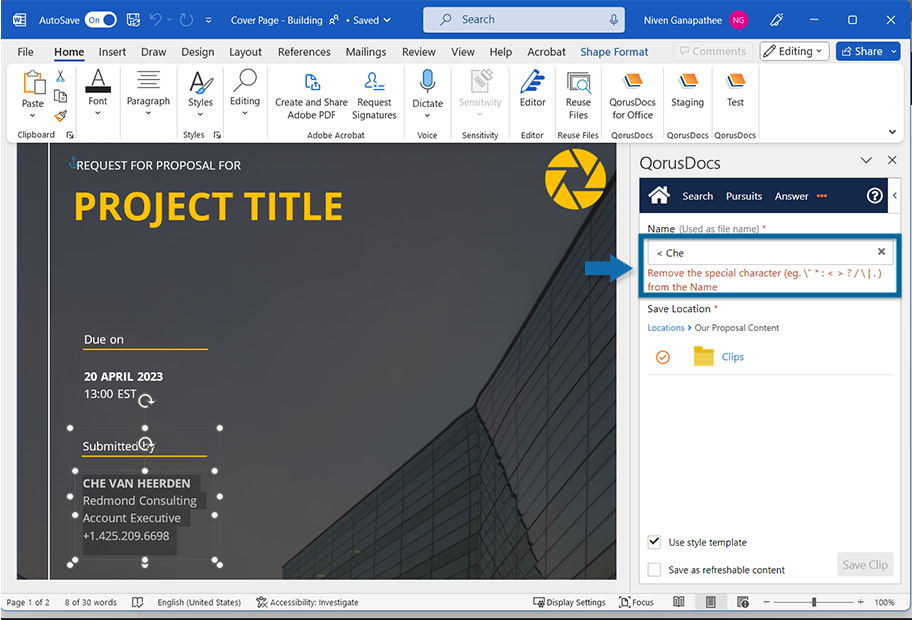 Plus, we now remember your last used Clip save location, so that if you are clipping several pieces of content from the same document in the same session, you don't have to re-select that save location each time.