This applies to:

Available with the following QorusDocs Editions:

Enterprise

Premium

Essential

Free
With PowerPoint assignments, you can assign slides to co-workers, keep track of progress and due dates, and generally make life easier when you have to work as a team to get a pitch deck out the door.
In this article, we'll cover:
1. Minimum recommended Office version
You can access the 'Assign' menu by clicking on the 'more' menu in the top nav (the three dots):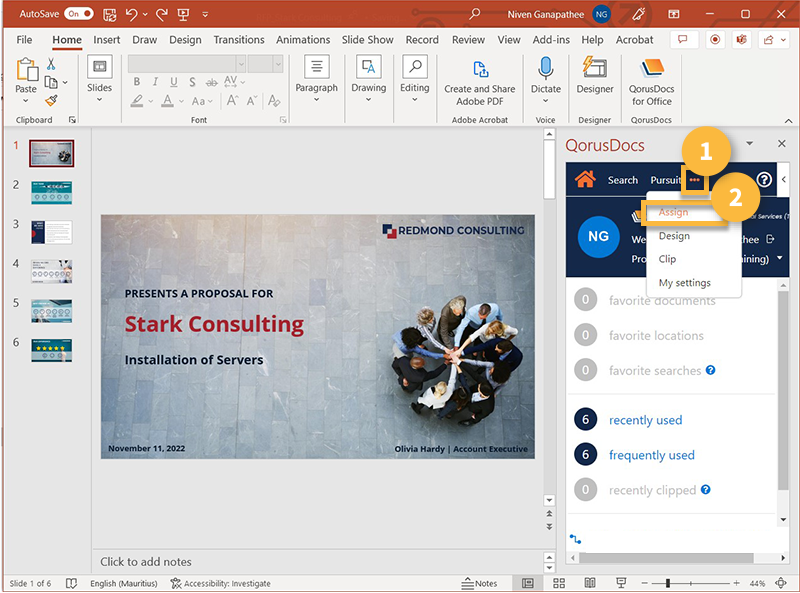 2. Creating assignments in PowerPoint
First things first – you should know that you can create assignments in pretty much any PowerPoint presentation. The slide deck can be one that you created with QorusDocs using a smart template or one you created from scratch. It also doesn't matter if it is associated with a Pursuit or not.
The only requirement is that the PowerPoint presentation is saved to a shared location that the co-workers you wish to collaborate with can access.
Once you've made sure that it's in a shared location (for example, in Microsoft Teams, OneDrive for Business, or SharePoint Online), you can select one or more slides from the Slides Pane in PowerPoint on the left and then, in the QorusDocs Add-in, click 'Create Assignment':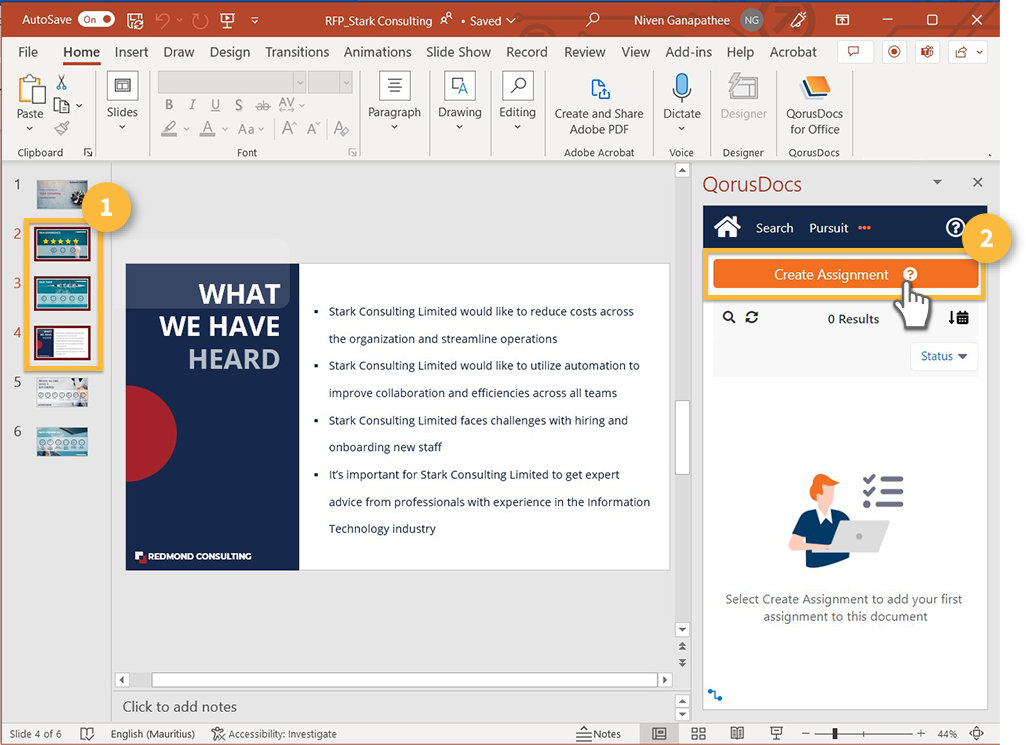 This will bring up the assignment creation window, which works in exactly the same way as described here, for Word and Excel.
When you create the assignment, you'll see the slide numbers that are associated with this assignment right here in the 'created' tab section.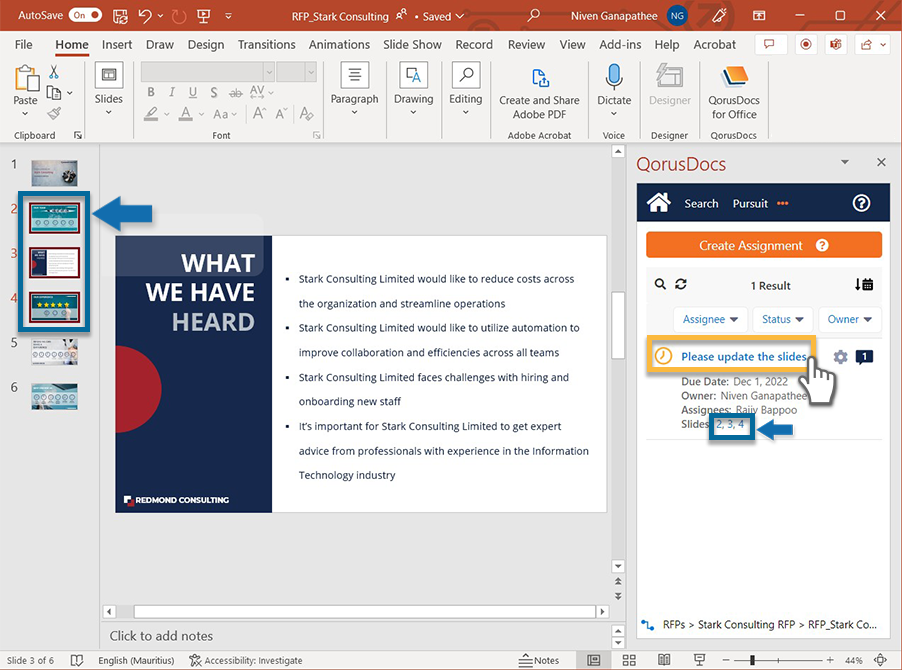 Clicking on any of the slide numbers shown here will take the recipient straight to that slide.
3. Responding to an assignment
As with assignments in Word and in Excel, the people you create assignments for will receive email notifications informing them of their 'to-do' list. They can then click on the link provided to access the presentation and get to work straight away.
If slides get re-arranged into a different order, then QorusDocs will automatically update the slide numbers that appear on the assignment tile, so these are always accurate. For example, moving slide 4 to 6th position in the deck will update the assignment tile as follows: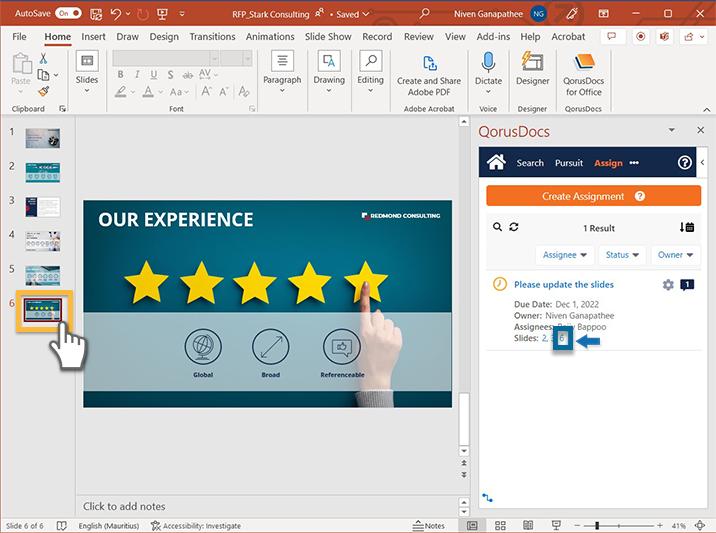 If for whatever reason, slides that were associated with an assignment are deleted from the presentation (slide 6 in the screenshot above), users will see this alert icon informing them of that fact: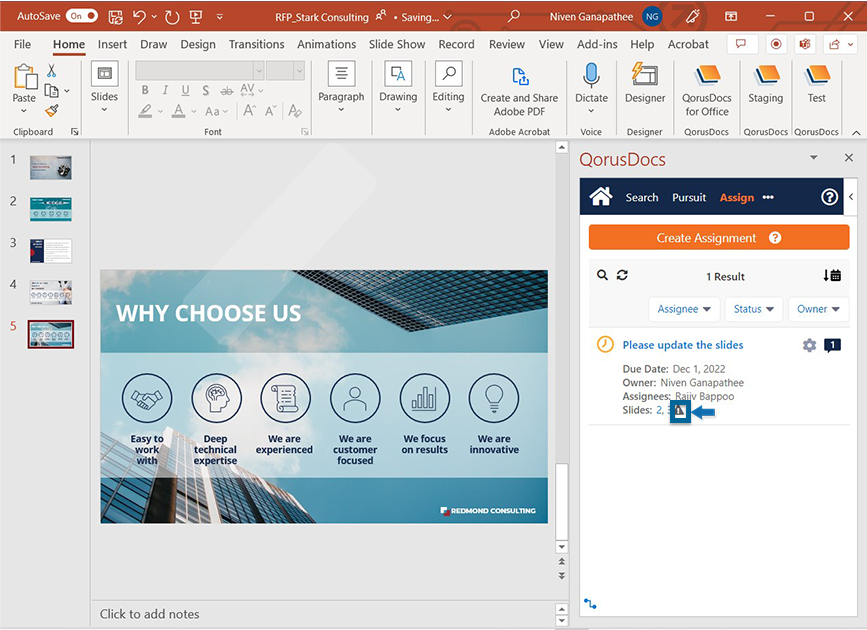 This doesn't invalidate the assignment. They can still work on the remaining slides associated with that assignment and complete it.
Whenever a user accesses the 'Assign' pane, QorusDocs will automatically refresh the list of assignments. If you had the Add-in open for a while or would simply like to reload the pane to see the latest assignment status and information, you can click on the refresh icon here:
4. Collaboration Insights, Email Notifications, Managing Assignments
You can also get an idea of a co-worker's current workload and track record with the collaboration insights, as described here, and optionally pick someone else to allocate the assignment to.
QorusDocs will notify your co-worker that there's a new assignment for them and will continue to remind them to complete their work until it is done. As the assignment owner, you'll be notified when your co-workers leave a comment and/or actions the assignment (either marks it as done or rejects it). You can learn more about assignment email notifications here.
After your assignment has been actioned, you can manage it in your QorusDocs Hub or directly in the PowerPoint slide deck.