This applies to:

 

 

 

 

 

Available with the following QorusDocs Editions:

Enterprise

Premium

Essential

Free
While you can create Assignments at document level with the QorusDocs Add-ins for Microsoft Office, you can also create Assignments outside of documents which are associated with a Pursuit.
To do this, you'll need to be logged into your QorusDocs Hub, where you can create and manage Assignments at Pursuit-level directly within a Pursuit's workspace.
In this article, we'll explain:
1. Creating Pursuit Assignments for Team members
First, navigate to the Pursuit's workspace, then click on 'Assignments', and then on 'Create':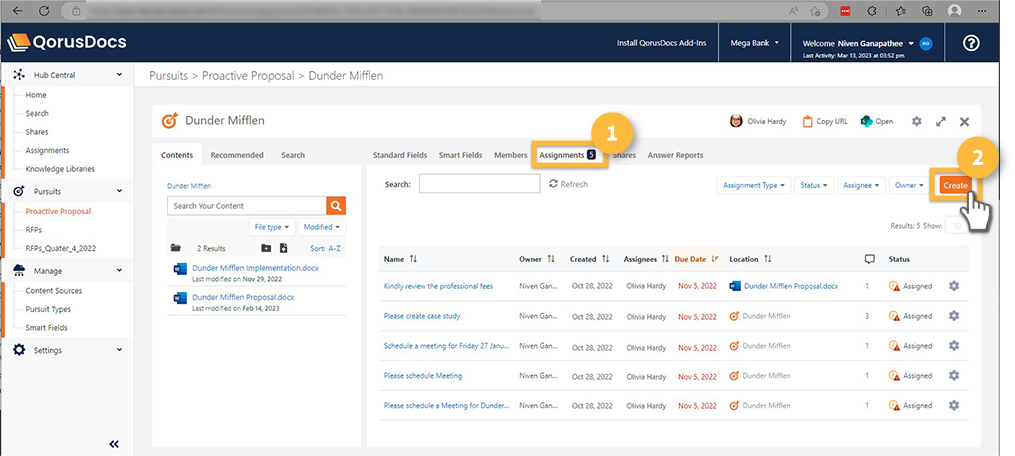 In the 'New assignment' window that pops up next on your screen, you'll fill in the assignment details, similar to how you would when creating a document-level assignment.
First select the person(s) you'd like to allocate this assignment to from the drop-down list.
If your Pursuit has a defined list of Team Members (as opposed to being open and visible to any user in your QorusDocs Hub), QorusDocs will save you some time by pre-populating a drop-down list of all the specified Team Members for that Pursuit.
This way you don't have to search, you can just pick them from the list: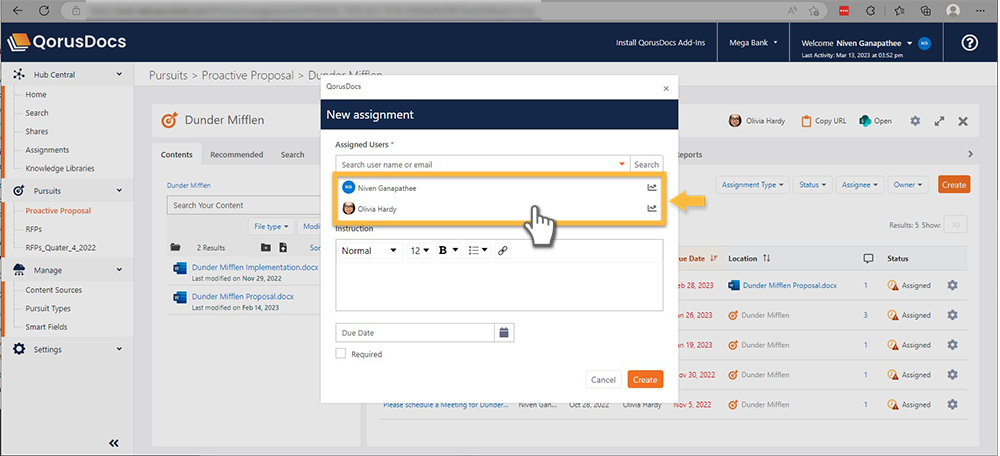 Then give your assignment a name, provide instructions with a comment, and pick a due date to create your Pursuit assignment.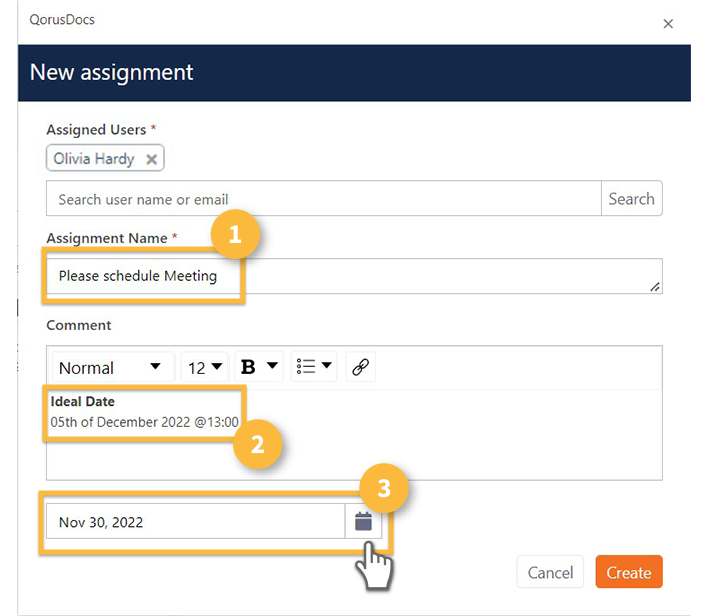 And that's it! You should be able to view the new Pursuit assignment and its status in the Assignment tab within your Pursuit workspace.
2. Creating Pursuit Assignments for non-Team Members
If the person you're creating the assignment for has not been added as a named Team Member to this Pursuit, they won't be in the Team Member list. 
You will still have the option, however, to search for them by typing in a few letters of their name, surname, or email address, and then select them: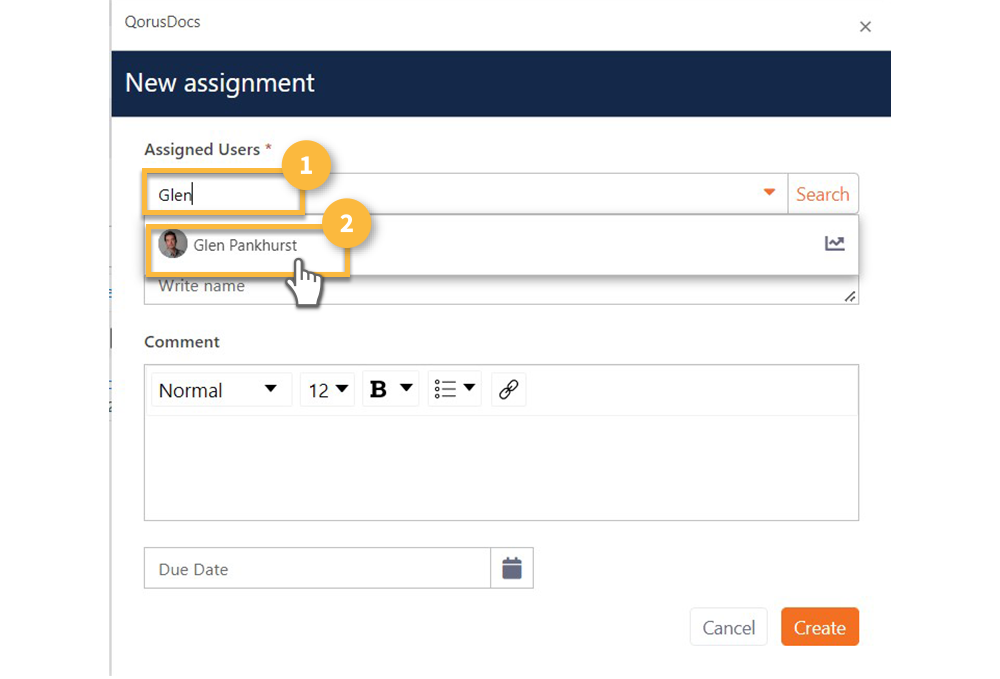 QorusDocs will display the following message, alerting you to the fact that this person is not a Team Member of that Pursuit, and asking you if you'd like to add them. 
Since they'll need access to the Pursuit in order to action any Pursuit-level Assignments, click 'yes' and QorusDocs will handle the rest: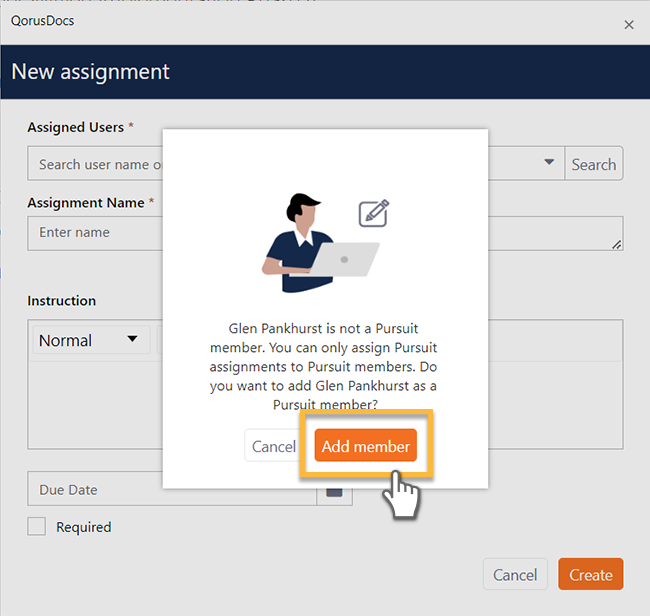 Then give the Assignment a name, optionally leave a comment and pick a due date to create your Pursuit Assignment.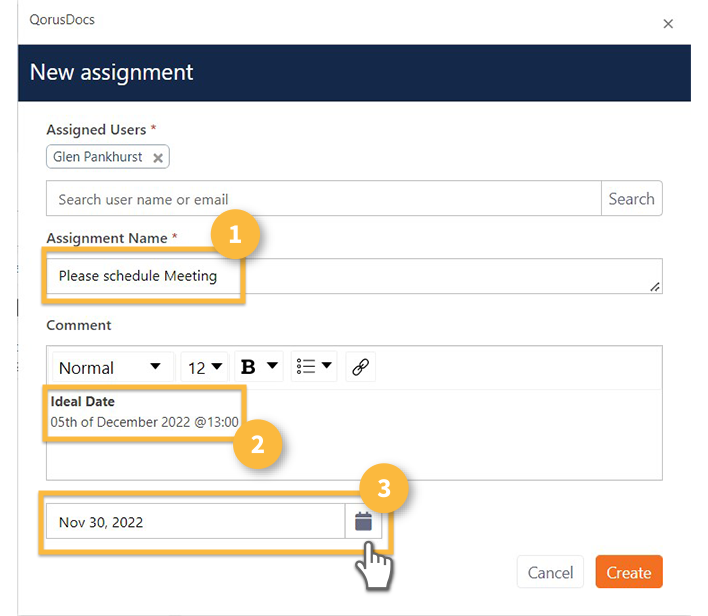 And that's it! You should be able to view the new Pursuit assignment and its status in the Assignment tab within your Pursuit workspace.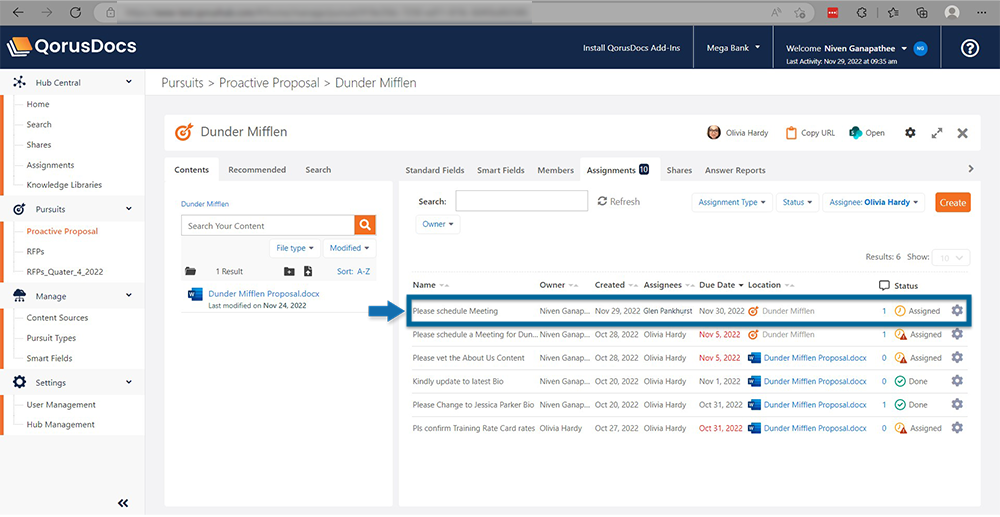 3. Email notifications for Pursuit Assignments
Team members and others receive new assignment email notifications immediately, as soon as a new assignment has been assigned to them.
QorusDocs will send out the same email notifications for Pursuit Assignments as with document-level Assignments: 
when the assignment is created
when the assignment status is updated
when someone comments on the assignment
every day, as part of the daily digest or summary of outstanding Assignments
24 hours before the assignment becomes due if it has still not been actioned
For Pursuit Assignments, the email notifications will be as follows: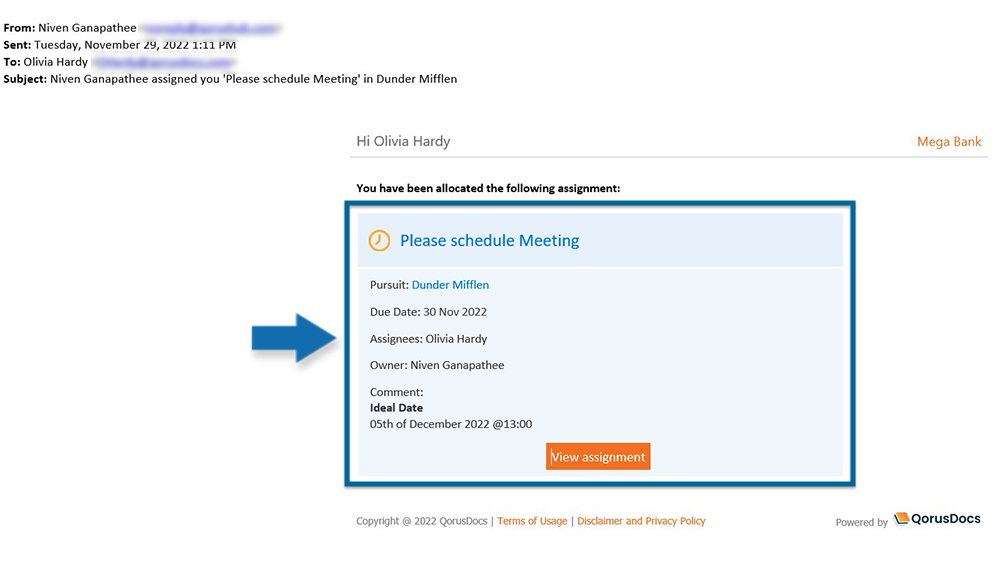 4. Locating Pursuit Assignments
In the grid or tabular view that lists all the Assignments across your QorusDocs Hub, or all the Assignments for a particular Pursuit, there's a 'Location' column that lists where the assignment was created.
This is not only useful information that's good to know, but the location is also clickable, so it opens the right document in the case of a document-level assignment, and the right Pursuit in the case of a Pursuit-level assignment. 
For Pursuit-level Assignments, the icon is an orange bullseye, which is what QorusDocs uses for Pursuits: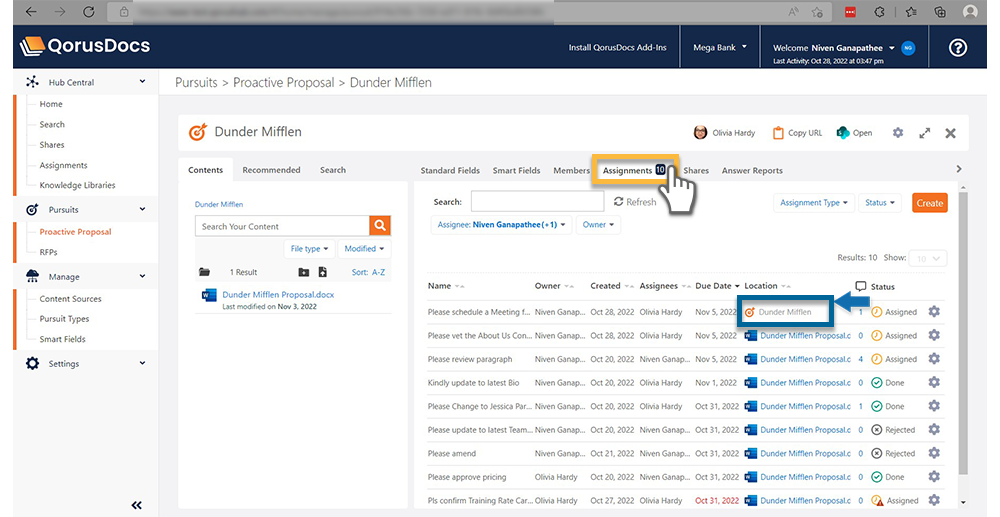 You can also filter your view of Assignments based on assignment type, 'Pursuit' or 'Document', in addition to others like 'Assignee' and 'Owner'.
This allows you to locate Pursuit Assignments in just a few clicks rather than having to work your way through a long list of Assignments.