| | |
| --- | --- |
| | We recently released a bunch of improvements to the functionality described in this article, which you can learn about here. Please bear with us while we update the Help Center, we'll have a new article for you here soon! |
With the Qorus Add-in for Word, you can assign parts of a document to one or more collaborators.
People you've created assignments for will receive email notifications, and their assignments will appear under their 'To Do' list in Qorus. As the person creating assignments, you'll be kept in the loop and informed of any change in the status of the assignment. To learn more about the experience for assignment recipients, and how to action an assignment, please click here.
IMPORTANT: Creating an assignment for a document does not automatically grant access to the document, so you'll need to make sure that your document is saved in OneDrive for Business, or a SharePoint Online library, and that it has been shared with the people you'd like to collaborate with.
In this article, we'll explain how to:
Create a simple assignment
Collaborate more precisely with advanced assignment options


Set due dates
Leave a comment
Notify immediately
1. CREATE A SIMPLE ASSIGNMENT
The first thing you'll need to do is select the part of the document that you'd like to assign. You can assign anything from a blank spot in a document, like the space for an answer below a question, or several paragraphs of text, for instance if you'd like colleagues to review something that's already been written.
The important thing to know is that the part of the document that you select and assign to one or more colleagues with Qorus, will be surrounded by a container known as a content control. People who are recipients of an assignment would generally be expected to type, contribute or review whatever appears within that assignment container. So you'll want to make sure that you place your cursor either in the right place in the document, or that you've selected the right part of the document for the particular assignment you're creating.
Once you've made your selection in the document, or placed your cursor in the right spot, you can hop on over to the 'Collaborate' tab and give the assignment you're creating a name.
Next, enter the first few letters of the name of the person you'd like to create the assignment for, and then select their name from the drop down menu that appears next.
You can assign a part of a document to up to 10 different people. As you add users to an assignment, you'll see their names under 'Assigned Users'.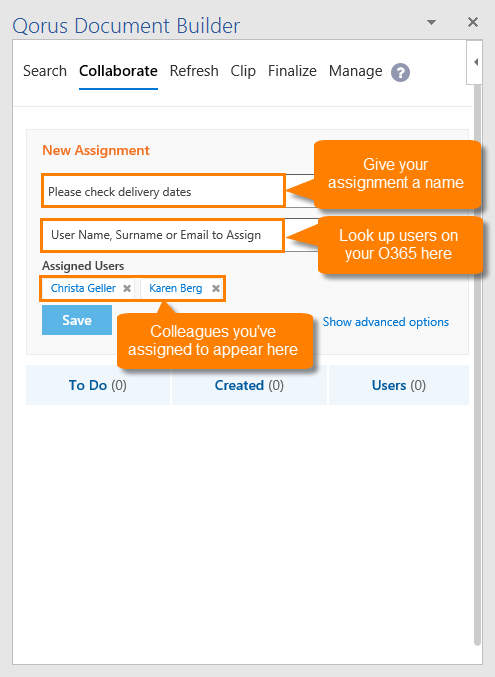 Then, simply click on 'Save' and your assignment will be created.
And that's it! You've created your first assignment.
Assignment recipient(s) will be notified in a daily digest email, that lists all the assignments currently open and created for them, across all documents. To notify recipient(s) immediately, set due dates, or leave a comment, click on 'Show advanced options', as described below.
2. COLLABORATE MORE PRECISELY WITH ADVANCED ASSIGNMENT OPTIONS
Clicking on 'Show advanced options' will reveal the additional collaboration options available.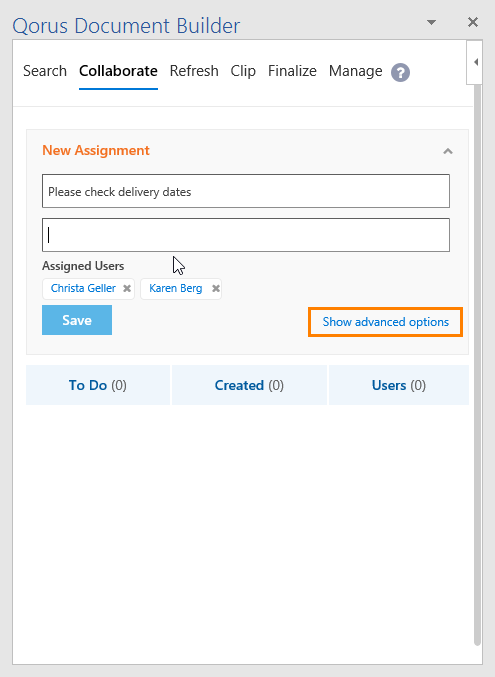 To leave a comment, click within the larger text box area, and start typing to provide additional information on what you require.
Then to set a due date, simply click on the calendar icon and pick the date you'd like to set. Qorus will track the completion of the assignment against that due date for reporting purposes, and make it easy to see whether an assignment is overdue.
Next, if you'd like to have an email notification sent out immediately after you've created the assignment, you can check the 'Notify Immediately' check box. Otherwise assignment recipients will be notified a bit later in the day.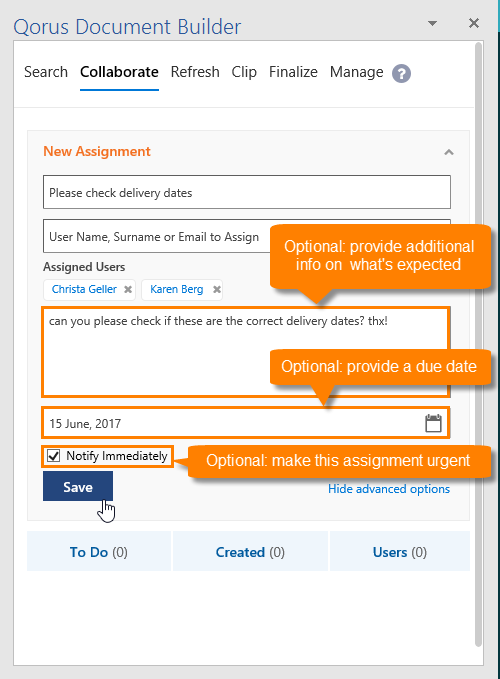 WHAT'S NEXT