This applies to:

Available with the following QorusDocs Editions:

Enterprise

Premium

Essential

Free
In this article, we'll cover the installation of the Qorus for Dynamics 365 add-in.
Prerequisites:
An Administrator access to a Dynamics 365 environment
Deactivated pop-up blocker or an exception for your Dynamics 365 domain
Login to your Dynamics 365 environment. From the main menu, click the cog in the upper right and click 'Advanced Settings' as shown: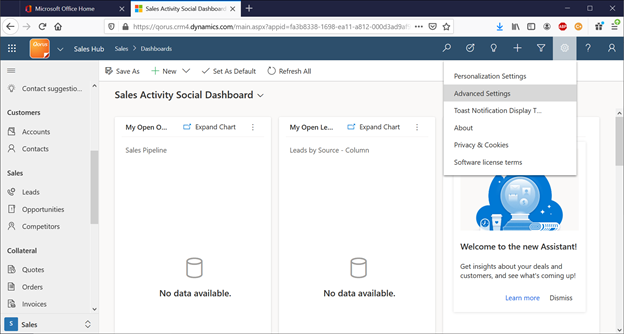 From there, click 'Settings' on the top left and then click on 'AppSource' in the 'Customization' column: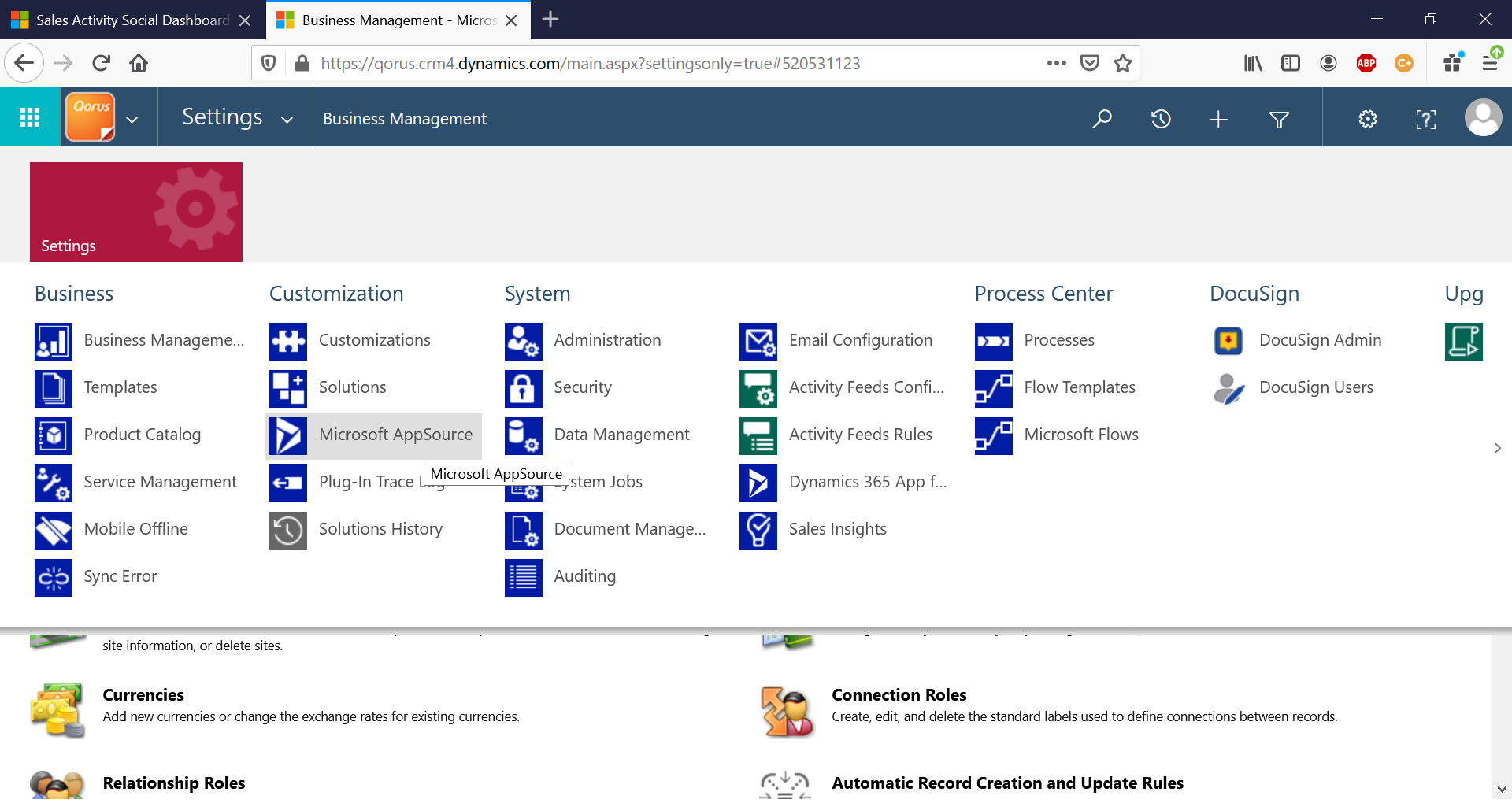 You should see a pop-up window labeled 'AppSource.' Type "Qorus" into the search field, and then click the 'Get it now' button on the 'Qorus for Dynamics 365' tile: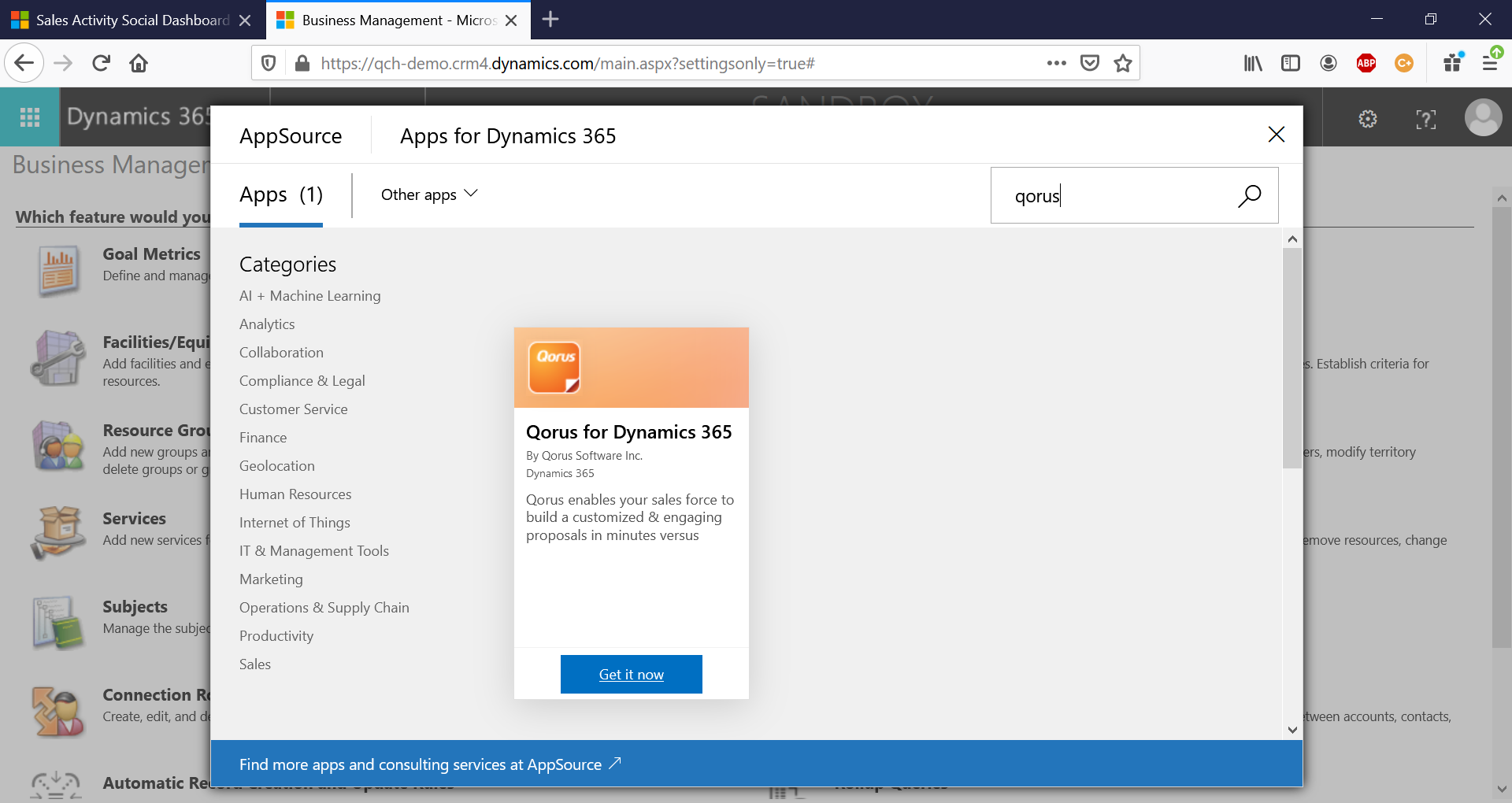 You should see an interstitial confirmation page. Click 'Continue' and then you should get to a new tab called 'Marketplace.'
Note: If the page does not load, please check your pop-up blocker settings and ensure that you have allowed the site to create pop-ups.
On the new tab, you should see an add-in description, a selection, and two checkboxes. If you have more than one Dynamics 365 environment, e.g. "Sandbox" and "Prod," you will be asked to select where you wish to install the add-in from a drop-down menu. Once you've selected the appropriate environment, click the two checkboxes and click 'Agree' at the bottom of the page (note: some windows may display these as a single column, so you may need to scroll):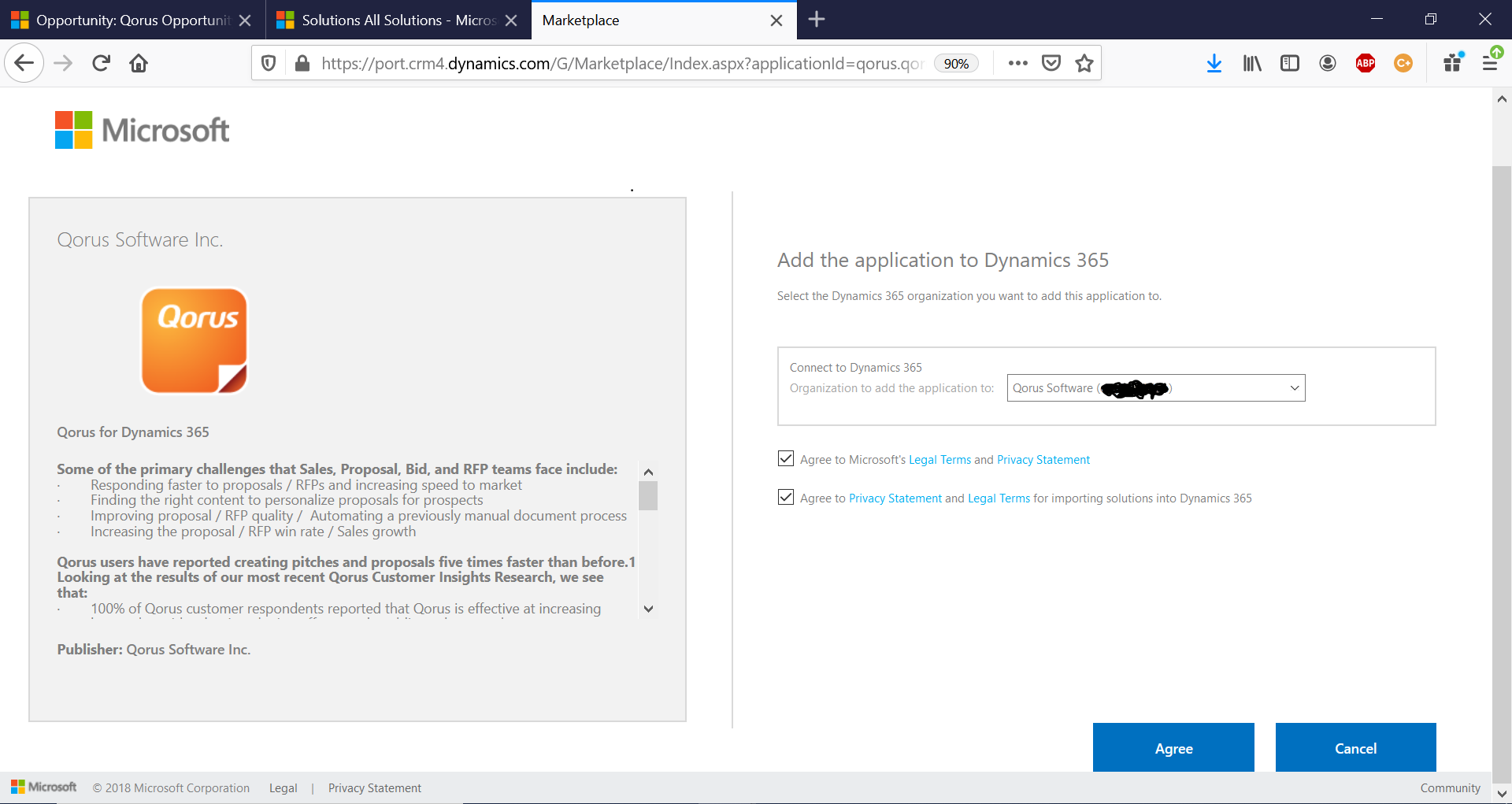 After agreeing, you should see a page called 'Manage your solutions.' Use the arrow keys to get to the page where 'QorusContentHubSolution' is displayed, then verify that its status is 'pending' or 'scheduled.' This may take up to a half hour, so try refreshing after a while and checking it again if needed.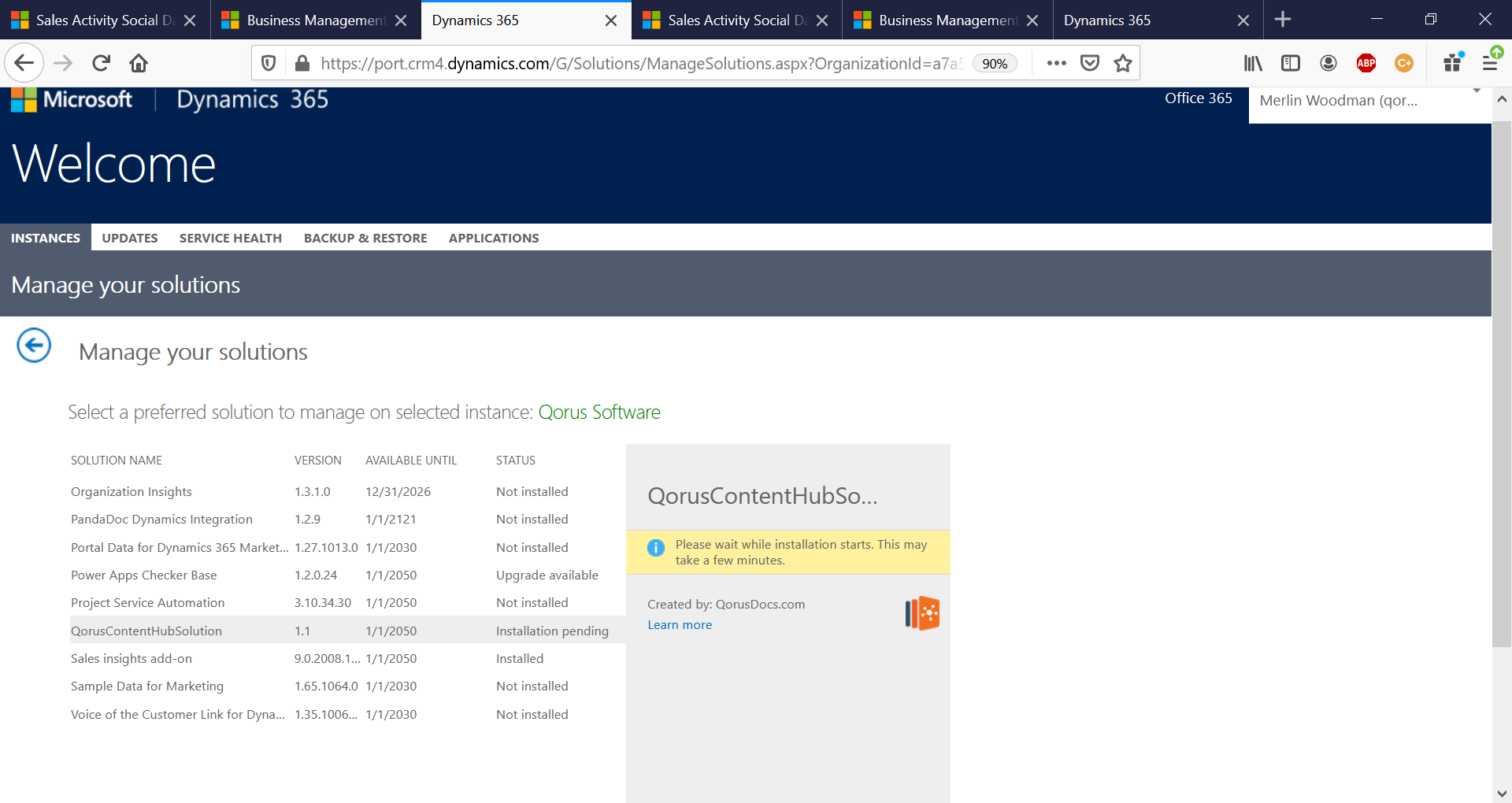 Once the status shows 'installed,' you can close that tab and go back to your main Admin page in Dynamics. Click back to your 'Solutions' tab, and click 'Settings>Customization>Customizations:'
On the Customization page, click 'Customize the System.'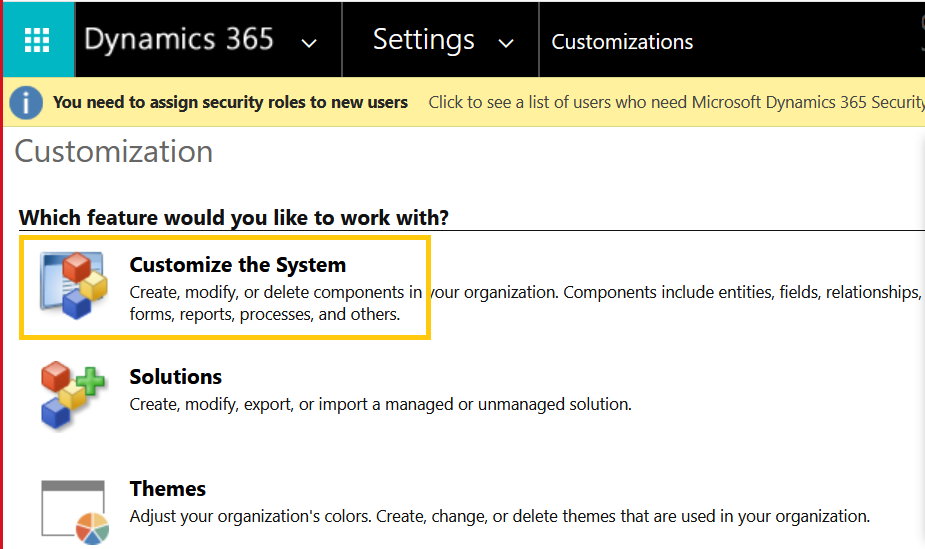 This should load a pop-up window. On the left navigation pane, click 'Entities' to expand the menu: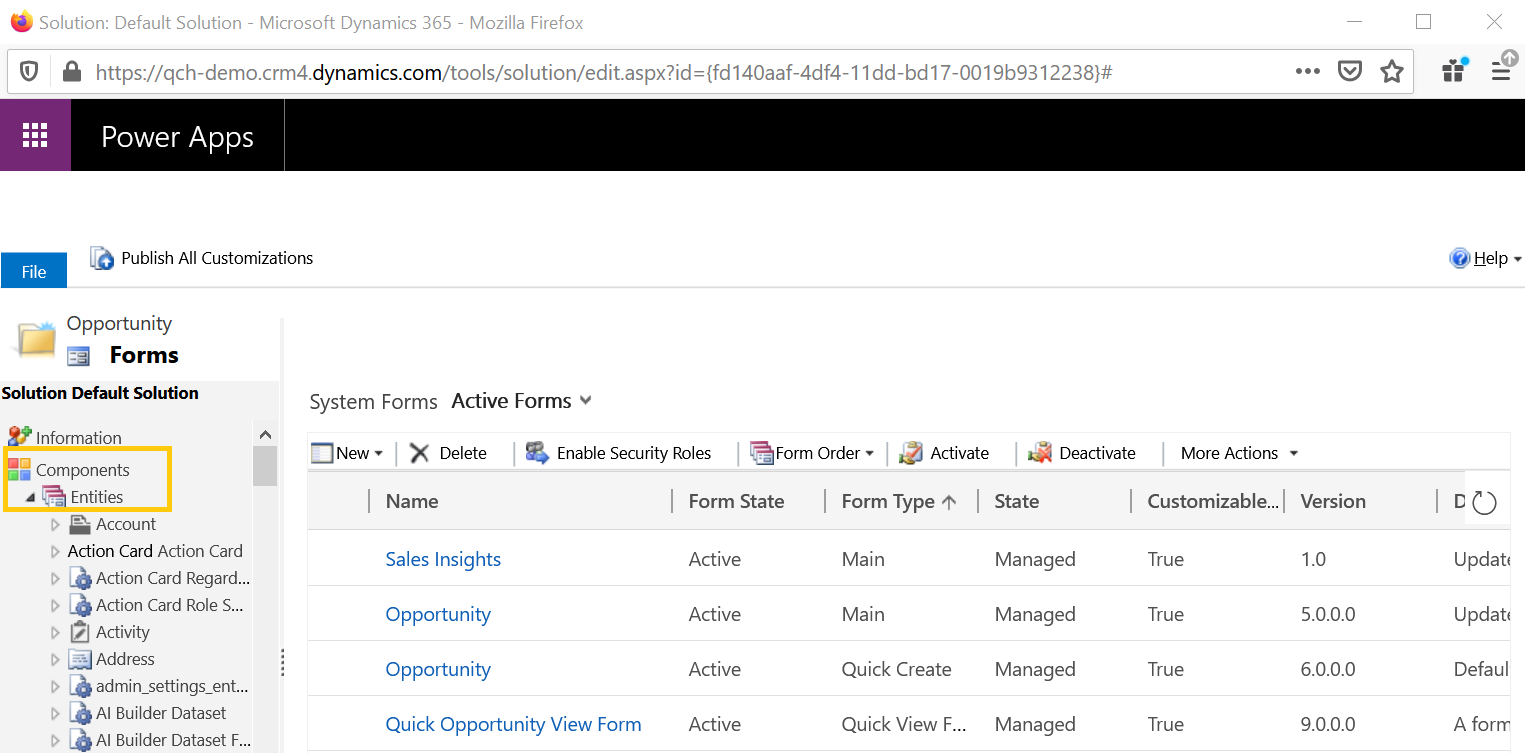 Scroll down the 'Entities' list until you find 'Opportunity,' then expand that and select 'Forms.' On the main screen, select the Opportunity form you wish to add the Qorus add-in to: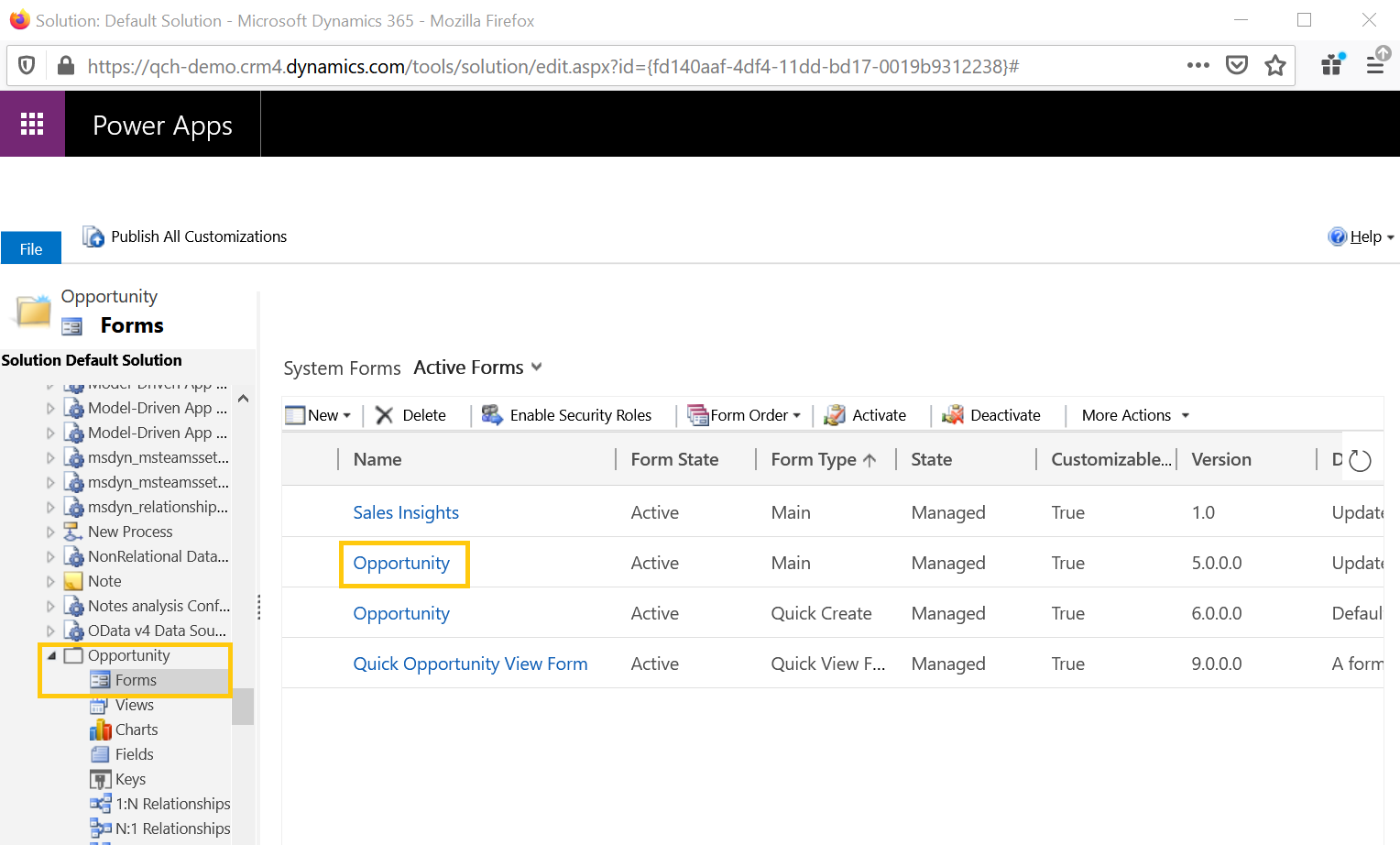 This will open another pop-up window with a general layout. Determine where on the page you want to have the Qorus add-in, then click the 'New Field' option in the lower right corner: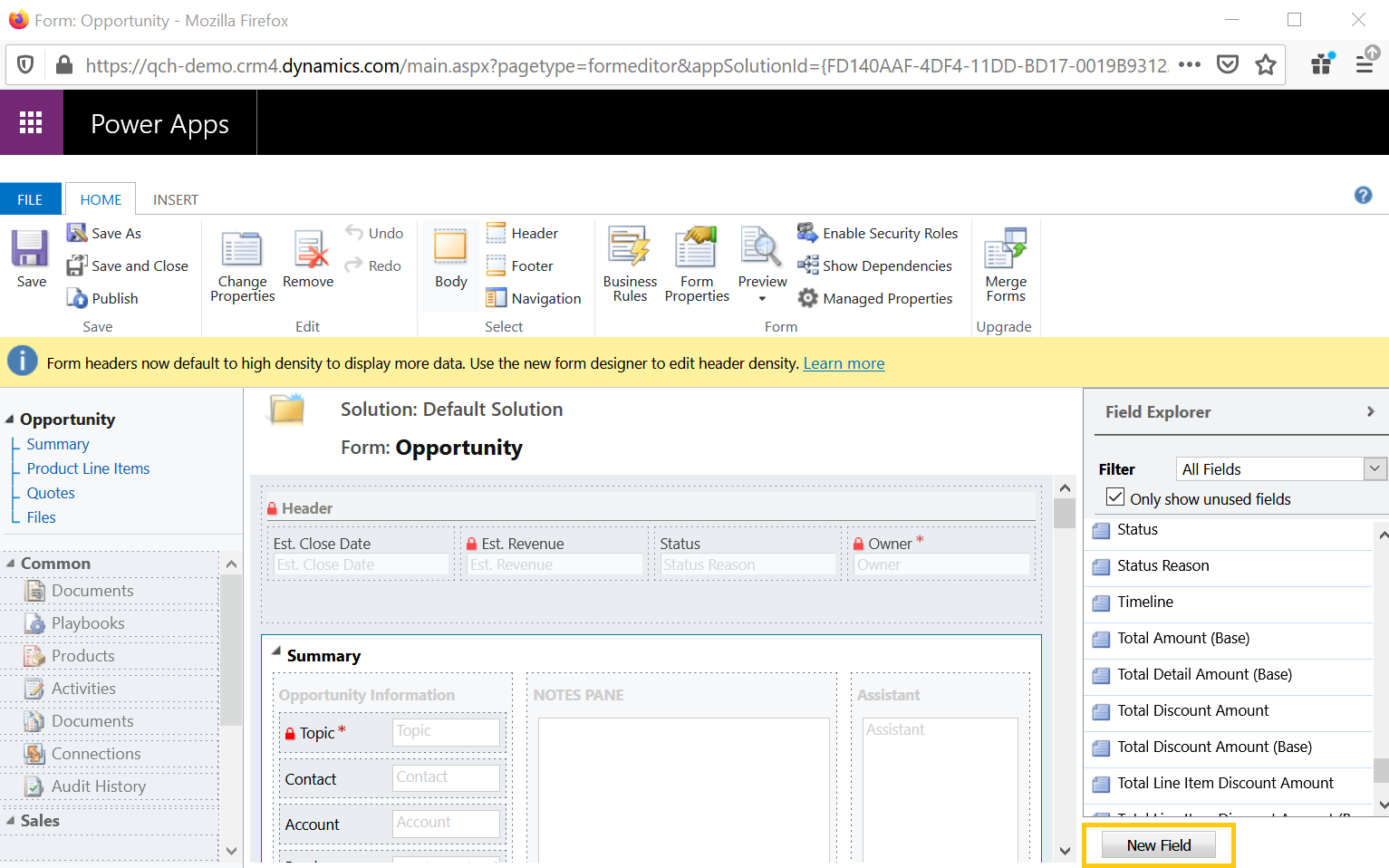 Enter a name for your add-in field, e.g. "Qorus add-in," leave the rest blank, and hit 'Save':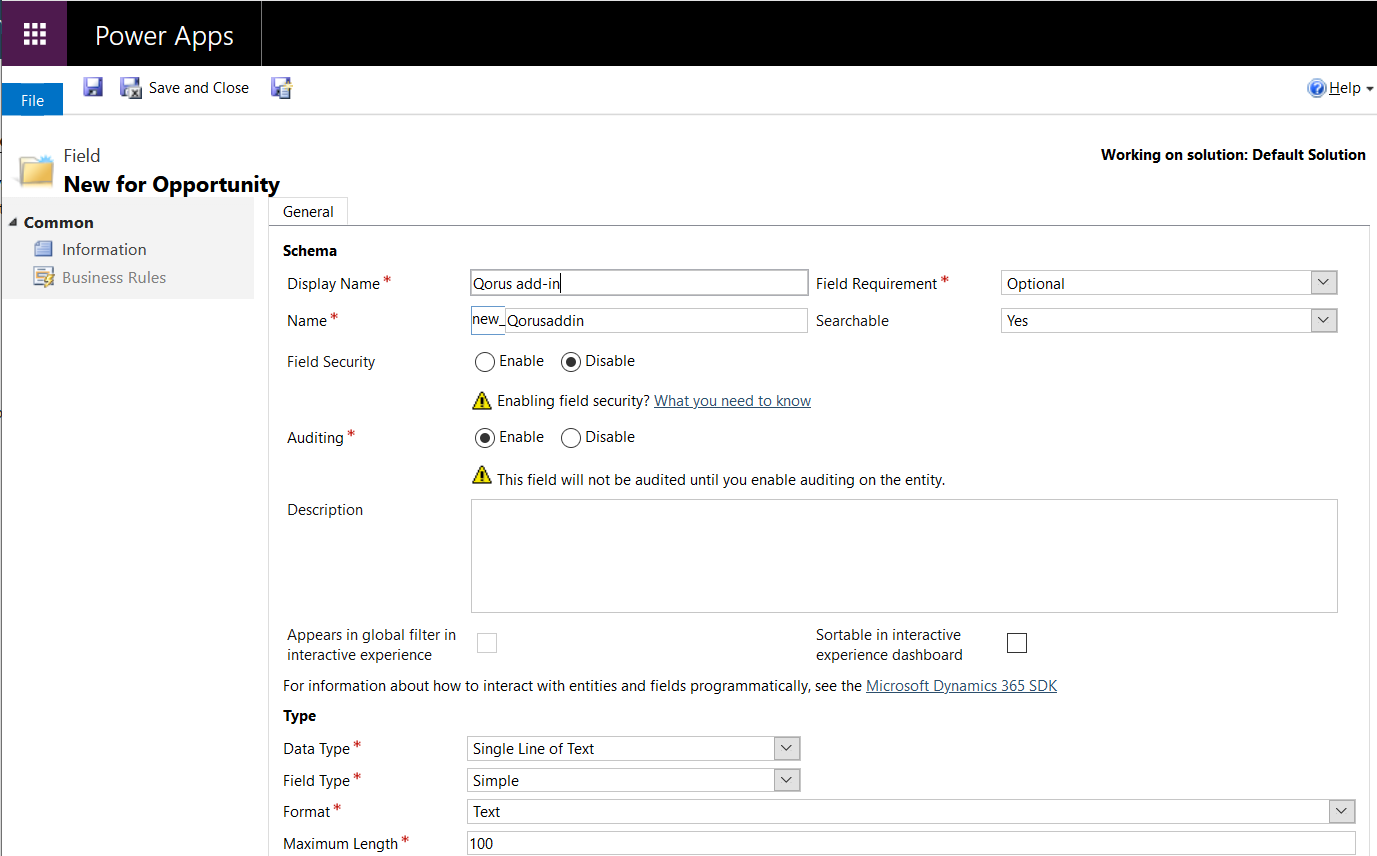 Hit the F5 key to refresh the field list on the Opportunity setup screen, then find your 'Qorus add-in' field and drag it into your layout: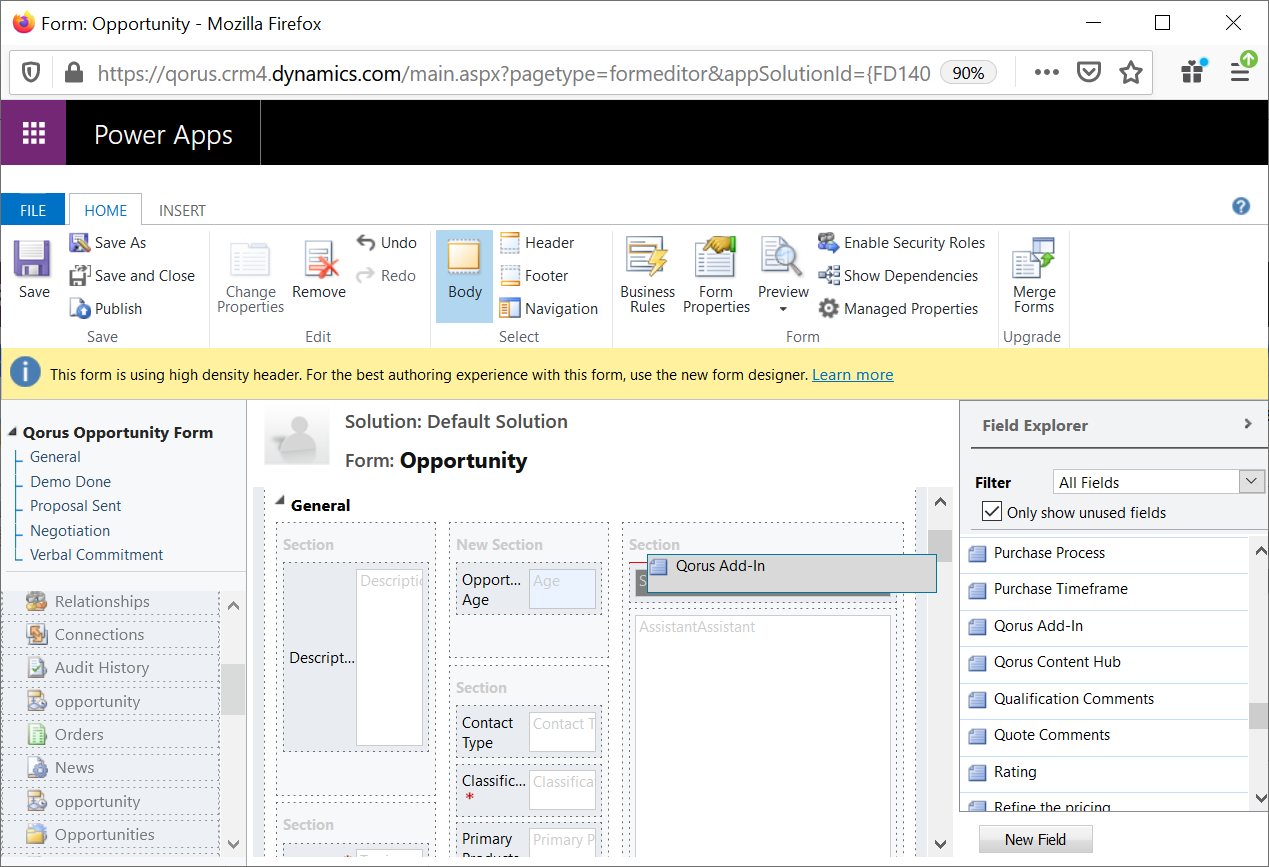 Next, double-click the icon on the page to open the 'Field Properties' page. We recommend that you un-check the 'Display label' checkbox to save space on the production layout. Next, click on the 'Controls' tab: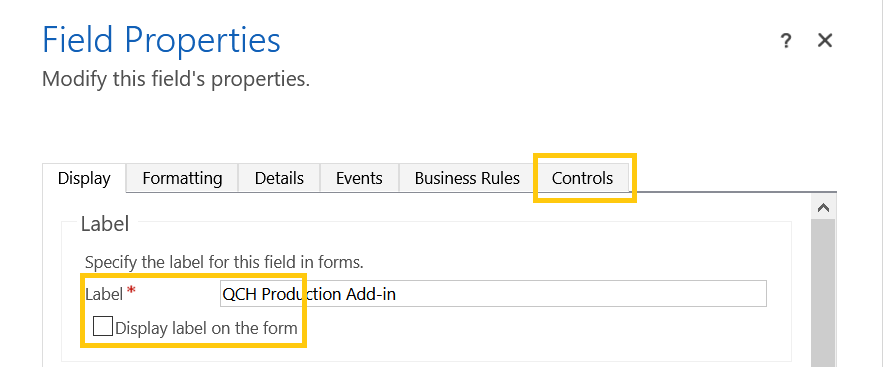 Click 'Add Control,' select 'Qorus for Dynamics 365,' then hit 'Add.'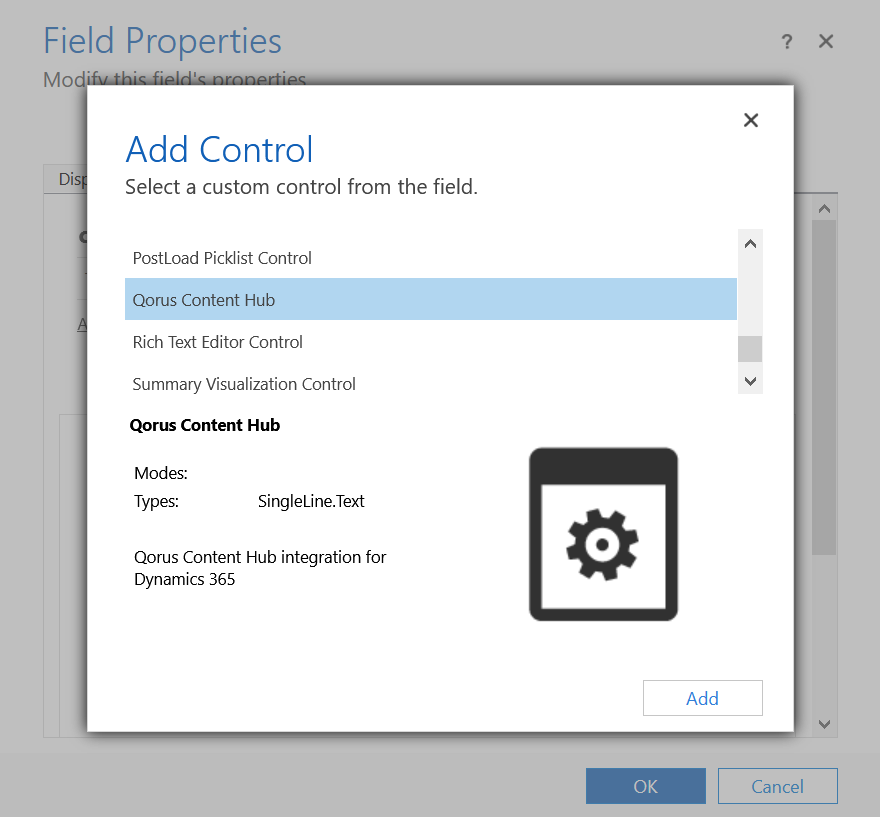 Next, select the layouts where you want it to be visible and click 'OK':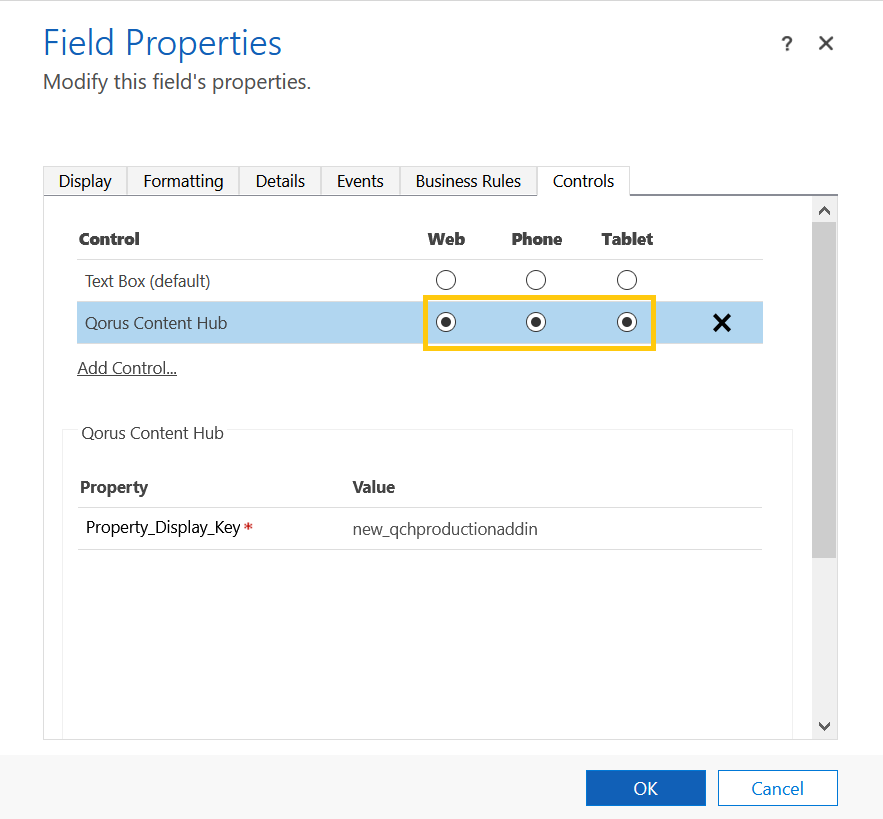 Once you've added this, click on 'Save' on the main layout form and then 'Publish:'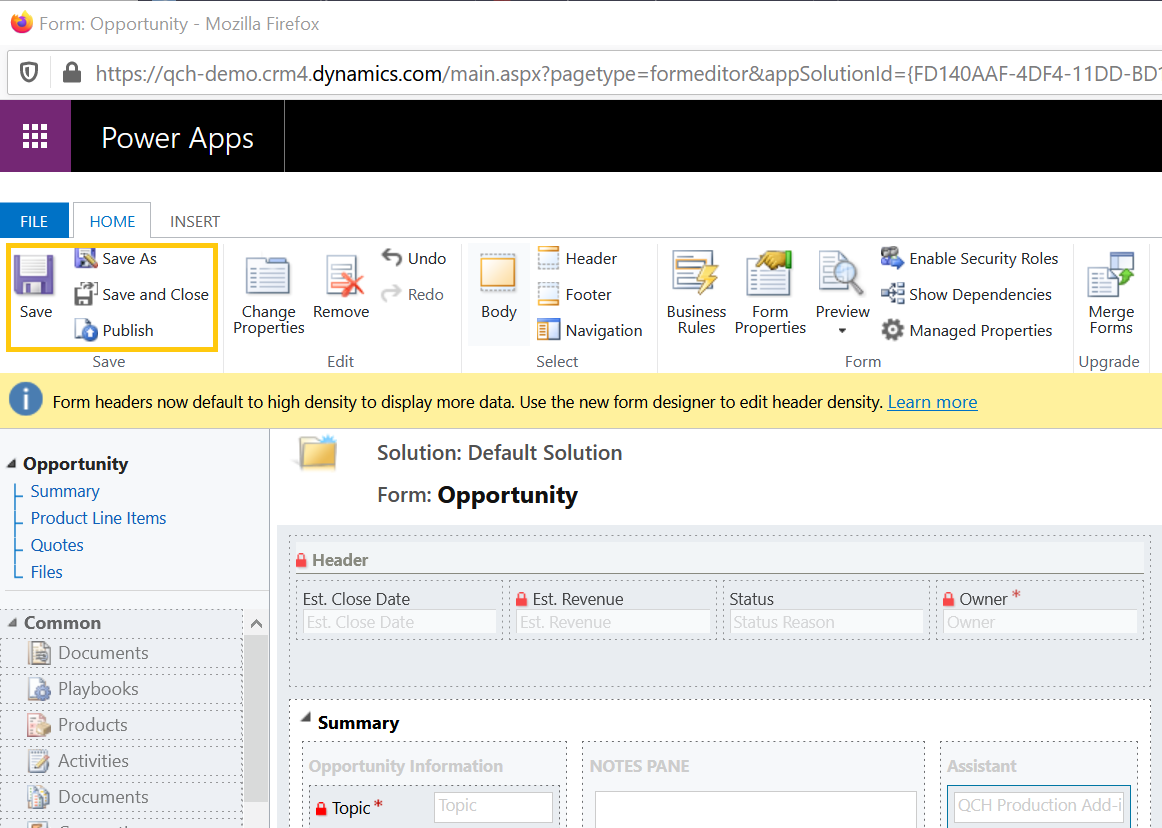 Finally, click into an Opportunity record to verify that the add-in installed correctly and log in:

Once logged in, your Hub name should be displayed, as well as any content for the Pursuit Type as defined in Content Hub: