This applies to:

Available with the following QorusDocs Editions:

Enterprise

Premium

Essential

Free
A QorusDocs Hub is an instance of QorusDocs. You can think of it as a QorusDocs account, where all your settings, subscription information, users, and content source connections are saved.
When you sign up for QorusDocs, we automatically create your QorusDocs Hub. If you need more, we can create additional QorusDocs Hubs for your organization, and you'll be able to switch between them in the QorusDocs Add-ins or in the QorusDocs Hub Central. This is ideal for business units, departments, or teams who each wish to manage their own Qorus Hubs independently, but still allow for collaboration across QorusDocs Hubs when needed.
NB: Please note that pricing is per user, per QorusDocs Hub. Guests are free however, so you could for instance belong to one QorusDocs Hub as a fully licensed user, and then be a guest on another QorusDocs Hub for the purposes of collaborating. In that case, you would only need to pay for a user license on the QorusDocs Hub where you are fully licensed user.
A content source is a place where your content lives, and that you have connected to QorusDocs. In other words, it's a place where you can locate or 'source' appropriate content, for the purposes of either re-using that content in documents, emails, and presentations, or as a basis for creating new documents and presentations (templates).
When you sign up for QorusDocs, we automatically connect OneDrive for Business for you. This is your first content source.
After that, you can connect Teams, as well as other sources of content from SharePoint Online (SPO), to QorusDocs Content Hub. For instance, you could create a 'Marketing' content source that connects to multiple libraries in SPO that each contain marketing collateral.
To see all the content sources connected to your QorusDocs Hub, click on 'Search' in the top nav in any of your QorusDocs Add-ins. Below are a few examples to assist your setup.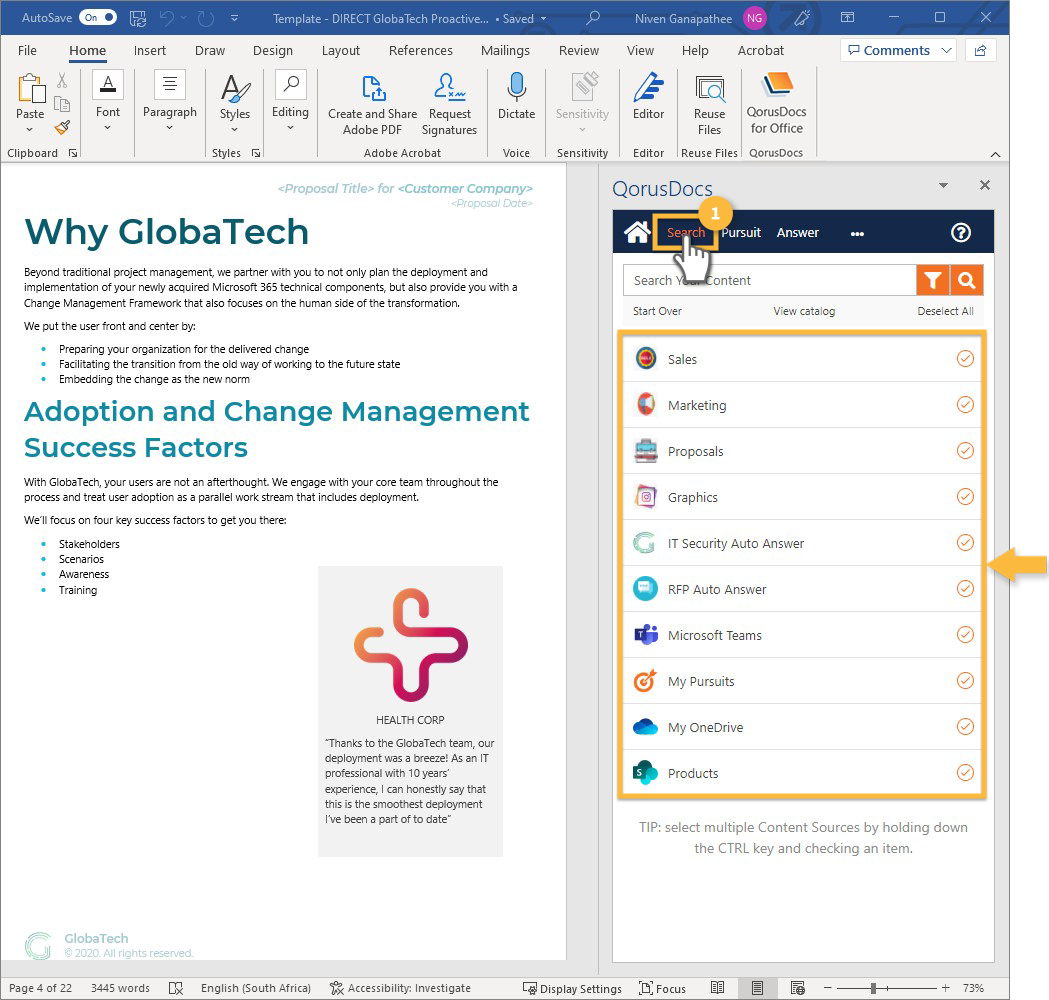 To learn how to connect your content to QorusDocs, please click here.
Within a content source, it's possible to have both Search and Save locations.
Search locations are places that users can search for files. Once users have located the files they need, they can engage with and use the files in the search results.
Save locations are places to which users can save new content, while they are working in the QorusDocs Add-ins and in Hub Central. Save locations come up when users do any of the following:
For OneDrive for Business, and Microsoft Teams content sources, there's no need to configure Search and Save locations. Users can automatically search and save to all the places they have access to in both OneDrive for Business and in Microsoft Teams.
For SharePoint Online Library content sources, QorusDocs Admins determine which libraries and folders within SharePoint Online should be Search locations, and which ones should be Save locations.
To learn how to connect SharePoint Online libraries, and configure Search and Save locations, click here.
For SharePoint Online List content sources, Save locations are not supported. You can, however, configure which columns within a list should be searchable. You can learn how to do that here.
User roles in QorusDocs determine the features and permission levels a user has within the system. You can learn more about the different user roles and how they work here.