This applies to:

Available with the following QorusDocs Editions:

Enterprise

Premium

Essential

Free
| | |
| --- | --- |
| | We recently released a bunch of improvements to the functionality described in this article, which you can learn about here. Please bear with us while we update the Help Center, we'll have a new article for you here soon! |
There may be times when you need a little help in determining who the right coworkers are for you to collaborate with around a complex document. That's where Qorus' collaboration insights come in.
In this article, we'll explain how to:
Before you begin, you might want to familiarize yourself with the different statuses that an assignment can have, and what we mean by 'active' and 'closed' assignments. You can learn more about these concepts here.
Open Collaboration Insights
When creating an assignment, typing the first few letters of a coworker's name in the text box provided is enough for Qorus to locate them in your Office 365 directory. To the right of a person's name however, you'll notice a little graph icon - and clicking this will launch the insights window.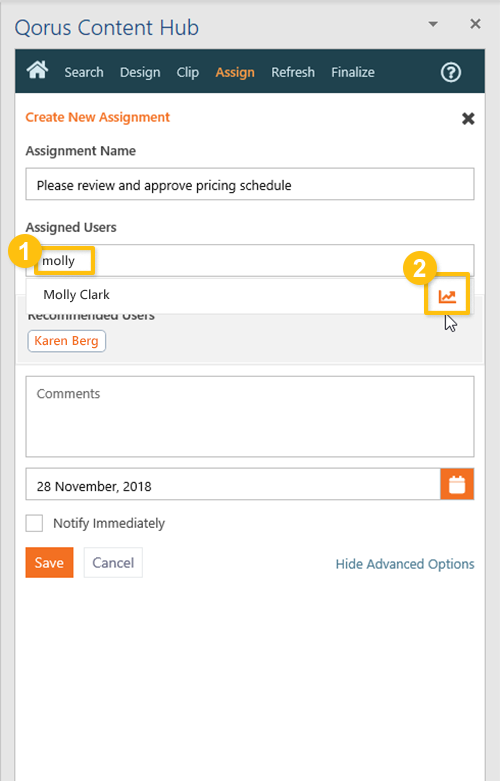 View stats about the current Active Assignments
The 'Active Assignment' tab shows the status of all the active assignments for that person, both in the current document as well as across all documents.
In the example screenshot below, we can see that in this particular document Karen has completed two assignments and still has one more to do.
When looking at all documents within which Karen has assignments assigned to her (including this one), we can see that she has completed 6 assignments, and has two more to go in total. The 'All Assignments Overview' chart can give you a good idea of a coworkers current workload.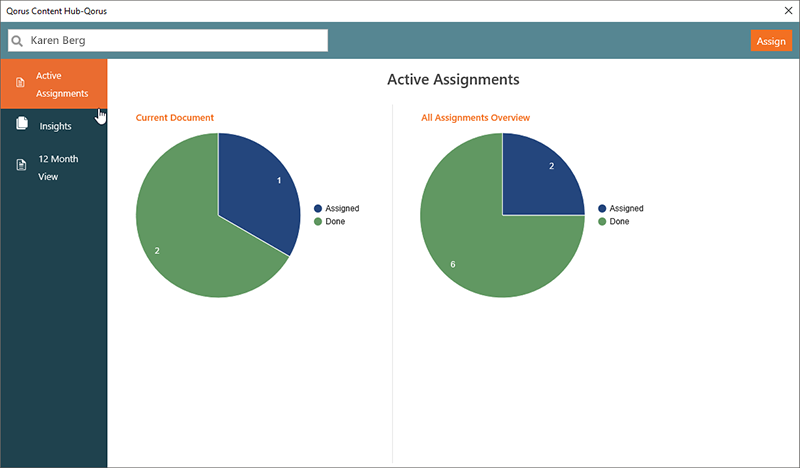 View Insights into collaboration performance (based on Closed Assignments)
When you're looking at closed assignment insights, you're really looking at the historical collaboration track record of a person over time.
Clicking on the 'insights' tab in the left nav will show you the following:
The proportion of closed assignments that were completed late, in time or not at all (incomplete). In the example below, out of 201 total assignments, 168 were completed on time, 20 were completed late, and 13 were never completed.
The average assignment completion time in days. In this example, Karen has a turnaround time of 1 day on average.
The average number of assignments per document. Again in the example below, Karen tends to get about 4 assignments per document on average.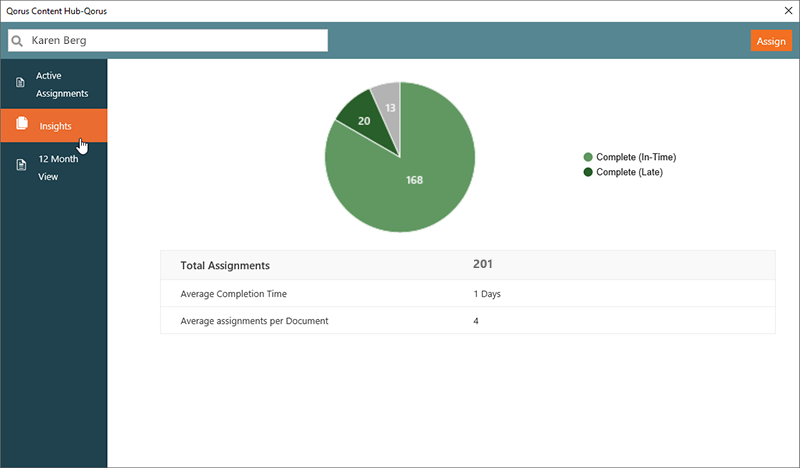 View collaboration performance trends over the last twelve months
Then clicking on the '12 month view', you'll get a view of the status of closed assignments broken down by month. This can be particularly useful if you're trying to determine how consistently a coworker has performed.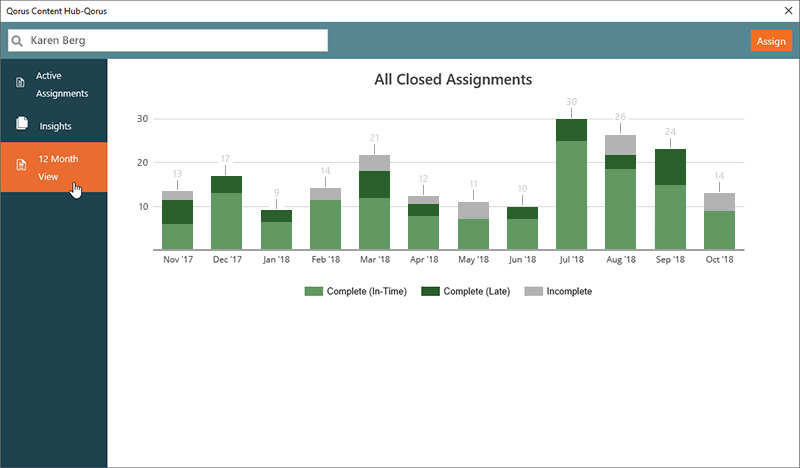 Change assignment recipients from the collaboration insights window
If after having a look at a coworkers track record and current workload, you decide that you'd rather assign part of a document to someone else, you can do that right from the insights window.
All you need to do is change the assignment recipient in the text box provided in the top left, and then click on the 'Assign' button in the top right.