Qorus provides content usage insights on every piece of content you make use of with the Qorus Add-ins and in Hub Central.
Insights help teams become more self-sufficient, as it provides them with a view of how a content item was used over time, by whom, and in which documents.
So if for instance, Paul, was working on a proposal and having a hard time deciding between a couple of mini case studies to insert, he could look at the content usage insights to see which proposals each one had been used with. Since he knows which deals were won and which ones were not, he can more easily make a choice to use the one that had the most success. Or he could have a look at who had used each mini case study, and then speak with a coworker who has used it often, and ask them about their experience in using it, finding out when it resonated with the intended audience, and when it perhaps did not.
Insights also track the search terms that were used to locate the content item, when that search resulted in the content being used in a document, email, presentation or spreadsheet. This can help content managers understand better the way people are searching, and with that knowledge, they can now better tweak the content structure to make it easier for users to find.
In this article, we'll be covering the following:
1. How to access the content usage insights
In the Qorus Add-ins, and in Hub Central, click on the 'info' button to bring up the Properties and Insights window. Depending on the top of file you're working with, you may need to click on 'more' first, and then on 'info':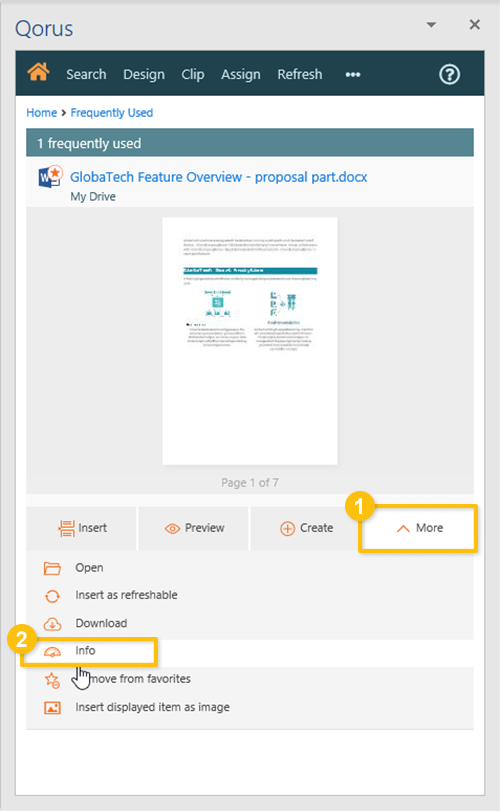 Then on the next screen, click on the 'Insights' icon and then select the insight you'd like to view: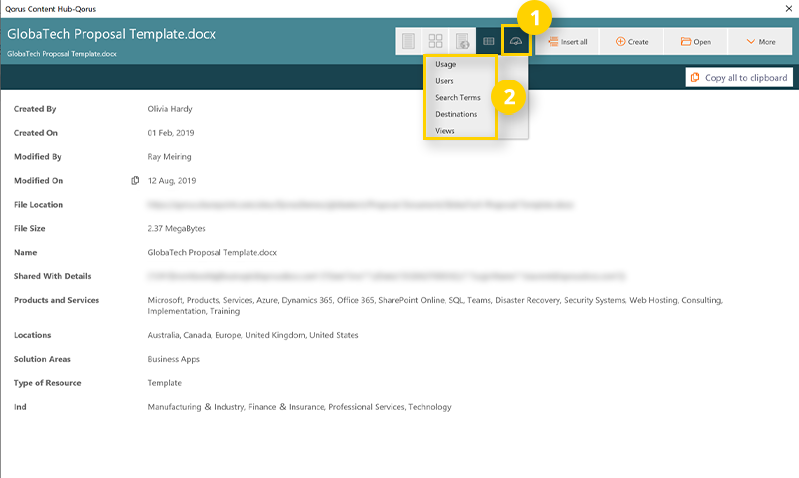 2. The 'Usage Insights' screen
Usage Insights give us an idea of how frequently a document has been used over the past 12 months, and in which way.
There are seven activities that we record here:
1. Inserted into a document: This activity occurs whenever someone clicks on the 'insert' button, regardless of which Qorus Add-in they are working with.
2. Inserted as a link: This one is specific to Qorus for Outlook, where you can find the 'insert link' button, and insert a SharePoint Online or OneDrive for Business link into the body of an email.
3. Attached to an email: Also specific to Qorus for Outlook, this activity gets recorded whenever someone clicks on the paperclip button next to a content item to attach it to an email.
4. Inserted selection: In the Preview window, users can select text from within the body of a file and then insert that selection into an email, document, presentation or spreadsheet, by clicking on 'Insert selection as rich text' or on 'Insert selection as plain text'.
5. Created from this document: Whenever someone clicks on the 'create' button to create a new document, email, or presentation from a template, this activity gets recorded here.
6. Used in Share and Track: This activity is recorded when someone generates a Share and Track link that can be shared with third parties. Qorus keeps track of engagement with the file, like views, downloads, and more.
7. Add to Cart: This activity is recorded whenever someone adds the file to the Qorus Cart.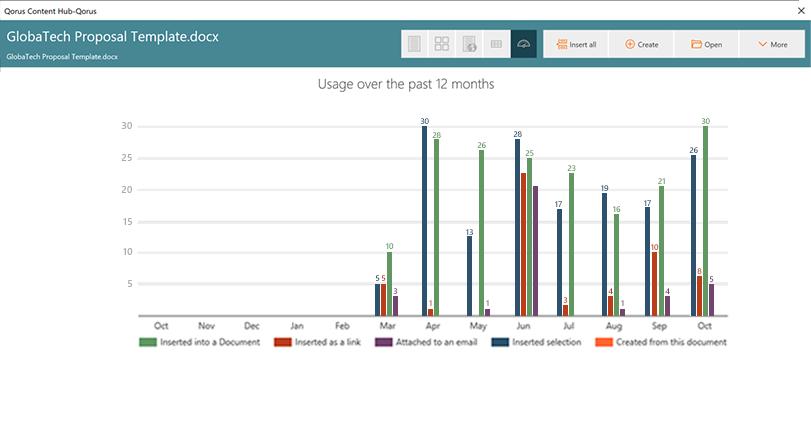 3. The 'Users Insights' screen
Here, you can see the top 10 users based on insert activity. When we say insert activity, we mean every type of 'insert' action that exists. You can see a full list of insert options here.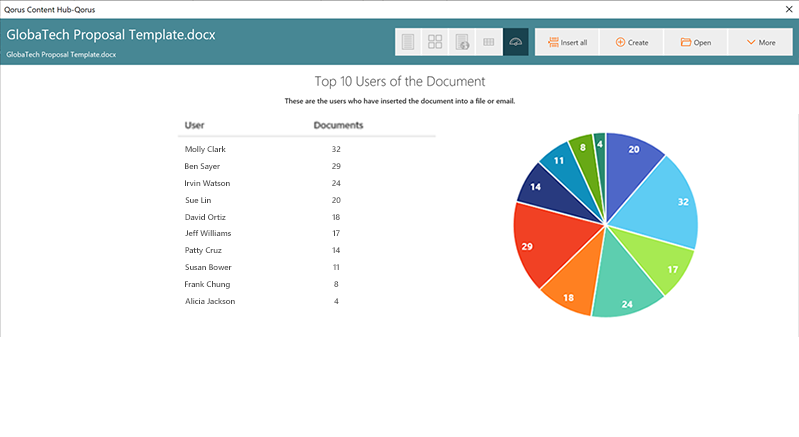 4. The 'Search Terms Insights' screen
The Search Terms insights provide us with a list of the top 10 search terms that have been used across Qorus to find this particular document - where that search was immediately followed by an insert activity.
The idea here is to provide you with a list of 'useful search terms' that resulted in the document being used.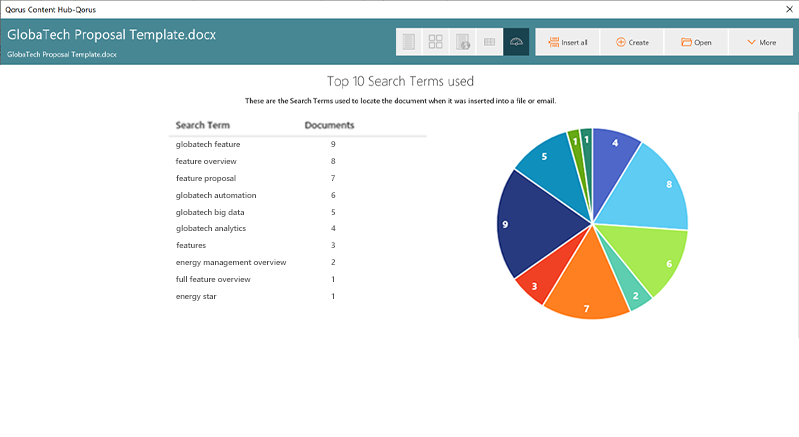 5. The 'Destination Insights' screen
Here you can see the names of the files into which the document has been inserted, by whom, and how long ago.
If this document has been inserted into another email, presentation, document, or spreadsheet that has not been saved on your computer or to the cloud, Qorus will also show how many 'unsaved documents' this document has been inserted into (in this example, it was inserted into 12 unsaved documents)