From the Search pane in the Qorus Add-ins, and in Hub Central, you can preview and work with your OneDrive for Business and SharePoint Online content, without having to first open or download any files. 
To launch the preview, click on a search result to expand it, and  click on 'preview':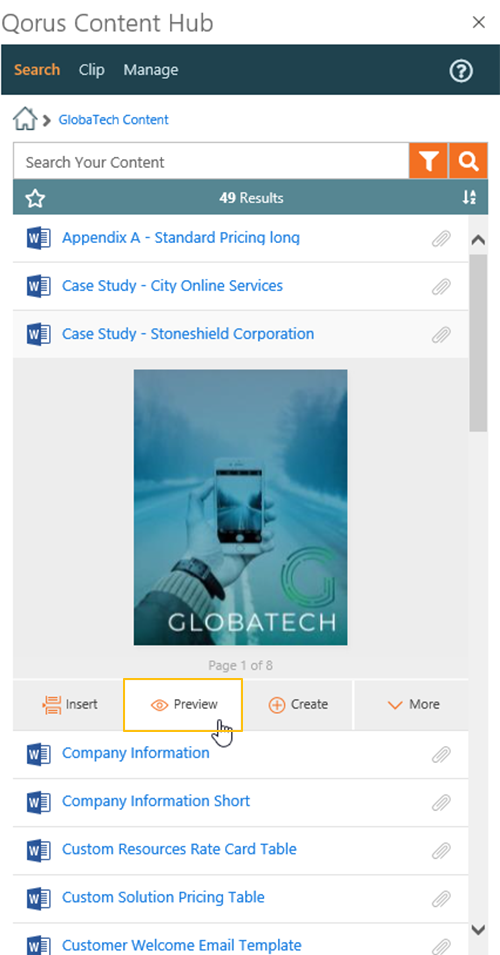 In this article, we'll take you through the three preview modes available, and how and when to use each one. 
1. Full page preview
Here you can preview documents one page at a time, using the controls that appear on either side of the page being previewed.
In this preview mode, the layout and styling are represented as accurately as possible, and can give you a good idea of the look and feel of the file. If you'd like to insert a page of a doc, or a slide from a  presentation as an image, you can use the insert current item as an image that appears in this window.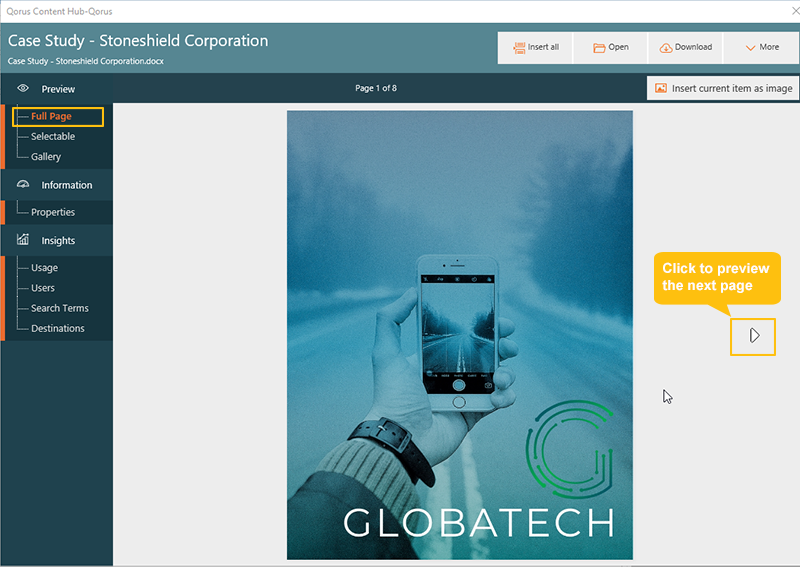 Please note however, that if you use custom fonts, these may not render in the preview, and instead will be substituted for serif or sans-serif fonts (depending on the custom font family). This affects the Preview only, and no font substitution actually occurs in the file.
2. Selectable preview
Unlike the full page preview, the selectable preview does not provide an accurate representation of the styling and formatting of the content. Technically speaking, there is a trade off between providing an accurate and good looking preview, and an interactive preview where it's easy to click and select content from the body of a file. This is why we provide both a full page and a selectable preview. 
Here, you can click inside the preview window, select the content you want to re-use, then insert it or copy and paste into your email, presentation, document, or spreadsheet. 
Additionally, for Word documents and searchable PDFs, you can search within the preview for specific terms within the document body. On the right hand side, Qorus displays a list of search result snippets, which when clicked, will jump you straight to the right place in the doc. The search term also gets highlighted in the document body so you can easily spot where we found what you were looking for.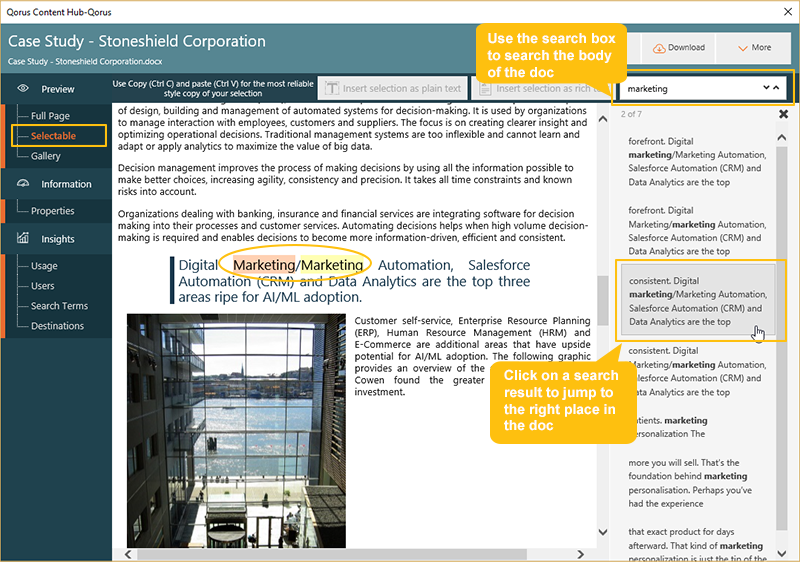 3. Gallery preview
This preview mode is similar to the Full page preview, in that it renders the look and feel of the file as accurately as possible. The difference though, is that you can see all the pages of the document as thumbnails at once, instead of just one page (or slide) at a time. 
From here, you can click to select multiple pages from documents, and insert them as images into the file you're working on. You can also use the Gallery preview to quickly select PowerPoint slides, add them to your cart, and assemble new presentations.