This applies to:

 

 

 

 

 

Available with the following QorusDocs Editions:

Enterprise

Premium

Essential

Free
If you've used shared documents with prospective clients or co-workers using Share and Track links, these can provide great insights into how recipients engage with the documents. Here we will explain how to view the analytics of your shared documents ("Shares") right from your QorusDocs Hub.
If you're new to Share and Track, then please read this article first.
It's also worth mentioning that Standard users can see the Share and Track analytics for all their own Shares, but QorusDocs Admins can see the Share and Track analytics of all Shares, regardless of who created the Share and Track link.
In this article, we will cover:
1. How to access your Shares
Within the QorusDocs Hub, you can easily access all your share and track links across QorusDocs and view your shares by clicking on 'Shares' in the left nav: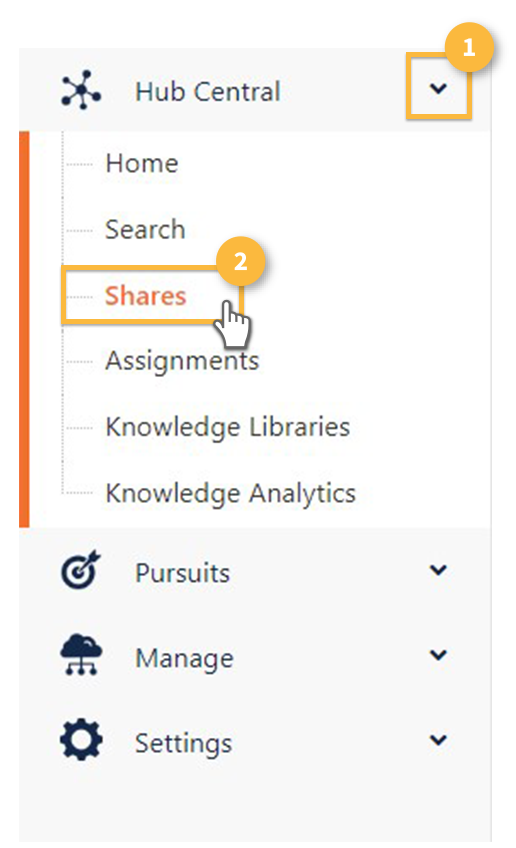 2. High-level Share and Track Insights
You will find all your Shares in grid view. Within the Share's thumbnail, you can see information about the Share and some insights at a glance, indicating the recipient's engagement with the link:
The number of times the Share is viewed.
The time duration recipients spent on the Share.
The number of times the Share is downloaded (if the download feature is enabled).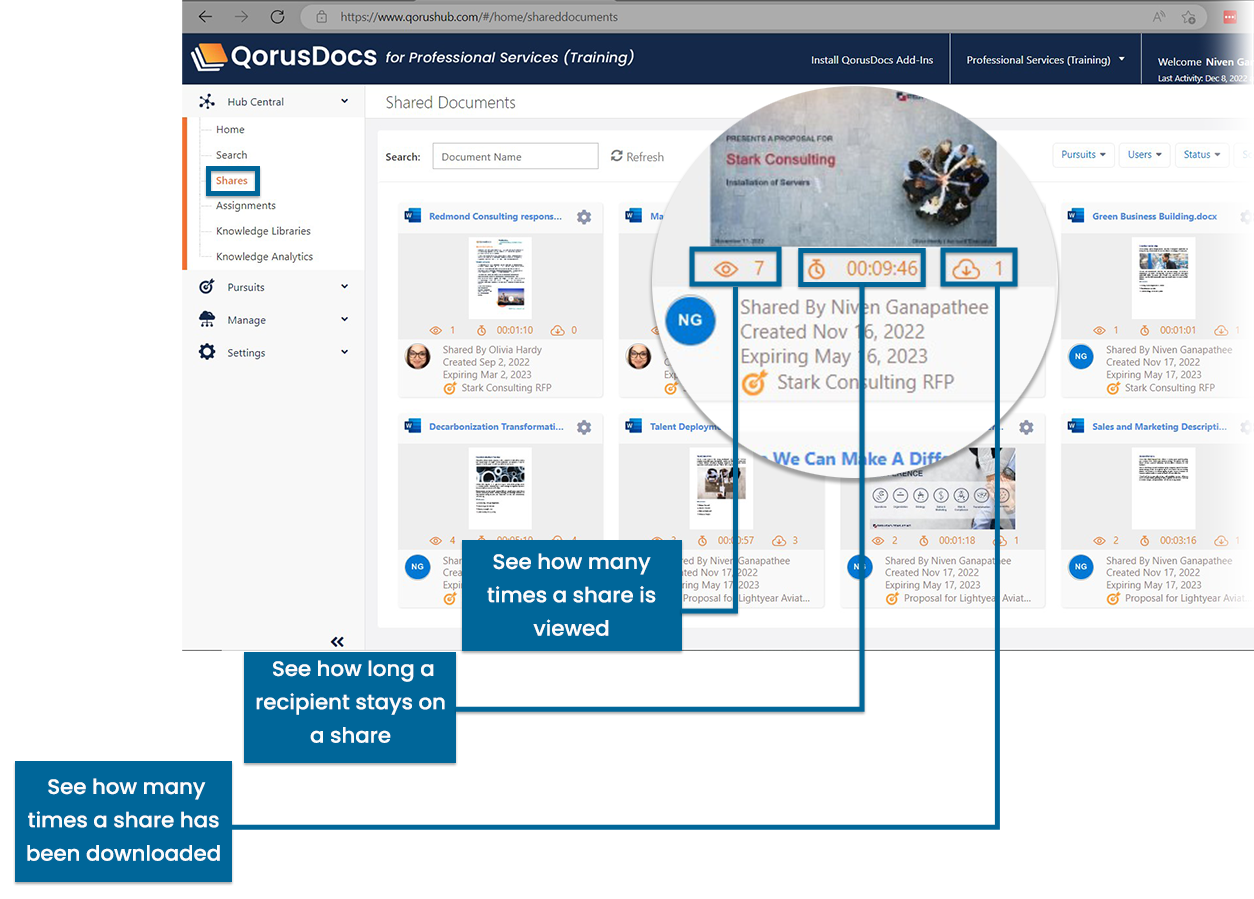 3.In-depth analytics
For in-depth analytics, you can click on the document title or on the document thumbnail in the Share and Track grid: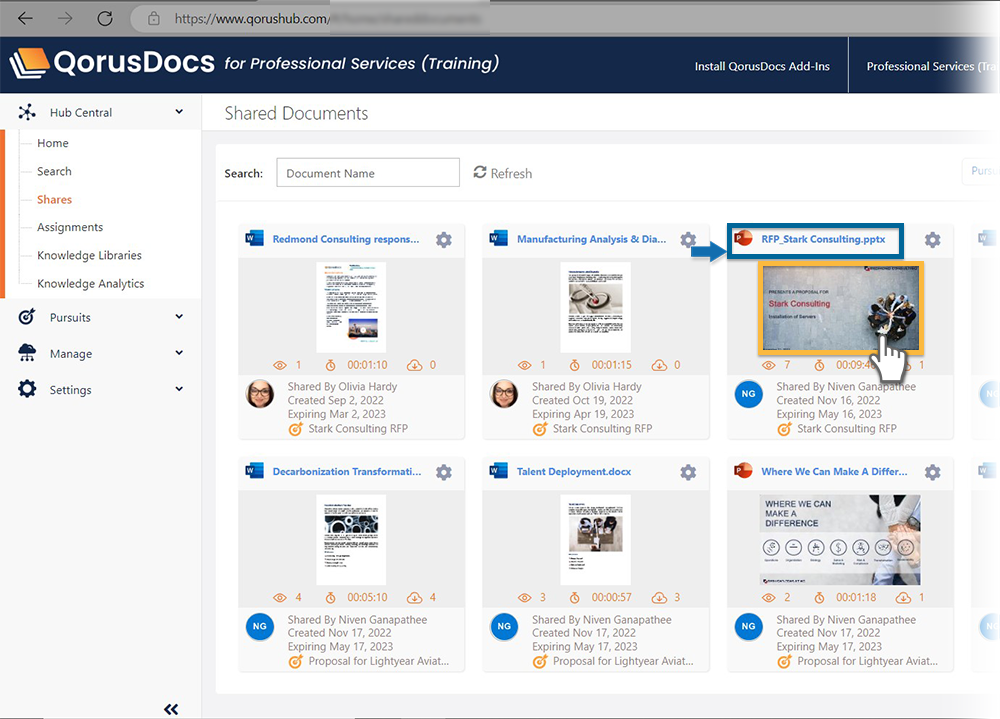 This will open the following window:
All Viewers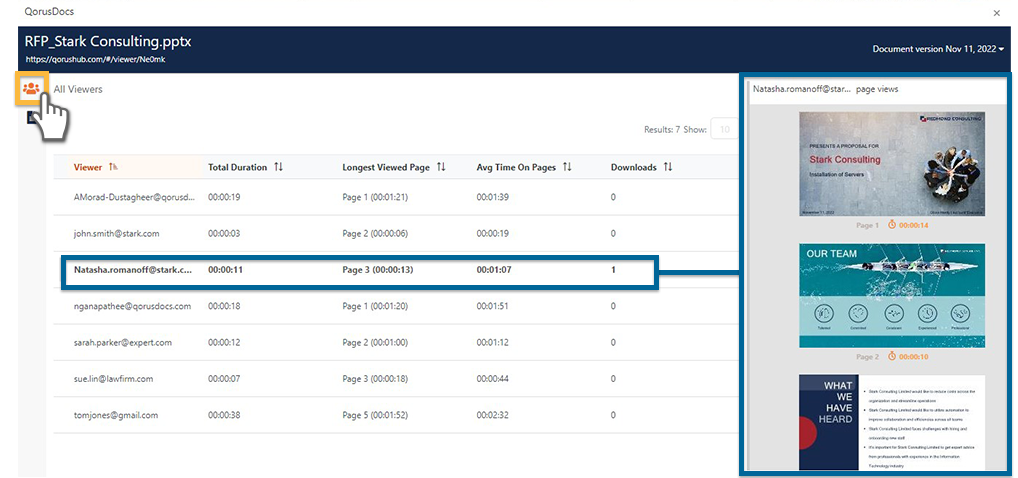 You can use the 'All Viewers' Share and Track analytics to see engagement across all pages of the shared document, one viewer at a time.
Clicking on a viewer's name brings up their engagement analytics on the panel on the right. For example, in the screenshot above, clicking on 'natasha.romanoff@stark.com' under viewers will bring up this person's page views.
All Pages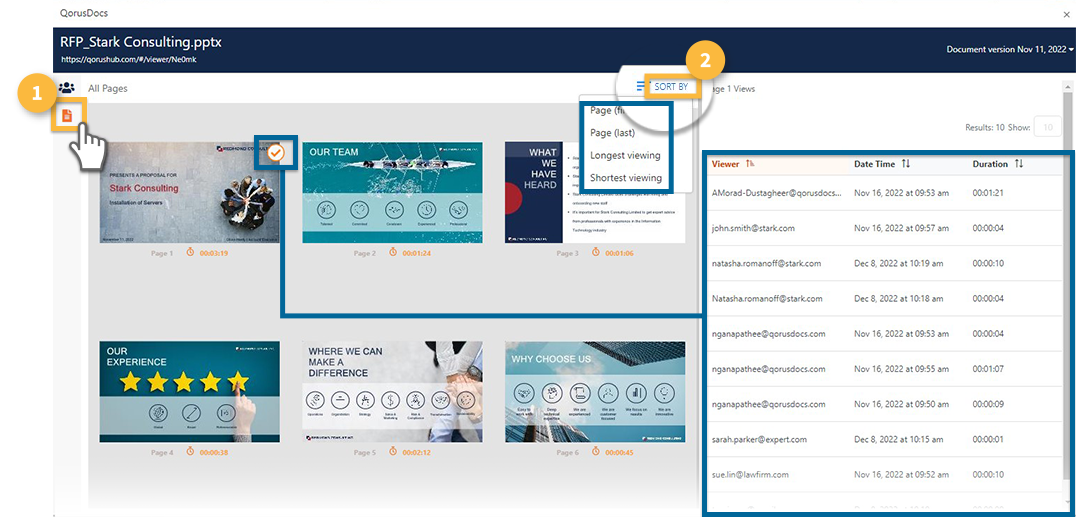 You can use the 'All Pages' analytics to see page-level engagement across all viewers. Clicking on a page brings up the engagement analytics for that page on the panel on the right, including who viewed that page, when, and for how long. The total time that the page was viewed is also displayed at the bottom of each of the thumbnails.