Your latest Qorus updates are here! And with it, we're excited to announce the introduction of a brand new feature that will change the way you distribute your files: the all new Share and Track. 
Share and Track allows you to create tracked sharing links to your most valuable Word documents, PowerPoint presentations, and PDFs, that you can then copy and paste into emails and send to their intended recipients. 
When Qorus Share & Track links are clicked, an online document viewer is launched in the web browser, allowing recipients to view the file you've shared with them - and all while Qorus keeps track of their engagement. 
Here's the video: 
And here are the details of how this works: 
1. Qorus Content Hub Plan Requirements
The number of tracked sharing links you can create depends on the Qorus plan you are subscribed to. 
If you're on the Free plan, each user can create up to two tracked sharing links per month. On the Essential plan, that increases to 10 shares per user per month, and on Premium, tracked sharing is unlimited. You can view a comparison of our plans here. 
Please get in touch if you need help with upgrading your subscription. 
2. Create a tracked sharing link
First, click on the orange 'Share and Track' icon: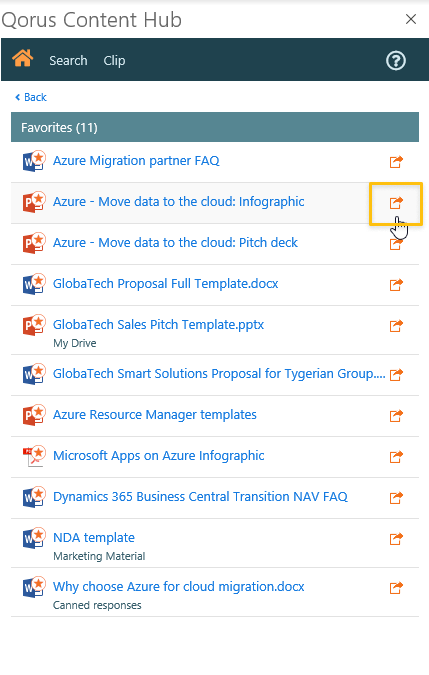 Then, a new window will pop up, displaying the sharing link. You can copy the link from here - Or if you're working in Outlook, you will see an 'Insert' button, so you can directly insert a friendly looking link into the body of your email: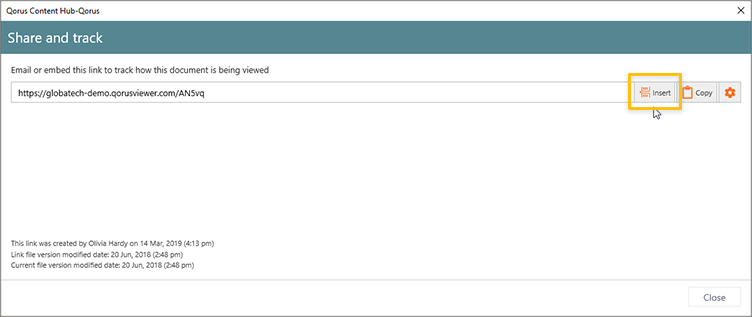 By default, recipients will be asked to provide an email address before viewing the file, and all tracked sharing links expire after six months. You can change this though by going to the advanced settings. Simply click on the gear icon, and you should see the following: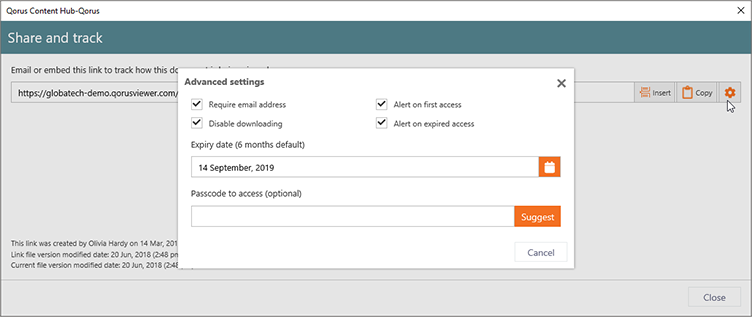 You'll see on this screen, you can also specify whether you'd like to be notified the first time the share is accessed, or if someone tries to access it after the share has expired. You can also password protect the file, by typing in the 'Passcode to access (optional)' textbox provided.
3. View Engagement Analytics
Share and Track engagement analytics are available in Hub Central. 
On the left nav, click on 'Shared Documents', then on the file name or the file thumbnail preview to view engagement analytics: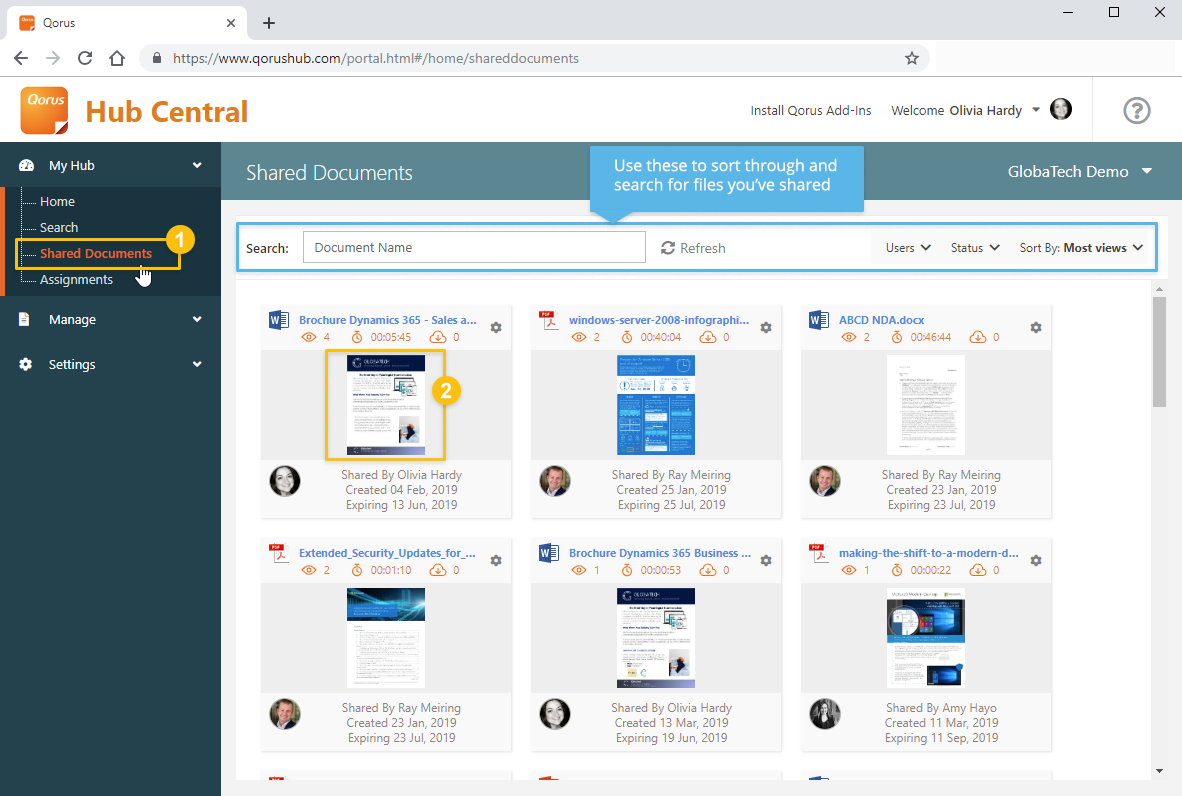 TIP: You can use the search box to search for a particular document by name, and/or you can use the filters to locate the file you're looking for. 
A new window will pop up, and you'll be presented with the first set of engagement analytics around the Viewers of your file: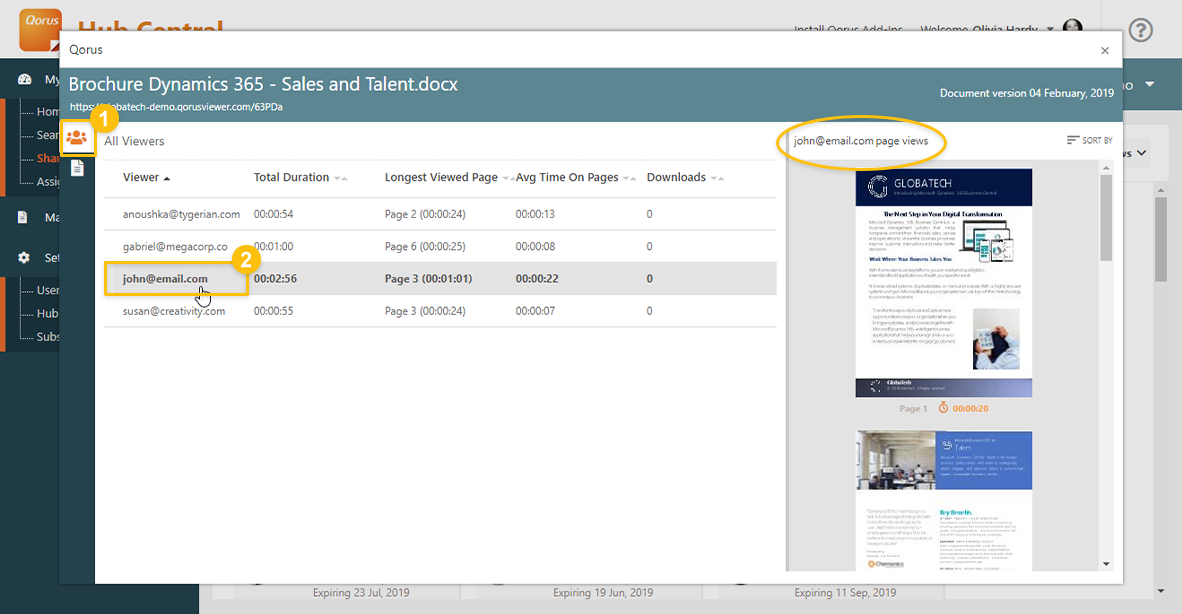 Clicking on a viewer (for example the viewer who provided the email address john@email.com) brings up more detailed page by page engagement analytics on the right side of the screen. 
Then the next set of engagement analytics available focus on pages rather than on viewers: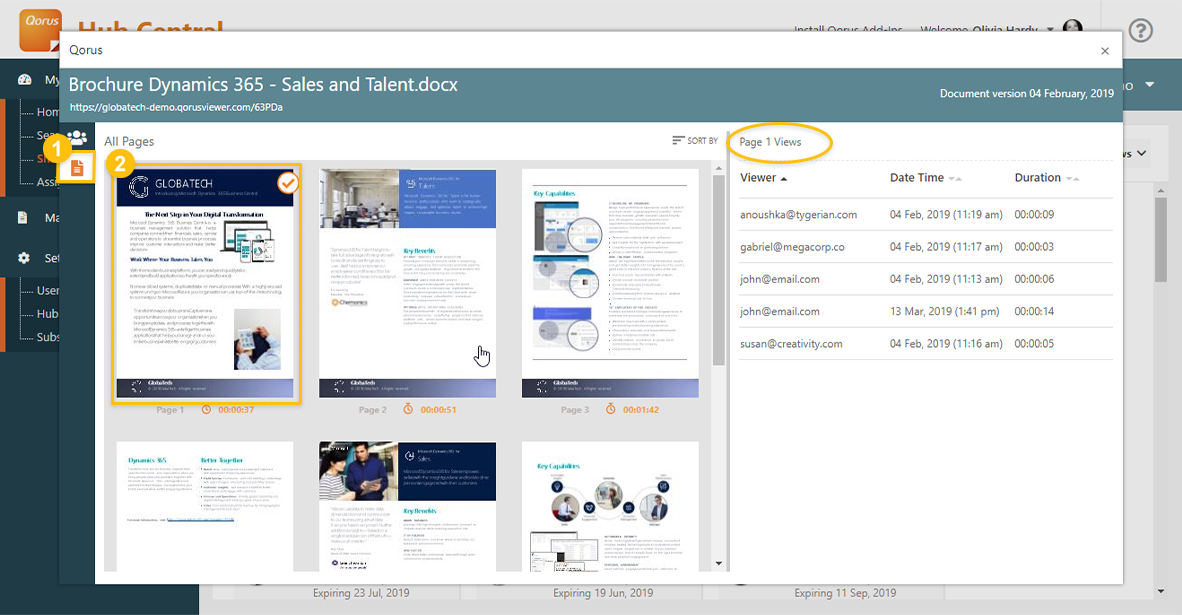 Clicking on a page (for example page 1 here) brings up more detailed analytics by viewer on the right hand side of the screen. 
4. Manage your shares
You can manage your tracked sharing links from any of your Qorus Content Hub Add-ins, by clicking on the Share and Track icon. Alternatively, in Hub Central, click on the gear icon next to a document thumbnail.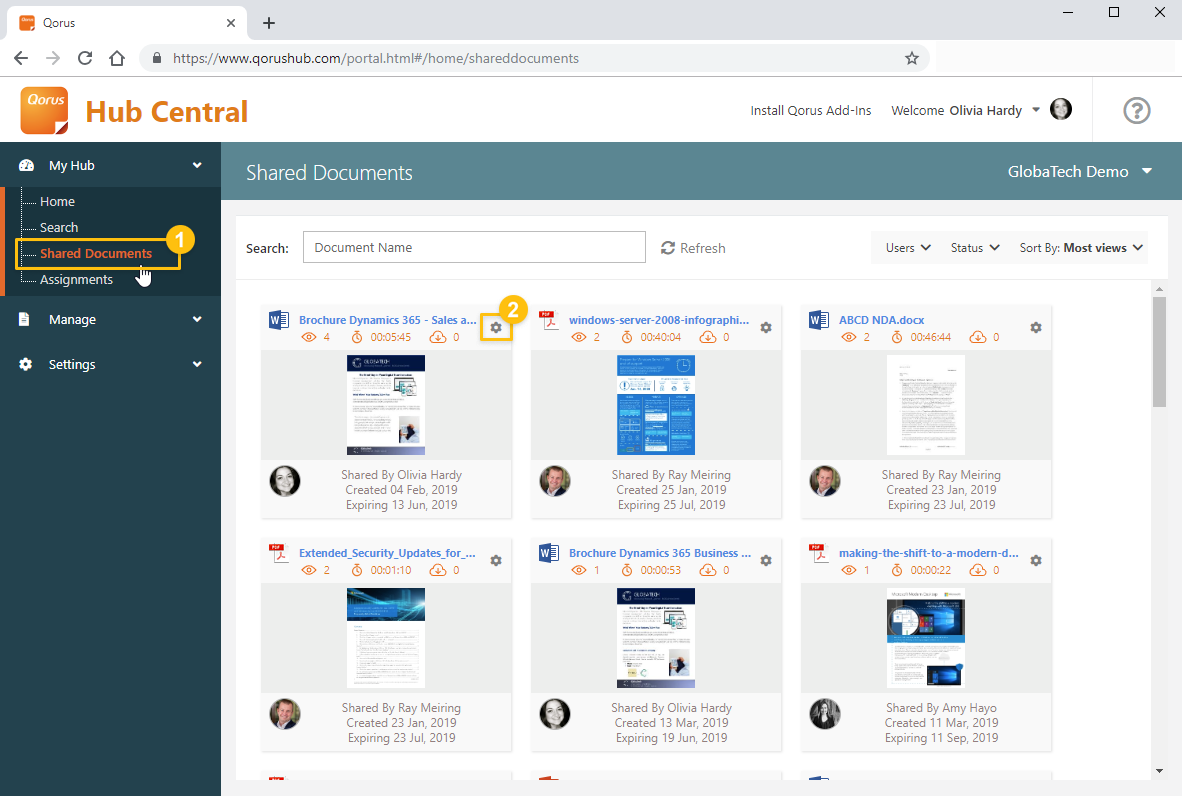 In the window that comes up next, you can disable or delete it the tracked sharing link: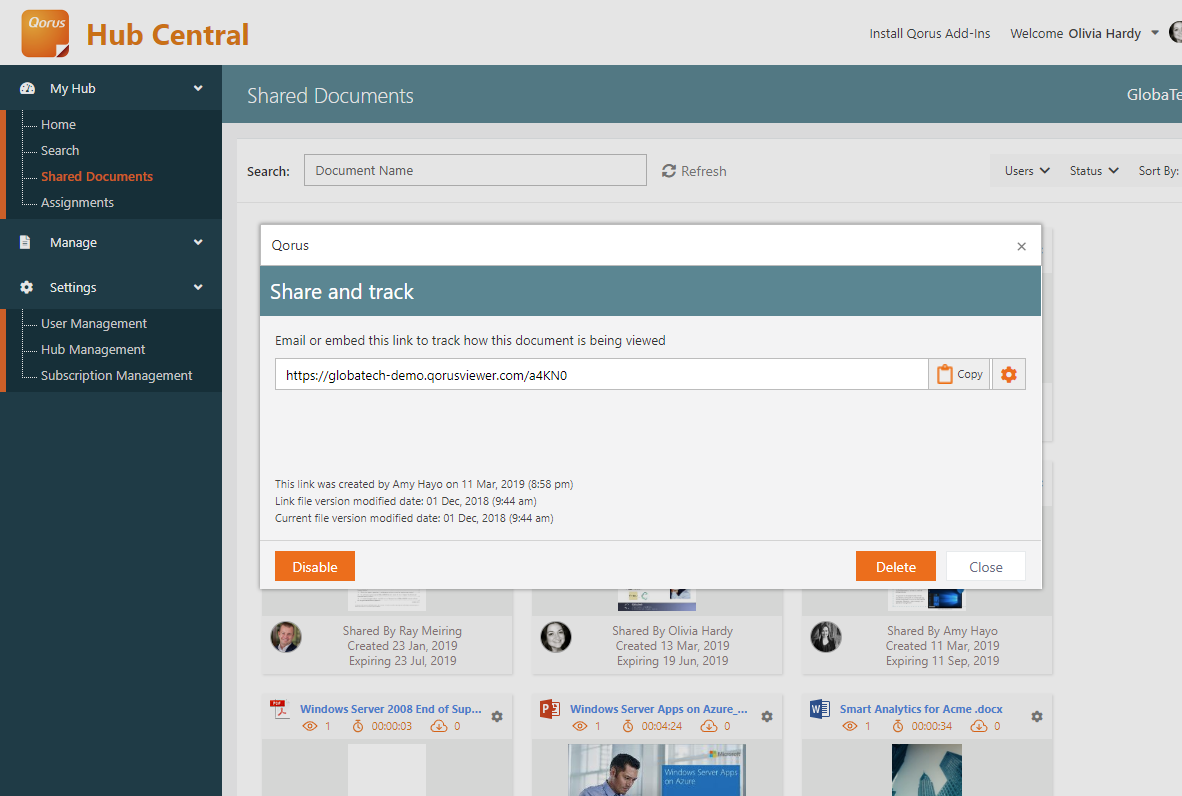 Click on the gear icon if you'd like to change any of the other Share and Track settings: