This applies to:

Available with the following QorusDocs Editions:

Enterprise

Premium

Essential

Free
Whether you're browsing your content, or searching the traditional way with the search box, there are instances where you may get many search results.
When that happens, you can end up wasting a lot of time wading your way through a long list of search results, as you try to locate the file that you need. This is where search filters come in.
Search filters allow you to filter out unwanted results and get to the right content much quicker. You can also use search filters on their own to find content, without typing any search terms in the search box.
In this article you will learn:
1.
About the Search filters
In QorusDocs, there are three types of search filters that you'll find just below the search box:
Library filters
File type
Modified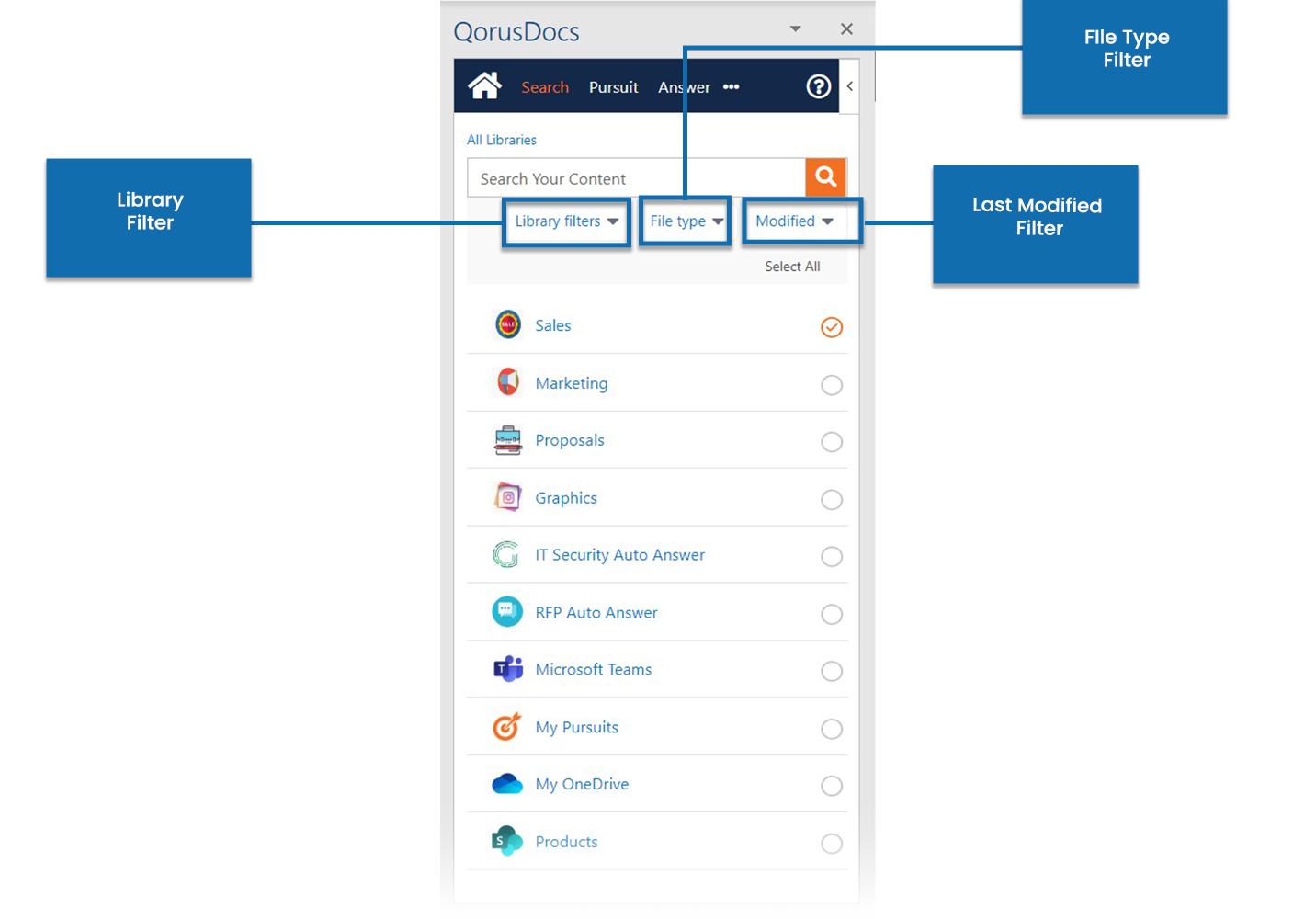 Using the Library Filters
Library filters are completely custom and unique to your content. They are based on the tags QorusDocs finds in your content libraries. Different content libraries can have different filters, or have no filters at all (in which case the library filters button will be greyed out)
In the example screenshot below, with our 'Sales' content source selected, we have the following the Library filters available: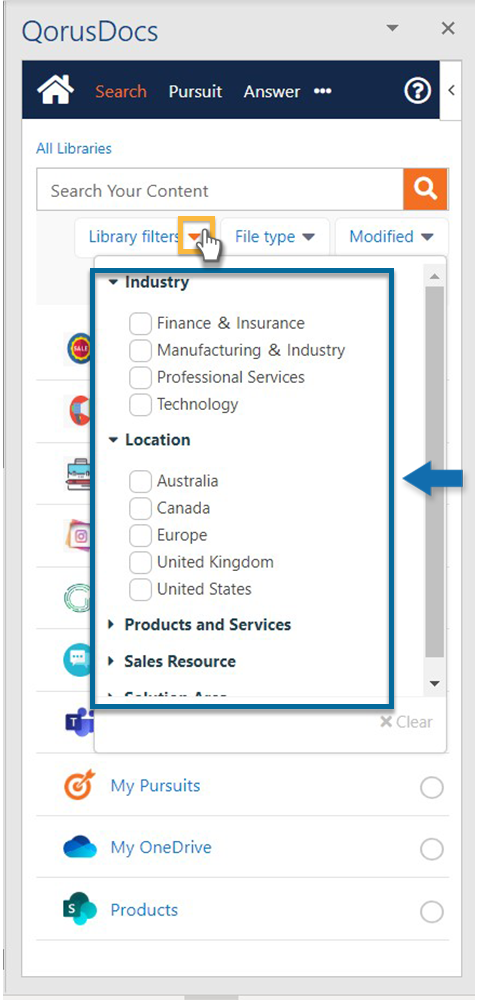 This is because we tagged our content based on Industry, Location, Products and Services, and more. We can now use these to zone in on the right content faster.
It's worth noting that:
If you select more than one filter in the same group, QorusDocs will perform an 'OR' search. For example, if we select 'Australia' and 'Canada' in the 'Location' library filter, QorusDocs will return files that have been tagged with either 'Australia' or with 'Canada'.

If you select more than one filter in different groups, QorusDocs will perform an 'AND' search. For example, if we select 'Technology' in the 'Industry' library filter, and 'Australia' in the 'Location' library filter, then QorusDocs will return files or content that have been tagged with both 'Technology' and 'Australia'.
Library filters are available for SharePoint content sources and QorusDocs Knowledge Libraries only. There are no library filters available for OneDrive for Business and Microsoft Teams.
Using File Type Filters
You can also filter search results by file type. For example, selecting 'Documents' will return files in Microsoft Word format, and 'Images' will return graphics or pictures in .png and .jpeg format.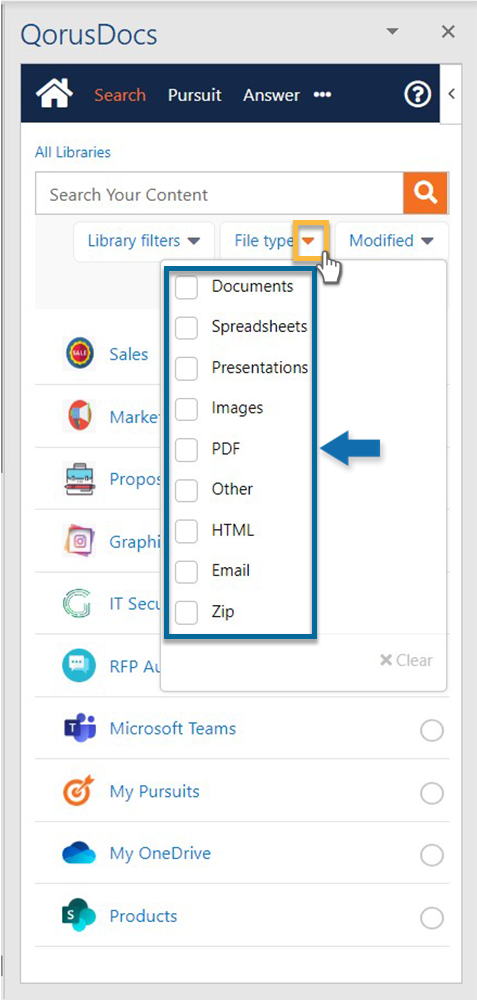 You are free to select and refine your search based on multiple file types at the same time.
You should also know that the File Type filter is not available for Q&A content stored in SharePoint Lists and QorusDocs Knowledge Libraries, since these places store content in a big table (like a spreadsheet) rather than as files in a folder.
Using Last Modified Filters
You can also filter your search based on last modified date.
As shown in the screenshot below, you can choose a predetermined timeframe like 'Past 24 hours' for example, or you can choose a specific time period by selecting a 'From' and 'To' date.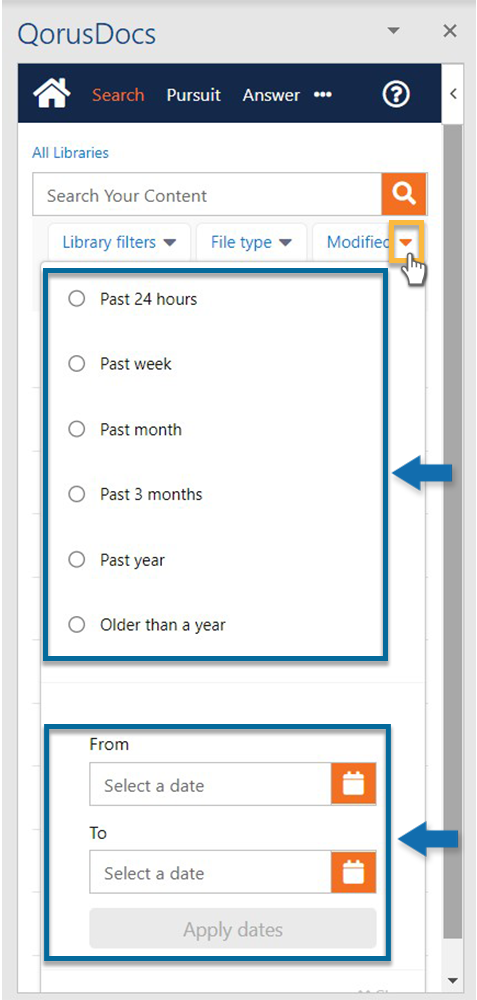 For this filter, you can only select a single option. It's also worth noting that this filter is available for all content sources and QorusDocs Knowledge Libraries.
Note: Why are some of my filters greyed out?

If search filters are greyed out (unavailable), that means that they are not supported for the content source(s) you've selected.

Here are a few scenarios where that might happen:

For Question and Answer content you use with Auto Answer ('FAQ content' here), file type filters will be greyed out because these are more like entries into a spreadsheet

and not files.

For some content sources, library filters might be greyed out because that content source either does not support tagging content, or that library has no tags defined.

When two or more library content sources are selected, library filters will also be greyed out. That's because combining different filters from different libraries in the same search is not supported.
2. How to clear search filters
You can remove search filters by selecting the 'Clear' button at the bottom of each filter menu.
You can individually clear search filters for Library filter, File type or modified.
Alternatively, you can clear all three search filters at once, which will reset the whole search (including clearing any search keywords in the search box) in one click.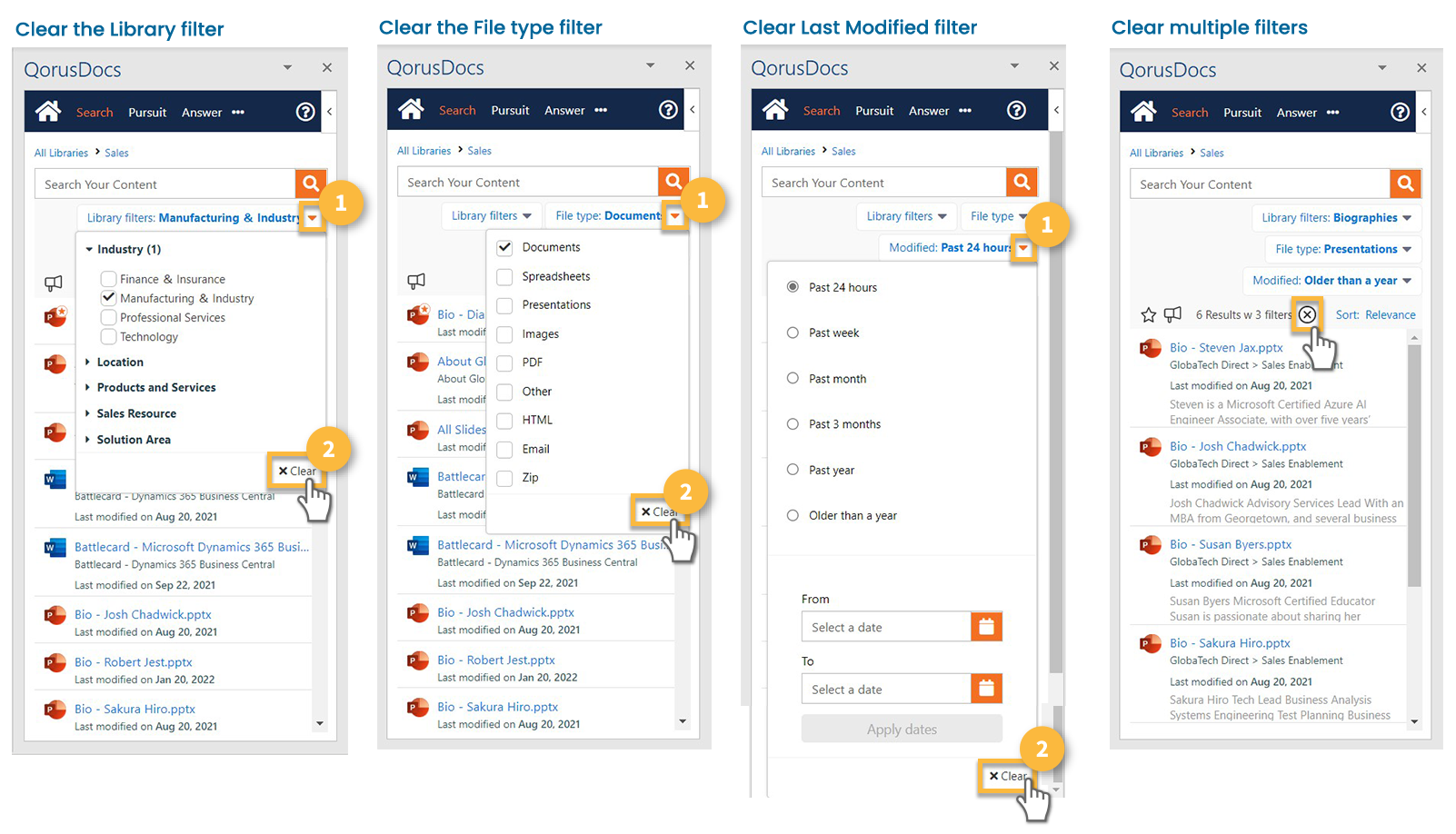 3.

How to sort search results

Once you have your search results, there are several sort options available that allow you to sort them in the order you would like them to be displayed.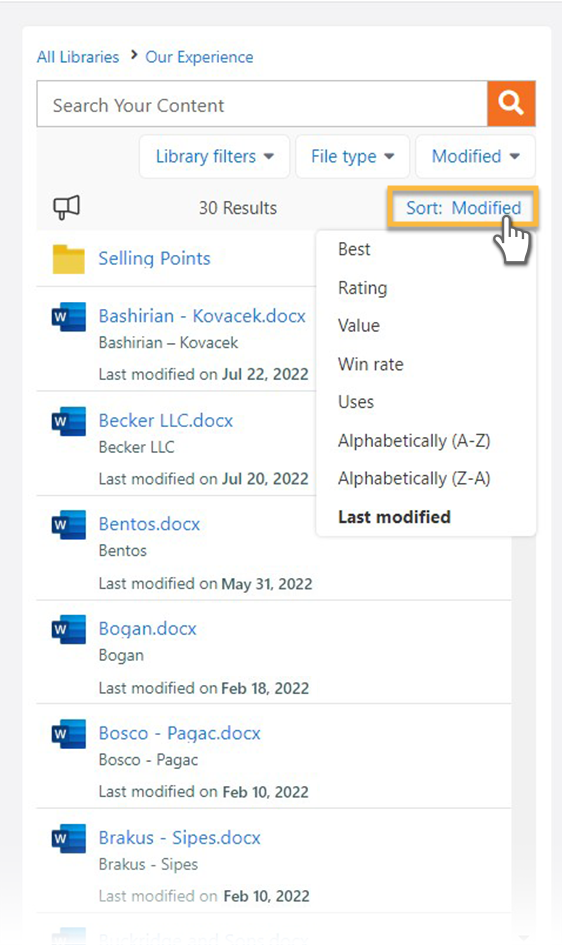 Here's what each of these sort options does:
Best:

QorusDocs creates a composite score that considers: Rating, Value, Win Rates, Uses, and Share and Track Views. The goal here is to provide you with the best performing content across a variety of metrics.

Rating:

You can rate content from a scale of one to five stars. QorusDocs uses the average rating across all users to sort search results, where the highest average rated content items rank the highest.

Value:

This applies to content that has been used within a Pursuit in Each Pursuit can have an outcome (won or lost) and a money value (for example, $50,000). QorusDocs keeps track of these, and over time calculates the monetary value of a content item based on the number of Pursuits 'won' and the value of those Pursuits. The more content is associated with winning deals, and the higher the value of these deals, the more valuable the content and the higher it will rank in search results sorted by 'Value'.

Win Rate

: This also applies to content that has been used within a Pursuit. QorusDocs will keep track of the number of Pursuits where a content item was used and where that Pursuit had an outcome of 'won' and express this as a percentage of all the Pursuits where the content was used. For example, if a content item was used in five Pursuits, three of which were 'won', then the content win rate will be 60%. The higher the win rate, the higher the content will rank when sorting by 'Win Rate'.

Uses:

This sorts 'most used' content first, where 'used' means that the content has been downloaded, inserted, previewed, added to a cart, used to create a new document, shared with QorusDocs Share and Track or copied to a Pursuit.

Alphabetically

, descending from A to Z or ascending from Z to A

Last modified:

This sorts the results by last modified date, with the most recently modified content at the top of the search results.
If any of the above options are missing for you, contact your QorusDocs Admin. There might be a good technical reason why the option you're looking for is not available, or there might be a way to configure your hub and make it available.
Click here to learn how.