This applies to:

 

 

 

 

 

Available with the following QorusDocs Editions:

Enterprise

Premium

Essential

Free
One of the fastest and most powerful ways to create a new personalized and beautifully branded document or presentation, like a proposal or a pitch deck, is by using a Word or PowerPoint template that has a layer of automation built-in with QorusDocs Smart Fields and Smart Rules.
In this article, we'll cover how to create a new document or presentation using Word and PowerPoint templates in your QorusDocs Central: 
Please note that all the steps below are exactly the same in PowerPoint as they are in Word.
1. Create
If you're not already there, log in to your QorusDocs Hub, and then locate a template that you'd like to use. You can do that from the Search (as we have below) or by using your Favorites, Campaigns, or Recommended content.
Once you have the template you want, select it, then click on the 'Create' button:
| | |
| --- | --- |
|   | Note: if you're not seeing the 'Create' button as shown in the screenshot above, you'll find it after clicking on the 'more' menu (the three dots to the right of the 'Favorite' button) |
In this example, we're creating a new proposal for a client. 
If the template you're using doesn't have any Smart Fields, then you'll see this screen, where you can give the document a name and specify whether you want it to be generated in it's original file format: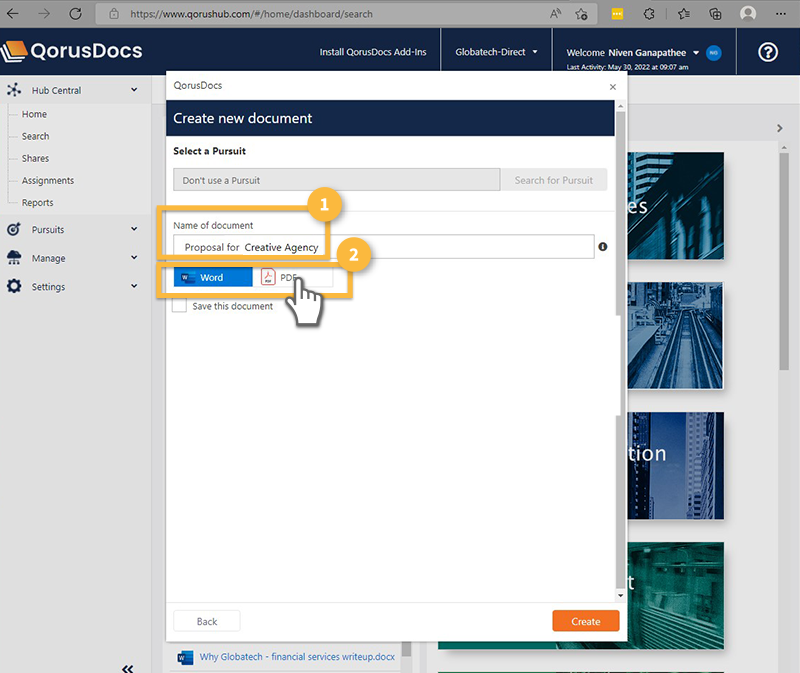 Next, you can specify whether you'd like to save it, and if so, where: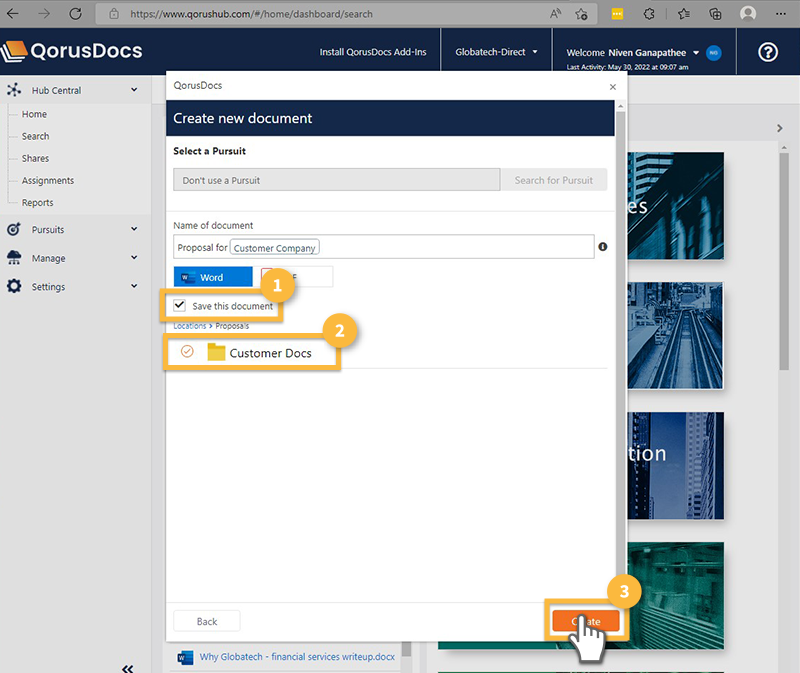 What happens next depends on whether you elected to check the box 'Save this document'.
When 'Save this document' is selected
After clicking on 'Create', and if you checked the 'save this document' option, you'll see this screen next, as soon as QorusDocs has your document ready: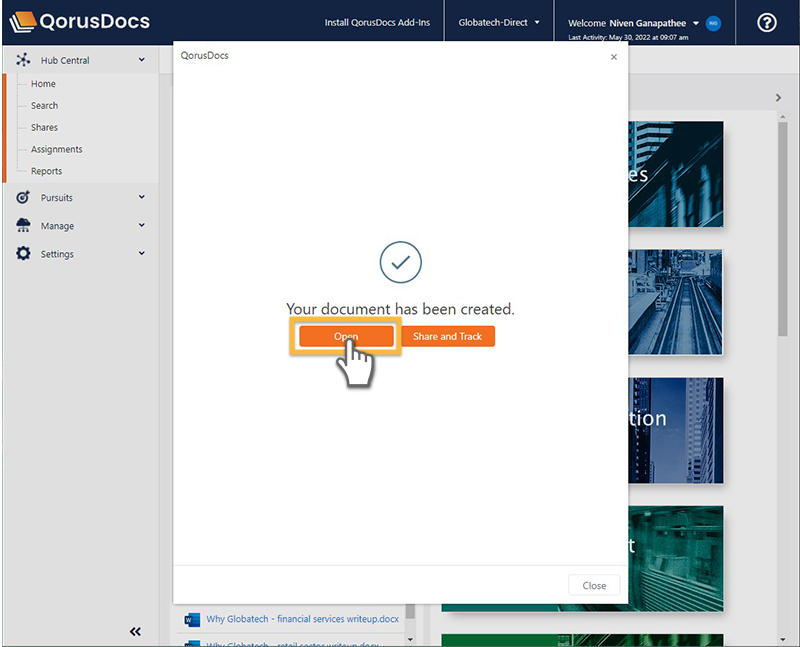 Clicking on 'Open' will open the document in Word where you can continue editing it, just as you would any other Word document. If this was a presentation, then it would open in PowerPoint.
Clicking on 'Share and Track' will generate a secure tracked sharing link that you can share with your client and then get insights into how they've engaged with your proposal. You can learn more about 'Share and Track' here.
When 'Save this document' is not selected
You could also opt to create the document without saving it here. This option is useful if you'd like to save it to another place of your choice after you've downloaded it, other than the save locations available to you in QorusDocs.
If that's the case, then you'll get the following screen: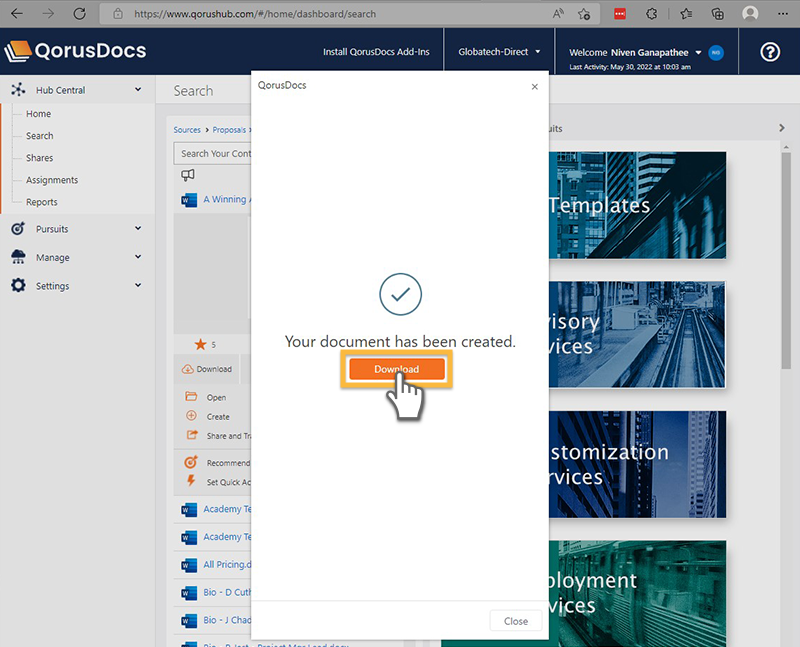 Click on 'Download' to download a copy and then use the 'Save' button in Word to browse to the location where you'd like it to be saved – for example, a location on your device.
| | |
| --- | --- |
|   | If you choose to not save the file, and then close this window without downloading the file first, we won't be able to recover this document for you.  |
You can create new documents and presentations in this way from virtually any Word or PowerPoint document or template found within your re-usable content and knowledge libraries.
Where the real magic happens is in the templates that have been "smart enabled" with QorusDocs for incredibly fast personalization. This is what we go on to explain next below.
2. 
Personalize
This time, we'll use a proposal template that contains Smart Fields and Rules to create a new proposal.
Whenever you do that, whether it's from QorusDocs Hub, any of your Office Add-ins, or even in Salesforce.com or Dynamics 365 CRM, a form will pop up on your screen upon clicking on 'Create':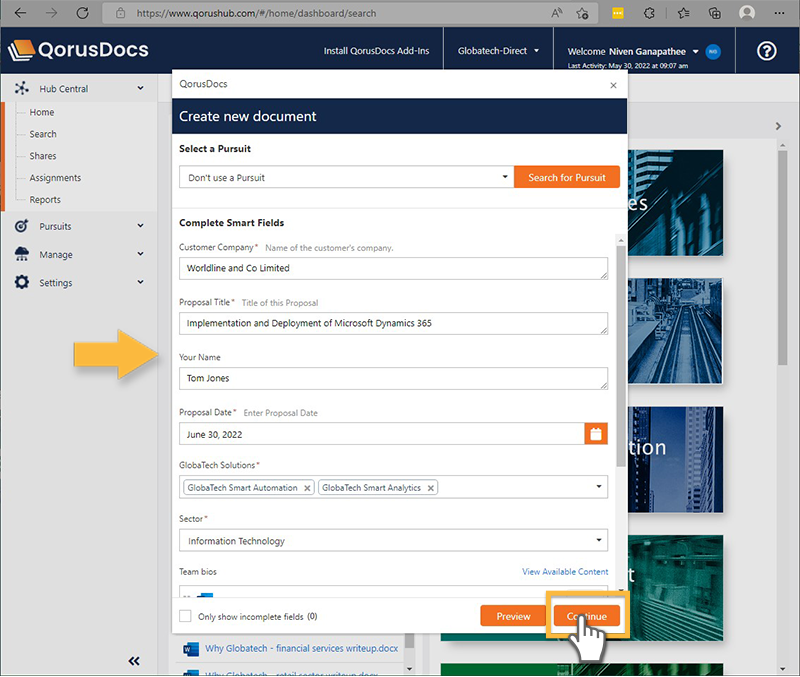 This form is dynamically generated by QorusDocs based on the Smart Fields and Rules it finds within the template you're using. For this reason, your form might look completely different to the one we have above, and you could even have multiple templates that each have their own unique forms.
The information you provide here is used by QorusDocs to intelligently find and replace placeholder text found within the Proposal, as well as to apply any rules that govern which sections should be included in the new document. You can learn more about Smart Fields and Smart Rules here.
Once you've completed the form and have clicked on 'Continue', you'll be taken to the 'create new document' screen, where you can give your proposal a name, choose whether to generate it in its original file format or as a PDF, and then choose whether to save it and if so, where.
Should you choose to open (or download and then open) the document you created, you'll see all the information provided in the Smart Fields form has been used to populate placeholder text found throughout the template: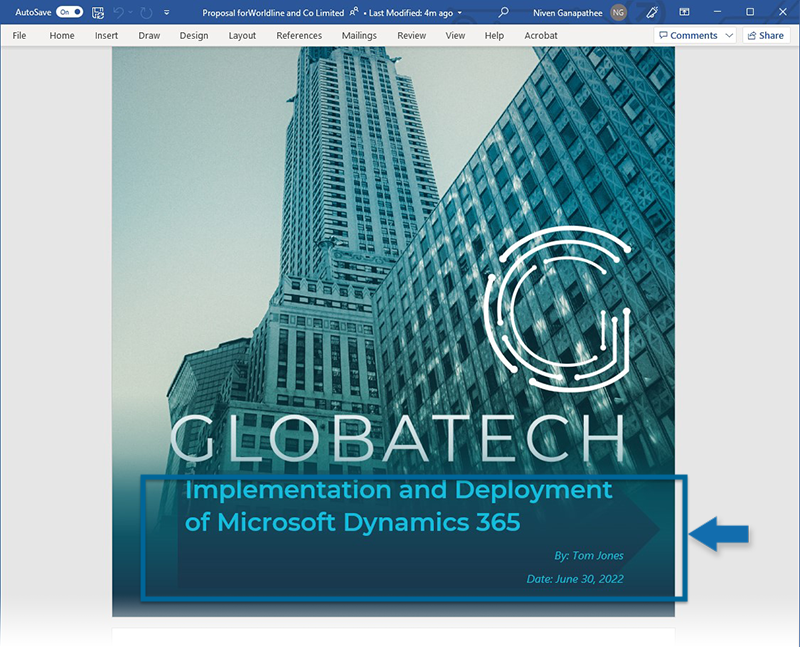 You're free to continue editing the document, just as you would any other Word doc, and you can use the QorusDocs Add-in to find and insert more content, and/or assign questions or sections to coworkers you wish to collaborate with.