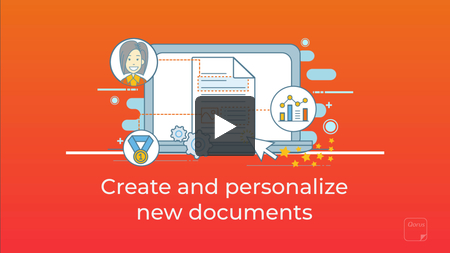 You can use any document or presentation connected to your QorusDocs Hub as templates for the purpose of creating new documents and presentations. And if the document or presentation you're using as a template contains Smart Fields and/or Smart Rules - then you can also personalize the new document or presentation you're creating really fast.
From any of the QorusDocs Add-ins or from Hub Central, click on 'Create' on either a search result or on one of your favorites: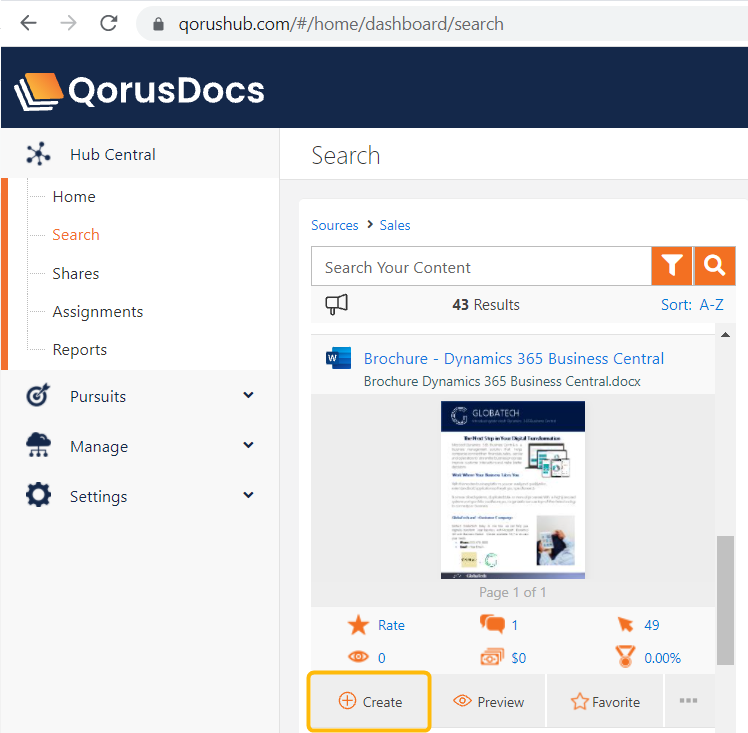 In this example, we're creating a new Brochure for a client. Since this Brochure contains Smart Fields and Rules, the following form pops up immediately after clicking on 'create':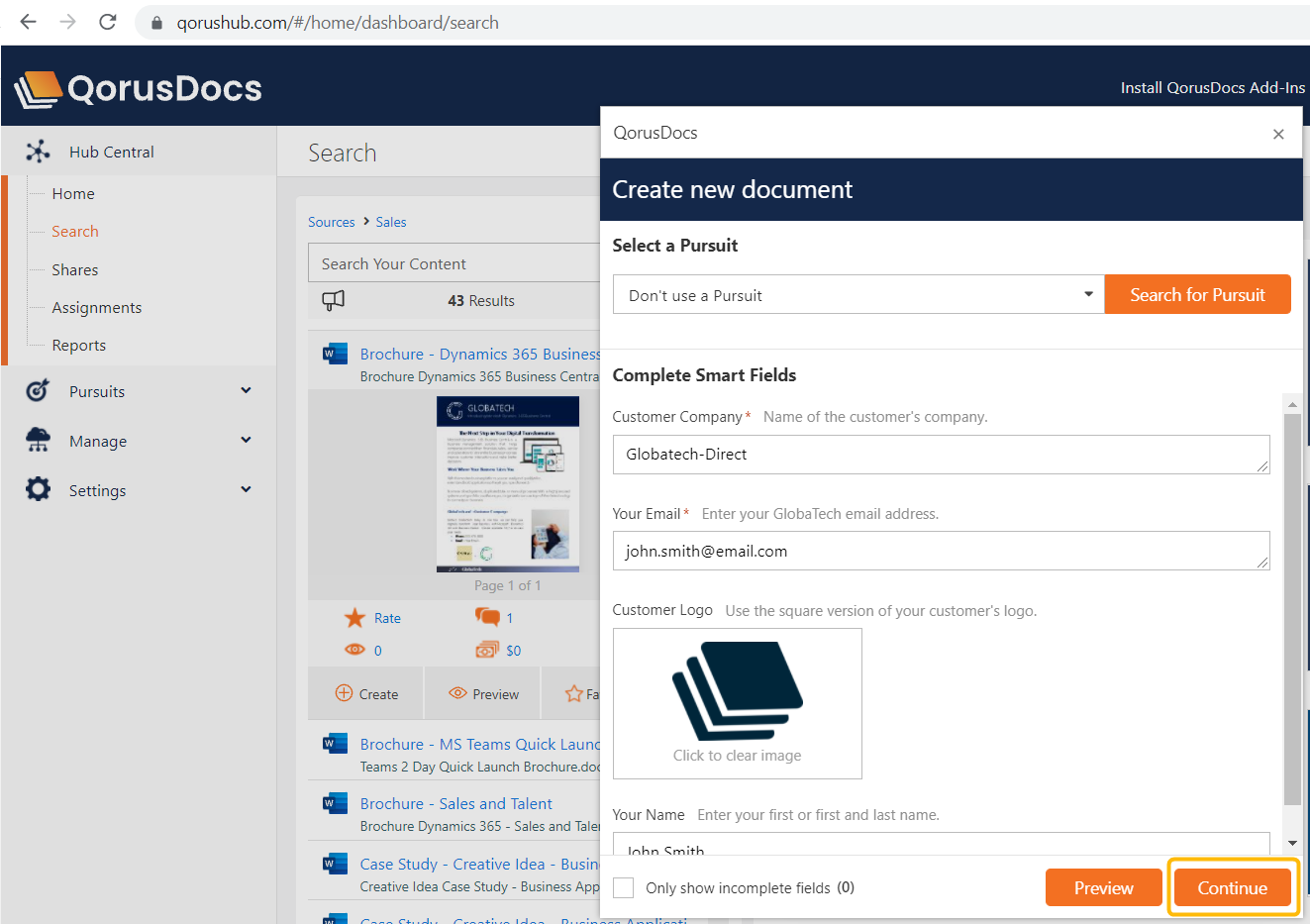 The information provided in the Smart Fields form (above) is used to intelligently find and replace placeholder text found within the NDA, as well as apply any rules that govern which NDA sections should be included in the new document.
Next, there are a few options to fill in before the new document is created: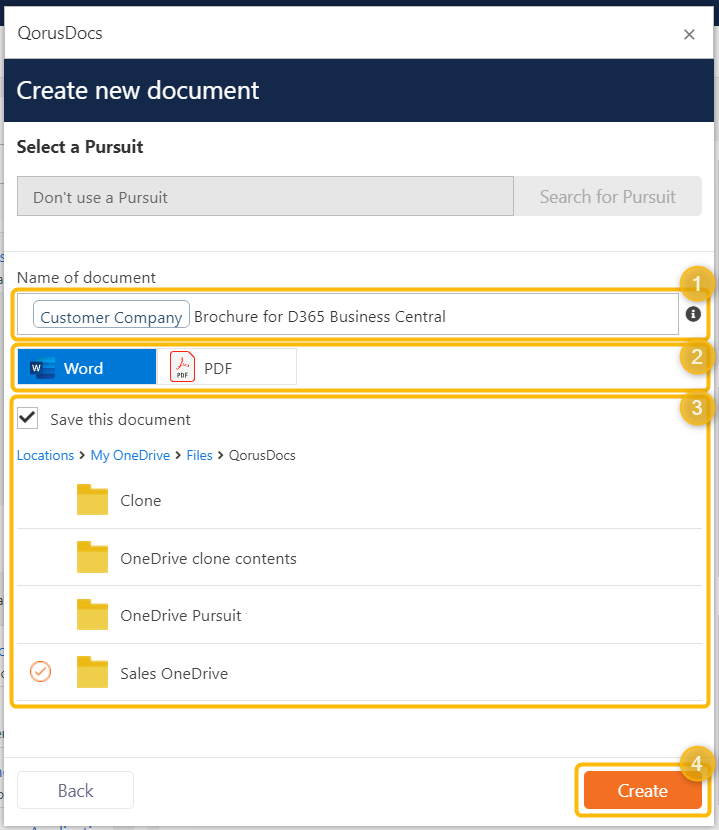 Let's go through these one at a time:
1. First off, you'll need to provide a name for the new document to be created
2. Next, you'll be asked whether the new document should be created in its original format (in this case Word), or if the new document should be created as a PDF
3. If you check the box 'Save this document', QorusDocs will save the document to the location you specify. The locations you see here are the ones that have been set up as 'Save locations' in your QorusDocs Hub.
If you choose not to check the box 'Save this document', QorusDocs will skip the step of saving it to your Office 365, and will go straight to giving you the option to open the new file. From there, you can edit it and/or save it to your computer or any other file storage you have access to.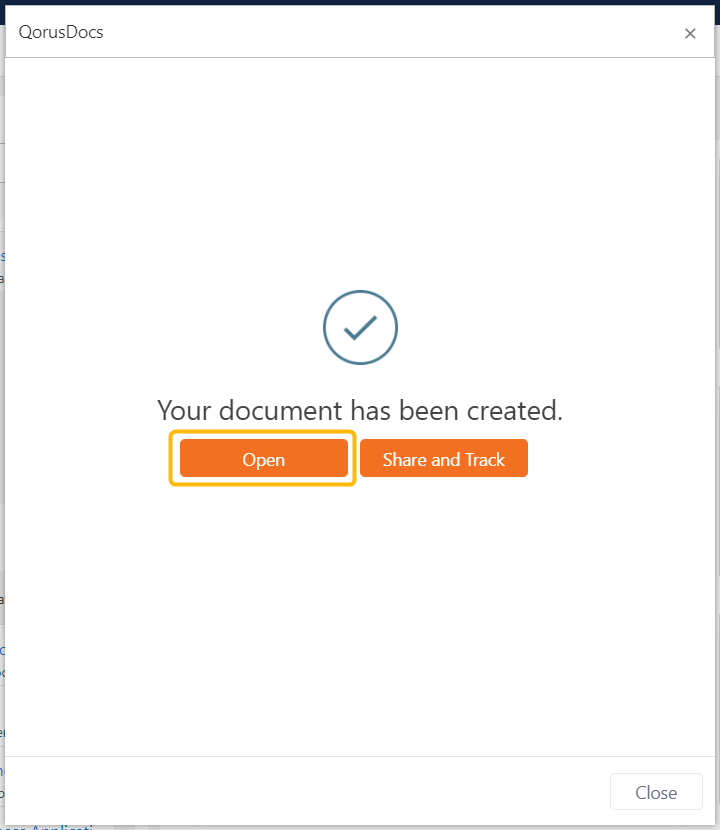 | | |
| --- | --- |
| | If you choose to save the file to a Temporary Location, and then close this window without downloading the file first, we won't be able to recover this document for you. |
Since the option selected above was to create the new document as a Word doc, clicking on 'Open' downloads the document and opens it up directly in Word. Here we can see the information provided in the smart fields form has been used to populate the document: