When Smart Fields combine with Insert you get Smart Insert. 
Smart Insert allow you to instantly personalize your re-usable Word content, as you're inserting that content into documents, emails and presentations. It works in all the Qorus Add-ins, meaning you can use Smart Insert when you're typing an email, building out a document, or collaborating around a presentation.
And the best part - Smart Insert remembers the information you provide, so you don't have to keep on filling in the same information over and over again, when inserting multiple pieces of content. 
Before you begin, there are two important requirements to bear in mind: 
Smart Insert is only available when inserting Word document content. This however also includes any Answers or Snippets that you may have clipped using the Qorus Add-ins, as these are in fact Word documents too. 
You will need to first define delimiters in your content, as well as in the Qorus Management Portal. 
In this article, we'll cover the steps of doing a Smart Insert: 
1. Locate the Word content you'd like to insert
2. Insert the content
3. Fill in the Smart Fields form
1. LOCATE THE WORD CONTENT YOU'D LIKE TO INSERT
To get started, run a search or use your favorites (pinned files and saved searches) to locate the content you'd like to insert. 
In the example below, we've located an 'Intro' snippet for a Statement of Work document we're building.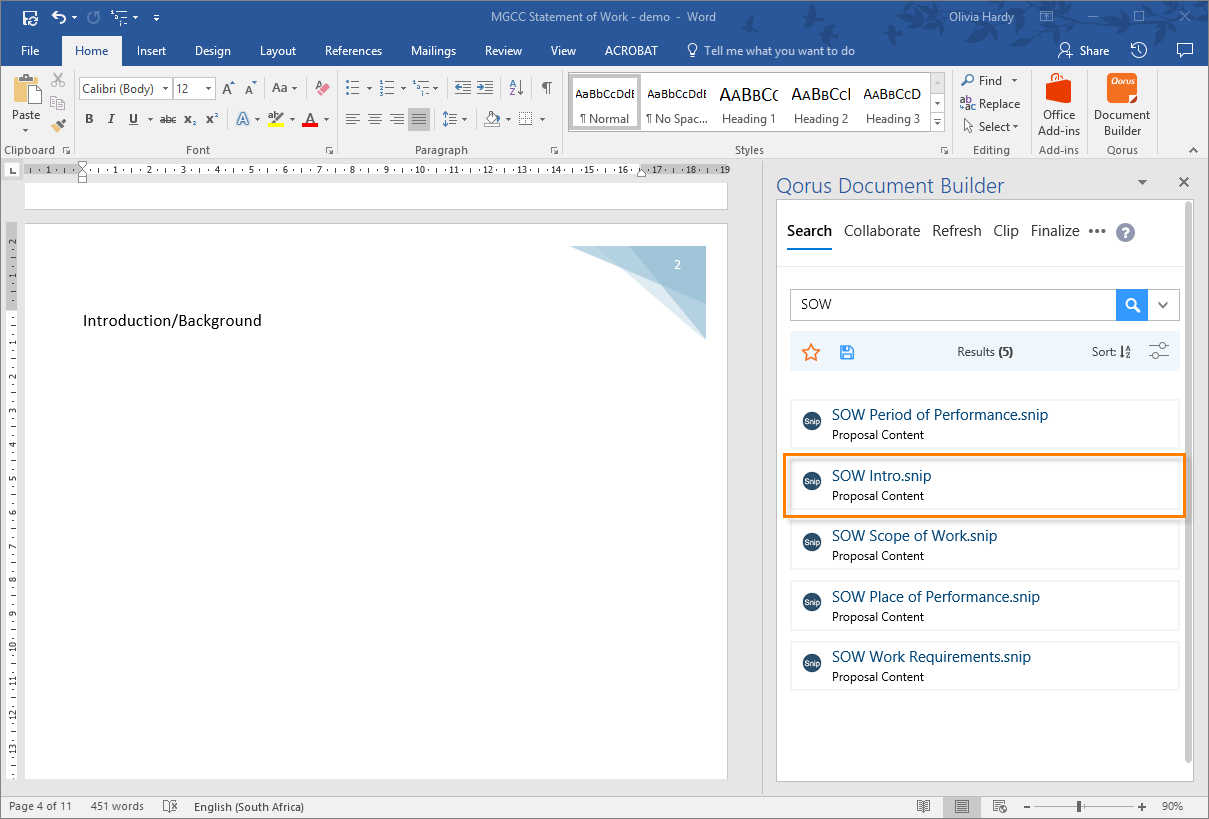 2. INSERT THE CONTENT
Next, click on the 'Insert' button - just as you would normally do for any other content. Notice in the screenshot below, the placeholder text that's visible in the extract preview (circled in yellow).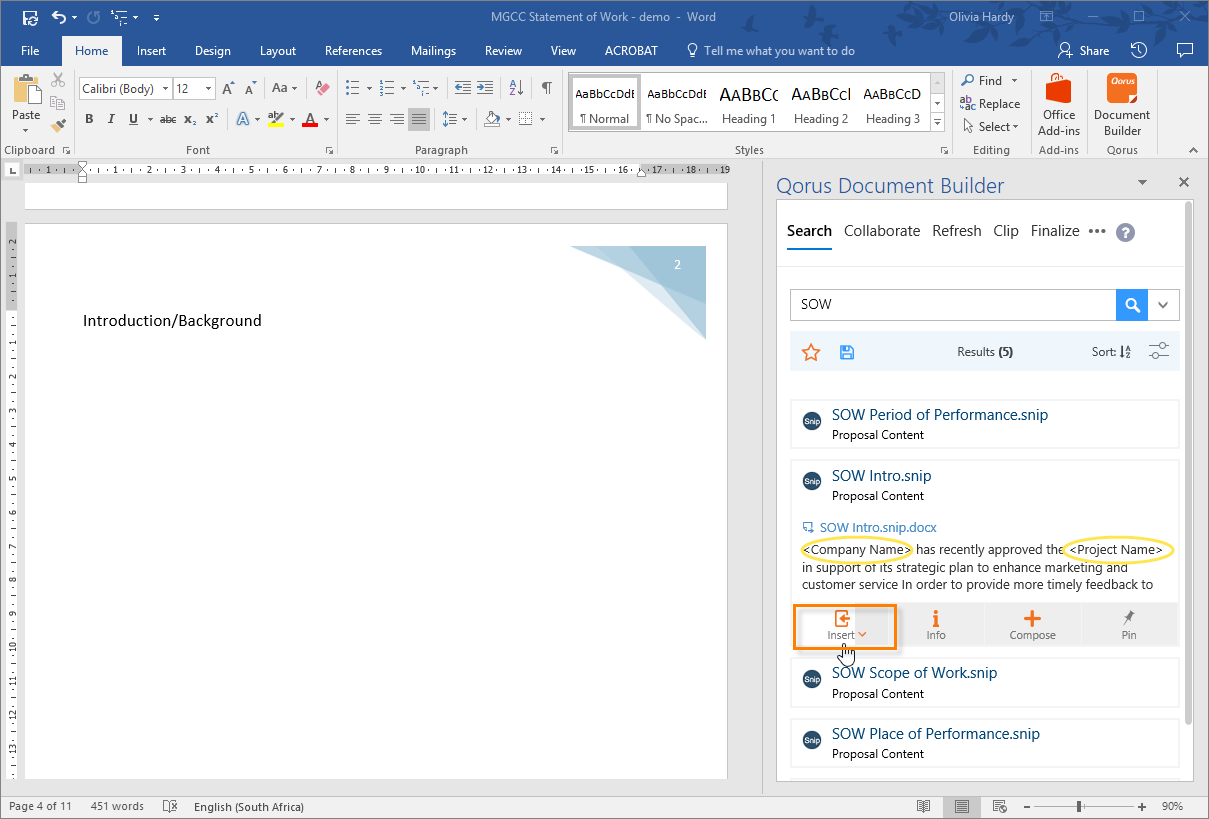 3. FILL IN THE SMART FIELDS FORM
A Smart Fields form will pop up next. Go on and fill it in, then click on 'Insert'.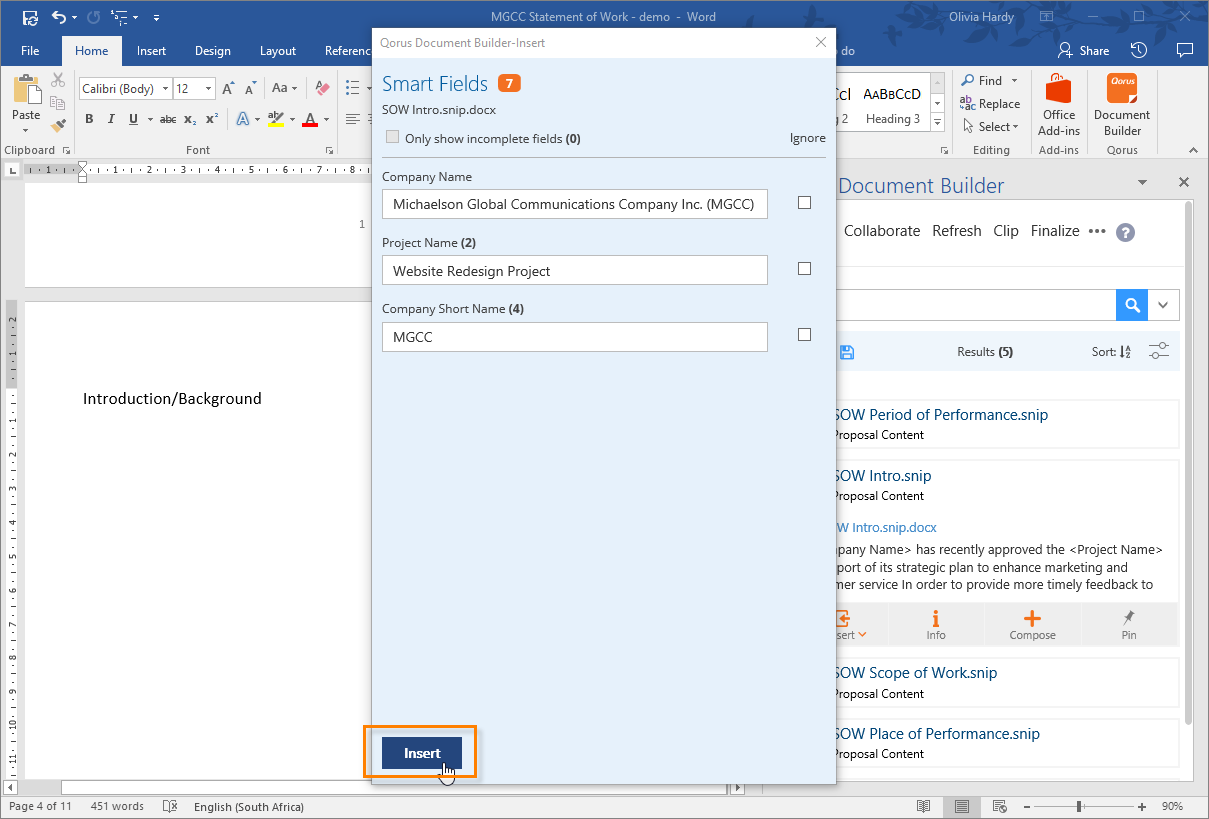 And voila! The inserted and personalized content will appear in the spot where you've placed your cursor in the document, a bit like this (please note we purposefully formatted the Smart Fields in red here so you could see them more easily):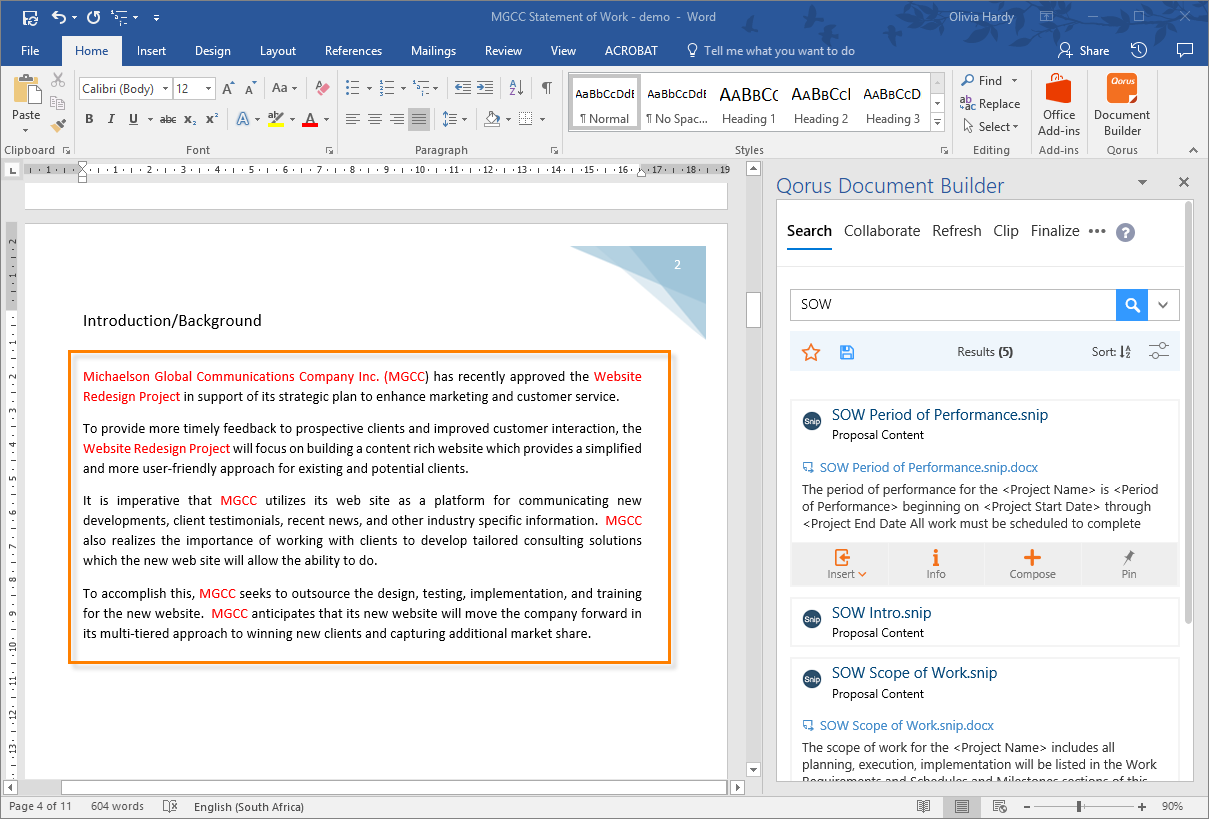 Then if you have more re-usable Word content, that contains delimiters, and that you'd like to insert into the document, email or presentation you're working on - you won't need to fill out the same information all over again.
In the screenshot below, we moved to another part of the document we're working on and clicked on 'insert' on another piece of reusable content. You'll notice that since we already provided the name of the project as well as the abbreviated name of the company, those fields are already pre-populated in the Smart Fields form. All we need to do is provide information for the new Smart Fields detected, while retaining the ability to make changes to the values already provided if needed.