This applies to:

Available with the following QorusDocs Editions:

Enterprise

Premium

Essential

Free
For Auto Answer to work properly, it needs to correctly understand where the question is and, if applicable, where the answer should go.
For most of the things that can go wrong, we are able to display errors, but for others there are technical Microsoft Office limitations that force us to show a more generic error.
In this article, you'll find a list of selection and validation errors you may encounter in the Excel and Word add-ins for QorusDocs when you use Auto Answer, and what you can do to resolve them:
1. Excel
Merged Cells
If in your Auto Answering Preferences, you select:
to auto insert answers (below or next to the question, it doesn't matter), and

to have answers inserted into a column or row that contains merged cells
You will get an error when you click on 'Answer'.
Merging cells changes the column letter and the row number of the all the cells that are merged, to the same column letter and row number of the top left cell.
In other words, if we merge A1, B1, A2, and B2 – all of four of these cells become one cell and the cell reference will be set to A1. The cell references B1, A2, and B2, will no longer exist in the spreadsheet.
If you were to set column B as your destination column in this scenario, you will get an error when you try to use Auto Answer, since cells B1 and B2 can no longer be found.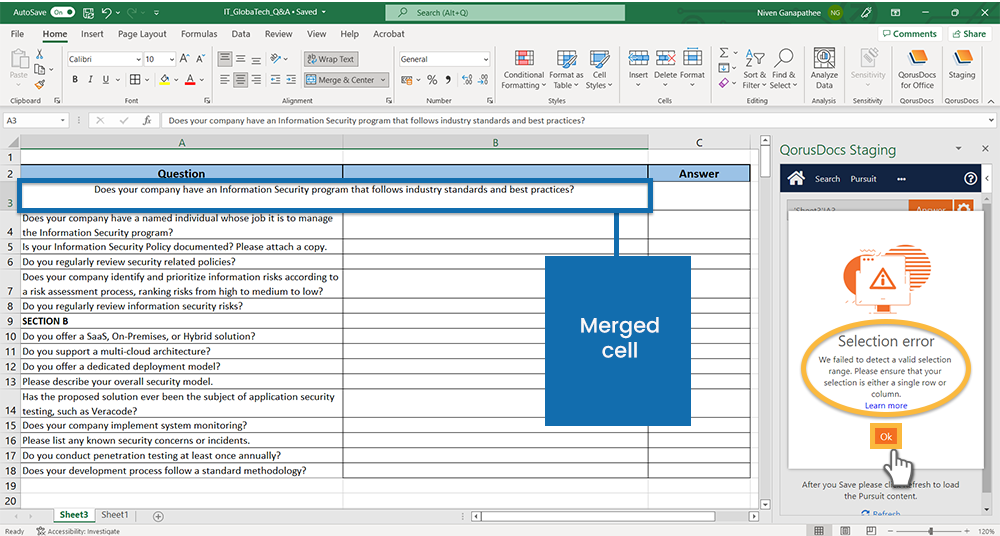 If you encounter this issue, then you'll need to unmerge the question cells first before you can use Auto Answer.
If the spreadsheet you're working on is protected, then you'll need to copy and paste it to another Excel workbook and use Auto Answer there instead.
Selecting multiple distinct ranges of questions is not supported.
For example, if you try to answer the questions in range B3:B8 at the same time as the questions in range B10:B18, this will not work.
Instead, for spreadsheets that for example contain questions separated by section headers (like the one in the screenshot below), select and then answer one range of questions at a time, before moving to the next range.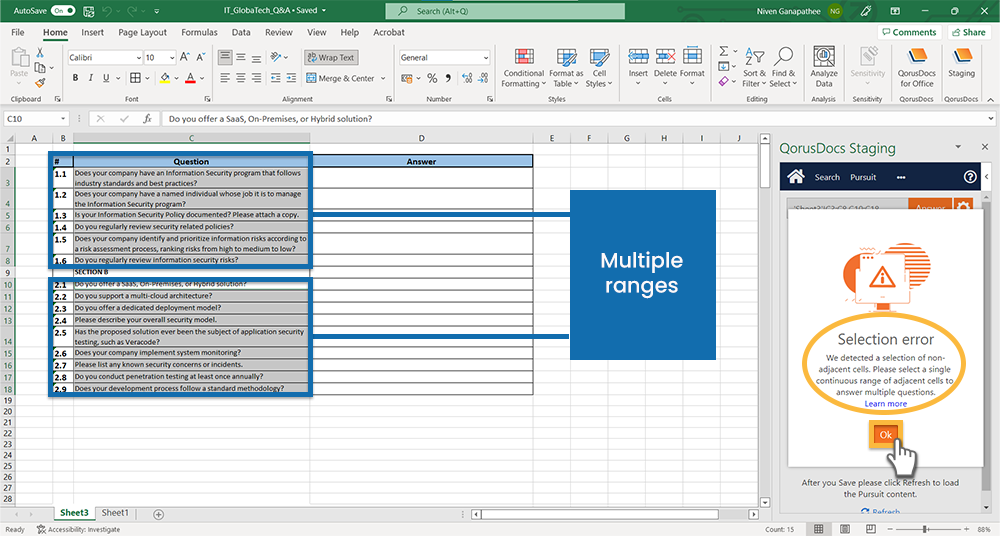 Using Auto Answer on one batch of questions, and then again on a different batch of questions, will not delete or make any changes to the previous batch(es) you used Auto Answer with.
The Auto Answer search results will simply accumulate in your QorusDocs Add-in, and any editing or work that you've marked as complete and even suggested, will remain unchanged as QorusDocs answers the next set of questions you select.
Entire Columns
Selecting an entire column is not supported with Excel Auto Answer, since we cannot easily determine the number of cells that actually contain questions to be answered.
Instead, please select only select cells that contain questions, before attempting to Answer them.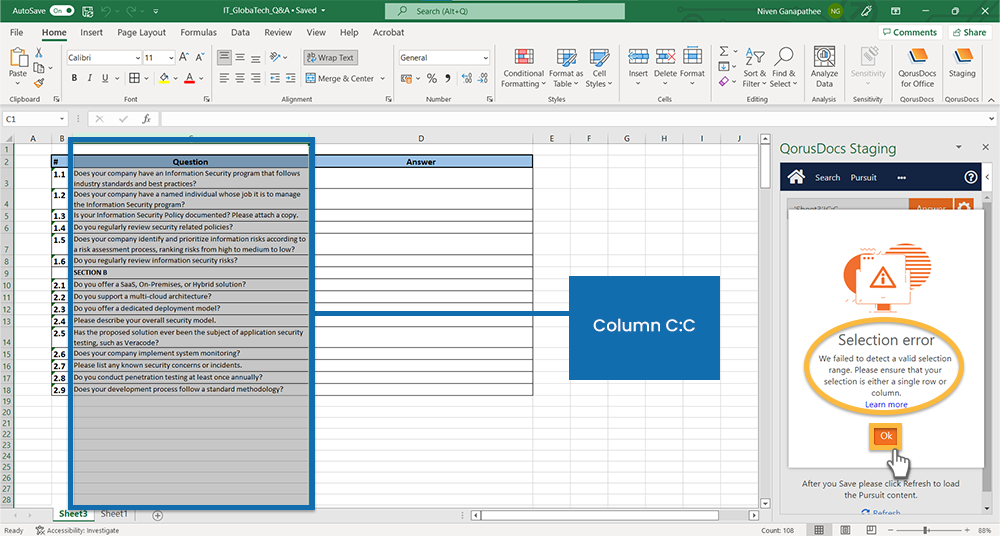 2. Word
Insufficient or odd rows/columns
If you lack the space to insert the answers that correspond to a question set, Auto Answer will have nowhere to paste in the answers.
If you have a single-column vertical Q/A/Q/A format with an irregular cell count or other deviations from the Q/A/Q/A model, Auto Answer may not correctly read the questions and will instead overwrite some of them with answers.
To prevent this, please ensure that you have the appropriate cell gaps and spacing that correspond to the formats Answer preferences settings.