This applies to:

 

 

 

 

 

Available with the following QorusDocs Editions:

Enterprise

Premium

Essential

Free
The QorusDocs Auto Answer AI has a few limitations that you may run into while importing Q&A pairs or retraining your AI. For example, if you import 100 records and 2 are broken, you will have 98 successes and 2 failures. When this happens, only records that hit a limit will fail.
Please note that in order to train the Auto Answer AI service, you'll need to belong to the QorusDocs Designer or Admin user role.
In this article, we'll cover:
2. Troubleshooting Auto Answer AI limits
1. How to access sync errors
In the Content Source change management view, you'll know that there's a sync error when you see a yellow warning triangle next to the 'Retrain Answer AI' button on the Content Source or when QorusDocs brings up a toaster pop up alert message. Clicking on the sync error will take you straight to the 'Sync Errors' tab.
On this page, you will see the text of the question where the error occurred, as well as the error type and description:

Alternatively, when you're on the Content Sources page in QorusDocs Hub, if there are any sync errors, you will see a yellow triangle next to the gear or the cog icon.
Here, click cog icon and select the 'Sync Errors' option to land directly on the Sync Error page and start troubleshooting the errors.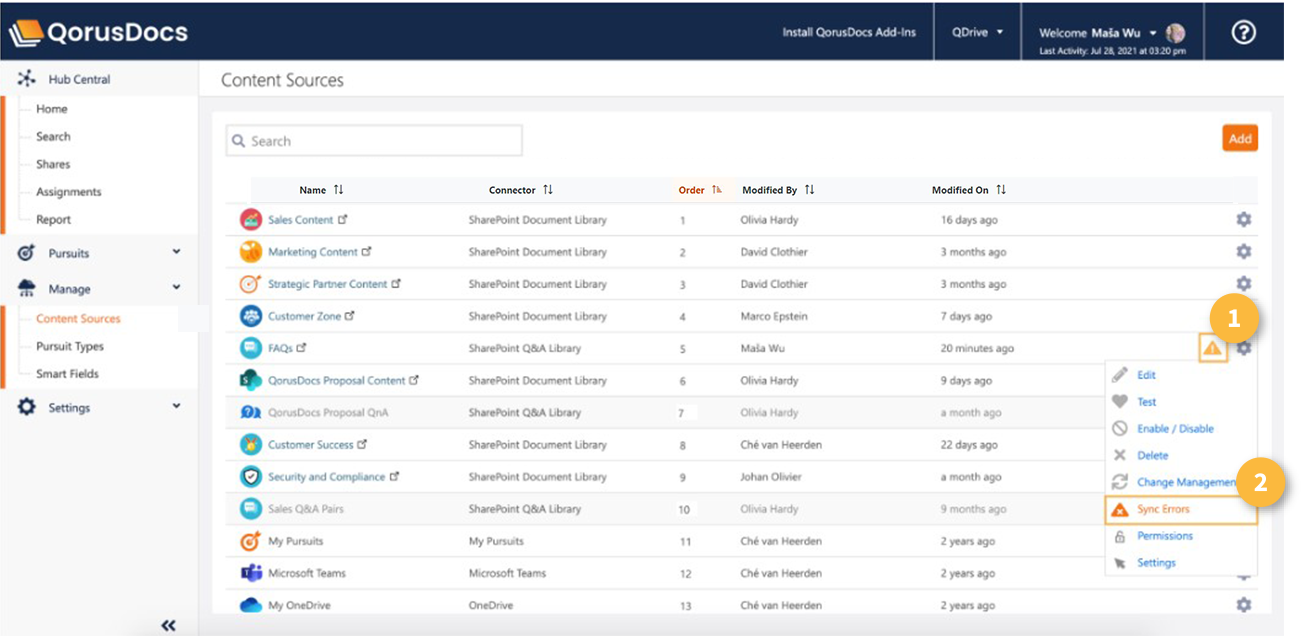 2. Troubleshooting Auto Answer AI limits
The table below lays out the limits for the QorusDocs Auto Answer AI:
| | |
| --- | --- |
| Field | Limitation |
| Column name | max 100 chars |
| Filter text | : | (colon and pipe) are prohibited |
| Filter string length | max 500 chars |
| Question text | max 1,000 chars |
| Answer text | max 25,000 chars |
| Alternate question count | 300 |
To address a sync error, go to the underlying Q&A library that houses all your Q&A content, do a search using the question text to find the offending Q&A record, and then modify it so that it complies with the limits listed above. 
Repeat this for all the errors you find, then hit 'Retrain' in Change Management to get the updates into the Answer AI.
For example the first record in the screenshot below shows an error because the Question title exceeded the character limit of 1000 characters. To fix this, navigate to the underlying SharePoint Online list where the Q&A content is stored, and then update the record's Question title so that it is less than 1000 characters. When you're done, click the 'Retrain Answer AI' button and the updated record will be cleared from the Sync error page and added to QorusDocs Auto Answer AI service.