If you and your team find yourselves having to type out the same answer to the same question over and over again, in emails, documents or presentations, then you're probably familiar with the frustrations and time wasted of having to re-invent the wheel each time. 
The solution is to use the Qorus Clip to help you grow your re-usable content while you work in Office 365. 
The Qorus Clip allows teams to create brand new, short, and re-usable documents, from selected text. Documents created with the Qorus Clip get saved to OneDrive for Business or SharePoint Online, are searchable, and can be inserted into documents, emails and presentations with one click. As an added bonus, inserted content in documents can be refreshed and kept in sync with any changes to their source versions in the cloud, making it easy to update documents if needed. 
Before you begin, please note that before you can make use of the Qorus Clip to save re-usable content to SharePoint Online, there's some setup required. If you're working with OneDrive for Business however, you can jump right in and follow the steps below. 
Here are the steps to clip and save content with Qorus: 
Select the text you'd like to save for future re-use
Give the new document you're creating a name
Categorize it as an answer, a snippet or a document
Choose a save location, and save
 1. SELECT THE TEXT YOU'D LIKE TO SAVE FOR FUTURE RE-USE 
In the top nav, click on 'Clip', and then select the text you'd like to save for future re-use.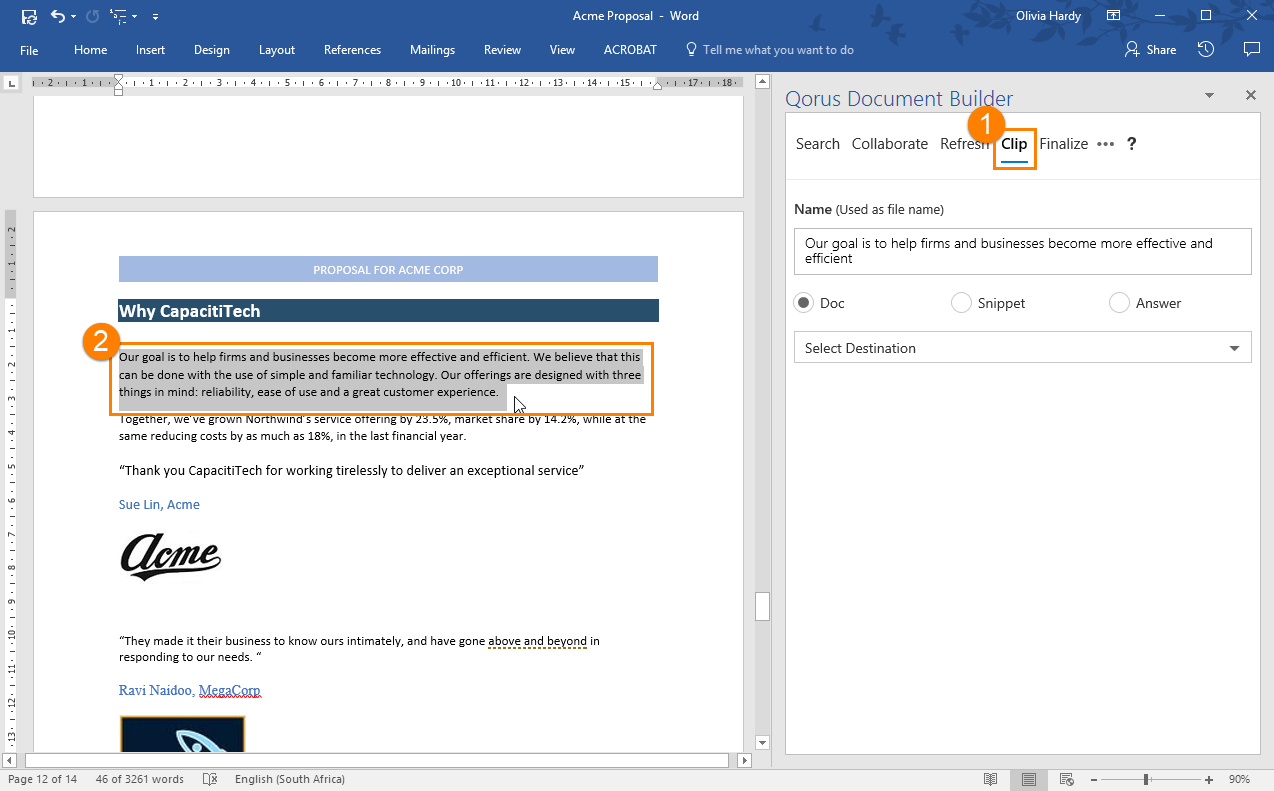 2. GIVE THE NEW DOCUMENT YOU'RE CREATING A NAME
To save you time, Qorus will automatically pop the first few characters of your selected text in the 'Name' field. You can however provide a more meaningful name by typing within the 'Name' text box.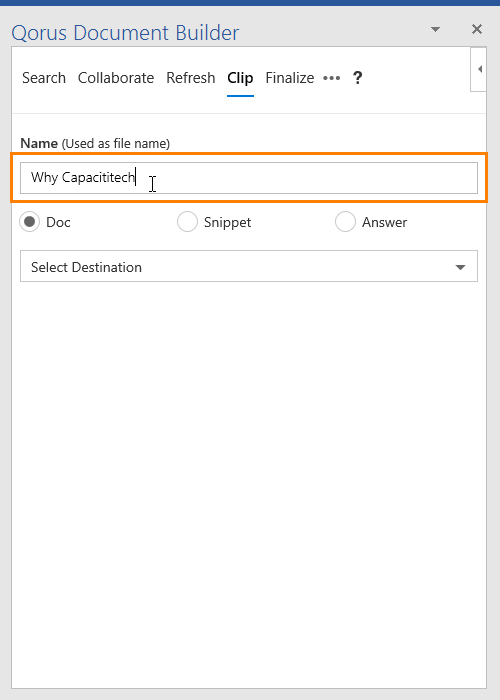 3. CATEGORIZE IT AS AN ANSWER, A SNIPPET, OR A DOCUMENT 
When you and your colleagues run a search to find your clipped content and re-use it in Office 365 emails, documents and presentations later - you'll need a way to differentiate between fully fledged documents that can stand on their own ('Doc'), sections or paragraphs of text about a particular topic ('Snippet'), and short and specific write ups in response to questions ('Answer').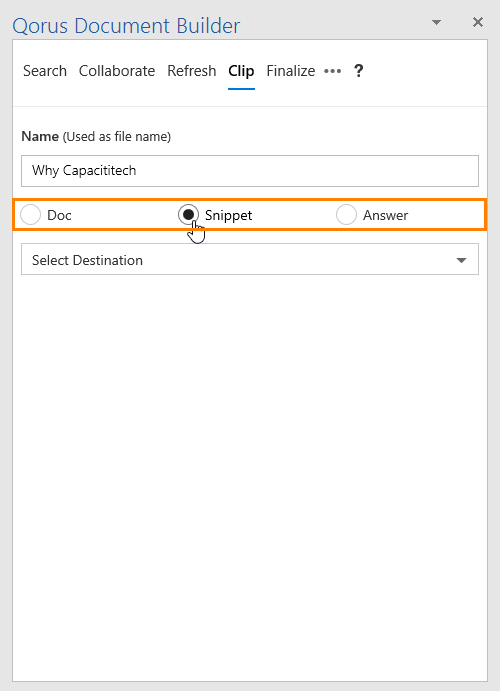 This matters because Qorus will display a different icon in the search results, depending on what you select here. Content categorized as a 'Doc' will show up with the usual Word icon, content categorized as a 'Snippet' will be returned in the search results with a dark blue circular icon containing the word 'Snip' (see the screenshot below), and content categorized as an 'Answer' will have a light blue circular icon containing the letters: 'Ans'.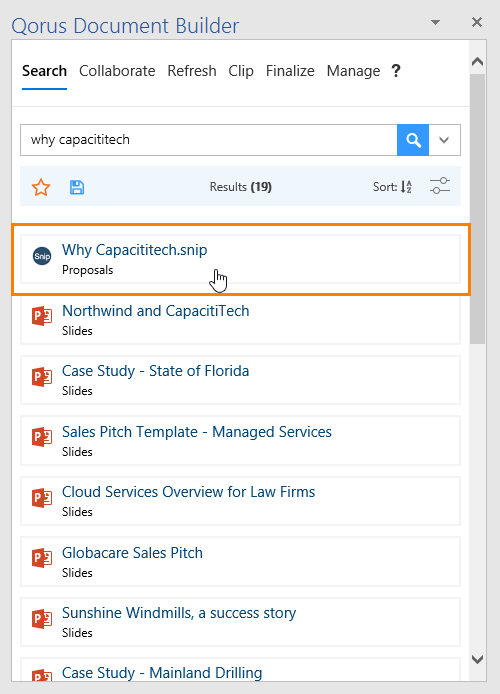 This can really help the team's productivity. For instance, when a snippet or an answer shows up in the search results, its usually safe to assume those can be re-used as is and inserted directly into the email, presentation or document being worked on. If its a doc however, it may be wiser to preview it first, and then copy and paste the bits that are relevant. 
The choice however is entirely yours, and regardless of your choice here, Qorus will still save your clipped content as a Word document. 
4. CHOOSE A SAVE LOCATION, AND SAVE
Next, click on the drop down menus that follow to choose the destination and the save location, where you'd like your clipped content to be saved.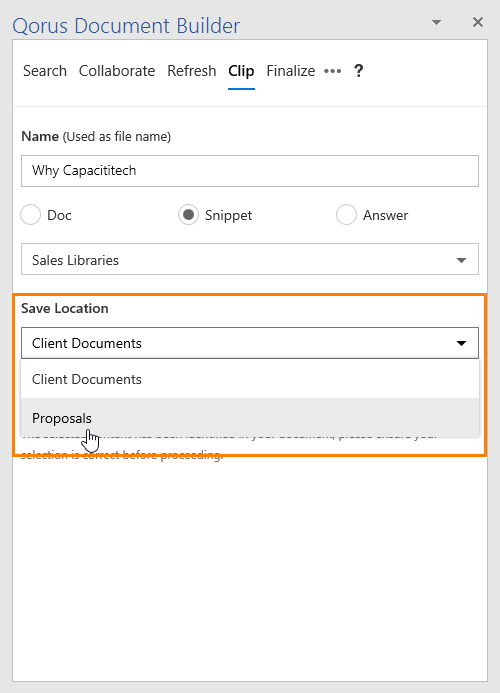 Then click on 'Save'.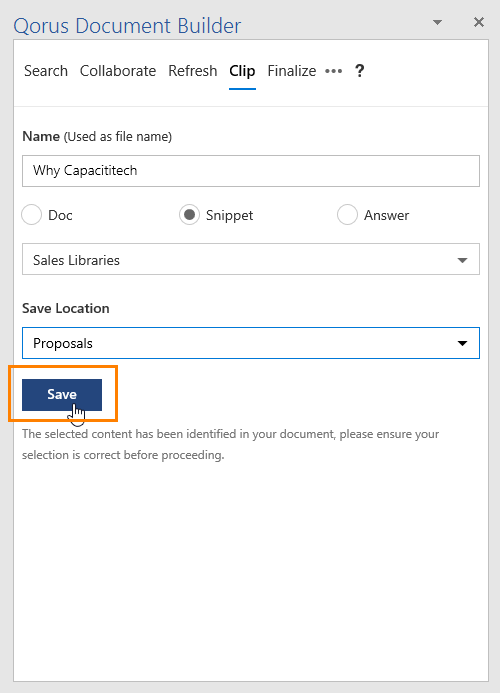 And that's it! You'll get a success message to let you know that the content you clipped has successfully been saved: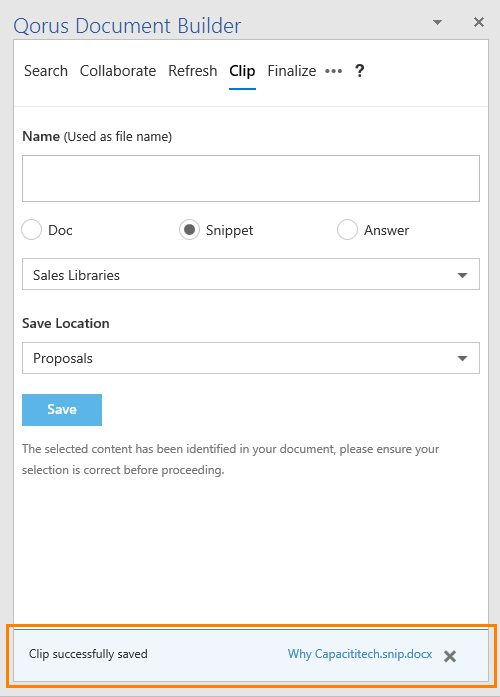 If you would like to edit the document you've saved, or if you're simply curious to see how the new document looks, you can go ahead and click on the file name that appears on the right of the success message (see screenshot above).
To give you an idea of what to expect, here's a screenshot of the 'Why Capacititech' document snippet clipped with Qorus, that was used as an example for the purposes of this article: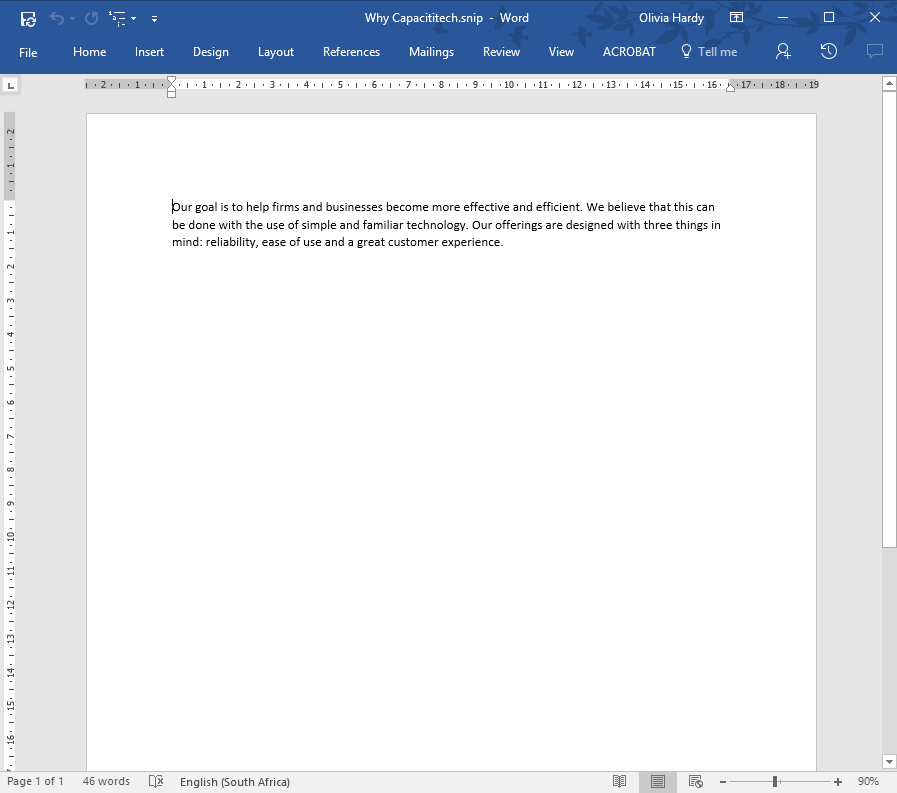 WHAT'S NEXT: