In our very first release for 2023, planned to land in your QorusDocs on January 18th, we're kickstarting the new year with brand new features and improvements designed to make your Pursuits and Assignments user experience more seamless and cohesive. We're bringing Pursuits to Outlook, opening up Pursuit Assignments to Guests, and making it possible to automatically provision a repeatable series of Assignments for each new Pursuit you create.
More specifically, here's what you can look forward to:
1. Easy access to your Pursuits directly in Outlook
Up until now, the only way to attach documents to an email directly from your QorusDocs Outlook Add-in was to search or browse your libraries. You could also only access your Pursuits workspace in the QorusDocs Add-ins in your Word, PowerPoint and Excel apps.
With this release, you can now access ALL your Pursuits (more about this below) as well as quickly jump to your last ten most Recent Pursuits: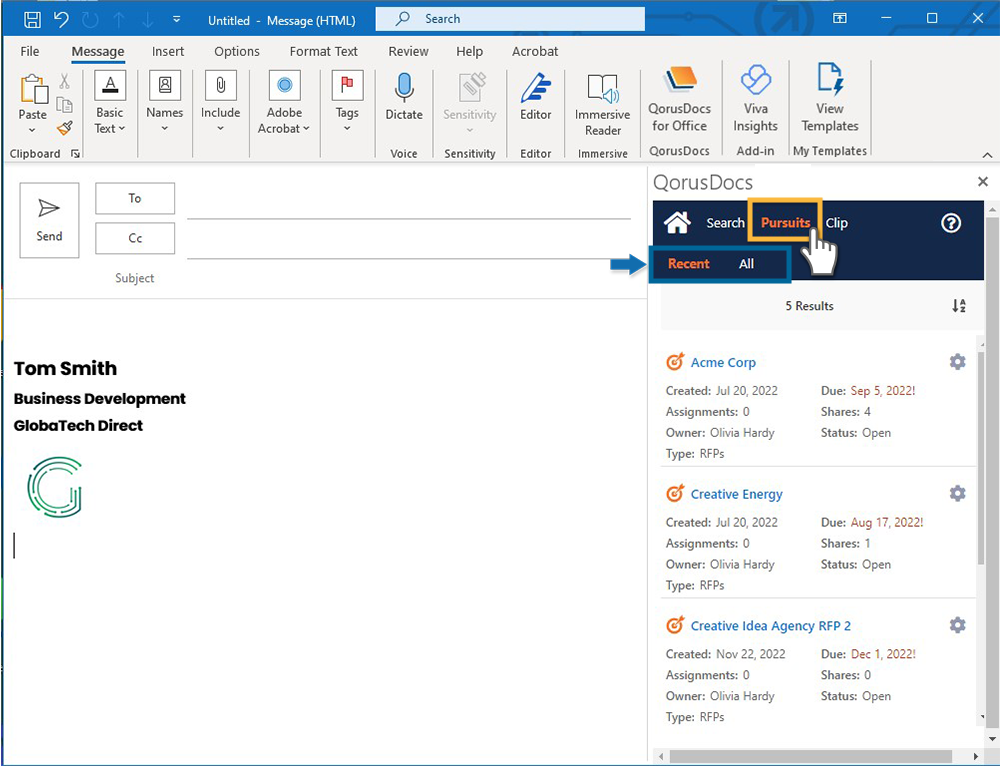 You can click on any Pursuit name: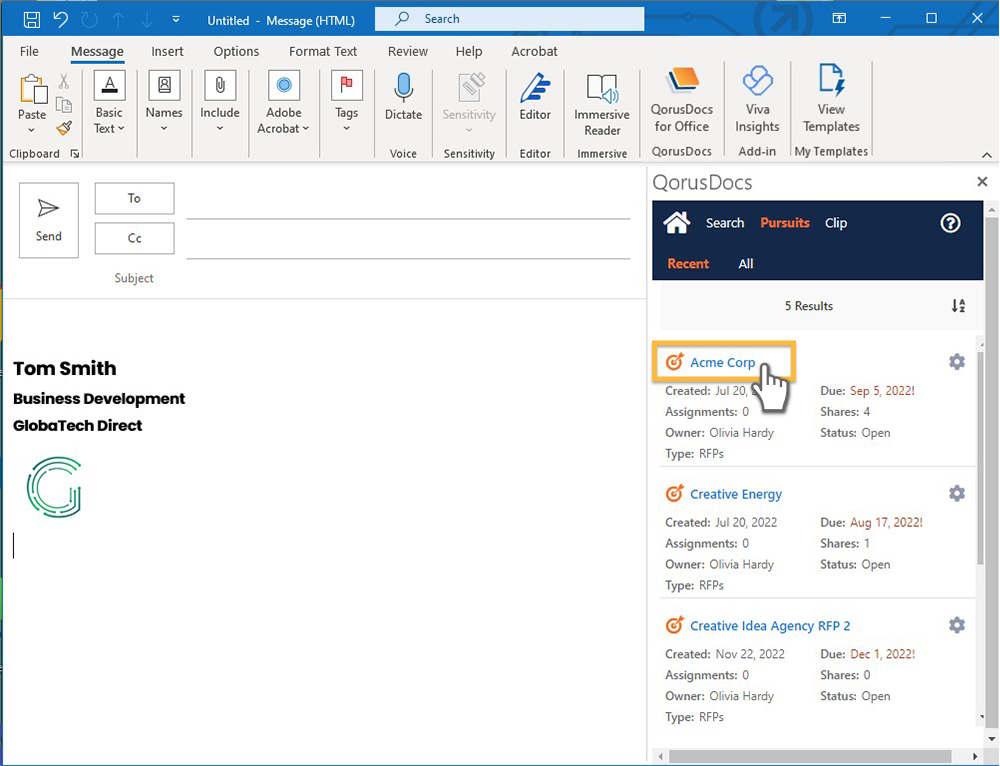 And that will give you instant access to your Pursuit's Recommended content and all the documents saved to your Pursuit workspace: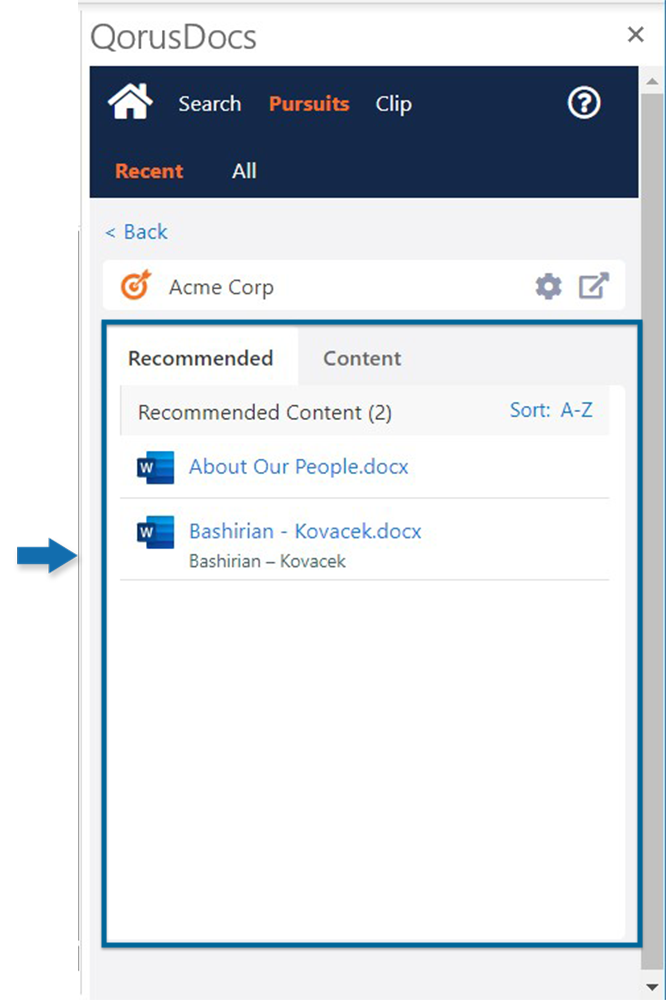 Now, when you're composing an email to a prospective client, you no longer need to switch between Office apps or to QorusDocs in your browser to find, download, and then send documents. You can now do it all (with no download required) directly from Outlook.
2.
Access all your Pursuits in your QorusDocs Add-ins for Word, Outlook, PowerPoint, and Excel
With this release, we've introduced the ability to search and browse ALL your Pursuits, no matter how long ago they were created or last modified.
When you have a document open that is not associated to a Pursuit, you'll see in the QorusDocs Add-ins for Word, PowerPoint, and Excel, a new 'Find Pursuit' button in the 'Current' tab: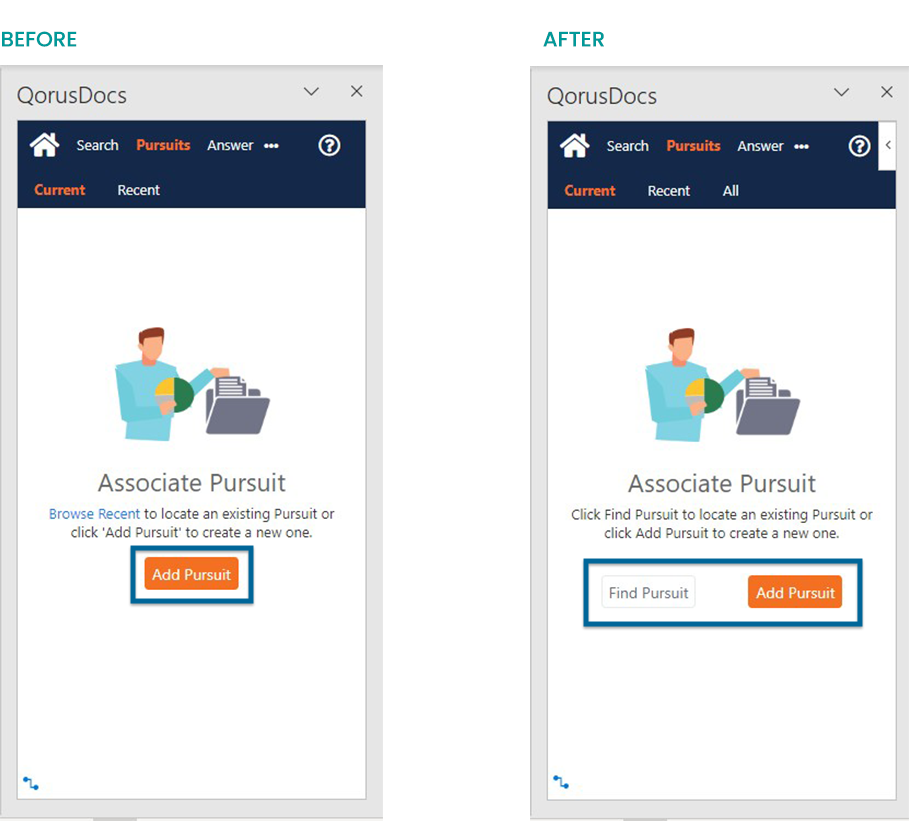 Clicking on "Find Pursuit" will take you to the "All" pane (or you can click on the "All" tab directly in Outlook, Word, PowerPoint, or Excel), where you can search, filter, and browse your Pursuits: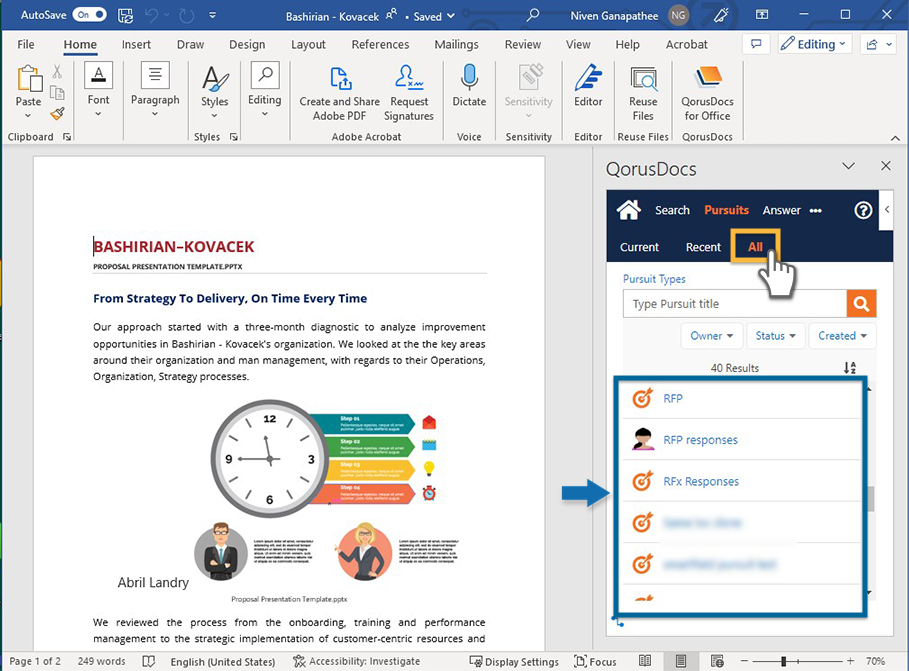 From here, you can find content:
By Browsing to the Pursuit you're looking for
You can click into any one of the Pursuit types listed in the 'All' pane to browse Pursuits by Pursuit Type.
If you know the title of the Pursuit you're looking for, you can simply type it into the search box: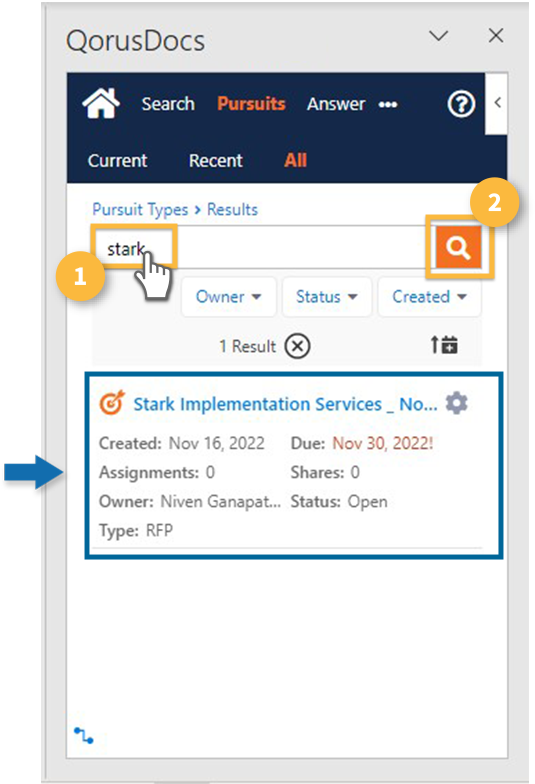 To find the Pursuit and content you need much quicker, you can filter out unwanted results or use the search filters on their own to filter Pursuits by "owner", "status", and by the date it was created with the new "created" filter: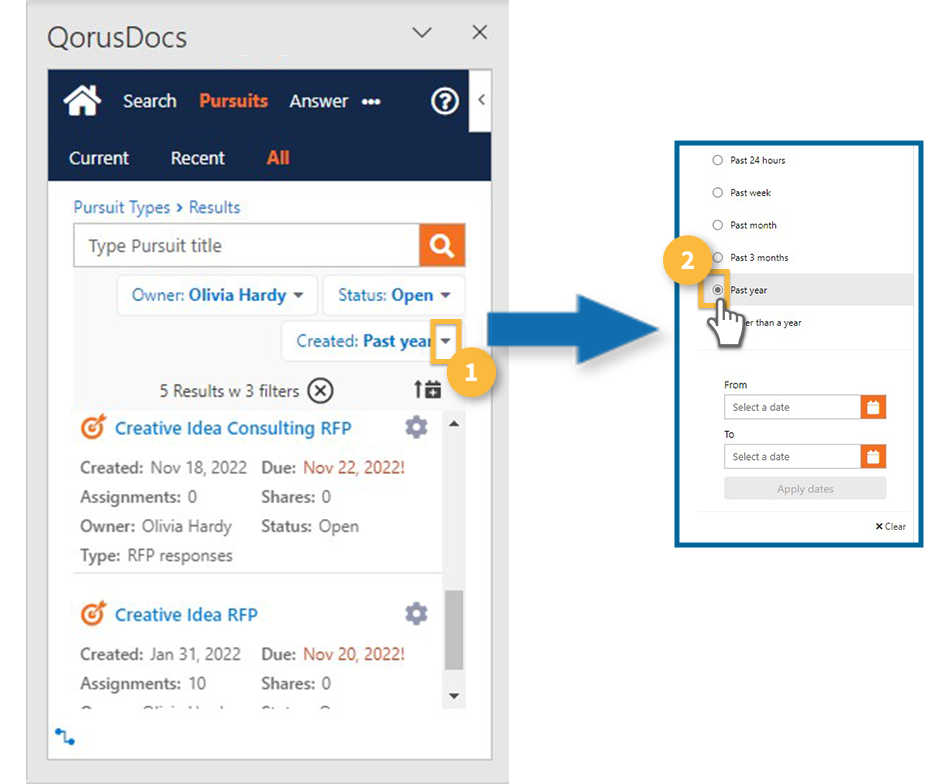 It is worth noting that the new 'Created' filter has also been added to the Pursuits workspace in your QorusDocs Hub: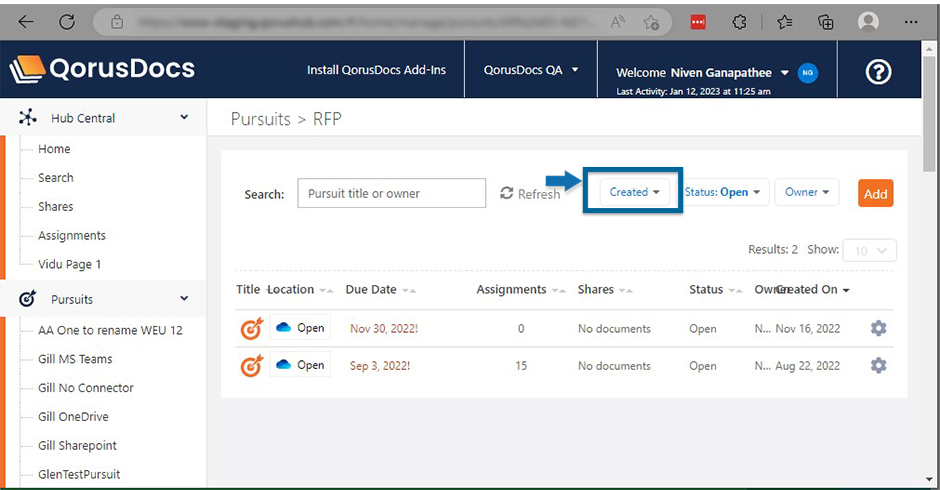 Once you have your search results, there are additional sort options available that allow you to sort your Pursuits in the order you would like them to be displayed: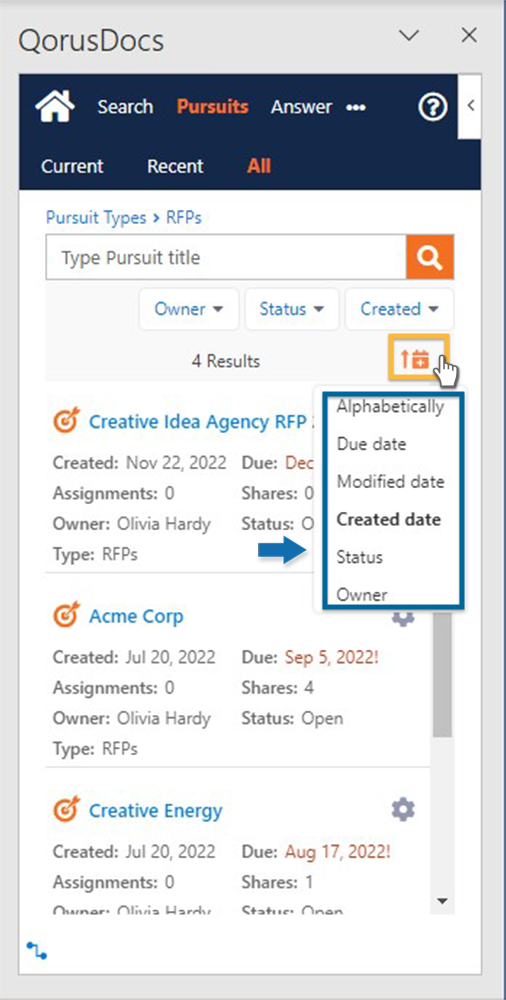 Here's what each of the icons for the various sort options mean:
| | |
| --- | --- |
| | Sort Alphabetically |
| | Sort by Due Date |
| | Sort by Modified Date |
| | Sort by Created Date |
| | Sort by Status |
| | Sort by Owner |
3. Create automated Pursuit assignments
We've had many requests for this feature and couldn't be more pleased to bring you automated Pursuit Assignments with this release.
In an external tool of your choice or in SharePoint Online, you can now configure a templated list of assignments you'd like QorusDocs to automatically provision every time a new Pursuit is created.
This not only saves you time, it also ensures that your business processes are always consistently followed.
You can have a different assignment list template for each of your different Pursuit Types, and there is no cost for enabling this feature when using the assignment list template, provided by QorusDocs, stored in a SharePoint Online list. If you'd like to use a customized template, this can now be achieved with a paid professional services engagement.
To activate automated pursuit assignments for your QorusDocs account, simply contact your CSM or our friendly support team. There is a brief engagement required to activate this feature for your account, and you will be added to an activation queue for the early release of this functionality. Rest assured, we'll get you up and running with little downtime!
Here's an example of what an assignment list template might look like in SharePoint Online: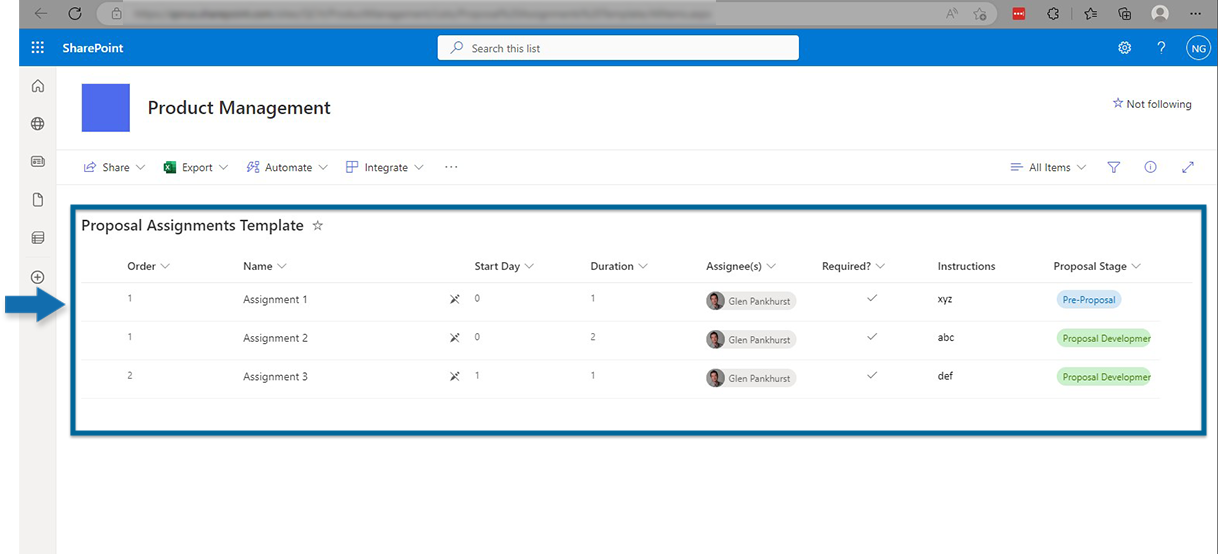 Alternatively, you can use another third-party tool, like Microsoft Planner or Trello, and have QorusDocs Professional Services design and deliver a custom automation for you for an additional cost. Please contact your CSAM to get a quote and find out more.
Support for dependencies in Automated Assignments
With automated assignments, you can now set dependencies between assignment tasks, so that the Assignee needs to for example complete assignment A first, before they can complete assignment B.
In this scenario, assignment B would be 'inactive', until such time as assignment A has been completed. In the QorusDocs UI, the 'inactive' assignments will have a status of 'Assigned' and be greyed out: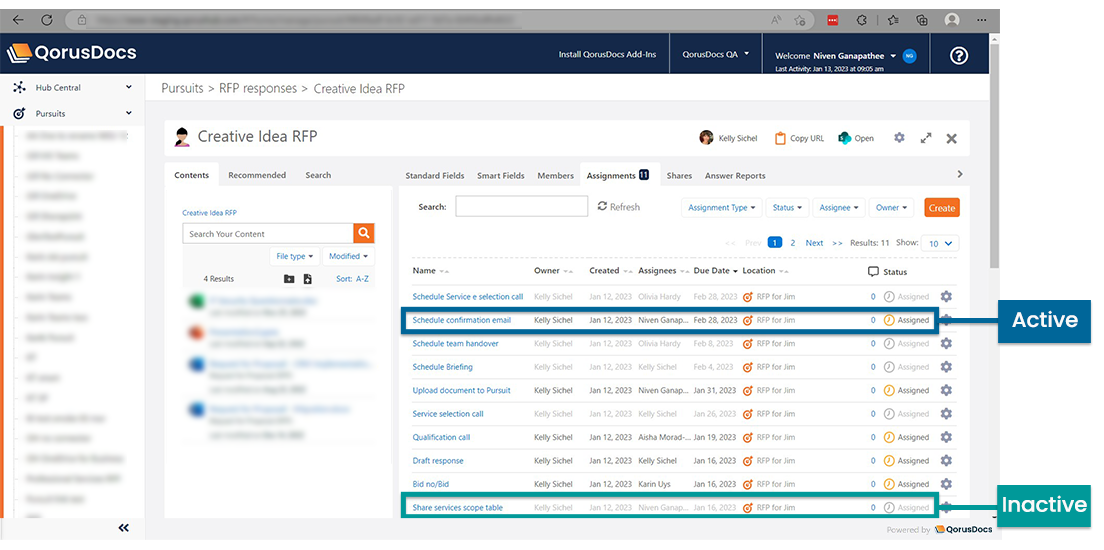 Clicking on an 'active' assignment will bring up a new window on your screen, where if you are the assignee, you can action it by marking it as done or rejecting it: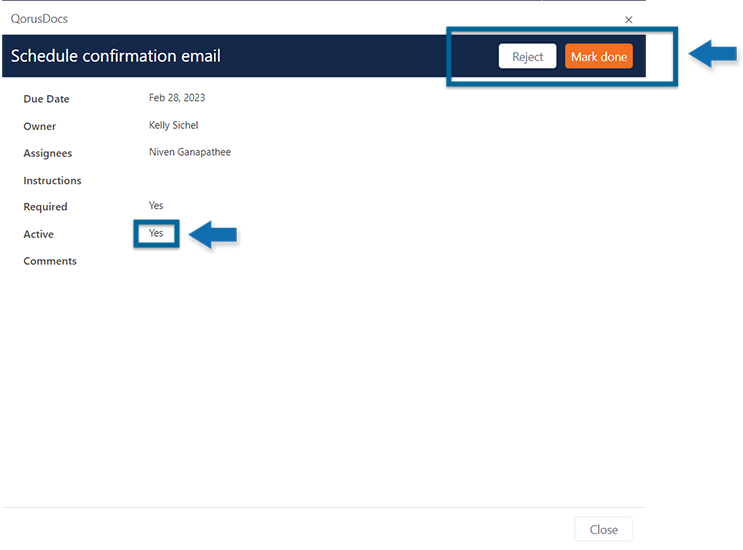 If the assignment is 'inactive', and you are the Assignee, you won't be able to change the assignment's status, but you'll be able to view it in QorusDocs in your favorite supported web browser: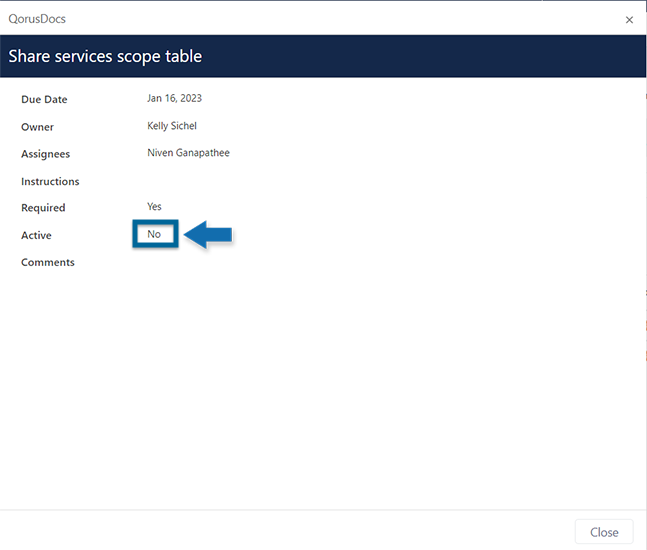 4. Plus, new functionality and enhancements for all Pursuit assignments
Plus, we've used the opportunity to introduce a few new bells and whistles to improve your experience with Pursuit assignments, regardless of they were created automatically or manually.
Ensure that users can only close Pursuits when all required assignments are marked as done
When you create a Pursuit assignment, you now have the option to flag it as 'Required'. This prevents users from closing a Pursuit before all the Required assignments have been completed: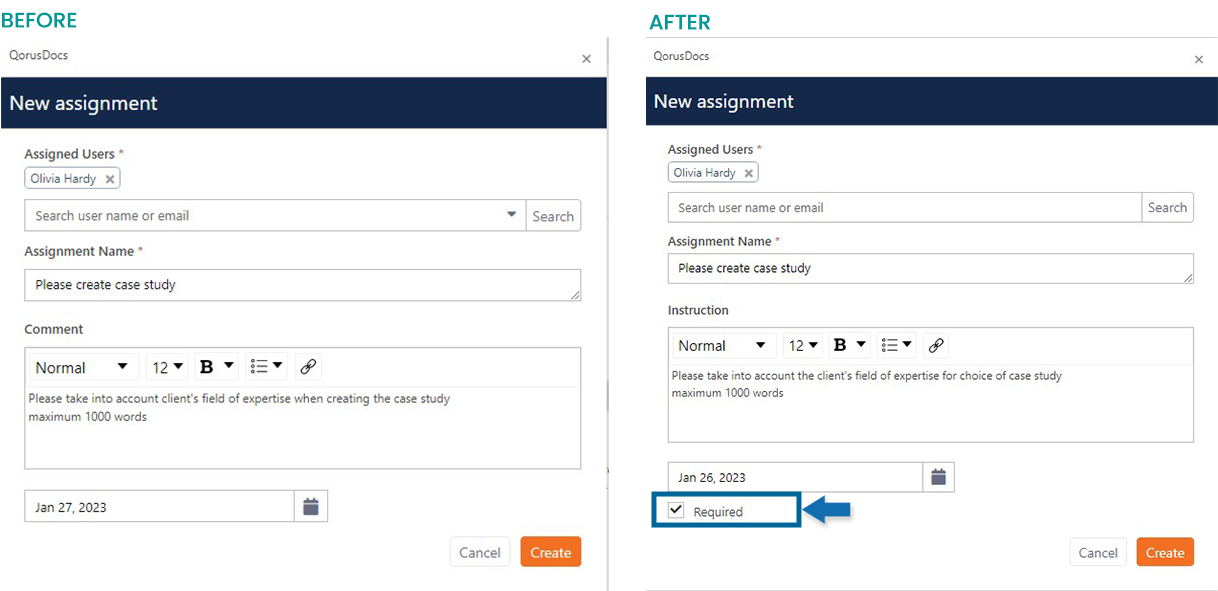 Initial Assignment comments are now 'Instructions'
Another exciting improvement is that the very first comment on new assignments is now labelled as "instruction" instead of "comment":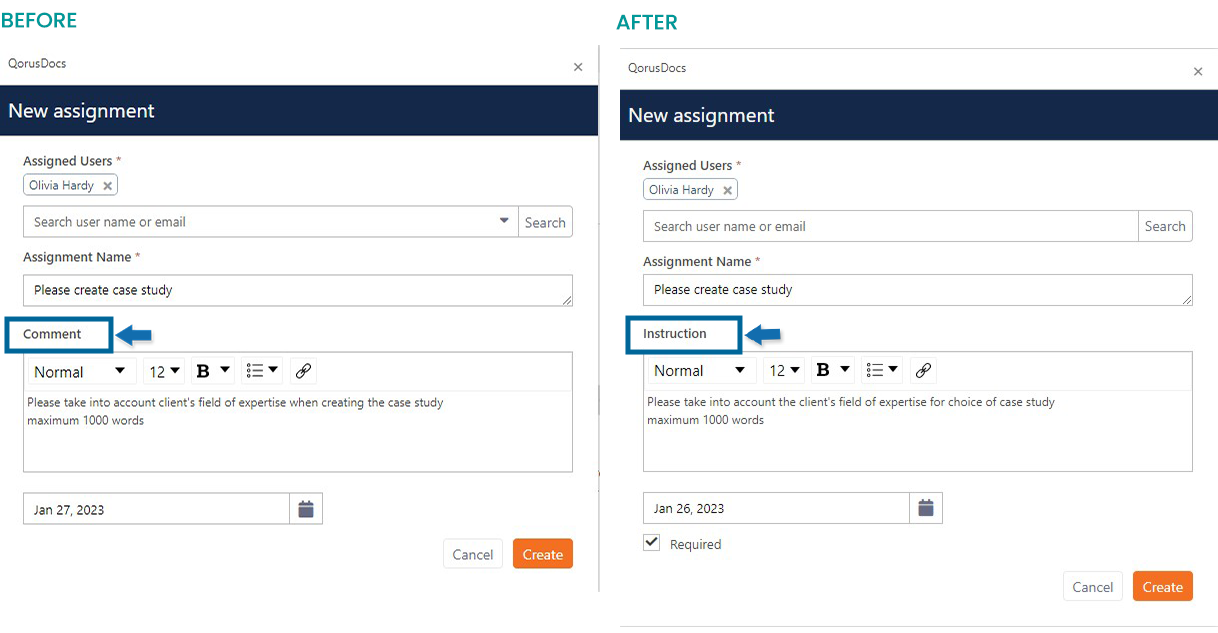 You will still be able to format instructions as you would for comments and all stakeholders will be able to comment on assignments as usual.
This new feature allows the assignment owner's instructions to stay displayed at the top of the assignment window, so that it does not get lost in lengthy assignment comment trails:
In addition, so as to provide you with more precise reporting around user collaboration activity, QorusDocs will also differentiate between instructions and comments in your reports.
Users can assign Pursuit assignments to Guests
Up until now you could assign Pursuit assignments to licensed users only. With this release, you will also be able to assign Pursuit assignments to Guests.
Please note that Guests are only allowed to have a maximum of five concurrent active assignments at any one time assigned to them (where 'active' is 'yes', and the assignment's status is either 'assigned' or 'rejected') . Both Document and Pursuit assignments count towards that limit.
Guests can view their Pursuit assignments without going to the Pursuit's workspace
Unlike licensed users, Guests do not have access to the Pursuit workspace. That's why the Pursuit title will be greyed out for them in their assignment notification emails. Instead, they can click on 'View assignment':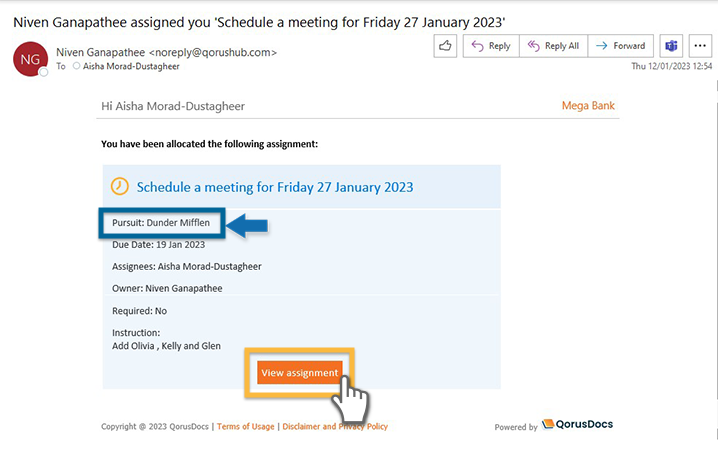 Guests will then be redirected to the Assignments pane where they can action their Pursuit assignments directly within their web browser: