REQUIRED EDITIONS
Available in: All QorusDocs Editions
Available to: All Roles
QorusDocs now provides an in-product communication module that gives you immediate access to our latest pitch and proposal resources. The Success Panel will be released in phases throughout the 2022 year, and displays the latest announcements and updates personalized for you and your organization directly in QorusDocs Online - www.qorushub.com.
Within the Success Panel, you can expect to find the latest product updates, learning resources, surveys, and pitch and proposal industry-related resources.
How to Access the Success Panel
The Success Panel will first appear as an icon in the lower-left hand corner of QorusDocs Online, if it has been enabled for your business. When there is a new announcement ready for you, the icon will glow.
Clicking the icon will slide out the Success Panel, where you can see all of your personal announcements. By clicking the 'X' in the top-right corner of the Success Panel, the panel will slide back in and the icon will re-appear.
The QorusDocs Success Panel is not currently available in Microsoft or CRM add-ins.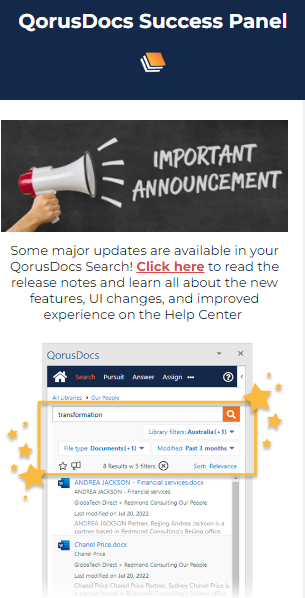 Interested to Know More?
Please reach out to your Customer Success Manager, or success@qorusdocs.com, to learn more about the Success Panel and how we will use our communication tool to drive your success.