In Hub Central, there are two features that can make your life easier when it comes to onboarding and managing large groups of users; Auto-provisioning, and linking groups in your Microsoft 365 Active Directory.
Auto-provisioning allows users to automatically join your hub as Standard users, without a Qorus Admin having to add them first manually, while linking Active Directory groups gives you more control and allows you to add users to your hub in bulk.
In this article, we'll explain:
Auto-provisioning options:
Where to find the Auto-provisioning settings
In Hub Central, expand the 'Settings' menu in the left nav, and then click on 'User Management' and then on 'Settings'. This will bring you to the Auto-provisioning settings page: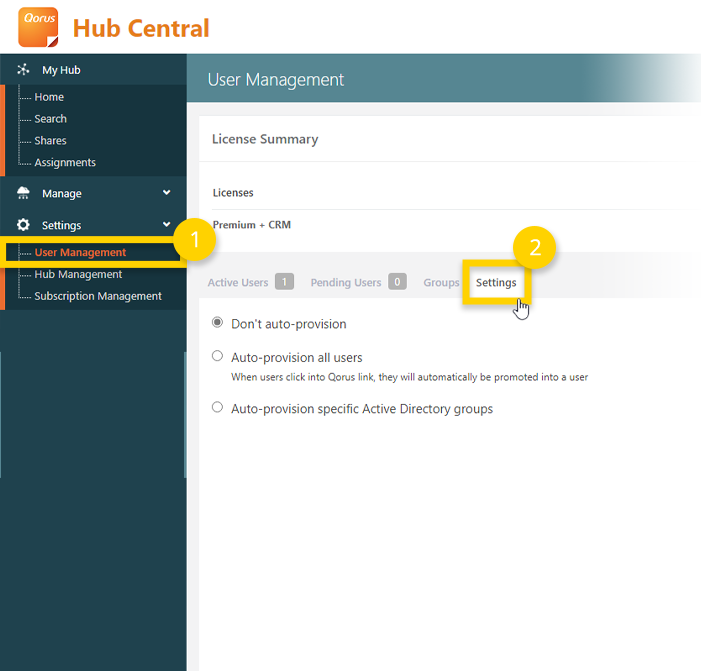 Option 1: Don't auto-provision
This is the default option. When this is turned on, people within your organization will only be to join your hub if a Qorus Admin user adds them manually, or if they request to join the hub and the Qorus Admin user approves a 'join request'.
Option 2: Auto-provision all users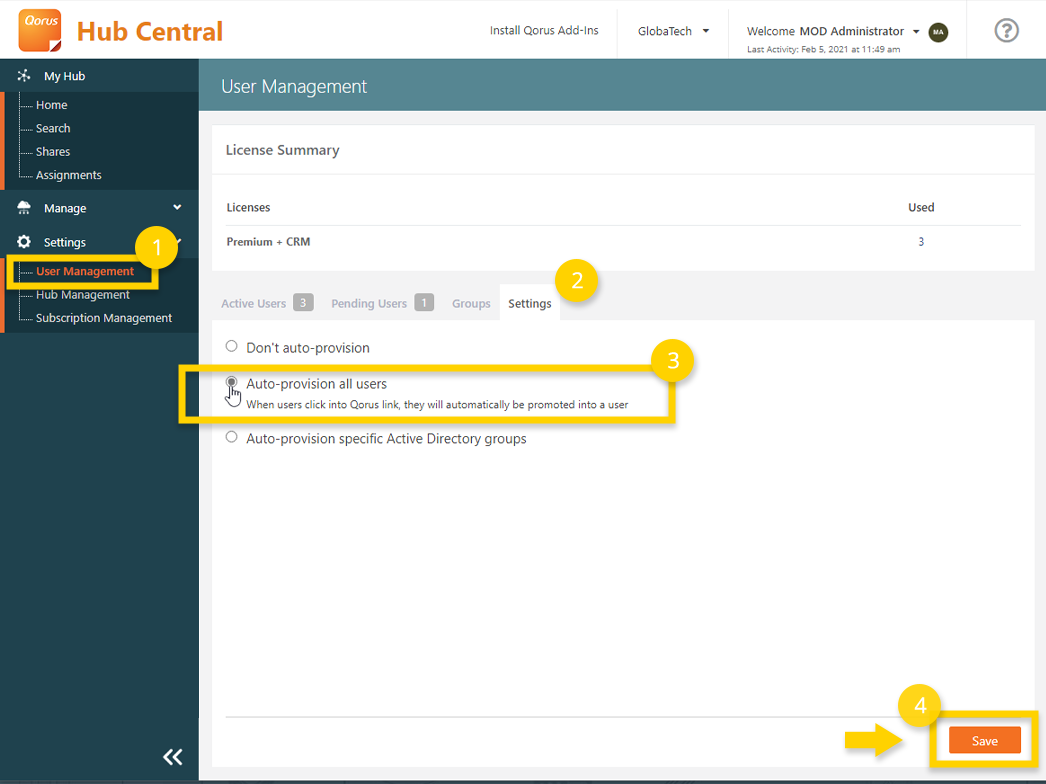 If this option is turned on, any Microsoft 365 user in your organization will be able to log into your hub, without any Admin approval required.
By simply visiting the Qorus Content Hub login page, they will be able to sign in using their Microsoft 365 credentials: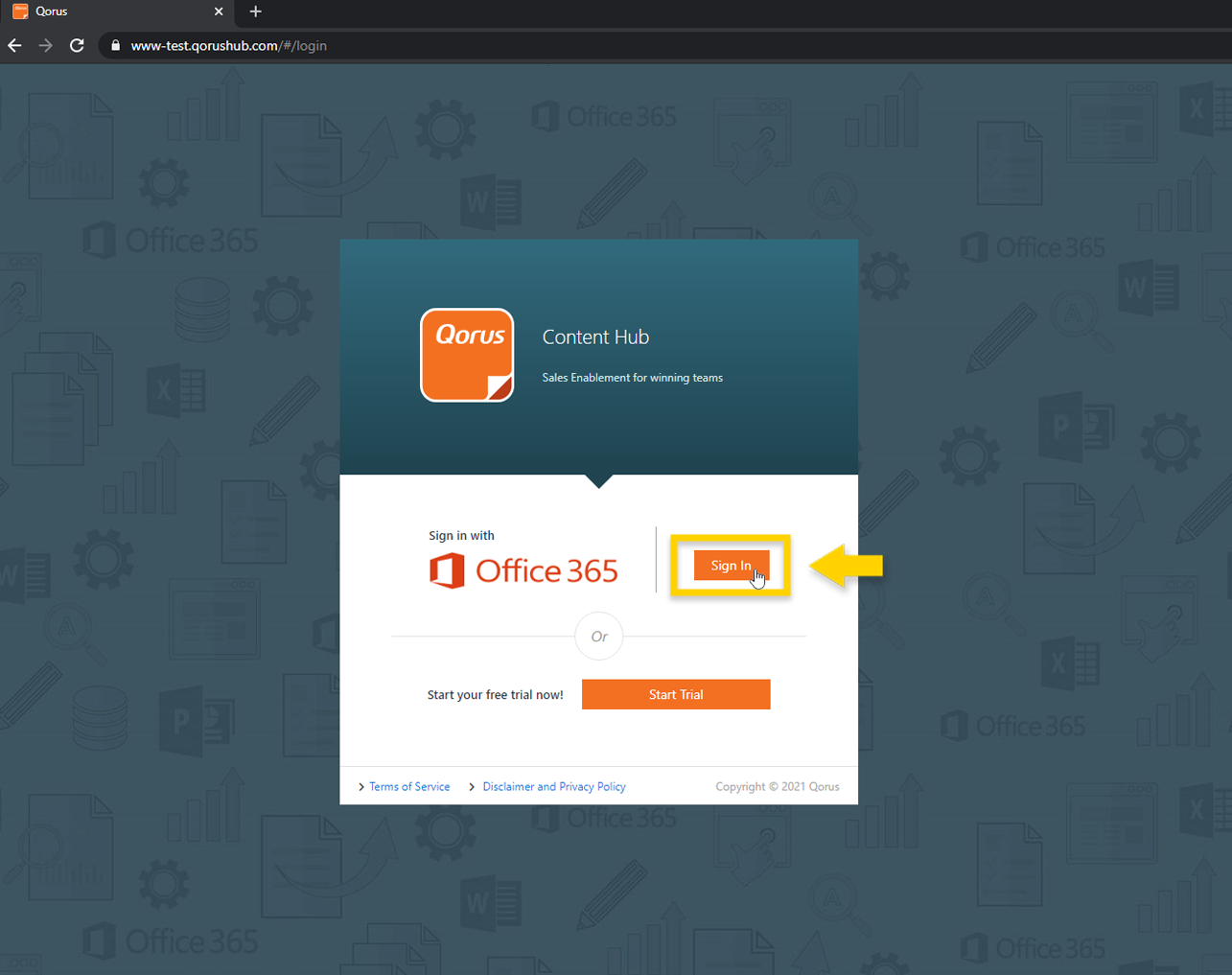 After they've been authenticated, they will be able to see any Qorus Content Hubs associated with your Microsoft 365 tenant, and can click on 'Join' next to the hub they'd like to join: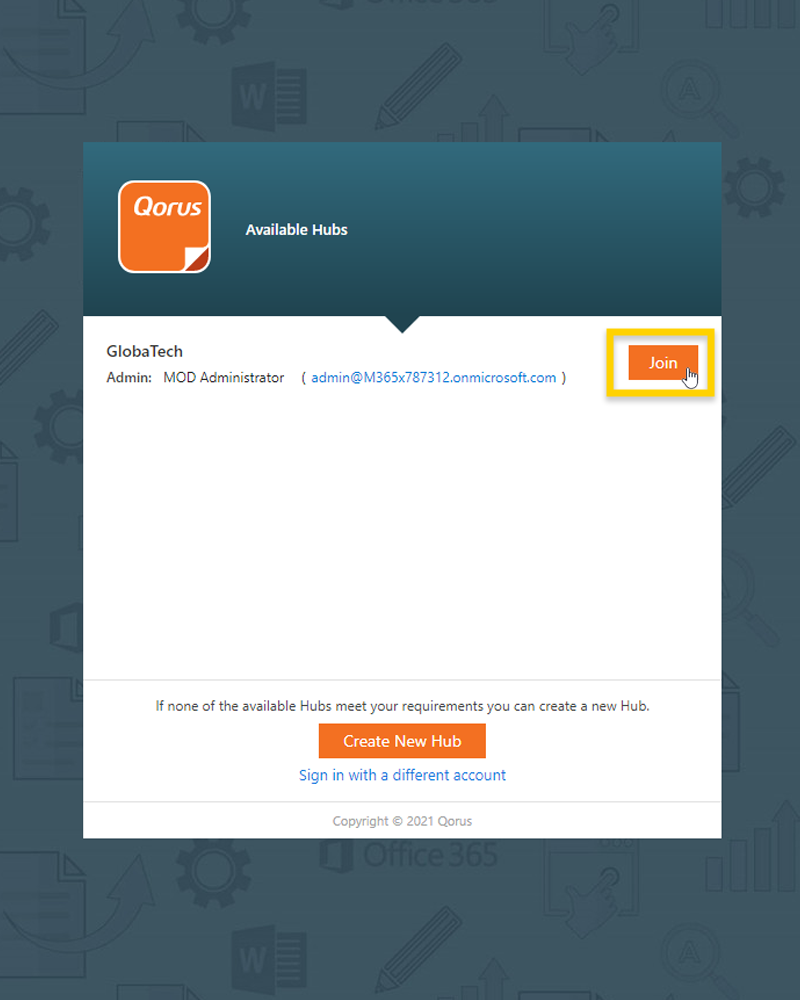 Qorus will automatically assign them a Standard User license (provided that there are sufficient licenses available), and they will be able to log in without any admin approval: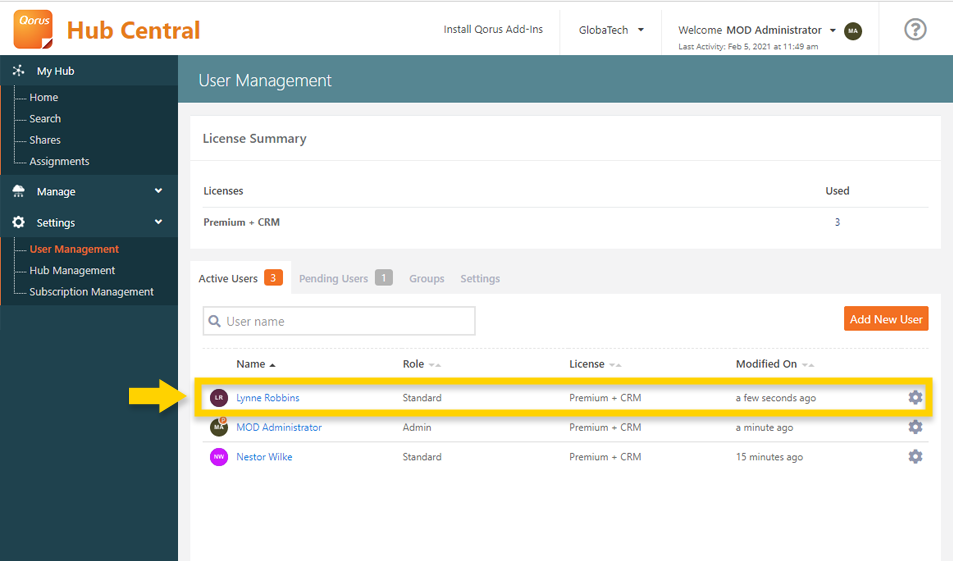 Option 3: Auto-provision specific Active Directory groups
The above two auto-provisioning options either allow everyone in your Microsoft 365 AD to automatically join your hub or no one at all.
The middle ground between the two is the option that allows you to specify which users can be auto-provisioned, by restricting auto-provisioning to Active Directory (AD) groups that you specify.
To set this up, click on 'Auto-provision specific Active Directory groups' and then on the 'Add/Remove group' option: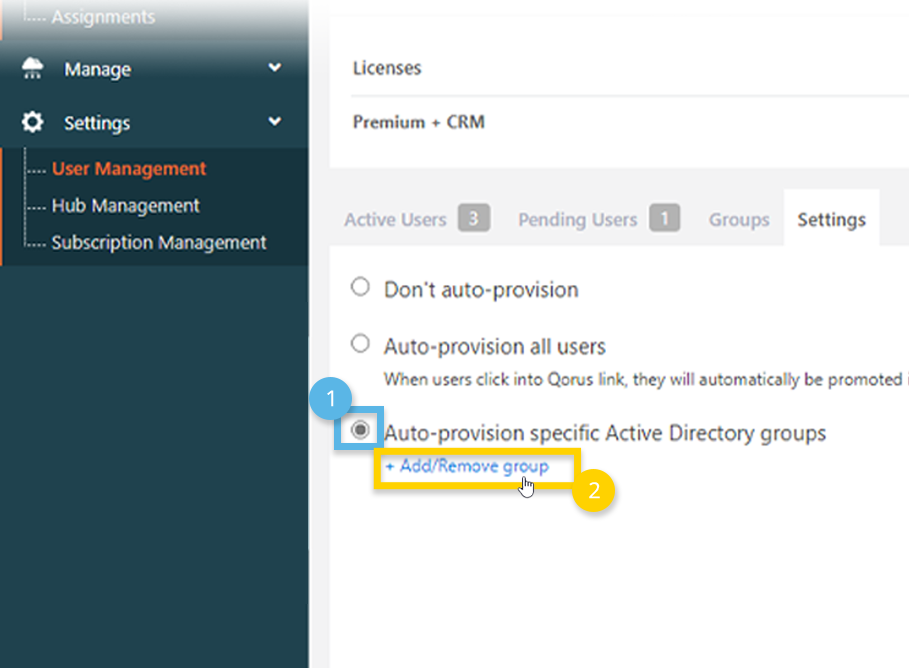 A pop-up window will be displayed next, informing you that in order to enable this feature, Qorus will need to be able to read your AD groups. If you'd like to proceed, click the 'I agree' button: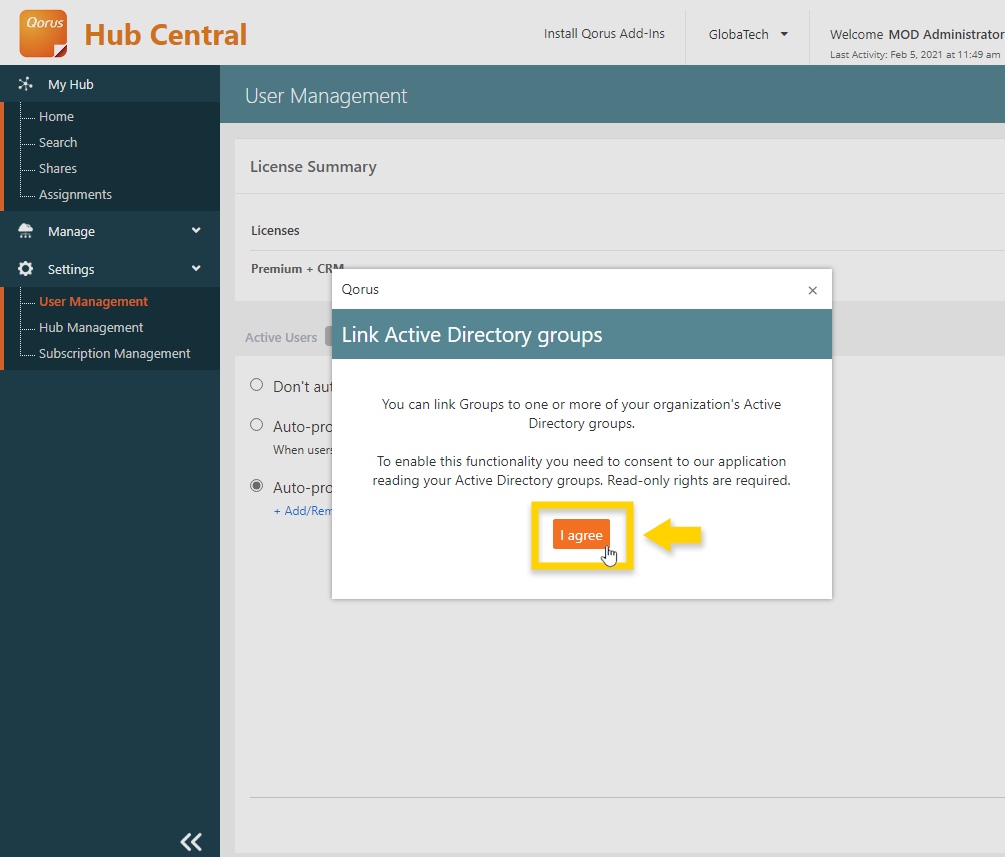 Next, you'll be required to log in to Microsoft 365 again to confirm your consent and complete the Microsoft 365 permissions request: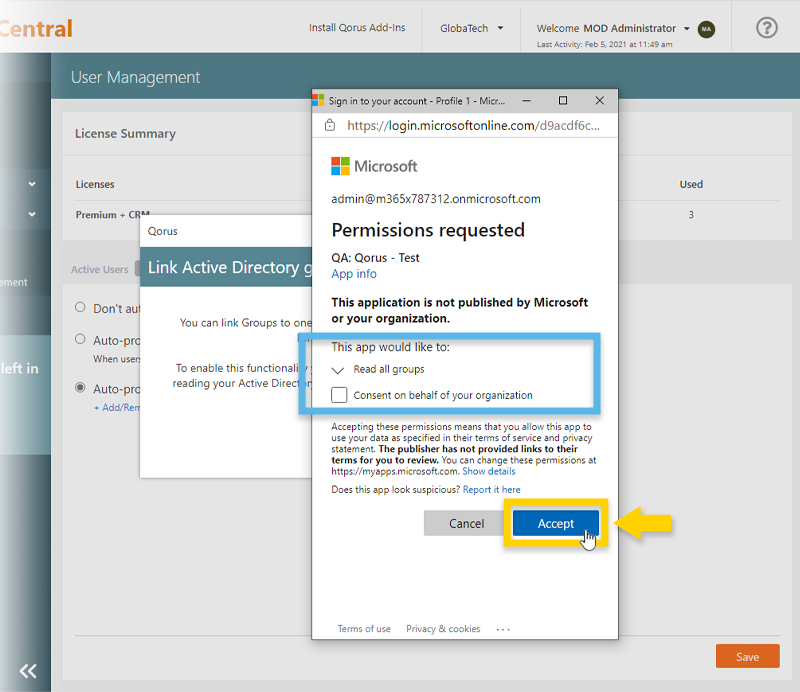 Once you've accepted, you'll be able to search and select one or more AD groups for which you'd like to enable auto-provisioning: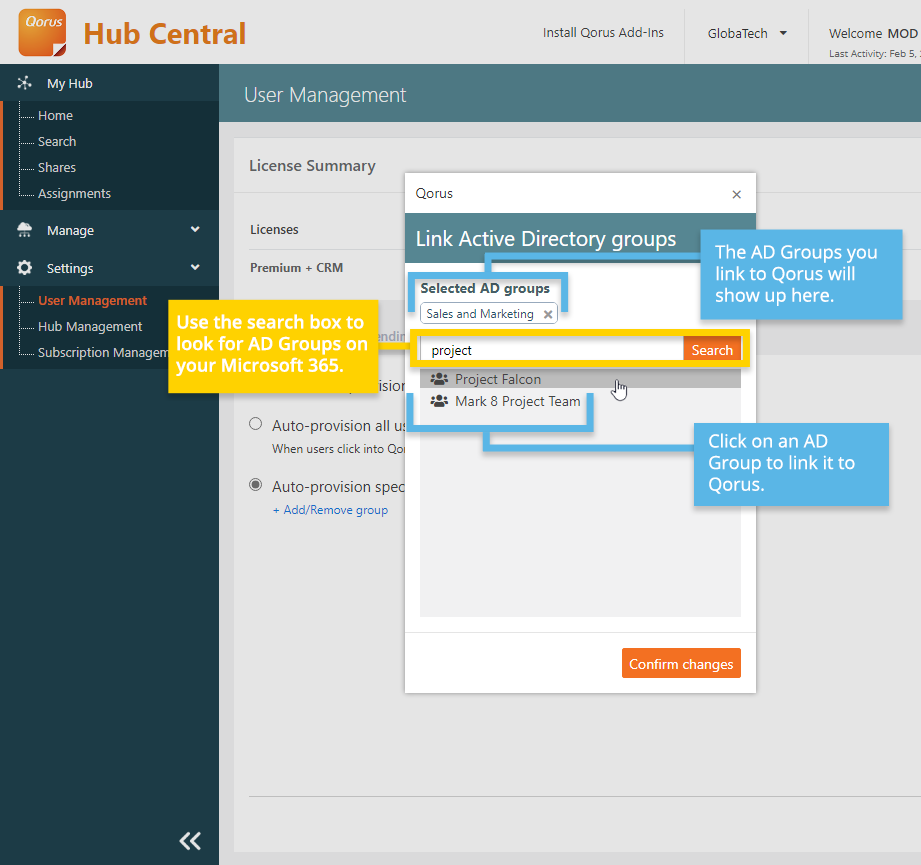 If a Microsoft 365 user belongs to one of the AD groups specified and attempts to log in to Qorus, then they'll be allowed to join the hub without admin approval and automatically granted a license, as described here.
If they are not part of one of the AD groups specified, and they attempt to join the hub, they will be able to request to join but will not be granted a license automatically.
Bulk adding users by linking AD groups to custom Qorus groups
To add a custom group, go to 'Settings > User Management', and then click on 'Groups' and then on 'Add New Group':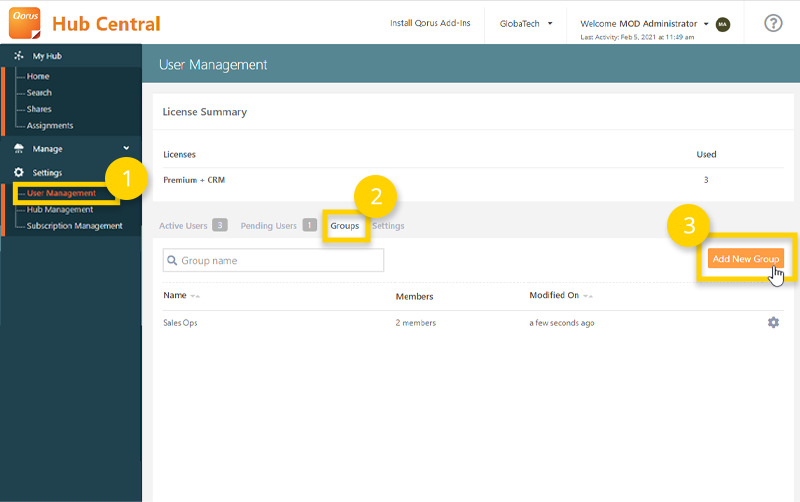 Here, you can give the custom user group a name, a description, specify the users who already have a Qorus license that you'd like to add to the group (in the 'Hub members' field), and/or link AD groups by clicking on 'Add/Remove group' :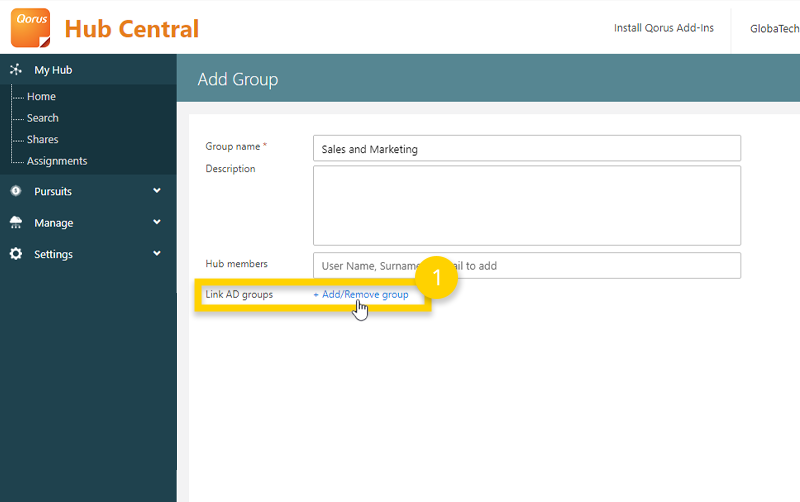 You can then search and specify the AD groups you'd like to link to the custom Qorus group, before clicking on 'Save':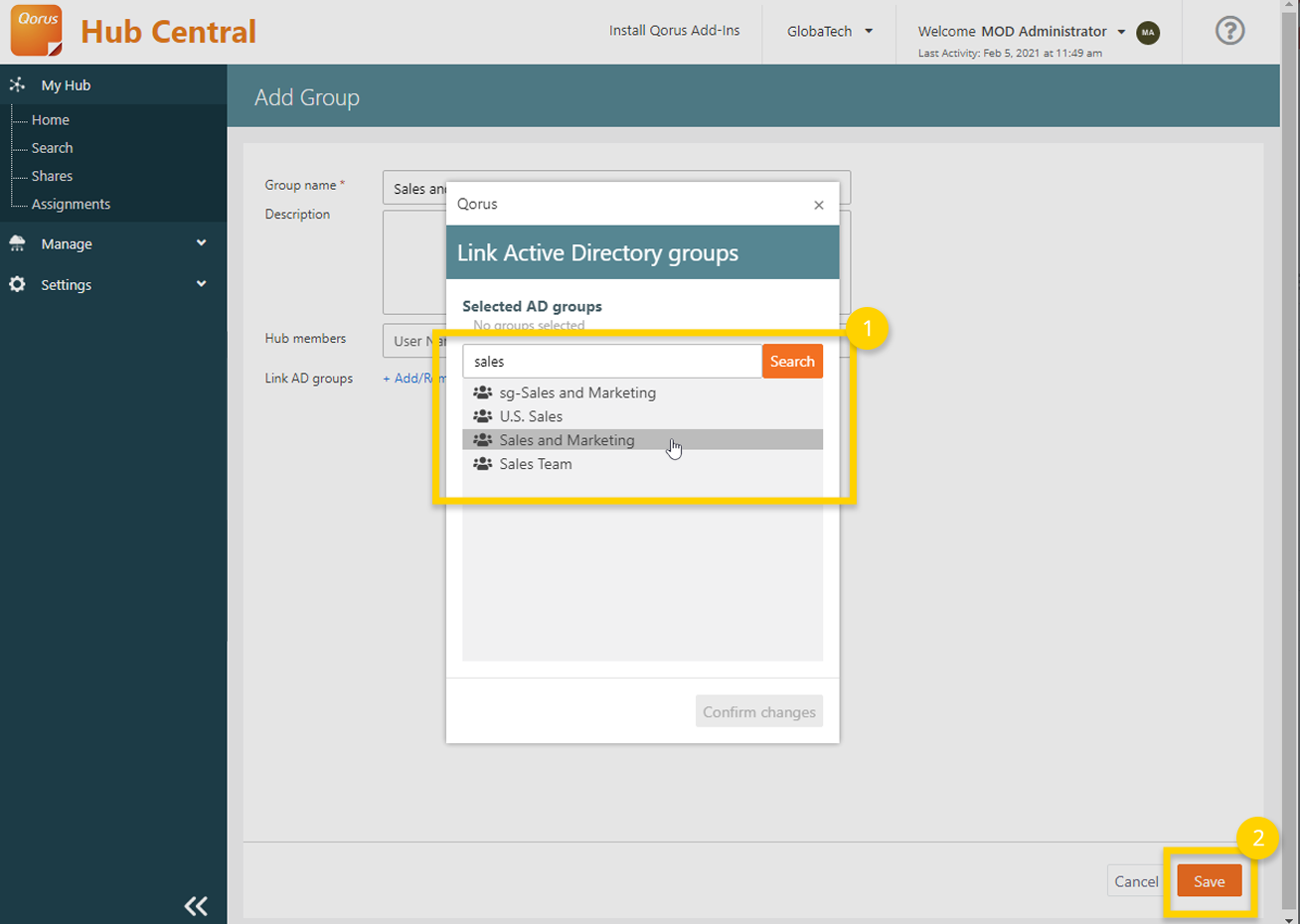 This will import all the users from your selected AD group(s) and assign them a Standard user license: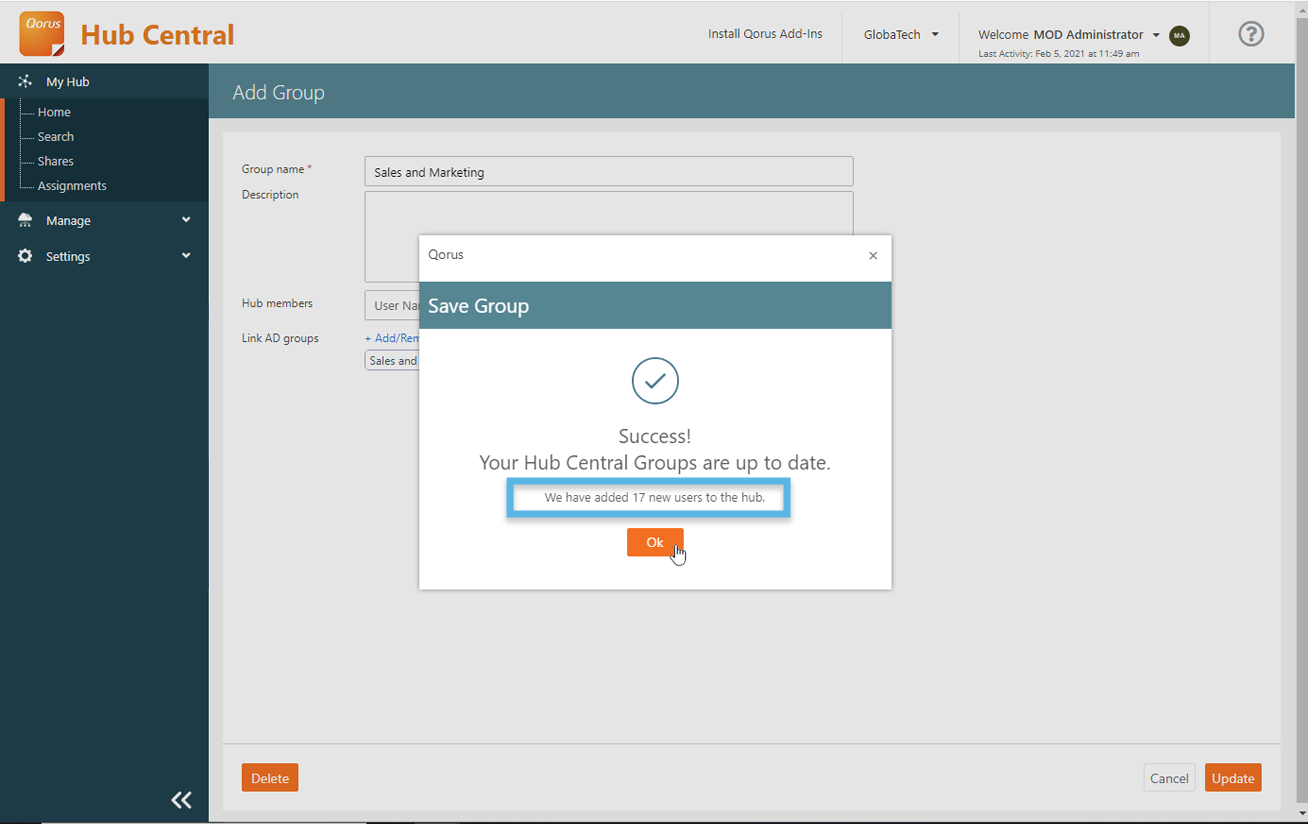 You'll be able to see them under 'Active Users' here: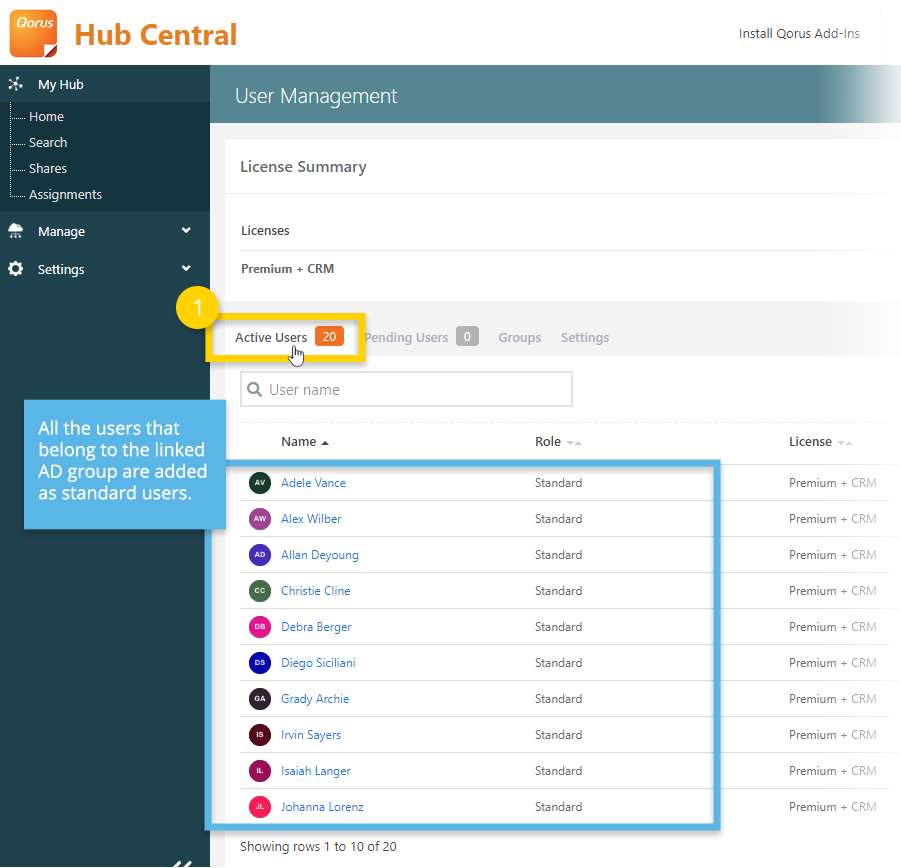 About Custom Groups

Custom groups are both a means to control and authorize uses to access certain aspects of Qorus, as well as to offer a better and more streamlined experience, especially if you have a large user base with diverse requirements.

Custom groups, whether they are linked to an AD group or not, can be added as 'permitted users' to a Pursuit Type. If 'permitted users' has a value in the Pursuit Type screen, then these named users or the users that belong to the custom groups specified, are the only ones who will be able to add new pursuits of this type.

For Content Sources, if permitted users are specified, only these named users, or the users that belong to the custom groups (linked to AD or not), will be able to see this content source in the Qorus application. It will be completely hidden from view for everyone else.
Keeping Qorus custom groups and AD groups synchronized
In the current version of this feature, Qorus custom groups linked to AD groups are not automatically synchronized. This means that if a user's membership to an AD group is changed after the Qorus custom group was created (perhaps they've changed department), they will still be associated with the Qorus custom group, until such time as a Qorus Admin user clicks on 'Update' on the Groups page in Hub Central: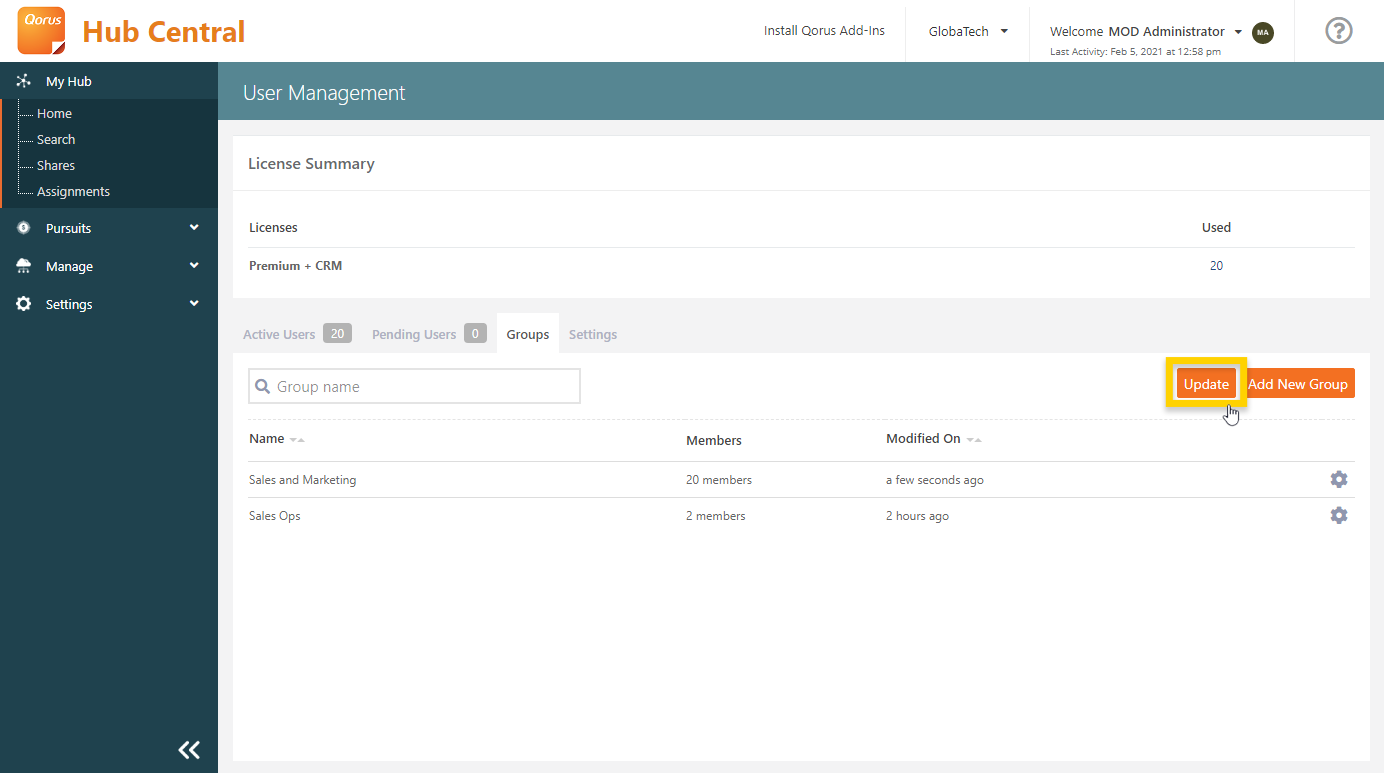 We have an enhancement planned on our roadmap that in the future will eliminate the need to manually update and sync Qorus custom groups with the AD groups they are linked to.