Before you begin, you should know that the steps in this article are applied in the Qorus Management Portal, and you'll need to at least belong to the Admin role in Qorus. 
To give you a bit of background on this topic - 
With the Clip functionality available in all the Qorus Add-ins, it's possible to select text while you work in Office 365, and create a brand new Word document with that selected text as the body of the new document. 
This allows teams to quickly create and grow a repository of re-usable content, that is accessible and searchable in Office 365, with the Qorus Add-ins.
Just as with any other Office 365 document, the re-usable content clipped with Qorus can be shared and managed centrally in either OneDrive for Business, or SharePoint Online. And just like any Word document returned in the Qorus search results, clipped content can be directly inserted into any email, presentation or document currently being worked on.
ENABLE USERS TO CLIP AND SAVE CONTENT TO ONEDRIVE FOR BUSINESS
To enable users to make use of the Qorus Clip for OneDrive for Business, all you need to do is connect your OneDrive for Business to Qorus. This should be done automatically, but just in case, you can find steps do this manually here.
ENABLE USERS TO CLIP AND SAVE CONTENT TO SHAREPOINT ONLINE
With SharePoint Online Library content sources, you can define which SharePoint Online libraries and/or folders can be used as 'Save Locations', in the Qorus Management Portal.
Here are the steps to specify 'Save Locations': 
1. First, you'll need to create a SharePoint Online Library content source in Qorus. For instructions on how to do this for SharePoint Online Libraries, click here. 
2. Next, if you're not there already, go to the 'Configure Content Source' screen. If you're not sure how to get there, click on the content source edit icon:
3. Then, simply click on the save icon next to the places you'd like to allow users to save new documents to using the Qorus Clip.
You'll notice that it's necessary to first make a library or folder searchable, before the save icon appears. That's because Save Locations are always searchable.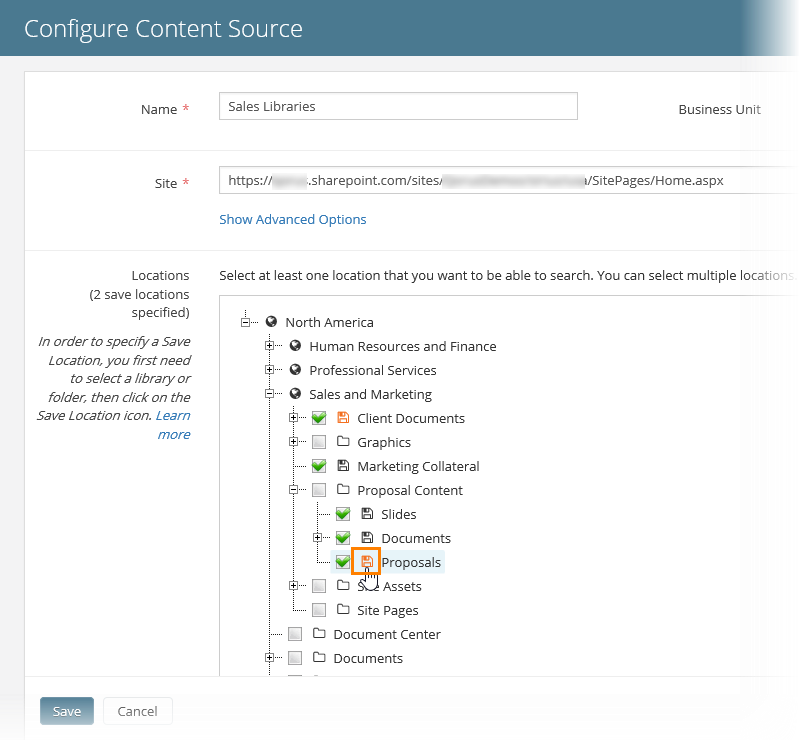 When you're happy with your selections, you can click on 'Save' (bottom left).
WHAT'S NEXT:
To see how save locations will show up for users in the Qorus Add-ins, click here.