When you're ready to create your document or presentation with Qorus and you click on the 'Create' button, you'll be presented with a new window where you'll need to make a choice or two before it gets created. 
Here's what this looks like when you're composing a new presentation: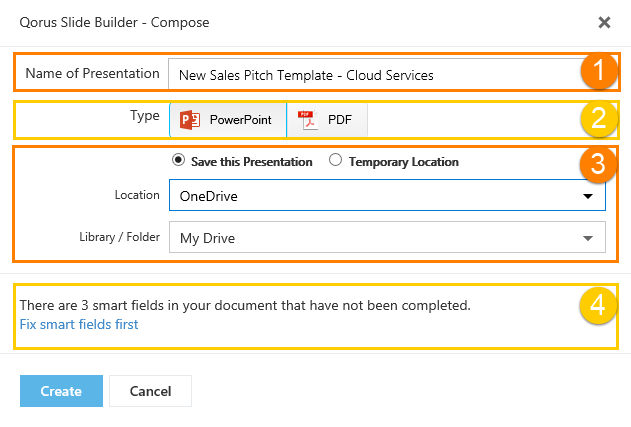 Let's go through these one at a time: 
1. The first one is rather obvious. We'll simply ask you to give the new presentation or document you're creating a name. 
2. Next, we'll ask you whether you'd like to generate a PDF, or a PowerPoint presentation if you're composing a slide deck, or a Word document if you're composing a new document. 
3. Then we'll ask you what you'd like us to do with the file once it's been created.
When you click on 'Save this Presentation' (or 'Save this Document'), we'll provide you with two drop down menus to allow you to choose where you'd like Qorus to save the file for you. The first drop down menu is for the 'Location', and allows you to select a content source. The second drop down allows you to select either a Library or a Folder to save your new file to.
This is a lot like saving content using the Qorus Clip, and in fact the choice of locations that you'll be presented with here are the same 'save locations' that have been configured in the Qorus Management Portal. 
The other option is to have the file saved to a 'Temporary Location'. If you select this option, we won't save the file to SharePoint Online or to OneDrive. We'll create the file and provide you with a link to open it in the window that comes up next after your file has been created: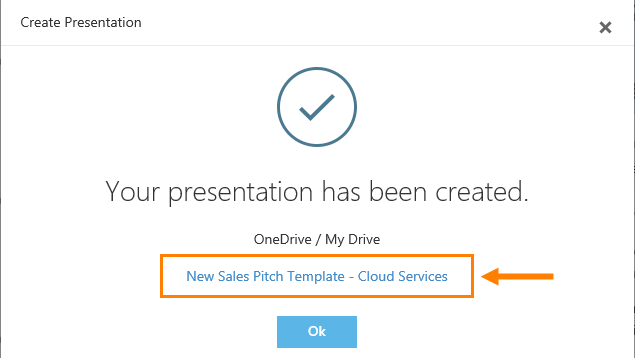 It's upon clicking on this link that Qorus will download the file and open it natively in Office 365. Now this next bit is important: If you choose to save the file to a Temporary Location, and then close this window without downloading the file first, we won't be able to recover this document for you. 
When in doubt, we'd recommend saving your file over selecting the option 'temporary location', and we'd also recommend that you create the file as a Word document or as a PowerPoint presentation rather than as a PDF. This way you are sure that you always have an easy to edit copy of the file you created with Qorus, that can easily be opened and saved to any location once it has been created, and that you can also convert to a PDF at any time in the future. 
4. Finally, in the bottom part of the window (first screenshot above), we'll alert you about any Smart Fields that you have not yet filled in, provided they don't have the 'ignore' box checked next to them.  Clicking on 'Fix Smart Fields first' will close the Create window and take you back to the Smart Fields form, where  you can fill in any fields you might have missed earlier.